When it's time for your toddler to move from a crib to a bed, you may find that there are several options for you to choose from. Whether your child is a restless sleeper, a single bed or twin bed may be best. Many parents choose a twin bed since this will give their child more room to grow before replacing the mattress with a larger one, explains Savvy Sleeper.
You'll also have to think about the mattress type you want and whether latex or innerspring mattress would be best. If you want to know which bed is best for your growing child, here are some things to keep in mind to ensure your little one gets a good night's sleep.
All Beds Aren't the Same.
According to Dr. Havard Bergby, a pediatric chiropractor at Inner West Spinal and Sports Injury Center in Sydney, you get what you pay for when it comes to beds.
Dr. Bergby says that when you're shopping for a bed for your child, think about your little one's age and weight.
The transition from bed to crib should occur between 1 1/2 and 3 years.
At this point, your child should sleep in a bed with a quality mattress that offers optimal support.
Choose Mattresses with Innersprings
Sealy Posturepedic, the top bedding brand globally, recommends mattresses with innerspring systems.
Innerspring mattresses are different from pure foam mattresses and offer support for the skeletal system by conforming to your child's body during sleep.
These types of mattresses are also beneficial because they don't degrade when coming in contact with moisture.
Dr. Bergby also confirms that innerspring mattresses are ideal for children since their bodies constantly change and need ongoing support to promote comfort while they sleep.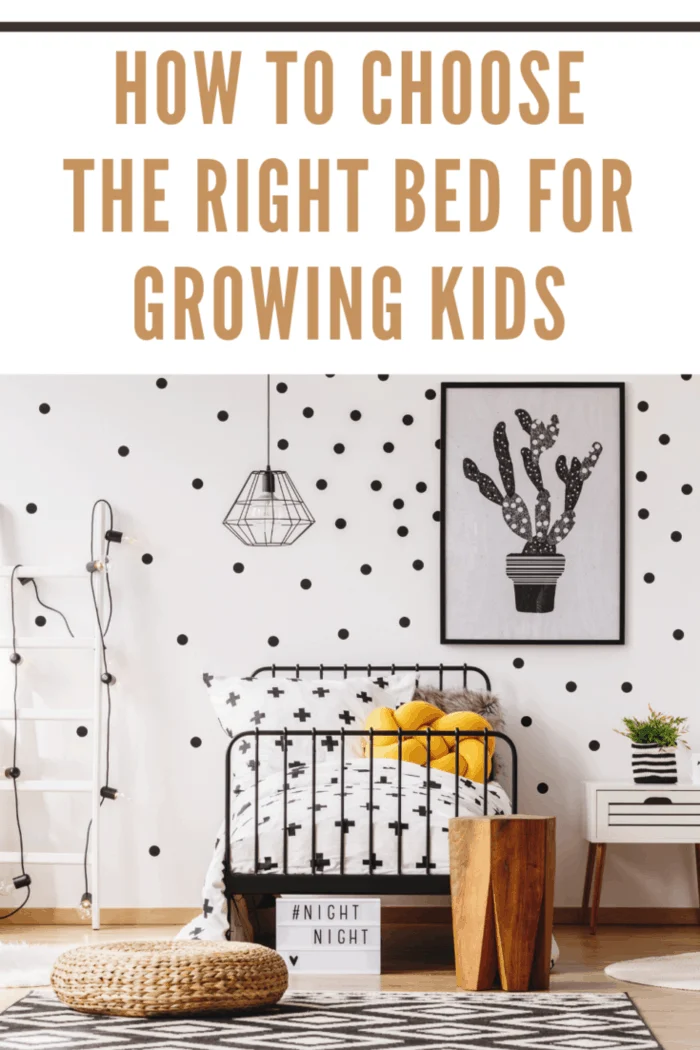 Toddler Beds Aren't Necessary
Even though toddler beds are popular, they're not necessary when you're transitioning your child out of a crib. (Baby Center has the details on how and when to transition your child.)
Children tend to grow out of these beds quickly, which means you'll have to replace the bed sooner than you anticipated.
Instead, invest in a mattress that offers sufficient support for your child, so they'll be comfortable during each stage of their development.
It is essential to choose mattresses that support your child's spine because both the neck and spine should be in a neutral position to take pressure away from these parts of the body.
Toddler spines can grow up to 1.5 cm during the night if their vertebrae fill up with water.
So the mattress should be soft enough for a comfortable sleep and large enough to support a child as they grow.
Keep It Clean
All new beds have to be treated for dust mites before they can be sold to consumers.
However, dust mites can still develop on the mattress over time.
After all, a human body is lying on the mattress each night, losing as much as one liter of body fluid through the mouth and skin during sleep, says The Sleep Doctor.
Small flakes of skin also fall from our bodies while we're sleeping as part of our body's renewal process.
Mattress protectors would be a great way to keep your child's mattress clean and free of allergens and dust mites.
To avoid dust mites, be sure to clean the bed sheets every week, including your cover and pillowcases.
Before putting new sheets on the bed, air the bed out for at least two hours before putting fresh sheets on your mattress.
During those two hours, you can make the most of your time by cleaning the rest of your child's bedroom to get rid of other dust and debris that could settle on your mattress.
As your child grows, you can explain the importance of keeping a clean room and teach them how to sweep and vacuum to keep dust from settling in the room.
This is especially important if your child suffers from allergies or asthma.
Replace the Mattress Regularly
Finally, the quality of the bed you purchased and your child's size will help you determine when you should replace the mattress.
Generally, you should change the bed every three years from when your little one is born until they are around ten years old, suggests mattressesonline.
Up until your son or daughter turns 20, you should change the bed every five years.
However, if you have a latex mattress, the latex will adapt to the shape of the child's body after about a year, so these types of beds are not recommended for children under the age of 18.
There are several options parents can choose from when thinking of how to transition their toddler from a crib to a bed.
The type of bed you choose for your toddler will depend on the type of sleeper they are.
If you focus on the areas mentioned in this article, you will have great success in choosing the right bed for your growing kids.