Shark Rocket Duo Vacuum Improves Housekeeping Effortlessly http://wp.me/p1GpT1-fKr.
I received a Shark Rocket Duo Vacuum in exchange for this post, but my housekeeping and opinions remain my own.
Shark Rocket Duo Vacuum is revolutionizing the vacuuming chore.
We are a home that vacuums at least once a day. I have long hair. Miss M has long hair. Our dogs have hair. I also have a boy who goes in and out throughout the day, tracking in pine needles, leaves, and everything else.
Room inspections at our house usually are preceded by, "Is it clean enough I can vacuum?"
We thought we had it down–this whole vacuuming thing. I mean, seriously, plug it in and go, right?!
So I vacuumed the floor with our current vacuum.
We love our dogs and definitely thought our vacuum was handling all their fur! It's a vacuum on the vacuum guide by Petsho.
I felt confident I had done a great job.
Then I vacuumed with the Shark Rocket Duo (MSRP: $259).
Shark Vacuum delivers! It is made to clean floors and carpets, whether small, large, or stuck-on messes. It cleans everything from upholstery to ceiling vents and even the car! The Shark Rocket Complete with DuoClean Technology.
Remember that woman in Game of Thrones that followed Cersi with the bell chanting, "Shame!"?
She should follow my old vacuum around because this is what the Shark Rocket Duo picked up immediately after the tracks of the old vacuum. (see
Shark Clean
)
Disgusting, isn't it!?
My face transformed into horror.
Guess what?
I vacuumed with the Shark Rocket Duo six more times over the course of three days until my 12-year-old told my husband, "I think Mom needs therapy; she won't stop vacuuming!"
So now that I have disgusted you with my housekeeping, let's talk about the Shark Rocket Duo Vacuum.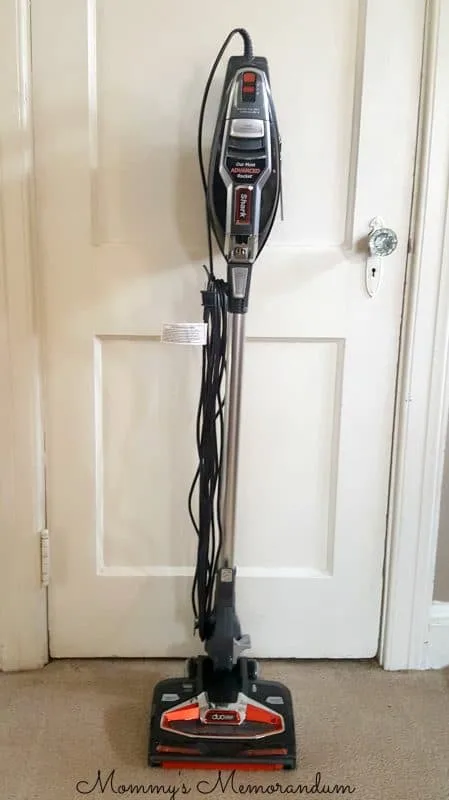 It's a corded, lightweight, in-hand vacuum.
It assembled in two clicks.
The handheld portion reminds me of a chainsaw, but it weighs in at just 4.2 pounds.
It stores the bin, the primary motor, and the power cord is attached to it.
One of my favorite parts of the Shark is the nozzle.
It's pint-sized at 10.5-inches wide and 3-inches tall.
This low and narrow profile means I can vacuum between my bed and the wall (something that has not happened without significant effort).
Because the Shark Rocket reclines almost completely, I'm getting under the couch and other furniture; effortlessly!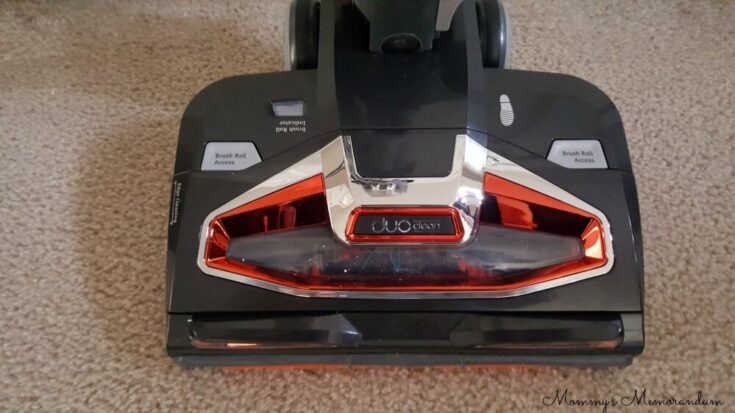 The handle also features the button to set your cleaning modes.
You'll see them on the red button at the top (see the picture above).
Mode I is for bare floors or delicate rugs.
I love this feature because I transition from our carpet to our living room floor rug and then to the tile hallway and kitchen.
Mode II is best for carpets. It gets deep-down clean. This mode activates the brush roll in the floor nozzle and agitates the carpet.
The nozzle also features a light so I can vacuum 'til my heart is happy day or night..or just get into those shadowed places and see what's in there.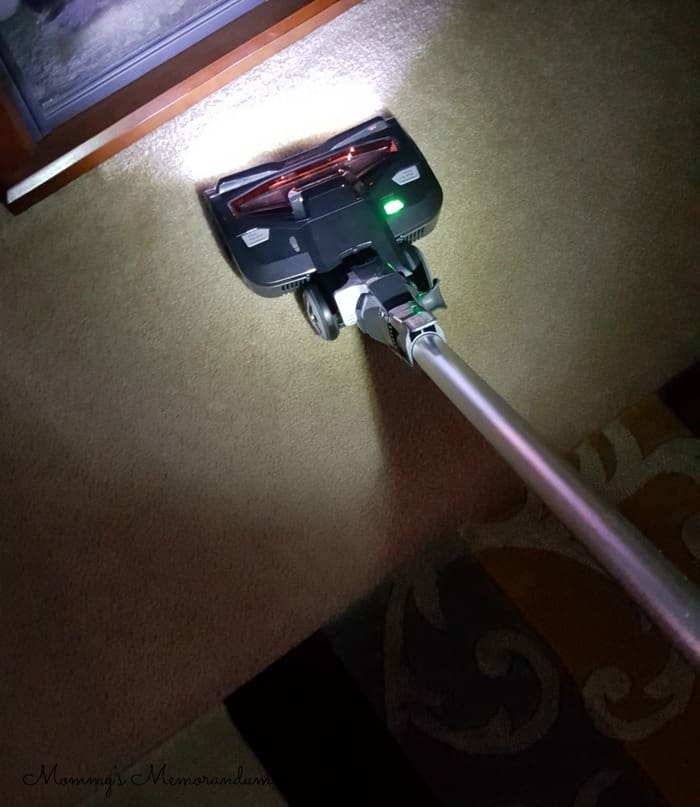 Perhaps, it's what's inside that we should actually be talking about with the Shark Rocket Duo.
It doesn't take a rocket scientist to know dirt comes in different sizes: the large particles, the small particulate matter, and the stuck-on stuff.
Shark Rocket features Duo Clean.
It takes dirt on, so nothing is left.

The Shark Rocket also comes with an abundance of attachments.
Dusting Brush
12" Crevice Tool
Pet Upholstery Tool
On-Board Tool Clip
Wall Mount
Under Appliance Wand

I already showed you the bin (with all our dirt).
It has a latch on the side that opens the hatch door.
It isn't complicated, and when you close it, there is a click to let you know it is secure.
No inconvenience and you don't have to touch the dirt. Ewww.
The only downside to the Shark Rocket Duo is that you have to lean it against something or mount it to the wall. It is not free-standing.
I just shove it in my closet and carry on, but this may be an issue for some.
I love how easy it is to vacuum with the Shark Rocket Duo.
It is like autopilot.
The rollers pull it forward.
No work. I also love that you feel it doing its job when you pull back.
It has some serious suction!
It's one of the most versatile vacuums I've ever owned.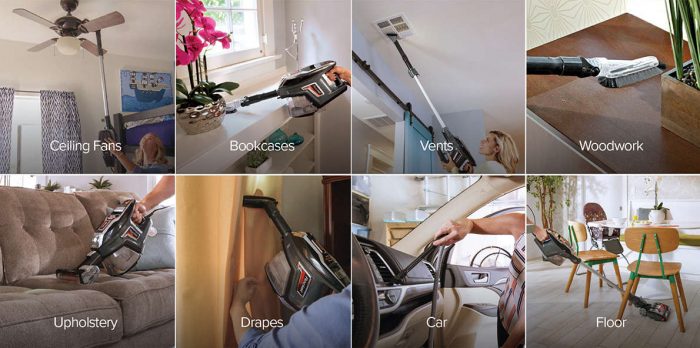 My husband comments on how quiet it is.
You can hear it when you initially turn it on, but then it just seems to hum.
It is quiet for a vacuum.
I absolutely love the Shark Rocket Duo Vacuum.
It gets the dirt deep down in our carpet, so I feel better about my family resting on the carpet, playing with the dogs, or just walking through.
This holiday, improve someone's housekeeping with the Shark Rocket Duo.
They'll thank you, I promise.