It's something we can easily overlook in those early, dreamy days of a relationship. Everything still has that glow about it, so the little things fade into the background until the lack of sleep eventually begins to take its toll on us.
A restless sleeper can rob you of your much-needed rest, and this is no minor issue. The links between sleep and mental health are now well-established and understood in the scientific community, and the impact can be very serious, shares Harvard Health.
So what can be done about it? Thankfully, you have some options.
Mattress Choice
Probably the most obvious solution would be around the mattress you're using, and possibly also the blankets or duvets.
The best mattresses for couples can actually be an effective remedy in two different ways.
A change of mattress and bedding may actually diminish the restless activities themselves, along with lessening the effect they have on the other partner.
Some mattresses actually have two different halves to suit different sleepers, which may work well.
This is by no means a silly or inconsequential issue, either.
The lack of proper sleep can become a problem big enough that it could destroy our relationships, so it shouldn't be treated lightly.
We sleep for a very good reason, as indeed all mammals must.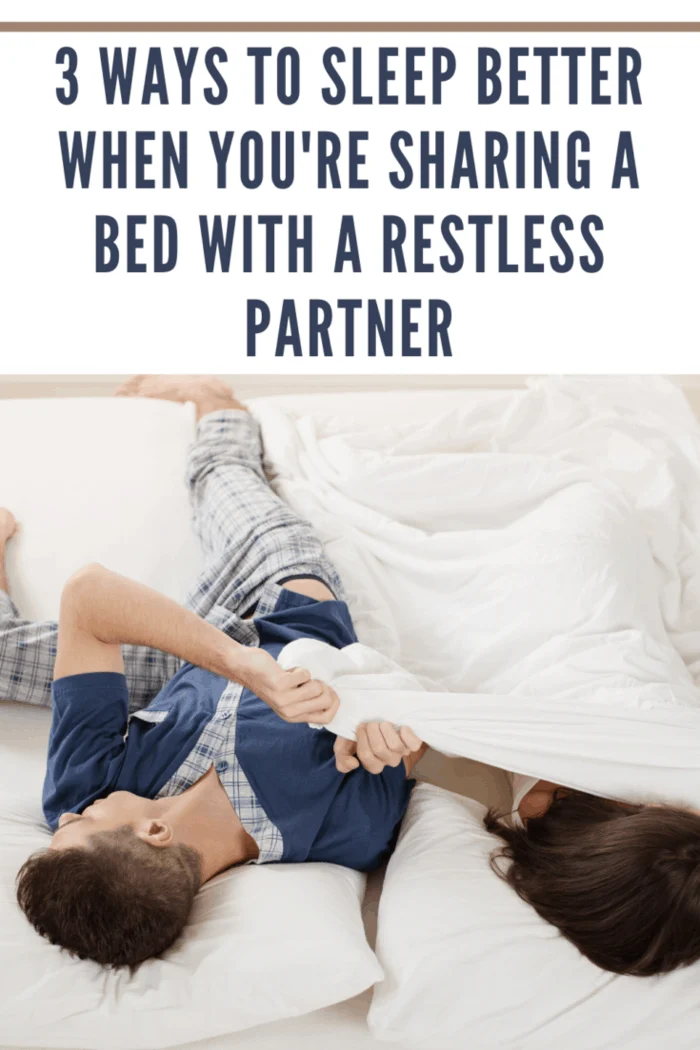 Thinking About Diet
We all know the effect of caffeine on sleep, and quite a few of us avoid it in the evenings for this reason.
Fewer people might know that a lot of foods and beverages can have the same kinds of results. (Benenden has a list of best and worst foods for sleep.)
Anything that contains high levels of sugars, for example, or very spicy foods, will ramp up the brain's activities even as it tries to enter dream states of sleep.
This may very well lead to unconscious physical responses during the night.
One such physical effect is called "restless leg syndrome," and an iron deficiency in your blood can cause this. (See Healthline for iron deficiency signs).
It's well worth checking this to see if this might be leading to these adverse effects at night.
Professional Advice
If you've gone through all your other options, it might be a good idea to seek medical advice.
Sleep disorders of all kinds can have severe impacts on the quality of our waking lives, so to fix the situation, it may be necessary to see a doctor.
There are medical treatments for a number of sleep-related problems, ranging from simple changes in routines and behaviors to pharmaceutical options.
Plus, surgical intervention can even be effective in the more extreme cases. It all depends on the specifics of each case.
Indeed, there has been much research into the neurological aspect of sleep patterns and behaviors. A lot of this has spilled over into treating sleep disorders like apnea and restlessness. It could be well worth the effort to speak to a medical professional.
Conclusion
To those who aren't affected by it, restless sleep might seem like a small or trivial problem.
But low-quality sleep is an accretive thing that can build up over time to become a genuine concern for many people around the globe.
Our brains cannot operate without sleep, and long-term sleep deprivation can lead to various medical and psychological difficulties.
The solution could be quite simple and easy to find, but it can often also be more tricky.
In the end, it's all about going to the required lengths for those you love.
It would be tragic to have an otherwise beautiful relationship damaged or even terminated over an issue like problematic sleep.
Where there's a will, there is always a way!