I received Kid's Relief Flu and Kid's Relief Cough & Cold in exchange for this post. All opinions are my own.
People. Let it be known that I am the person at my house who has the summer cold. I've been miserable for six days now. I'm ready for it to be over–the sneezing, watery eyes, congestion, feeling like an elephant is sitting on my chest, nasal drips, and headache. I want it all gone, but more than anything, I want to spare my children this misery.
School is back in session, and cold and flu season is here. I want to protect my children from being sick. I don't want them miserable. Also, I wouldn't say I like trips to the pharmacy to find medicine to offer them relief. I watch the labels on what we consume and try and make educated choices. This fall, we're armed with Kids Relief.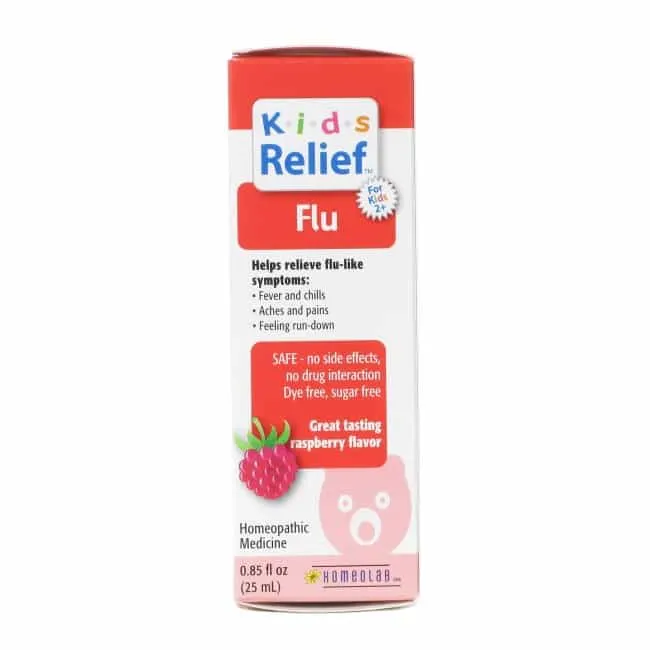 Kids Relief Flu Relief is a raspberry-flavored oral liquid. Something new beyond grape and bubble gum. Its purpose is to help ease those flu-related symptoms such as fever, chills, aches, and pains. Kids Relief Flu Relief is a homeopathic medicine that is dye-free, sugar-free, gluten-free with no drug interactions or side effects.
I really appreciate that this flu medicine is homeopathic–especially since I've already shared How I Lost Mother of the Year in 2008 to Medicine Over-Dose!
This homeopathic medicine helps relieve flu-like symptoms:
• fever
• aches
• pains
• chills
• feeling run-down
Kids Relief Flu Oral Liquid can be used n children as young as six months with no risk of side effects, drug interaction, or overdose.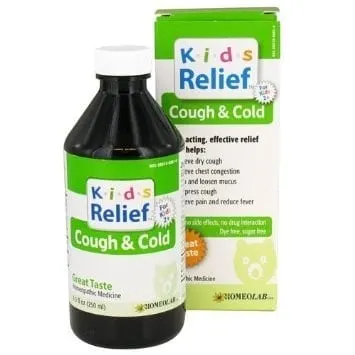 There's also Kids Relief Cough & Cold Syrup.
This homeopathic medicine helps relieve symptoms associated with cough & cold. Symptoms like:
• dry cough
• cough with expectoration
• chest congestion
• aches and pains
• feverKids Relief Cough and Cold Syrup acts as an expectorant while soothing a dry, irritating cough, offering relief. Kids Relief medicines are:
Safe
No harmful side effects
Dye-free, sugar-free
No risk of overdose or drug interaction
Fast-acting, effective relief
Great tasting
Kids Relief has you covered with a safe, homeopathic medicine that moms can feel confident about giving to their kids.
Kids Relief isn't just for the flu but available for Cold and Cough, Pain and Fever, and Allergy Relief. There's even a line of products for babies from a Calming Syrup to Gas and Colic, Teething.
However, my priority is to keep cold and flu season away from my kids, which is why we use Kid's Xlear Sinus Care Nasal Spray.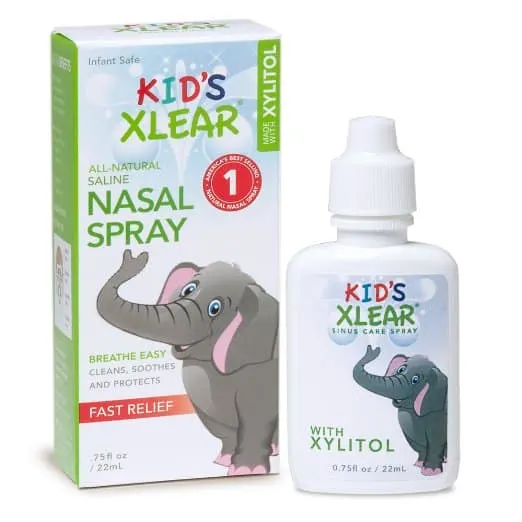 Each morning we blow our noses, and then the kiddos use their own Kid's Xlear nasal spray. They can do it themselves by simply inserting the nozel into their nose and releasing the spry. It's a fine mist and works quickly. At first, they were somewhat startled and as Li'l Man twice exclaimed, "sticking things up your nose is GROSS!"
Xlear contains Xylitol, a naturally occurring sweetener found in plants and fruits and is produced in small amounts by the human body. Xylitol prevents bacteria from sticking to the nasal wall. Typical nasal sprays only contain saline which does not prevent bacteria from sticking.Kid's Xlear nasal spray helps soothe your child's nasal passages while rinsing away bacteria, pollutants, and allergens from the nasal tissue.
I love that Kid's Xlear is natural and not a medicine. The allergy pills we have tried in the past have worked only because they have made my child too groggy and tired to be active.
WHAT IS XYLITOL?
Pure xylitol is a white crystalline substance that looks and tastes like sugar. It's not an artificial sweetener but all-natural sugar alcohol found in many fruits and vegetables produced in small amounts by the human body. Xylitol has been researched for over 40 years, resulting in thousands of studies confirming its effectiveness and safety.
Keep your children as healthy as possible with Kid's Xlear Nasal Spray, and should the cold and flu season find its way to your house, check out Kid's Relief. Here's to a healthy fall and winter!