I received a Country Crock Premium Baking Kit in exchange for this post. All opinions are my own.
Making a delicious sugar cookie recipe is one of my favorite things to do on a rainy day–or really any day. The reward is the house smelling so good and the deliciousness of that first bite. This weekend's cookie project was one of epic celebration. Country Crock sent me a premium #WhenWeBake baking kit, which included a custom 3D cookie cutter .
I've heard a lot of things about 3D printers, but to actually have something created especially for me with one, is pretty spectacular! We chose Li'l Man's frog drawing. It is a drawing that he is so proud of and has great memories for him.

Country Crock took that drawing and turned it into a cookie-cutter, which we then recreated art onto sugar cookies!
Here's the Chewy and Delicious Sugar Cookie Recipe we used:
Country Crock Chewy & Delicious Sugar Cookie #Recipe
Author:
Ingredients
1 cup Country Crock Spread
1 Cup granulated sugar
1 large egg
2 tsp. vanilla extract
2-2/3 cups all-purpose flour
1-1/2 tsp baking powder
1/2 tsp salt
Instructions
Preheat oven to 375 degrees.
Beat Country Crock Spread with sugar in a large bowl with an electric mixer until light and fluffy, about 3 minutes.
Beat in egg and vanilla, scraping sides occasionally, until blended.
Beat in flour, baking powder, and salt.
Roll dough out onto lightly floured surface until 1/4″ thick.
Use cookie cutters to cut out shapes and place on ungreased cookie sheet.
Bake 5-7 minutes, or until edges are golden.
Cool, 2 minutes on wire rack.
Remove from sheets and allow to cool completely.
Decorate, if desired.
Once the cookies were out of the oven and cooled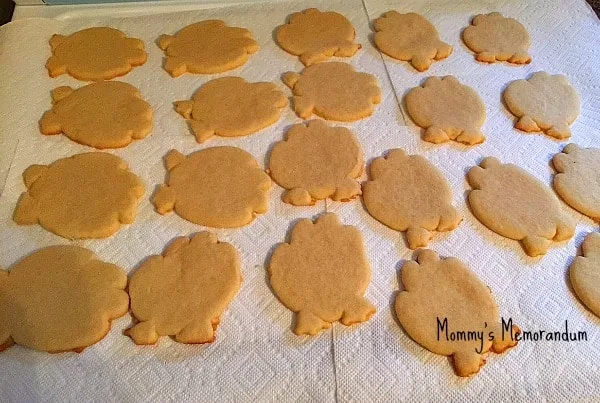 I used black buttercream frosting to outline and create the frogs: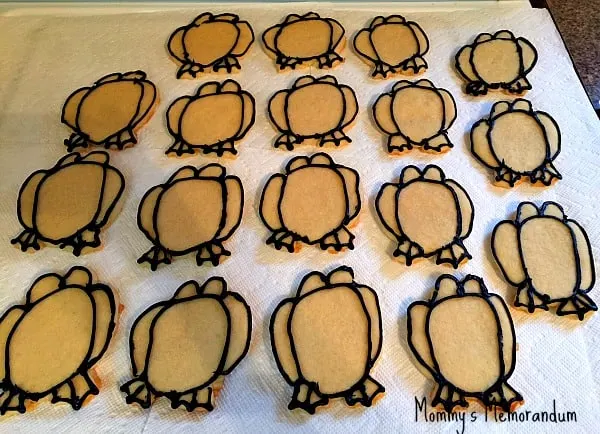 I then used this recipe to fill in the outlines:
Cookie Frosting
Author:
Ingredients
4 tsp warm water
1 cup powdered sugar
vanilla, optional
food colorings of choice
Instructions
Stir water into powdered sugar until smooth.
Tint with food coloring, if desired.
Pipe onto cookies and let dry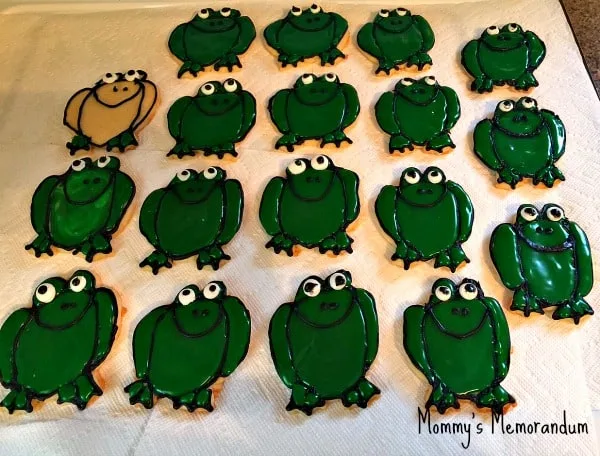 Li'l Man couldn't stop grinning, and even Miss M was excited that we could now have "Lil' man's frogs for dessert" anytime we want!
---
Resources:
https://www.tomsguide.com/us/best-3d-printers,review-2236.html