Beneful brings, this post is brought to you by Beneful on behalf of #NationalDogWeek and #FriendsWithBeneful. All opinions are my own.
Our furry four-legged pets are as much like our family as the humans are to each other. They are loyal. They have personalities. They give us love and support.
September 20 marked the first day of #NationalDogWeek. It's not a new fad holiday. National Dog Week dates back to 1928 when Captain William Lewis Judy founded it to promote responsible pet ownership and celebrate how dogs serve humans. Now, 85-years later, we carry on the tradition to celebrate our four-legged friends' love, comfort, and service.
In honor of National Dog Week, Beneful conducted a national Omnibus survey of dog owners to capture insights about the activities that make dogs happiest.
Here are some of the results of this survey:
The bond between dogs and owners is undeniably strong and often surpasses dog owners' relationships with other friends and family.
Four-legged family members: Nearly all (96%) respondents agree that their dog is part of their family.
BFFs: More than eight-in-10 dog owners surveyed (82%) agree that their dog is one of their best friends.
More insightful than humans?: Nearly six-in-10 (58%) of respondents agree their dog understands them as no human could.

Interestingly, female dog owners feel an even stronger connection with their dogs than their male counterparts. Two-thirds (64%) of women surveyed agree their dogs understand them like no human could, compared to just 50% of men.
Then, on the eve of National Dog Week, something terrible happened.
It was Saturday morning. My husband took our dogs Bailey Mae and Jeb's newly rescued for their morning walk. A tow truck pulled into the church parking lot across the street at the school corner, turned on their lights, revved their engine, and Jeb bolted. He darted with such force that his leash was yanked from my husband's hand.
Three weeks, to the day, since we brought him home.
Jeb headed for the park, my husband and Bailey Mae running after him. Jeb is fast–he has stamina.
He was gone.
My husband was frantic. He called me, telling me to get in the car and head to the park; Jeb was on the run!
I left in a hurry!
I sent a text to a friend who lives at the intersection where Jeb was headed.
I circled the block. I talked to anyone whom I saw. We narrowed him down to the north end of the park.
He was dragging his leash behind him and the handle, hitting the asphalt, was LOUD, which made our already terrified dog frantic. We couldn't find him.
I went home. My son was crying…hysterically. He was worried about Jeb.
If we knew one thing, it was that Jeb would be okay. He had roamed the neighborhood, licking water off of grass and leaves and scavenging for at least three weeks before we captured him.
We spent $20 on flyers, and the kiddos roamed door-to-door.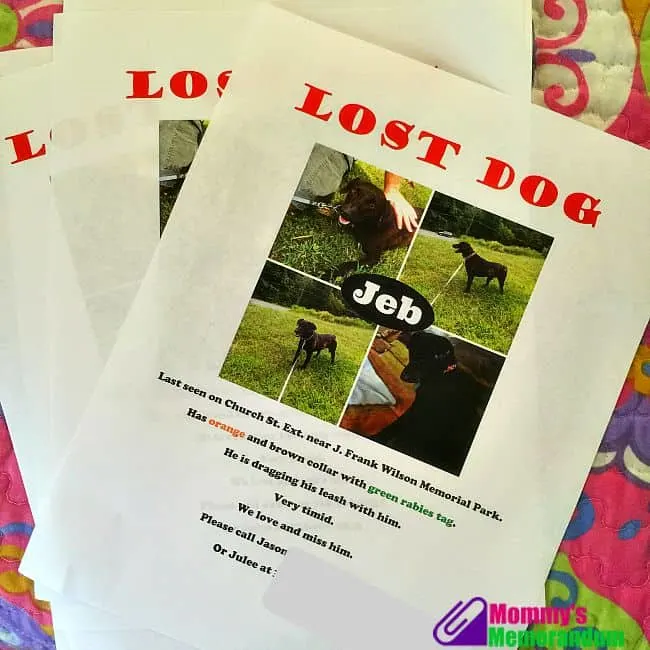 My husband walked the park, calling for Jeb. I used the car to drive the neighborhood.
There was absolutely NO sign of him.
That night, Bailey Mae needed to go for a walk. I leashed her, and we headed for our usual evening walk. She was pulling me hard into the wooded area across the street. It was dark and growing darker. She is 8 pounds but was using every ounce of it to make sure we pressed forward, deeper into the wooded area.
I called my husband–mostly because I'm afraid of the woods–at night!
My husband came out with a flashlight, and I told him, "I think she smells Jeb."
He used the flashlight, and sure enough, Jeb was there. He fled when he saw the light.
The Beneful Omnibus survey of dog owners shared:
Food and treats are the way to your dog's heart
Not surprisingly, dog owners surveyed reported that eating treats (96%), mealtime (90%), and chewing a bone (87%) are the top three activities that make their dogs happy. Food is king when it comes to dogs' happiness.
I went back home with new hope.
I got dog treats and tried to bribe Jeb.
He didn't have it.
The next day, Jeb was still in those woods. He'd come out to check on us, but he was so afraid that we couldn't get near him.
Beneful Was Keeping Jeb Nourished
We took turns filling Jeb's dog bowl with Beneful dog food–and each morning, it would be empty. He was getting nutrition, reminding him of his life with us. Good food.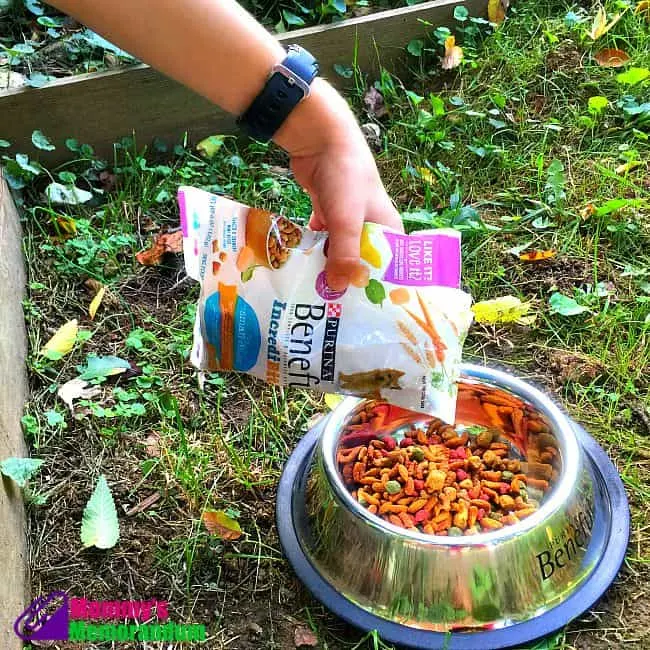 Like those who took the Beneful Omnibus survey, we know exercise is essential.
No, more excuses! Getting active together leads to happy dogs (and a healthier you)
Dog owners surveyed report that dogs are happy when they are getting active with their owners. Activities include: going on walks (86%), playing fetch (74%), and running or jogging with someone (55%).
We carried on with our usual routine for Bailey Mae. We went for our regular walks. We stayed on the same route when we walked. We talked to Jeb softly. We asked him to, "Come home, Jeb."
Slowly, he started participating–though from a distance.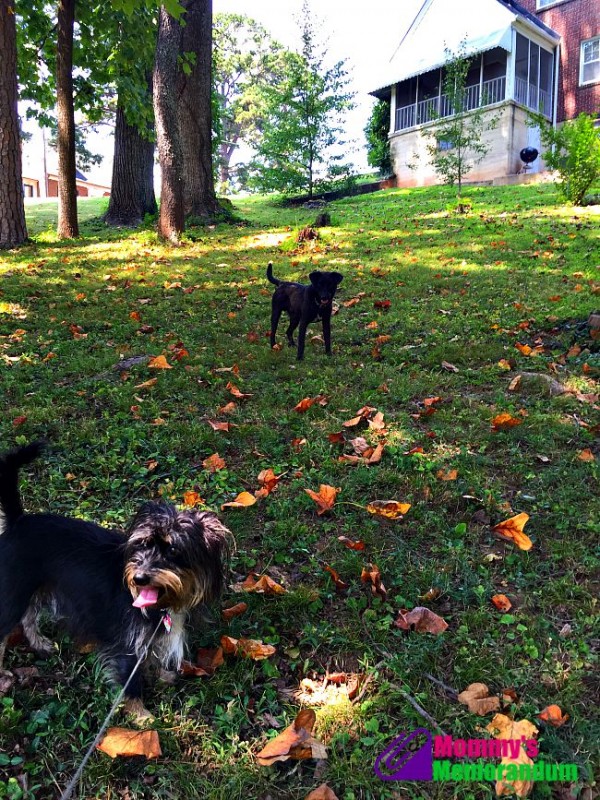 When the rain came, he sat in it, on the sidewalk on the hill by our house, watching us.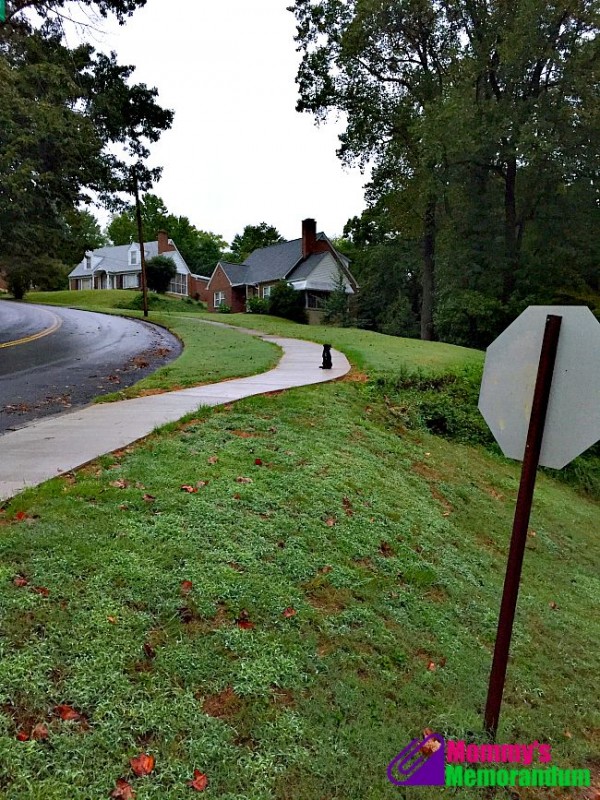 Bailey Mae was depressed. She stayed in the front window watching for him and whining to come home.
Everyone in our neighborhood was on "Jeb Patrol." They'd call my husband, come to our door, alert us as to where and when they saw Jeb.
As the sun set on the fourth day, my husband walked Bailey Mae, and Jeb was walking very close to them. If my husband looked at Jeb or changed hands with the leash, Jeb would put distance between them. An hour or so later, and Jeb was close enough that my husband took a chance and grabbed Jeb.
We all cried when the three of them walked through the door. Our family was complete…again.