Attention coffee lovers! Are you tired of heading out to your local coffee shop every time you crave a refreshing iced coffee? Now you can enjoy the delicious taste of Dunkin' iced coffee from the comfort of your own home!
Our Homemade Dunkin' iced coffee is best when made with 100% Arabica beans and blended to perfection for a smooth and flavorful taste. With our easy-to-use instructions, you can make your own Dunkin' iced coffee with just a few simple steps.
Whether you prefer your iced coffee with cream and sugar or enjoy it black, our at-home Dunk' Iced coffee recipe makes it easy to customize your drink to your liking. And with the convenience of making it at home, you'll save time and money while still enjoying your favorite coffee.
So why wait? Bring the taste of Dunkin' iced coffee into your home today and enjoy the perfect pick-me-up any time of day.
The first sip to the last is perfection with this Dunkin Donuts Iced Coffee Recipe!
About Dunkin'
Sure, Donuts is in their name, but did you know Dunkin Donuts is actually a coffee company?
Coffee statistics say more than 30 cups of the chain's coffee is sold every second–that 1.7 billion cups of coffee per year!
Not just that, but there are more than 15,000 ways to order a single cup of coffee–think syrups, sweeteners, turbo shots, and more.
The company also has professional coffee tasters, who average roughly 200 cups of joe per day–that's a commitment to quality.
As a coffee lover, you may also enjoy this iced coffee recipe.
It's a cup of joe that makes for a refreshing drink.
Switch gears as the heat climbs, brew yourself your favorite flavor of Dunkin' Donuts coffee and turn that mug into a tall tumbler of iced coffee!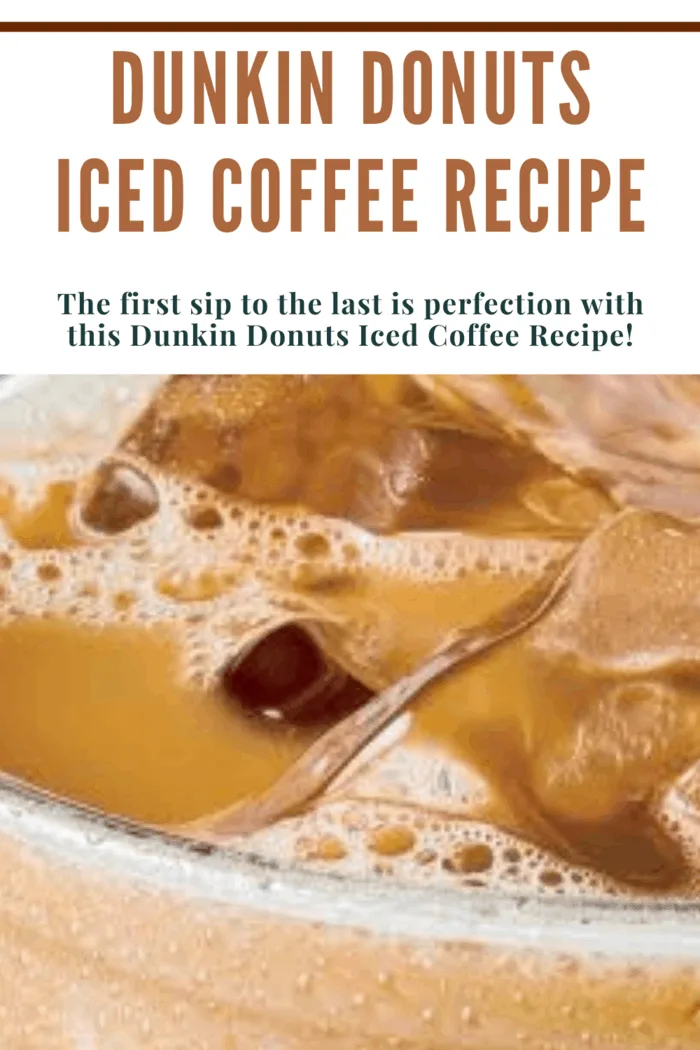 What Makes Dunkin' Iced Coffee so Good?
There are a few key factors that contribute to the delicious taste of Dunkin' iced coffee:
High-quality beans: Dunkin' uses 100% Arabica beans, which are known for their smooth and flavorful taste. The beans are carefully sourced and roasted to perfection, ensuring a high-quality cup of coffee every time.
Customizable options: Dunkin' offers a wide range of flavors and customizable options for their iced coffee, including cream, sugar, and flavored syrups. This allows customers to tailor their drink to their own personal tastes and preferences–just like making it at home.
Consistent brewing process: Dunkin' has a strict brewing process that ensures consistency across all of its locations. This means that no matter where you go, you can expect the same great taste and quality in your iced coffee.
Convenience: Dunkin' makes it easy for customers to enjoy their iced coffee on-the-go. With drive-thru options and the availability of pre-made drinks in stores, customers can quickly and easily get their caffeine fix without sacrificing taste or quality.
Overall, the combination of high-quality beans, customizable options, a consistent brewing process, and convenience all contribute to what makes Dunkin' iced coffee so good.
Your homemade Dunkin' Iced Coffee will taste just as good.
Coffee! Coffee! Coffee!
The American global coffee house, Dunkin' Donuts, has turned our love for all things coffee into iced coffee.
We now seem to like our coffee cold.
Regardless of how we like our coffee, coffee has many benefits, especially iced coffee.
According to Nature.com, Cold coffee has less acid, making it more flavorful.
It may be easier with a Keurig to make your own iced coffee.
It all plays out in the coffee grounds.
Once the grounds are placed in hot water, they release oils composed primarily of acidic compounds, making our coffee more bitter.
Fun Fact: The United States consumes a quarter of the world's coffee.
Coffee is the second-largest import, only behind oil.
By some estimates, 10 percent of the world's population gets all or part of their pay from coffee.
Coffee has taken over the world as the second-highest commodity, with more people consuming coffee than they are consuming water.
It's your favorite brand of indulgence, cooled down into a refreshing glass of Joe!
I tried making it with other coffee brands, but it didn't taste like dunkin' original iced coffee.
I recommend using the dunkin donuts coffee brand if you are seeking the best-iced coffee recipe ever!
Use this Dunkin donuts iced coffee recipe as a basic foundation.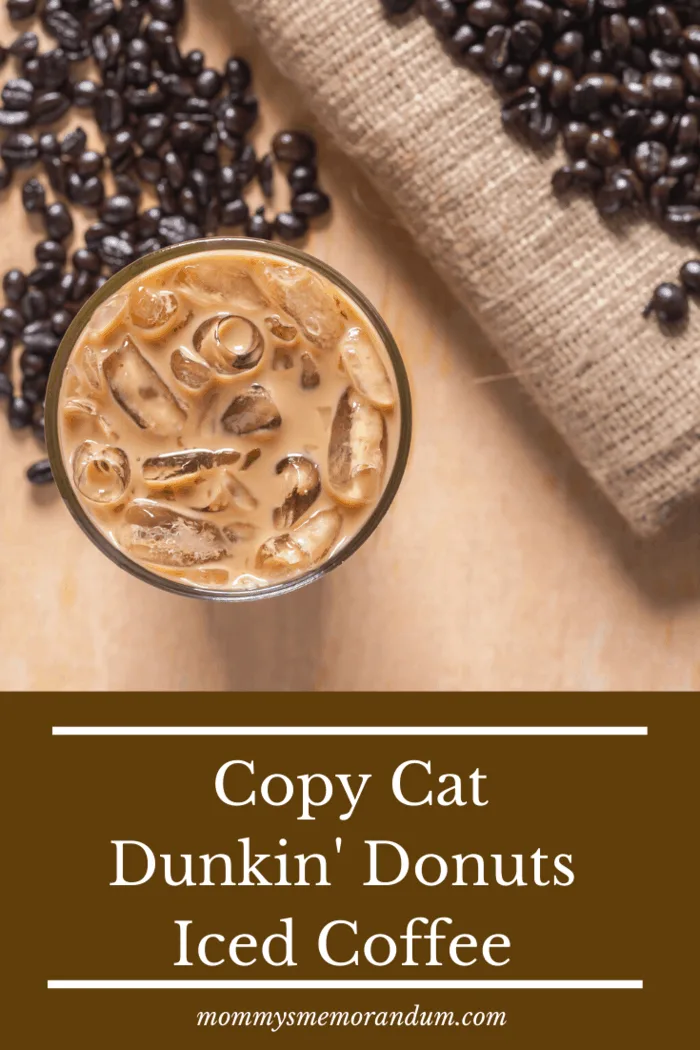 Dunkin' Coffee
Dunkin recently expanded their iced coffee drinks and added new flavors like:
cookies and cream
coconut
French vanilla
toasted french vanilla
mocha flavor swirl
butter pecans
hazelnut mocha
rocky road
almond joy
vanilla cupcake
Blueberry Muffin Flavored Coffee
Caramel Coffee Cake Flavored Coffee
Cinnamon Coffee Roll Flavored Coffee
Chocolate Glazed Donut Flavored Coffee
And more!
Most of these flavors are available on the brand's coffee shelf.
If you like the other flavors Dunkin' Donuts offers, try adding flavored syrups or the Dunkin Donuts line of coffee creams available at grocery retailers nationwide.
Dunkin also has a grocery store line of coffee creamers that you can buy or purchase at one of their locations, making the possibilities endless with flavored syrups and creamers!
Dunkin' Iced Coffee
Skip the coffee shop; this recipe is easy, tastes like the original, and has endless possibilities.
Make the coffee ahead and store it in your refrigerator for quick prep.
This dunkin' iced coffee recipe is perfect for any time pick-up – morning, afternoon, or evening.
Save time; make a large batch and have it in the refrigerator ready to go all summer long!
With all the coffee flavors Dunkin' offers, there's delicious potential.
I've even used instant coffee in a pinch with great results.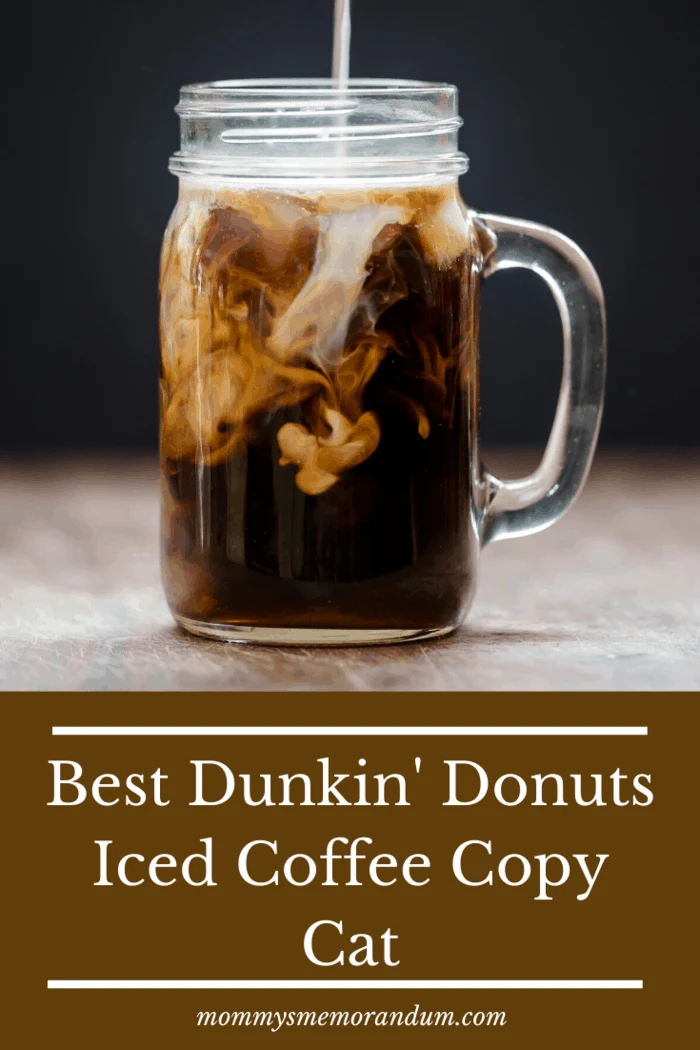 Dunkin Donuts Iced Coffee Recipe Ingredients
3/4 cup of your favorite ground Dunkin' Donuts Coffee (I like the original blend)
3 cups cold water, divided
1/3 cup sugar
1/2 cup half-and-half (or heavy cream)
1/2 teaspoon Vanilla extract (it's optional, but makes this Dunkin' Original iced Coffee, a Dunkin' Vanilla Iced Coffee)
Whipped Cream (optional)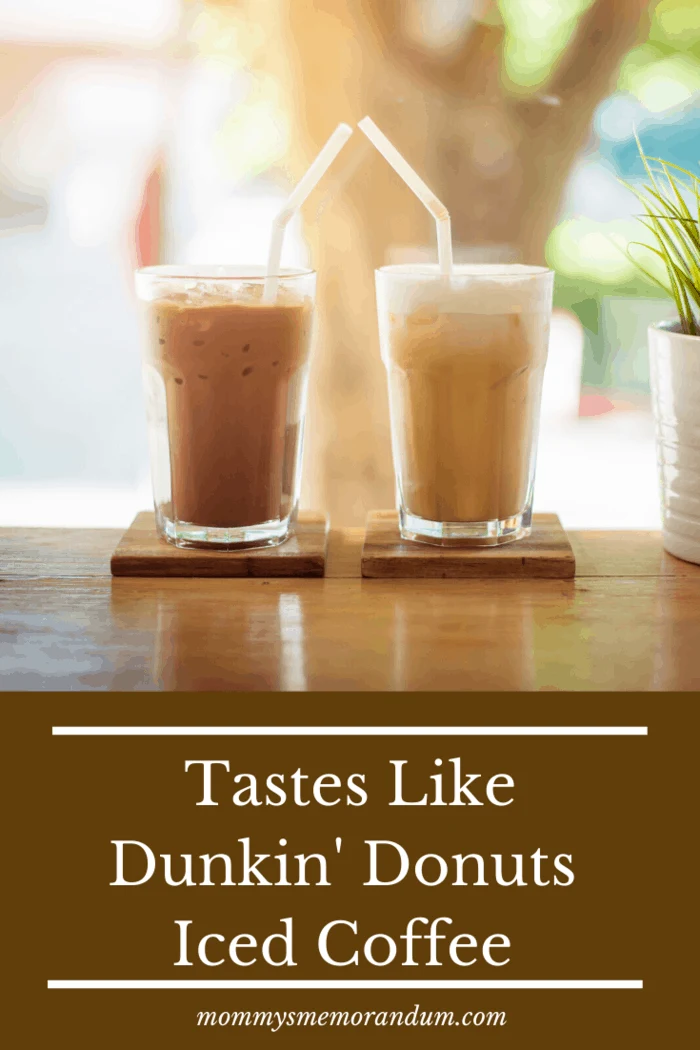 How to Make Dunkin Donuts Iced Coffee Recipe
Brew coffee in a coffee maker using 3/4 cup ground coffee and 1-1/2 cups cold water.
Combine hot coffee and half-and-half in a pitcher.
Stir until the sugar is completely dissolved.
Blend in 1-1/2 cups cold water.
Chill until ready to serve.
Pour over ice in tall glasses or cafe mugs.
Top with whipped cream, if desired.
Serve immediately.
Makes 4 servings
Prep Time: 10-minutes
TIPS!
If you're drinking this right away, it's perfect!
If you're a slow drinker, I suggest coffee cubes, instead of ice cubes.
Double the batch for delicious brewed coffee without the coffee brewer for your next tall glass!
Watch How Easy It Is to Make A Copy Cat Dunkin' Iced Coffee at Home:
More Tips:
To get the most authentic taste, we recommend you use high-quality 100% Arabica coffee beans, like the original. There are two types of coffee beans: Arabica and Robusta. Arabica is smaller and harder to grow but tastes better. Robusta has much more caffeine and is larger and easier to grow.
Use the freshest coffee beans.
Store coffee beans in an airtight container in the freezer when not using coffee beans. The airtight container is important because coffee absorbs the smells and flavors of anything around it.
Keep your carafe clean.
If you are making iced coffee and don't have coffee ice cubes, double the amount of coffee grinds you use to make the coffee. (3 Tablespoons for every 6 ounces of water).
Save time and use cold-brew coffee
If you have extra coffee left over, store it in an air-tight container in the refrigerator.
Refrigerated iced Coffee has a life of about eight hours after brewing.
Bonus:
Make this beverage "over the top GOOD" by adding a scoop of Hagen-Daz Vanilla Bean of Coffee ice cream.
Fun Fact:

Dunkin' Donuts swirls are made with sweetened condensed milk and flavored with cocoa, vanilla, and other flavors.
Enjoy the refreshing, full flavor of this Iced Coffee Recipe that tastes like the one you crave!
Do you love coffee house drinks? Try these recipes
Thai Iced Coffee with Coconut Milk
Copycat Starbucks Salted Caramel Pumpkin Spice Frozen Coffee Recipe
Dunn Brothers Vanilla Iced Nirvana
Starbucks Salted Caramel Mocha Recipe
Copy Cat Starbucks Salted Caramel Frozen Coffee
Starbucks Birthday Cake Frappuccino
About Dunkin' Donuts
Founded in 1950, Dunkin' Donuts is America's favorite all-day, everyday stop for coffee and baked goods. Dunkin' Donuts is a market leader in the hot regular/decaf/flavored coffee, iced coffee, donut, bagel and muffin categories. For eight years, Dunkin' Donuts has earned the No. 1 ranking for customer loyalty in the coffee category by Brand Keys. The company has nearly 11,000 restaurants in 33 countries worldwide. Based in Canton, Mass., Dunkin' Donuts is part of the Dunkin' Brands Group, Inc. (Nasdaq: DNKN) family of companies.
Dunkin Donuts Iced Coffee Recipe
This copy cat dunkin donuts iced coffee recipe comes together in just minutes with just a few ingredients for a dunkin donuts iced coffee ready to drink treat!
Ingredients
3/4 cup of your favorite ground Dunkin' Donuts Coffee
3 cups cold water, divided
1/3 cup sugar
1/2 cup half-and-half
Whipped Cream (optional)
Instructions
Brew coffee in coffee maker using 3/4 cup ground coffee and 1-1/2 cups cold water.
Combine hot brewed coffee and half-and-half in a pitcher.
Stir until sugar is completely dissolved. Blend in 1-1/2 cups cold water.
Chill until ready to serve.
Pour over ice in tall glasses or cafe mugs.
Top with whipped cream, if desired.
Serve immediately.
Notes
Make ahead of time and store in refrigerator for two days.
Nutrition Information:
Yield:

4
Serving Size:

1
Amount Per Serving:
Calories:

106
Total Fat:

3g
Saturated Fat:

2g
Trans Fat:

0g
Unsaturated Fat:

1g
Cholesterol:

12mg
Sodium:

27mg
Carbohydrates:

18g
Fiber:

0g
Sugar:

18g
Protein:

1g
Nutritional information may not be accurate