Today's Best Recipe offers unique ways to use coffee syrup.
Did you know that you can flavor your cup of coffee?
Yes, of course, you can.
The best thing about coffee syrups is that you don't only get to use them on your coffee, but you can use them on different things, too, in different ways.
The coffee syrup can turn up your cup of Joe and create a decadent flavor experience.
Try these delicious coffee recipes to keep you warm this winter.
Coffee syrup is the perfect addition to hot coffee, iced coffees, lattes, and so much more.
With so many flavor options, you can also use it on ice cream, whip it into whipping cream, stir it into tea, and more.
This includes adding flavor to lattes, spicing up your cookies and scones, and mixing fruit flavors in your cocktail with a wide selection of flavoring syrups.
Inventive Recipes for Baristas and Chefs
Want to make a sweet, dark coffee with a bit of fruity flavor?
What about a chocolate-caramel coffee beverage for dessert?
You'll find recipes with cinnamon and spice, with strawberry and blackberry, and with mint and Irish cream – not to mention more than a handful of spiked coffee drinks for an after-dinner nightcap.
If there's a flavor worth craving, our diverse coffee syrups will help you mix up the perfect drink.
From our harvest pumpkin pie latte to our espresso-flavored cola, we have a coffee recipe that suits tastes from traditional to exotic.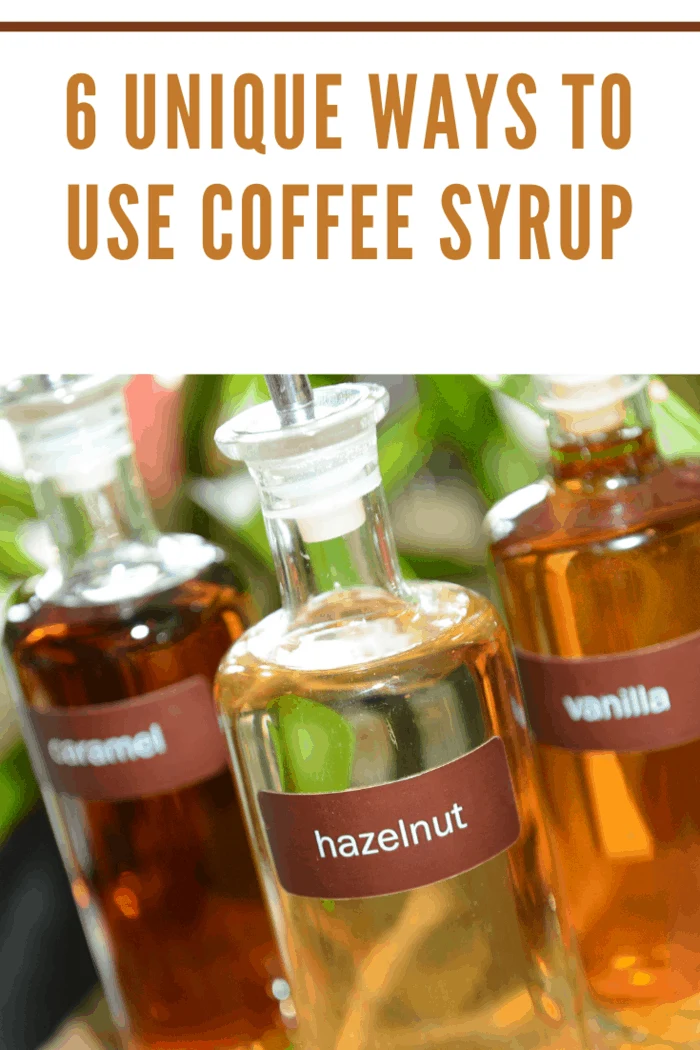 Sort Through Your Options
Find the tastes you crave, then put our syrups to good use in one of our recipes.
This guide will help you know some unique ways to use coffee syrup.
What are the Uses Of Coffee Syrups?
1. Adding Some Flavor To Your Coffee
Of course, the most obvious way to use coffee syrup is in coffee.
You can always get different flavors of espresso-based or just coffee beverages.
Whether you are thinking about adding some flavor to your cup of hot coffee or you want to make some flavored lattes, reach out for these syrups and let them do the magic.
Another thing is that these syrups are usually so versatile; thus, you can always find different ways to use them to add flavors to your beverages.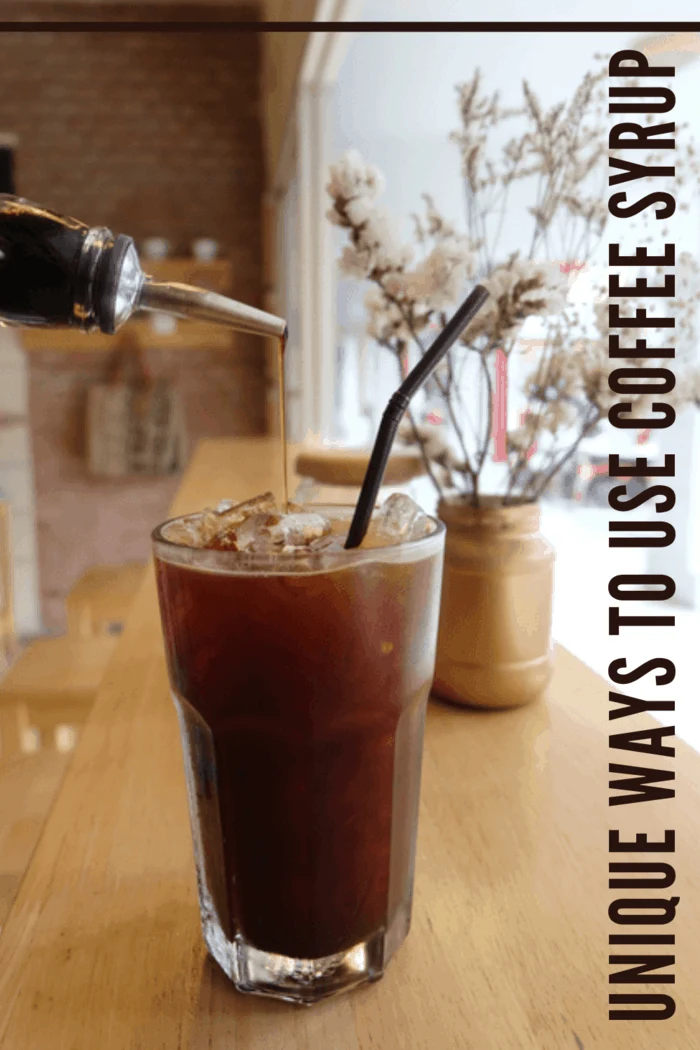 2. Cooking
Remember when we said these syrups are versatile and can be used in different ways?
Cooking is one of the ways.
Since they are not limited only to coffee, you can get creative with them in the kitchen as they can really come in handy whenever you want to add some flavor to your marinades and other house-made sauces.
You can use these syrups to sweeten your brownies, cakes, scones, cookies, and many other products when you decide to make them.
When a recipe calls for simple syrup, exchange it with your favorite coffee syrup.
In addition, other great uses for coffee syrups are:
soak for cake layers
liquid for poaching fruits
maceration for fresh fruits for things like shortcakes
make salad dressings
pickling liquids
flavored brines
glaze: mix with powdered sugar and glaze, drizzle, and dunk to your heart's desire.
Add syrup to whipping cream in place of sugar before whipping for flavored whipped cream
Coffee syrups can also be used together with buttercream or other components used for icing and filling
syrup for pancakes and waffles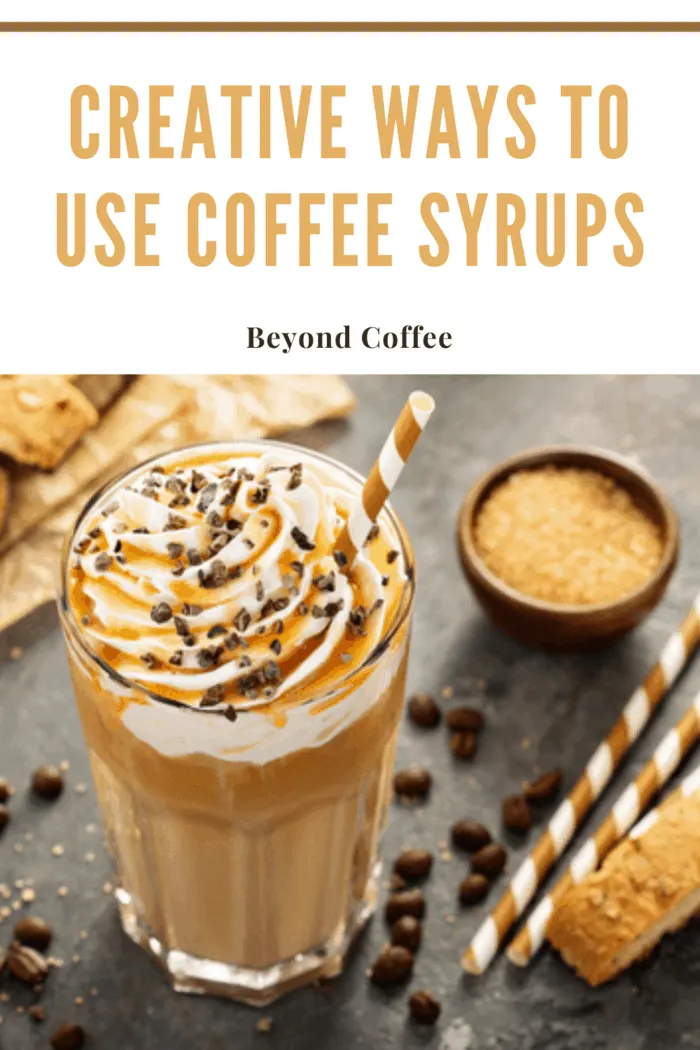 3. Mixing Drinks
For this, look for those fruity and flavorful syrups, as they are the perfect selection for making concoctions.
The coffee syrup can be used to make both alcoholic and non-alcoholic concoctions.
If you want to make a great dessert shooter or a perfect martini to mesmerize your guests, then these syrups got you.
They also add flavors to sodas made in the house, smoothies, iced teas, and lemonades.
All your cocktail recipes will always have a consistent and quality flavor if you continue using these syrups.
Some ideas:
Flavored tea
Lemonade
Italian Sodas
flavor ice cube water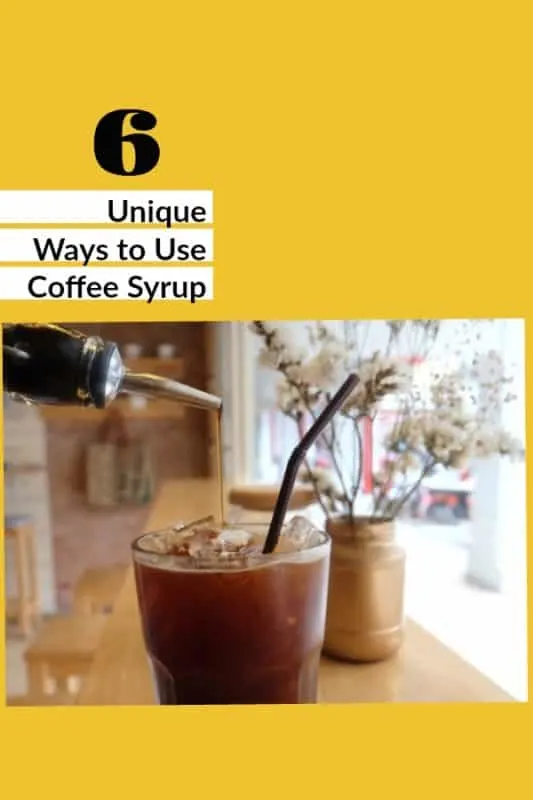 4. Concentrates
Well, you can now be able to reduce the time you take to prepare your concentrates by using some of these concentrates which are ready to use.
If you fear using them because you think you can mess things up, don't worry.
They always come with some simple instructions that one can easily follow and still have excellent concentration.
On top of that, they already contain caffeine.
5. Dessert
These syrups can also be used to make great dessert sauces.
Of course, the sauce can be a great addition to your desserts and drinks.
You should try them out when blending into sweet frappes or swirling on top of whipped cream.
They are usually in the form of some thick consistency compared to a liquid-flavored syrup.
Try them out with smoothies or milkshakes if you want to taste their magic.
You can also use them on cheesecakes, sundaes, or any other pastries.
They do help in making a perfect finish for your treats.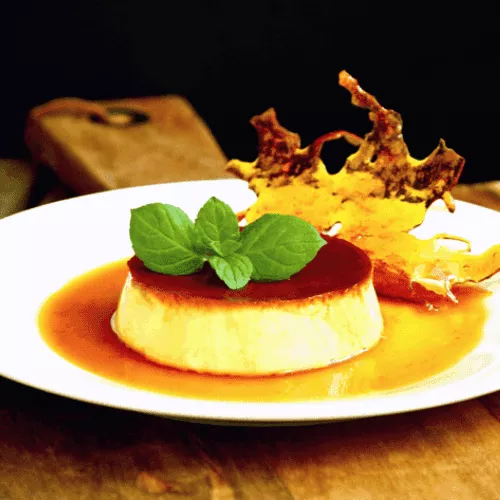 6. Flavored Teas
As mentioned earlier, these syrups are versatile and can be used in many different ways.
You can also use them to make lovely flavored tea, Italian sodas, or lemonade; they will come out perfectly without any struggle.
The syrup can also be used to add some flavor to an ice cube's water.
Imagine how nice it would feel to find such a great cold-flavored drink after a long day in the sun.
Syrups are more than just a liquid in a bottle; they are more like a magic potion that, when used properly, can leave your guests asking, "how did you do that?"
Dietary Considerations
1. Sugar-Free
If you think your dietary restrictions limit you, you are wrong.
You can still make that excellent cup of coffee by using a wide variety of sugar-free coffee syrups.
With these syrups, you still have a chance to sweeten your favorite sugar-free drinks.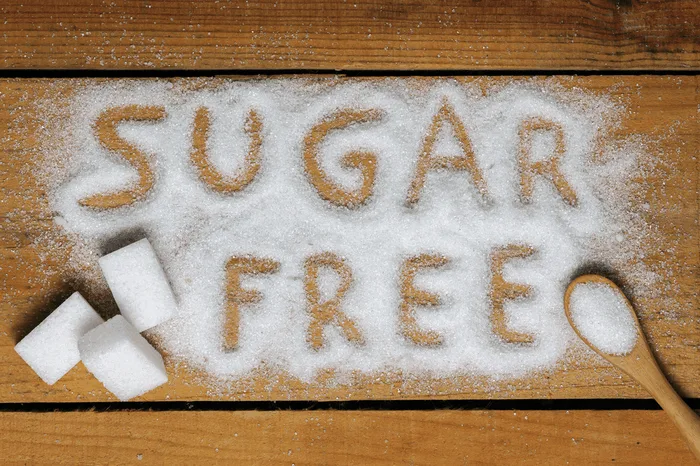 2. Organic, Gluten-Free, And Natural
As stated before, some brands like DaVinci Gourmet provide all-natural syrups that are naturally delicious and high quality.
These syrups are usually free of artificial flavors or any preservatives.
For instance, organic syrups are naturally sweet because organic cane sugar has no additives.
This, therefore, makes them safe for health-conscious people.
Conclusion
As you have seen, there are many unique ways to use coffee syrup.
They are not usually limited to being used on coffee alone.
You can still use syrups without interfering with your diet for those who are careful about what they eat or are just health-conscious.
Go ahead, try them out today and taste the difference.
You can also enjoy learning about the Difference Between Cold-Brew Coffee and Iced Coffee.