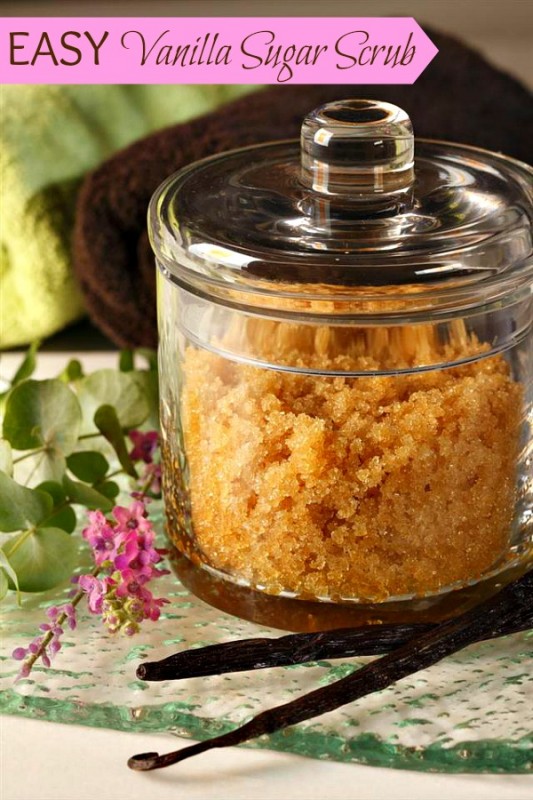 Looking for a cure for dry winter skin? Seeking a gift for the beautiful in your life? This easy to make Vanilla Body Scrub will rejuvenate skin and soothe the senses.
Madagascar Bourbon Pure Vanilla Sugar is a flavorful blend of gourmet baker's sugar and the pinnacle of all vanillas, Madagascar Bourbon Pure Vanilla Extract. This product is Kosher and Gluten-Free Certified as well as All-Natural, Allergen-Free, and GMO-Free.
It's the perfect touch to this luxurious sugar scrub adding a rich and inviting vanilla aroma.
Vanilla Body Scrub #DIY
Author:
Rejuvenate Winter Skin with this DIY Sugar Scrub
Vanilla Body Scrub
Ingredients
1 cup Nielsen-Massey Madagascar Bourbon Pure Vanilla Sugar
1/4 cup extra virgin olive oil
1 or 2 drops of an essential oil such as lavender, eucalyptus, etc.
Decorative, waterproof container
Instructions
Mix ingredients together in a bowl.
Spoon into a decorative, waterproof container.
Wrap in decorative paper.
Instructions for use: Apply a small amount to damp skin while in shower or bath. Gently scrub the skin with a soft washcloth. Rinse thoroughly.