It's a month of hearts and romance, but coming up with Valentine's Day Gifts Ideas can be challenging.
I've partnered with GourmetGiftBaskets.com who is getting a little help from Cupid this Valentine's Day with insider information on what just about any foodie on your Valentine's Day gift list might want for Valentine's Day.
You+GourmetGiftBaskets.com=Perfect Valentine's Day Gifts
I don't say that lightly. GourmetGiftBaskets.com offers a great variety of gourmet food baskets and towers, baskets, and other gifts.
Every item is created with high-quality items, with brands you'll recognize as some of the best brands.
Shopping for Valentine's Day Gifts doesn't have to be Difficult:
I've been there, shopping a site that is so frustrating to navigate and search that you just give up.
It's not like that at GourmetGiftBaskets.com.
They offer a user-friendly site, with categories to help navigate by food types, holidays, occasion, and gift recipient.
No matter the category, you'll find Valentine's Day Gifts filled with:
luxury chocolates (businessinsider.com has the most luxurious chocolate boxes guide)
artisan coffee
organic snacks
craft beers
seafood
smoked salmon
steaks
Valentine's Day Gifts They'll Love!
Who is on your Valentine's Day Gifts List this year?
From your best friend to your husband or wife, even the kids (college-aged and younger), GourmetGiftBaskets.com is ready to help you show your affection.
Top Six Valentine's Day Gifts
There's an entire selection ready for you to browse and select–including these Top 6.
From the Heart Gift Tower
This tower of love is four beautiful boxes that overflow with sweet treats for your sweetheart.
It's the perfect way to say, "I Love You"!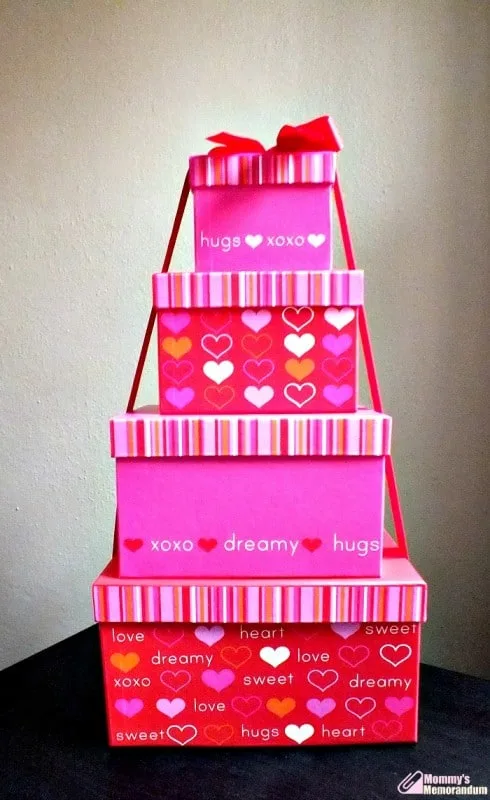 The boxes are fun, in all the colors of love.
A red ribbon ties it all together.
Here's what's inside:
Cinnamon & Brown Sugar Kettle Corn by KingOfPOP.com – 1.4 oz. –
Gourmet kettle corn coated in freshly ground cinnamon and dusted with sweet brown sugar.
French Chocolate Truffles by Truffle Basket – 3.5 oz. –
Elegant, French truffles that are hand-rolled and dusted with cocoa powder.
Dark Chocolate & Caramel Smothered Grahams by Annalie's Chocolates- .65 oz. –
Crunchy graham crackers are topped with gooey caramel before getting dipped into a bath of rich, dark chocolate.
Dark Chocolate Sea Salt Caramels by Sanders – .5 oz. –
Sweet, buttery caramel is coated with decadent dark chocolate and delicately sprinkled with gourmet sea salt.
Milk Chocolate Lindor Truffle Bar by Lindt & Sprungli – 3.5 oz. –
Squares of milk chocolate are filled with smooth and creamy milk chocolate truffle centers – it's the perfect bar to share with your Valentine since the bar is made up of individual pieces!
Sweet Onion Kettlecorn by KingOfPOP.com – 1.8 oz. –
Sweet and savory come together perfectly in this flavor of our hand popped corn – sweet sugar, a sprinkling of salt, and our proprietary blend of sweet onion seasoning make for your new favorite snack.
Chocolate Wafer Petites by Dolcetto – .7 oz. –
Bite-sized pillow cookies that wrap around centers of creamy chocolate.
(5) Les Pearls Milk Chocolate Truffles (Assorted Flavors) by Cémoi –
These classic milk chocolate French truffles are filled with unique pecan pie, banana caramel, or pistachio centers.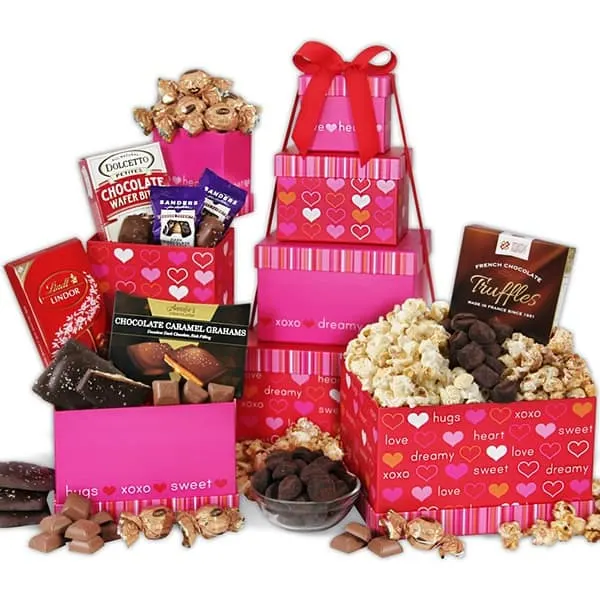 Dimensions: 8″x 6.5″x 15″
2. BRAND NEW for 2016 — Heart-Shaped Brownie Cakes –
Just $29.99! (These are so good, even if you'd don't have a Valentine this year, get a brownie cake for yourself!)…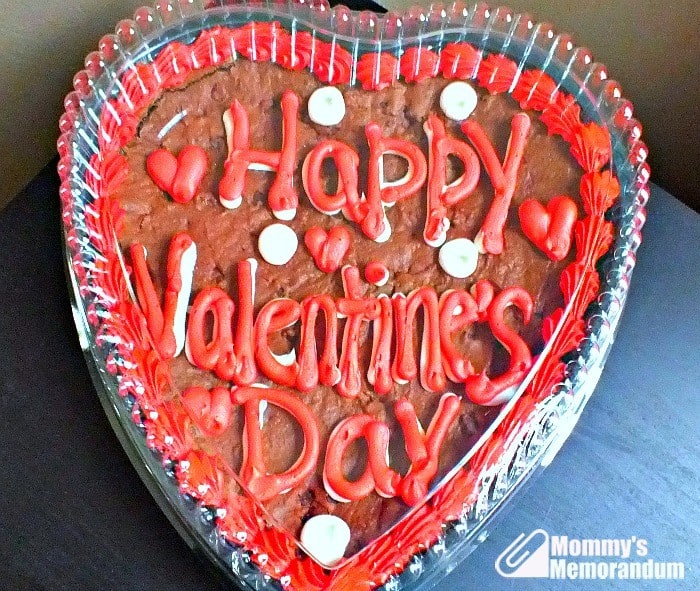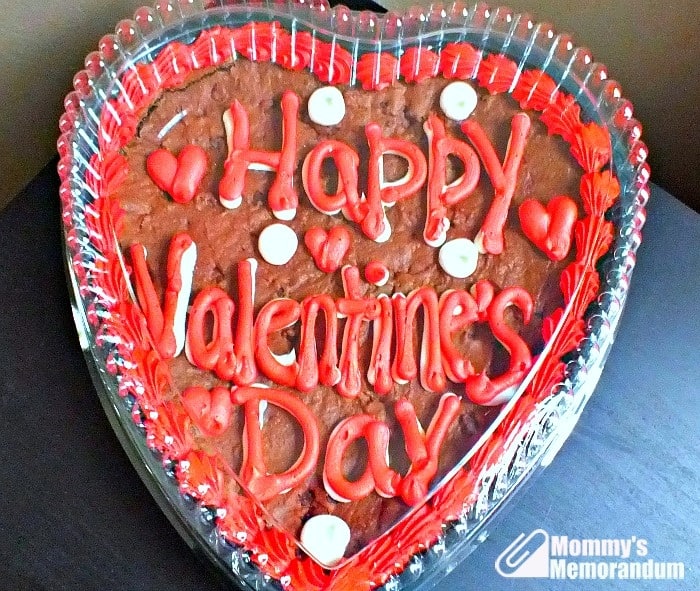 These are impressive, non-traditional Valentine's Gifts for individuals, an entire family, or a small office group.
Or maybe people throwing Valentine's Day parties would want to set one or two of these out for their guests?
Each Valentine's Day Brownie Cake offers the equivalent of about 36 brownies.
And if Brownies don't do it for you, there's also the Valentine's Day Cookie Cake.
People who love scrumptious chocolate chip cookies will adore these new items.
3. BRAND NEW for 2016 — Italian Dinner For Two — $159.99
What's more romantic than dinner for two?
If you have a significant other this Valentine's Day, this gift could go a long way toward intensifying the relationship.
Not only is this a special, tailor-made basket, but the contents will also really speak volumes about your love for the recipient.
This exquisite basket includes the following WOW list:
Chianti by Ruffino
Chardonnay Trebbiano by Villa Fassini
Arrabbiata Pasta Sauce by Cucina & Amore
Tuscan Minestrone Soup by Bountiful Pantry – 8 servings
Polenta by Cucina & Amore
Fricelli Organic Pasta by Morella
Artichoke Bruschetta by Cucina & Amore
Amaretti di Saronno by Lazzaroni (Very classy cookies)
Sun Dried Tomatoes by Cucina & Amore
4. BRAND NEW FOR 2016 –Combining Classy with Cute, Consider The Champagne & Teddy Bear Valentine's Day Gift Basket — $89.99
A gift basket of chocolates to enjoy with your glass of bubbly?
Sounds about right to me.
The Champagne and Teddy Bear Valentine's Day gift basket is full of everything you need to create the perfect evening.
With gourmet chocolates and crispy cookies, plus a sweet teddy bear just waiting to be cuddled, this new gift basket is a win-win-win.
5. Beer Valentine's Day Gift — $79.99. Perfect for The Guy Who SAYS He Doesn't Want A Valentine's Day Gift
Inside a galvanized steel bucket, your Valentine's Day Guy will find six delicious brews collected from countries across the globe.
And since nothing goes with a cold one quite like delicious snacks, a variety of delectable gourmet foods, like handcrafted popcorn and tender beef jerky, were included to round out this unforgettable Valentine's Day gift for guys.
6. Fruit & Chocolate Dipping Delight — $59.99. Hey, Folks, Fondue Is In Again…
If you grew up in the '70s as I did, you know that one of the most fun family activities was fondue night.
Well, given the popularity of many fondue-focused restaurants, fondue is hot yet again.
So GourmetGiftBaskets.com has created this beautiful basket for the fondue lovers out there to enjoy together on February 14th.
Give Valentine's Day Gifts that will have you both celebrating your love story!
I received the Tower of Love and Valentine's Day Brownie as part of this Valentine's Day Gifts Ideas post.
---
Resources:
https://hellogiggles.com/love-sex/relationships/little-ways-show-affection-to-your-partner/
https://www.gourmetgiftbaskets.com/Valentines-Day-Gift-Baskets.asp
http://www.gourmetgiftbaskets.com/Beer-Valentines-Day-Gift.asp?sku1230