I received a Wine Down Box in exchange for this post. All opinions and my love for wine remain my own.
I came for the wine, but my husband went for the cheese. This is what makes Wine Down Box unique. Move over wine club; we love the Wine and Cheese Pairing Club, known as Wine Down Box.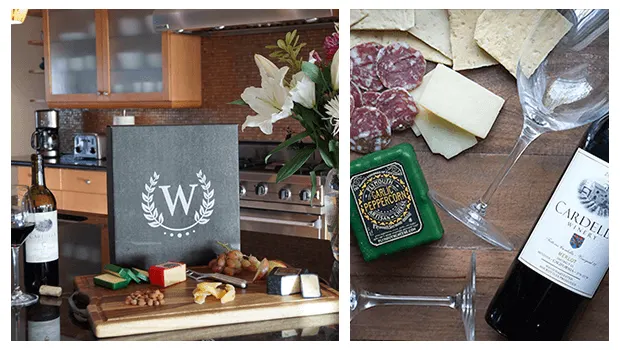 Sure, there's no shortage of Wine Clubs or Cheese of the month clubs.
They're popular subscriptions.
Wine Down Box seems to be the ONLY wine AND cheese of the month club.
Like, you get the actual pairing rather than the recommendation of how to pair.
We're talking gourmet wine, made in small batches, cheese, and charcuterie pairing.
Each box is expertly curated to bring you the best delivered right to your door.
The box is an elegant black box.
Inside there is an ice pack to ensure freshness upon arrival.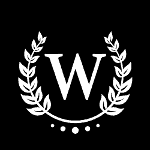 Wine Down Box delivers its subscription box on the 25th of each month.
I also received a confirmation email with my shipment to let me know it was sent out.
The monthly subscription includes shipping.
They offer more significant discounts on long-term subscriptions and even offer a 1-month subscription for people that want to try it out.
The Cost:
$70 for 1 month

$204 for 3 months

$390 for 6 months

$756 for 12 months.
Each box includes:
One bottle of wine
8 oz. artisanal cheese pairing
2 oz. charcuterie pairing
2 oz. handmade crackers
Ships to: US for free, except for the following states: AK, AL, AR, DE, HI, KY, MS, OK, RI, SD, UT
Inside the box, an information card discusses the curated pairing.
It's a great resource if you want to learn more about wine and cheese.
It offers excellent detail about why each product works with the others.
For my Wine Down Box, the information card reads:
This 2011 Merlot from Cardella Winery is a classical beauty–no wonder it's received a number of well-deserved awards. Firm and silky, it opens with herbal notes and aromas of light currant, which are swiftly followed by flavorful red fruit and fresh herb on the palate. The tannins are delicate, with subtle hints of toasted oak throughout.

We've complemented this wine with a Peppercorn Garlic cheddar from Plymouth Artisan Cheese. Inspired by the flair and finesse of the French kitchen, this cheese boasts a vivacious character and creamy texture, with savory elements of onion, garlic, red peppers and green peppercorns throughout.These flavors balance the notes of herb and currant in the wine, allowing them to work together without one overpowering the other.

The handcrafted Barola salami from Alle-Pia Fine Cured Meats features Barolo wine from Italy along with a selection of fresh spices. Known in Italy as Salame al Barol, this traditional artisan salami is delicacy that comes from Piemonte in Northern Italy-the birthplace of Barola wine as well as of the Alle-Pia family. With its array of spices and robust flavor, this salami adds an additional layer of complexity to the pairing and brings a welcome edge to the marbled creaminess of the cheese, while its richness further softens the delicate tannins in the wine.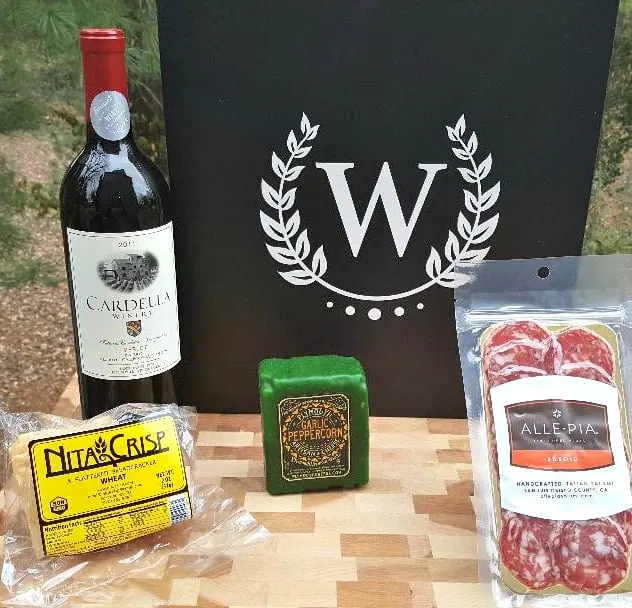 2011 Merlot from Cardella Winery – Retail Value $18.00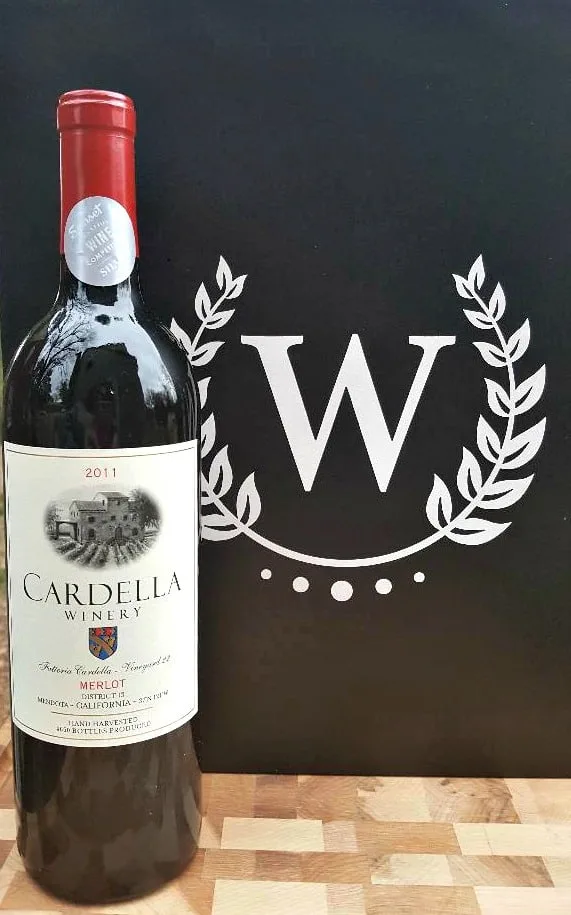 Our wine for the month is a Merlot from the Cardella Winery.
I love Merlot.
This wine is very smooth with a fruity and light oak flavor.
It's warm and perfect for cold evenings.
It's a medium-body wine.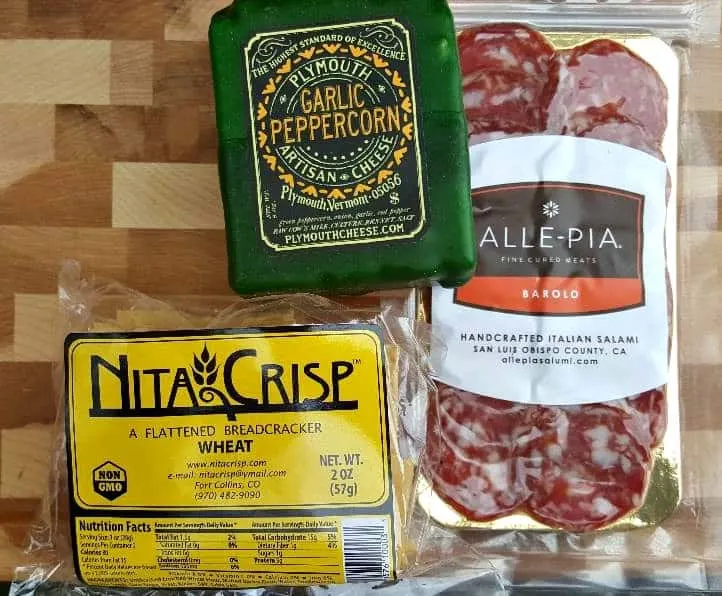 Garlic Peppercorn Cheddar from Plymouth Artisan Cheese, 8 oz. – Retail Value $10.00
My husband loves cheese, and this cheese didn't fail expectations.
It's bursting with flavor and textures.
It has a beautiful garlic flavor complemented by actual chunks of peppercorns.
Nita Crisp – Wheat, 2 oz. – (Buy 48 (2 oz.) bags for $48)
I'm typically not a cracker fan.
I found these large enough for the meat and cheese, and they have a delicious crunch.
There is a delicate taste of salt that teases the taste buds.
Alle-Pia Barolo Salami, 2 oz – Value $12.00
I love salami, and this one has a bold flavor scattered with light peppercorns that give it a tad of crunch.
It complements the cheese and wine, enhancing flavor and complimenting others.
It's very thinly sliced.
I love the Wine Down Box.
It is a great way to spend time with someone and make a great hostess gift.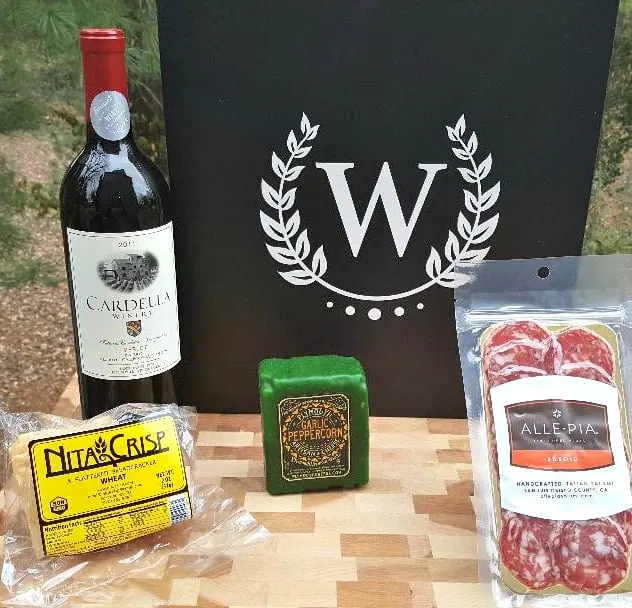 Each month offers a different pairing, so it is something to look forward to.
As for the cost, this box costs $70 (shipping is free), but when you tally the price of products, it's about $41.
I'm sure the curation adds value but $29?
I'm not sure.
It's a fun box, and I learned a lot.
I also enjoyed sampling a new wine and the pairings.
It was delicious and a great learning experience.
Wine Down Box is for you if you like to drink wine and eat cheese.
For those that want to explore the flavors of wine and work on pairing skills, the included notes on what to taste in the wine and how the cheese and charcuterie play into the wine flavors, Wine Down Box is also great.