I was a guest of Disney at the Disney's Petes Dragon Premiere Party and Red Carpet
Hollywood is known for its movie making and fashion. It's also known for its red-carpet tradition.
The term "red carpet" may have originated back in 1902, when The New York Central Railroad used red carpets to direct people to board their 20th Century Limited Passenger train.
Hollywood showman Sid Grauman may be credited with creating Hollywood's red-carpet tradition. He rolled out a crimson-colored walkway for the movie Robin Hood premiere back in 1922 in front of his Egyptian Theater.
Disney's Petes Dragon Premiere Party and Red Carpet
Today, red carpets in Hollywood embrace our fascination with movies, fashion, and celebrities. It's the party celebrating the première of a movie and Monday, August 8th, I was there for the premiere and pre-premiere party of Disney's Pete's Dragon.
The theme was green.
Roosevelt Hotel
I joined 24 bloggers in attending the Pre-premiere party at the historic Hollywood Roosevelt Hotel, located at 7000 Hollywood Boulevard in Los Angeles. It's a hotel that dates back to 1927. Through the years, it's seen famous stars such as Shirley Temple and Marilyn Monroe.
Some say the Hollywood Roosevelt Hotel is haunted. The rooms were filled with people, celebrities, and the Hollywood elite on this night.
The Pre-Party had plenty of activities.
Green screens that transformed your photo into owning your own dragon:
or Riding a dragon.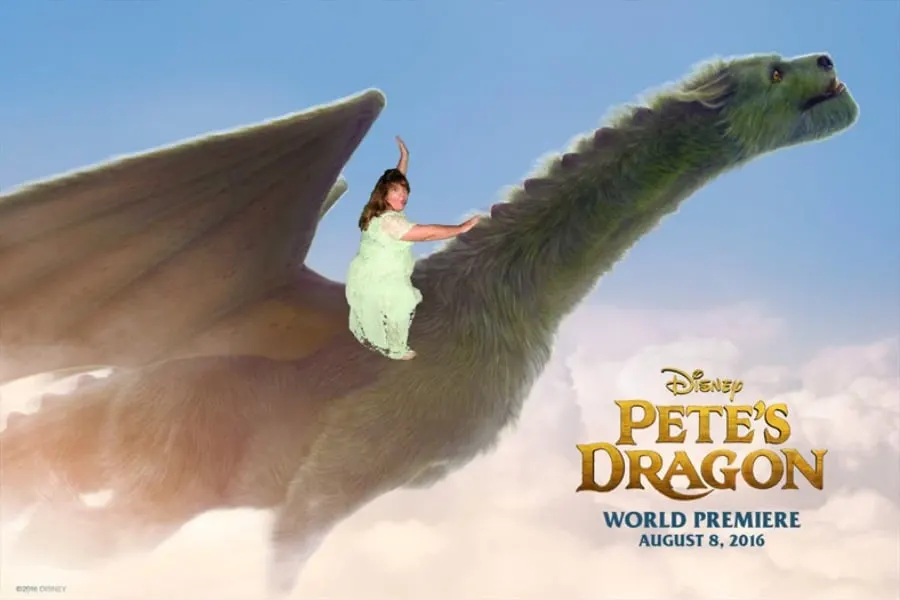 There was food such as mini-hotdogs, sliders, a honey
fried chicken
, plenty of fruits and vegetables.
There were plenty of guests, including celebrities.
Pete's Dragon After Party Celebrity Sightings
The amazingly talented comedian Patton Oswalt was here. You may know him from Marvel's S.H.I.E.L.D or the narrator in Free Form's The Goldbergs!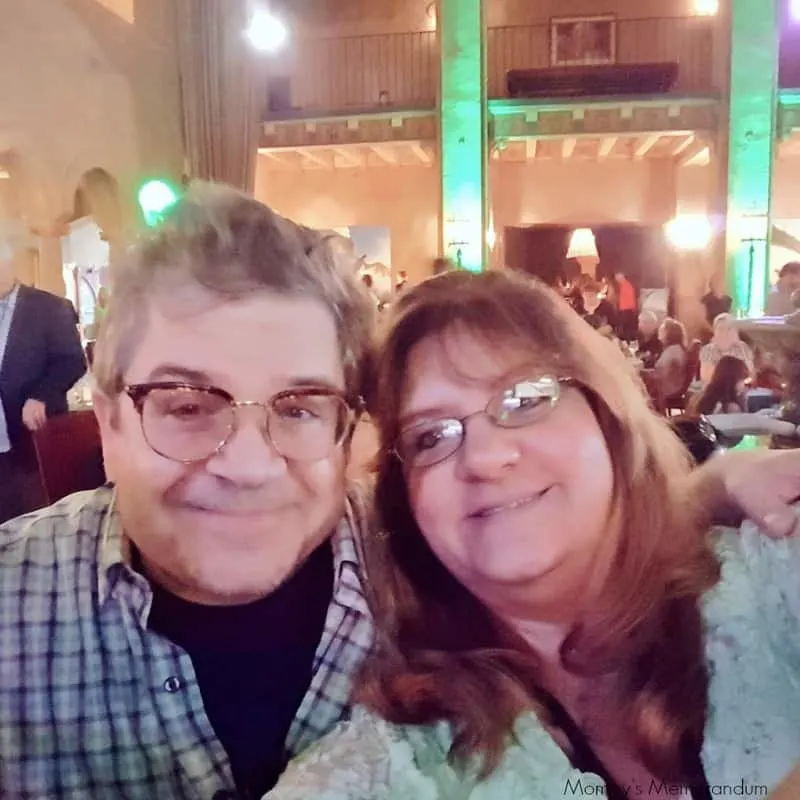 The crowd was filled with fame. I even spotted Josh Gad!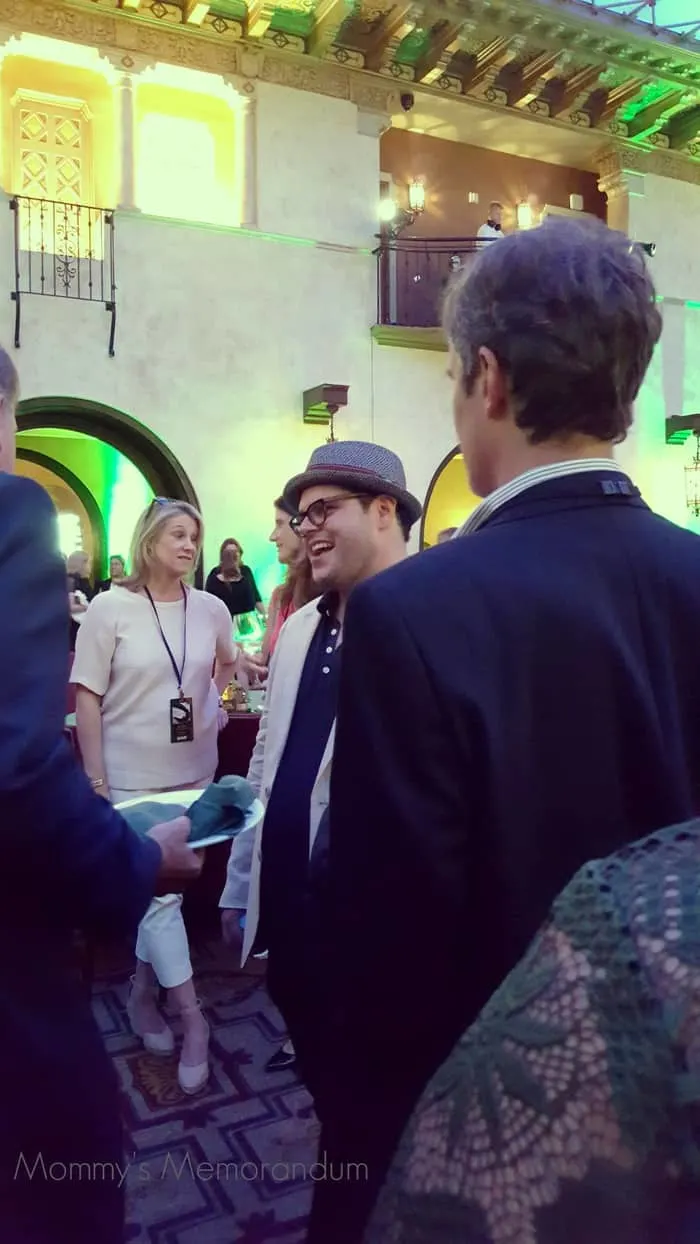 My heart beat a little faster when this moment with NSYNC band member and star of My Big Fat Greek Wedding 2 happened with Joey Fatone!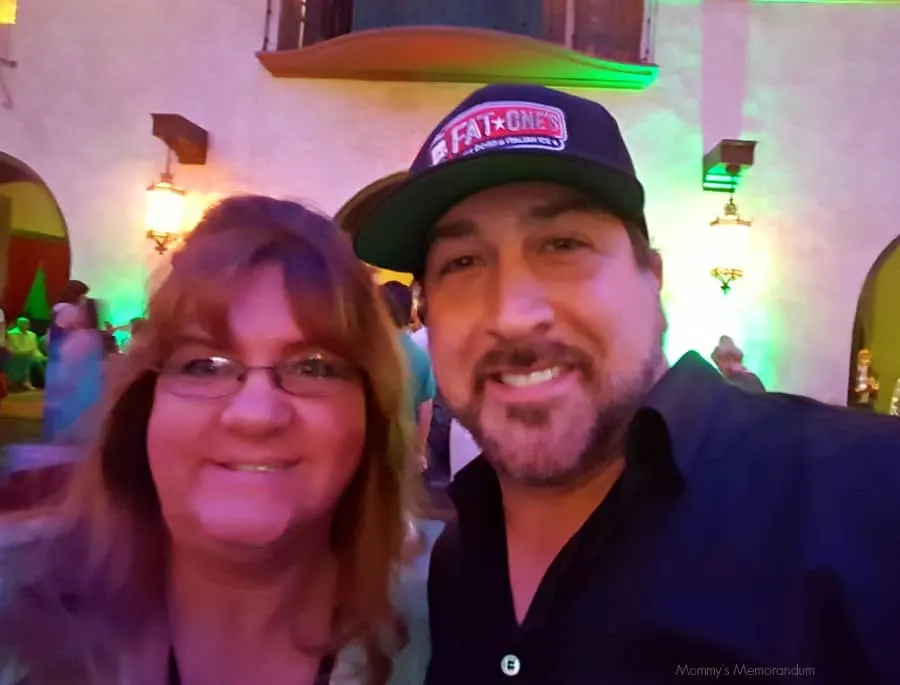 On the way to the red carpet, I bumped into Longmire's Lou Diamond Phillips.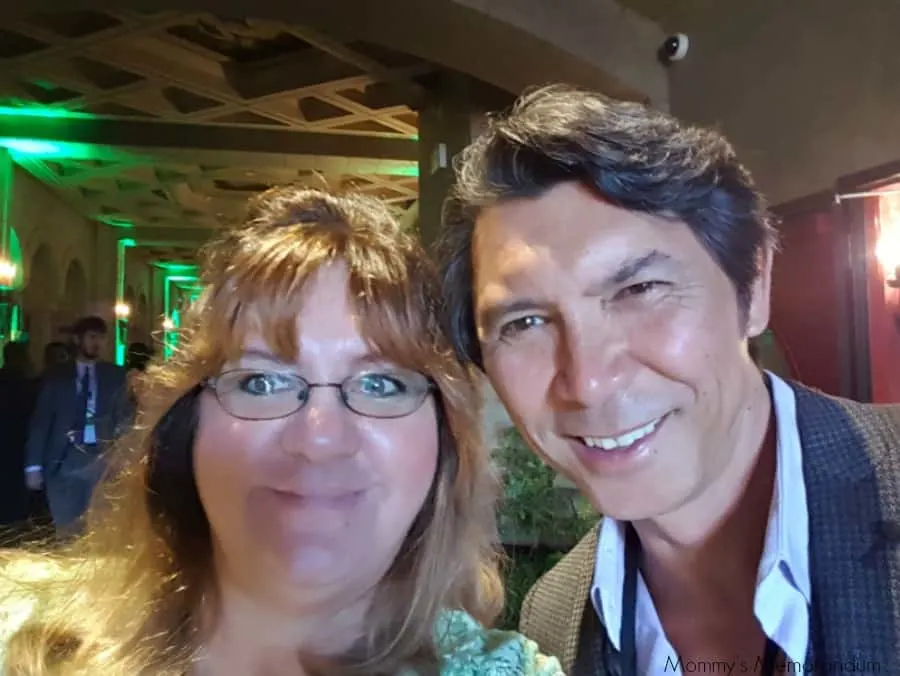 From the Pre-Premiere Party, we walked out the front door of the Hollywood Roosevelt onto Hollywood Boulevard. An astroturf walkway was
Disney's Pete's Dragon
red-carpet.
It was lined with beautiful green hedges to the historic El Capitan Theatre.
Fun Fact: The El Capitan Theatre is a first-run theatre for movies released by Walt Disney Studios.
We posed with Elliot, mingled for a moment…
I actually watched Bryce Dallas Howard, who plays "Grace" in the movie, walk the line of reporters on the red carpet.
We also saw Oakes Fegley, who plays the titular Pete in the movie, pose with his dragon Elliot.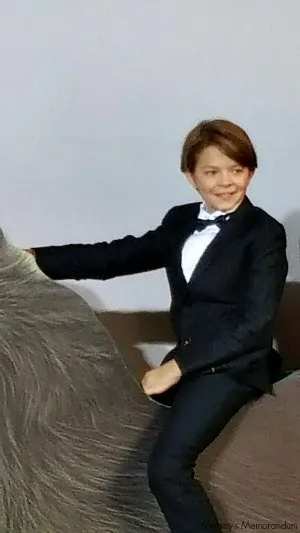 El Capitan Theatre Tour
Then we headed inside the El Capitan. This theater is a beautiful, fully-restored movie palace that recently celebrated its 90th anniversary and 25th anniversary in partnership with Walt Disney Studios. It is "Hollywood's First Home of Spoken Drama," whose opening film was Charlot's Revue on May 3, 1926, three months before my Grandma was born!
El Capitan Theatre was built on citrus groves. Most of Hollywood Boulevard in the early 1920s was residential and agricultural real estate. It wasn't until a Texas real estate developer by the name of Charles Toberman came to Hollywood Boulevard and built a theatre district, which included El Capitan Theatre, the Chinese Theatre, and the Egyptian Theatre.
There are approximately 30
dressing rooms
inside the El Capitan Theatre. The Sherman Brothers have a dressing room named after them where high-profile celebrities gather.
Los Angeles designated it as a Cultural Heritage Monument in 1990 and underwent restoration. The El Capitan boasts the original look and feels with some of the most modern sound equipment in the world. The paint is the same color as it was back in its prime. Inside, the architecture is stunning with rich golds, purples and red.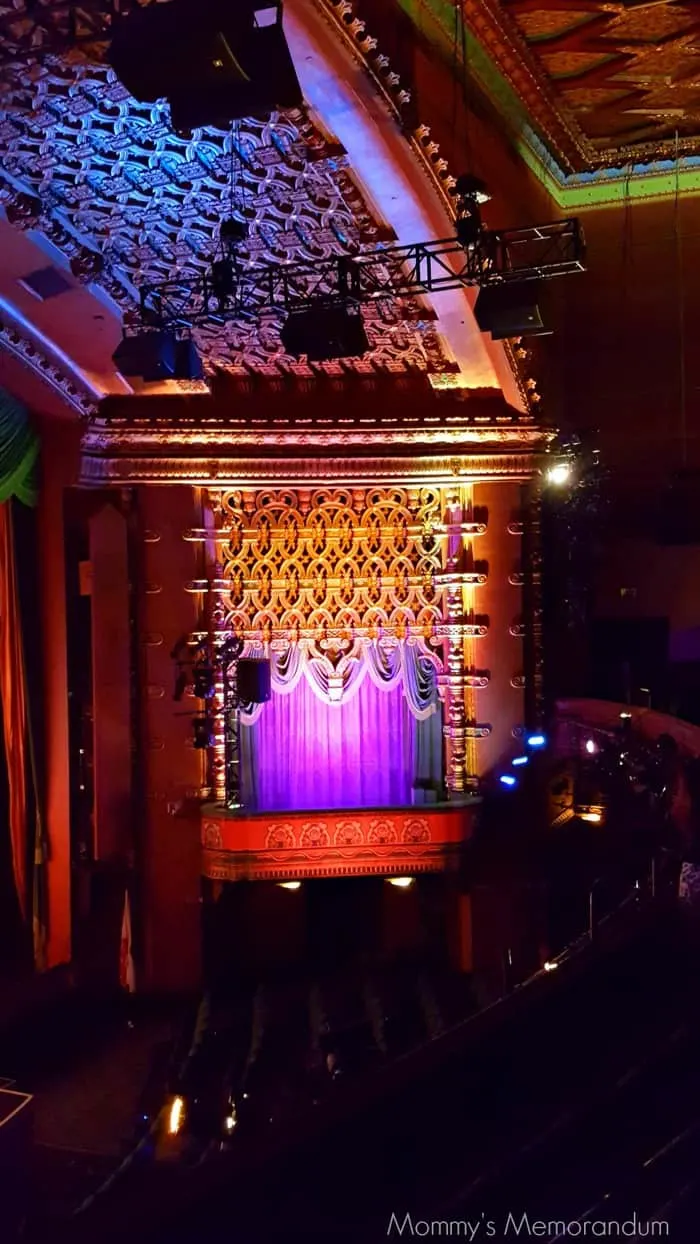 The El Capitan has 1,000 seats equally divided between the stage and balcony. It is one of only two theaters in Los Angeles with a balcony.
El Capitan's Balcony Level
Upstairs on the balcony level, there is a Hall of Fame with photos from the very first to the most recent
special events
that have taken place at the El Capitan Theatre. The display includes photos of celebrities such as
Marilyn Monroe
,
James Dean
, the cast from Marvel
Avengers
, and more.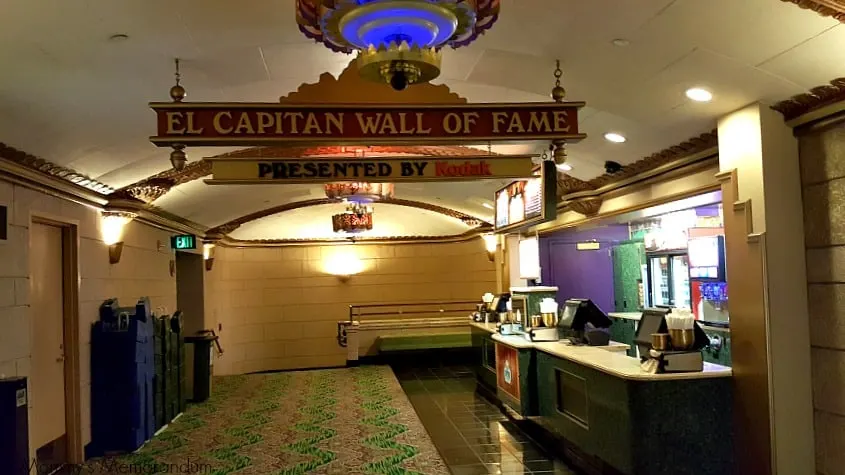 As we took our seats for the premiere of
Pete's Dragon
, we listened to the famous
Rob Richards
play "Ethel" the legendary Wurlitzer Pipe organ originally installed in
San Francisco's
Fox Theatre.
It's an amazing moment to hear the beautiful Disney music being played.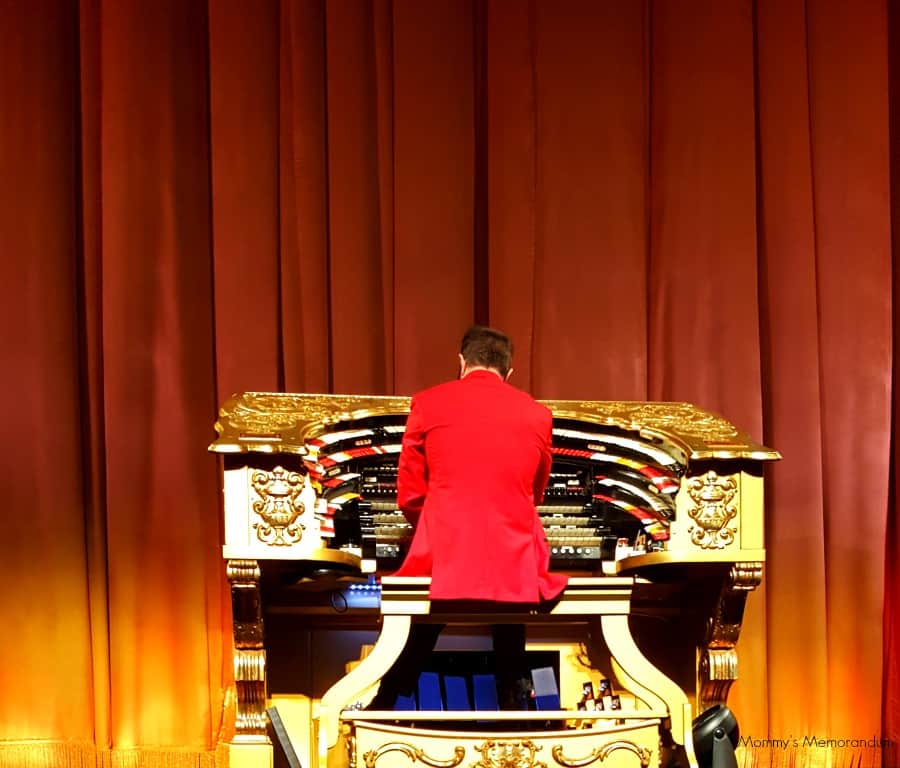 Fun Fact: Rob Richards has played more than 4,000 performances at the El Capitan since 1999!
El Capitan's Organ "Ethel"
The organ, known as "Ethel" was the last built of its kind in the 1920s.
It features over 2,500 pipes, installed inside the theatre's two towers.
A large Spencer Turbine organ blower powers the organ during performances.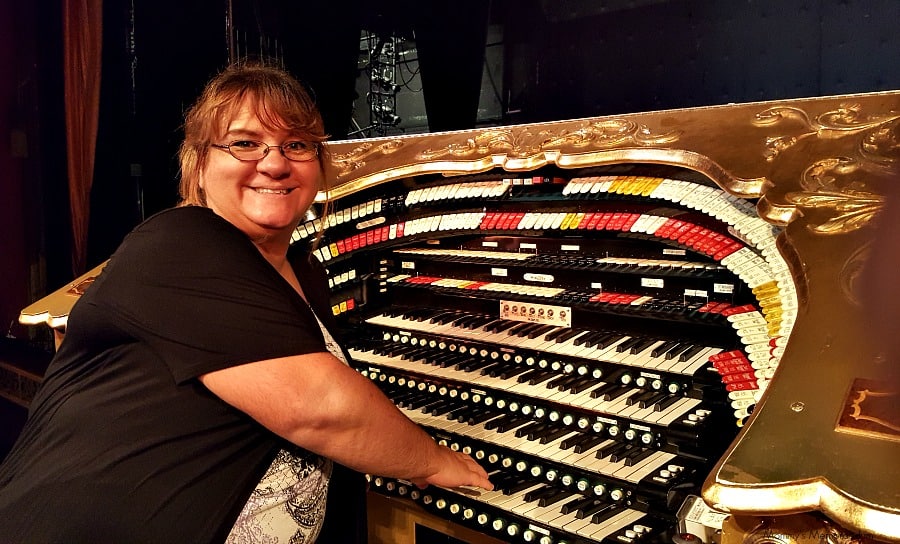 Then the organ and its musician face into the stage on the "Mickey Lift" as the music plays.
Here is "Ethel" being raised from the floor on to the El Capitan Theatre's stage:
One of my favorite moments is when the curtain rises. At one time the more curtains a theater had in its curtain show, the more luxurious it was considered.
We watched the movie premiere of
Pete's Dragon
with Disney stars and other celebrities.
El Capitan Theatre can experience Dolby Vision, the most advanced projection technology in the world, and Dolby Atmos, Dolby's groundbreaking surround sound technology.
A once in a lifetime opportunity to walk among the talent,
mingle with directors
, producers and catch a glimpse and feel of the other side of the movies.
Visit the theatre's official website to learn more about the El Capitan Theatre and its incredible history.
Pete's Dragon Synopsis:
A reimagining of Disney's cherished family film, "Pete's Dragon" is the adventure of an orphaned boy named Pete and his best friend Elliot, who just so happens to be a dragon.
For years, old wood carver Mr. Meacham (Robert Redford) has delighted local children with his tales of the fierce dragon that resides deep in the woods of the Pacific Northwest. To his daughter, Grace (Bryce Dallas Howard), who works as a forest ranger, these stories are little more than tall tales…until she meets Pete (Oakes Fegley). Pete is a mysterious 10-year-old with no family and no home who claims to live in the woods with a giant, green dragon named Elliot. And from Pete's descriptions, Elliot seems remarkably similar to the dragon from Mr. Meacham's stories. With the help of Natalie (Oona Laurence), an 11-year-old girl whose father, Jack (Wes Bentley) owns the local lumber mill, Grace sets out to determine where Pete came from, where he belongs, and the truth about this dragon.