It's early morning, with the sunny weather you'd expect in Los Angeles. We've just arrived at the Hollywood Roosevelt Hotel. We were here less than 24 hours ago for the Premiere Party for Disney's Pete's Dragon. Today, the landmark hotel is still.
In the silence, it's hard to imagine that generations of A-List celebrities and Hollywood legends have walked through these halls. It stands 12-stories tall on Hollywood Boulevard.
It has a Spanish Colonial style and I find myself pausing to peer in the corners where the amber lighting casts shadows. The walls are textured and somewhat bare by comparison to other Hollywood hotels I've seen. Wrought Iron Chandeliers offer visual beauty but do little to uncover the shadows.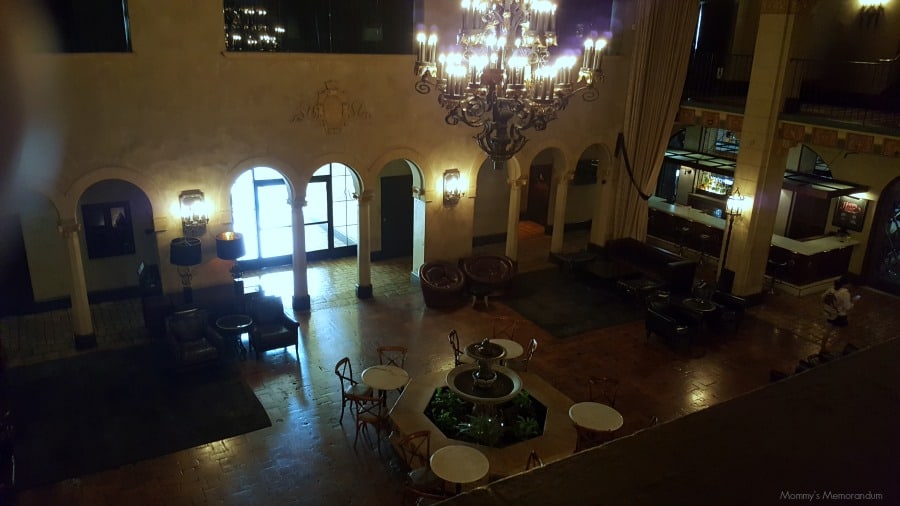 Clark Gable stayed here, in the penthouse. In fact, the Gable-Lombard Penthouse, located beneath the hotel's iconic sign pays homage to his affair with Carole Lombard.
Marilyn Monroe lived here while launching her modeling career–her first professional magazine shoot took place on the diving board at the roof top pool.
Shirley Temple learned to do her famous stair-step dance routine on the hotel stairs.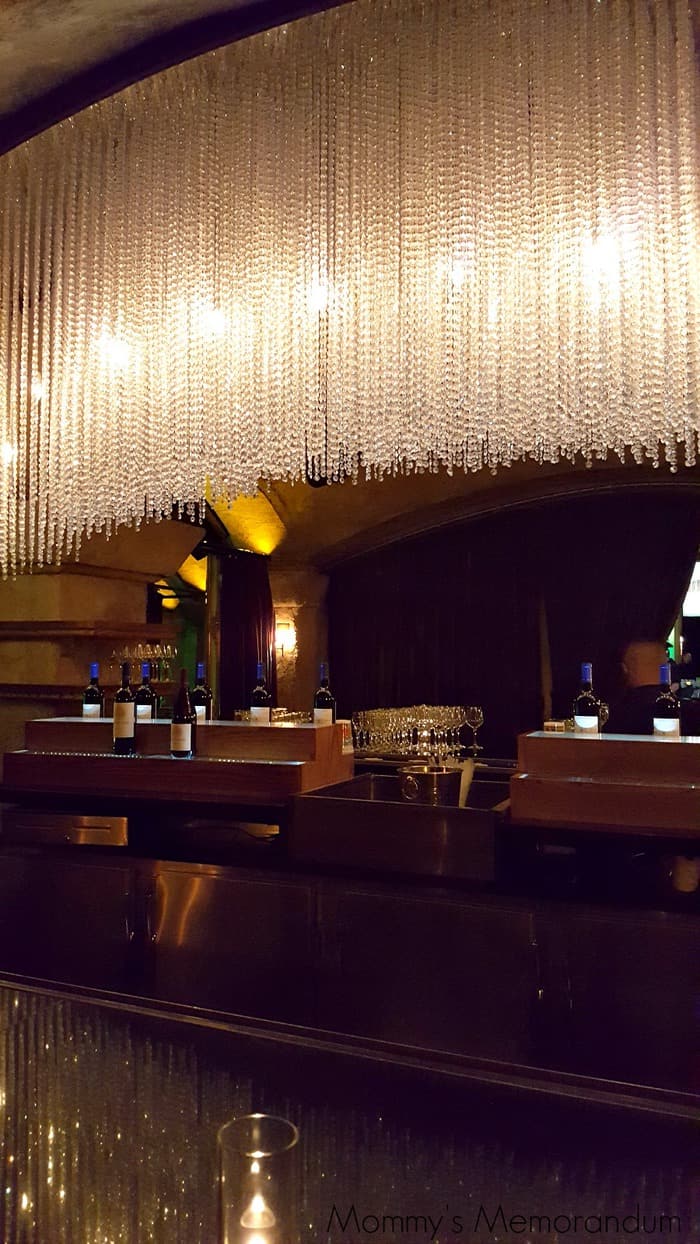 I spent part of last night at Teddy's an unmarked celebrity haunt, hidden away between Roosevelt's lobby and bustling Hollywood Boulevard. It was dimly lit, features vaulted ceilings, and a breathtaking cascading crystal chandelier. I found my way here from the Library Bar. Last night it was wall to wall with a celebrity population. This morning it echoes silence.
We take the elevator up to the Academy Room. A room named in honor of the hotel's honor of hosting the first Academy Awards. Back then it was a private dinner in the hotel's Blossom Ballroom and the ceremony was over in 15-minutes. There were 270 guests in attendance.
A continental breakfast is laid out on a table to the right as we walk in. We position ourselves at a long table, pick at croissants, sip juice, and coffee and then a woman with strawberry blonde hair and a spectacular smile walks in. There is an applause. She needs no introduction. She is Bryce Dallas Howard, daughter of Ron Howard and star of Disney's Pete's Dragon.
She apologizes for being late.
She explains it's the National Parks Centennial this year, and since her character, Grace, in Pete's Dragon is a Park Ranger, she ran a little late on a shoot.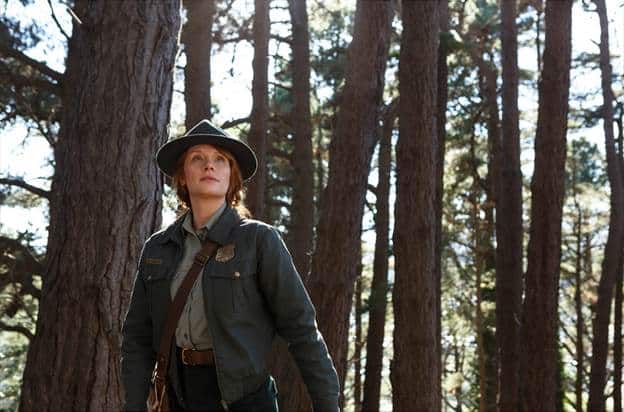 Immediately she is likable.
She opens by sharing a moment in her personal life, as a mom to Theo (9-1/2) and Beatrice (4-1/2). She addresses us as a mother, who realizes how much more information there is in the five-year span between her children. Then says, "Also, the second kid thing is like, Okay. It's just a wilderness out there. The world is a wilderness and I know to set up camp." It's a great analogy to lessons learned and sort of a play on her role in her Disney character.
While looking at her, gives away the fact that Ron Howard is her father, she brings the fact closer as she talks about filming Pete's Dragon in New Zealand. Her children were with her. Her smile broadens and her eyes light up as she shares,
"30 years ago, my dad shot Willow, partly in New Zealand and I went there. I remember it. I have very vivid memories from that time. I went back 30 years later with my own children, who are around the same age as I was. It was really awesome. I expected it would be completely different, but it was exactly what I remember from when I was a kid."
As a child, Bryce Dallas Howard says there was a collection of movies that were here "sweet spot".
"You watch these movies again and again. The 1977 version of Pete's Dragon was just one of those for myself and my siblings and my sisters in particular."
She heard that Disney was doing a remake of Pete's Dragon and she sought it out of curiosity. She read the script and found it very different from the 1977 film.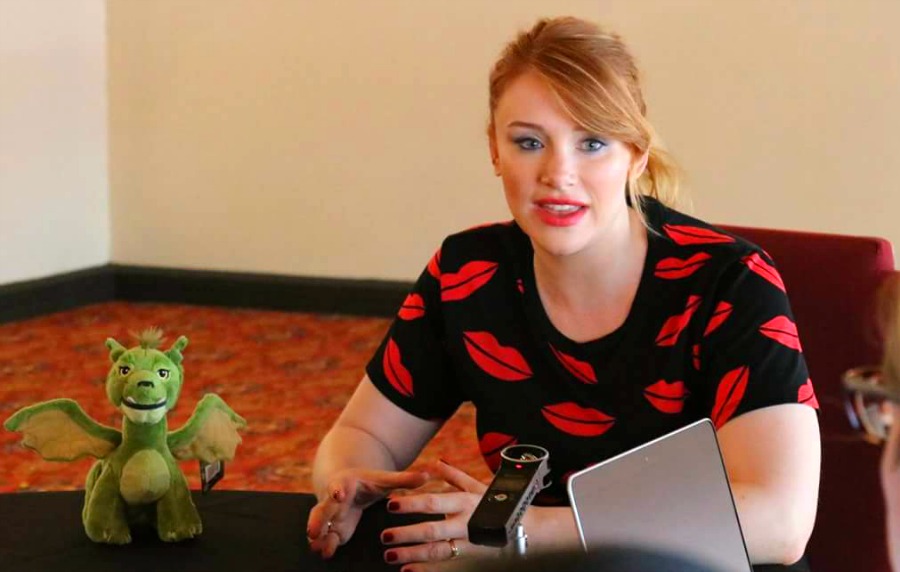 Photo Credit: Jana Seitzer
"The script is so beautiful and reminded me of the Disney films that I watched as a child that were defining for me. It was emotional and that really cemented this idea of American values. I brought it up to my children and they said, "Dinosaurs (Howard played Claire in Jurassic World) and now dragons?" It was definitely a motivating factor."
She shared that her children have not seen either the original Pete's Dragon or the current Disney Pete's Dragon.
"I have a little board book that's written based on the film. I read that to them a lot. They are hooked on the story."
She is well spoken and her laugh is contagious. It's a sincere laugh that starts out quietly and erupts into an infectious, hardy laugh that fills the room. She positions her bangs and then reveals the similarities between her character, Grace, and herself.
"It's really interesting. When I was a kid, watching Disney movies, I always identified with the child. As I was reading the script I was thinking about it from the perspective of being a parent. I confided in my husband that I didn't want to create a sort of complicated persona in a children's film. I wanted to approach it simply. My husband said something great to me. He said, "You haven't really played a mother. Technically you were a mother when you played Hilly Hollbrook, but she wasn't an ideal mother. You've been acting almost ten years, this character can show the kind of relationship and the dynamic you have with our kids. Just be with Pete in the way that you are with Theo and Beatrice." It made it really simple. "
While she takes her acting seriously, it's easy to see that her role as a mother to her children is truly her passion. The interview is immersed with motherly reflections and brags.
"My children are very sweet. I don't really have to raise my voice too much. I know they're also wild as well, but they are young and still in that phase where it's a very tender communication. It made my character come more naturally. Oakes (Fegely) reminds me actually a lot of my daughter. He has my daughter's hair, similar eyes. It was just good."
Howard describes coming to New Zealand, leading to the film's shooting and rehearsals with the cast and their families there saying, "we were a traveling circus. All of us went to a lot of different places. There were a lot of kids."
That sparkle appears in her eyes and her hands become a little more animated.
"It actually reminded me a lot of when I was a kid and my dad was making Parenthood. I was seven years old. It was so fun. I was on the set every day, just surrounded by kids my own age. It was pretty much exactly like that for my kids. Oakes, Oona, Wes (Bentley's) kids, and other kids that were there. It just felt like a family very early on."
Robert Redford plays Howard's father in Pete's Dragon. Right after, she swoons:
"Oh, my gosh! I stayed in the hotel last night and there's a picture of him as a young man in the hallway. The elevator doors open and I see his picture and I'm like, "Hello!" Seriously!"
She shares what it's like working with Redford:
"It was phenomenal! He's such an environmentalist. When you're around him you feel so much peace because he has that. It seems he has arrived at that place for himself. Being in this serene environment and having long, awesome conversations with him–okay, it's less of a conversation and more me peppering him with questions! It was just incredible. He's a family man. He raised children in this industry–in this world. He has a lot of perspectives. It was wonderful getting to learn from him, be around him and admire him."
Then she's back to swooning.
"He has the most incredible head of hair! He's never dyed his hair. He said his son told him, 'Dad, you can stop dying your hair," and he replied, "Why don't you believe me? I don't dye my hair!". It's crazy!"

Photo Credit: Jana Seitzer
For Howard, the memory of filming one particular scene stands out as a favorite.
"Getting to ride on the back of Elliot, I was just in hysterics the whole day. We were losing it the whole time because we have kids and we're adults and we're on a dragon! It was set up where we had harnesses on and we had to climb up pretty high. It moved around like a ride. They kind of replicated the Disneyland experience in New Zealand while we were shooting!"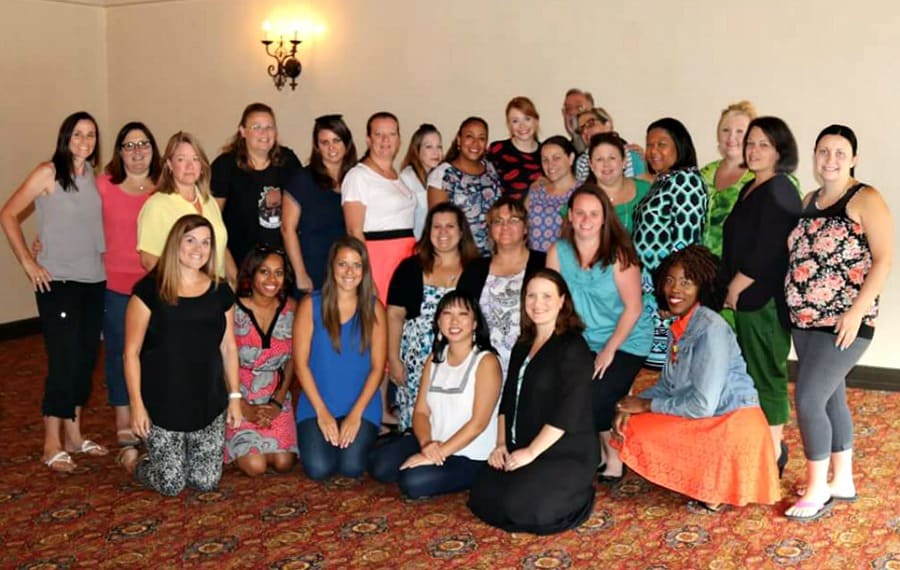 Photo Credit: Jana Seitzer
With Pete's Dragon getting positive reviews and certain to be a family favorite through the years, we asked Howard what her all-time favorite Disney movie would be, aside from Pete's Dragon.
"I haven't critically thought about this question. My first thought is The Little Mermaid. I think I was in the second or third grade."
She interjects a personal family joke…
"My mom sets all of her stories when she was seven. My dad is always saying, "Everything happened when you were seven, Cheryl. " I could be doing that as well."
Then she continues with The Little Mermaid being her favorite Disney movie:
"Ariel has red hair. I have red hair. It's just one of those movies that I memorized all the songs. I use to do really dangerous things. Oh, my gosh! I would put on a leotard and I would tie my legs together and throw myself in the pool. I did it many times. So dangerous! I actually have a memory of the last time I did this underwater, looking up, thinking to myself, 'this is really not good'; starting to panic really bad."
The comment is made the fact she is here is amazing.
Her eyes grow big.
"Yes. It is! It's a miracle because of Disney! I don't think my parents know. I mean they couldn't have known! Now they're going to know, but they now know a lot of things!"
Then, she sits up straight. Her face more serious. We're back to Pete's Dragon and the message Howard hopes people walk away with after seeing the movie.
"So many Disney movies deal with loss. It's like a mother can't survive; right? There is a really great Walt Disney quote that I'm going to completely paraphrase here where he essentially is saying that there can't be light without shadows. Walt Disney films don't shy away from that. Perhaps in a way, that's the power. They bring you to a place that you can't imagine. What could be more nightmarish as a parent or a child than dying, or losing my parents? I think Pete's Dragon is telling the story

What could be more nightmarish as a parent or a child than dying, or losing my parents? I think Pete's Dragon is telling the story

I think Pete's Dragon is telling the story of that kind of loss, and showing what it takes to find your family. That there is a family out there, even when you're orphaned. It's a powerful message because we all experience loss; we will all experience eventually the extreme loss of losing our parents. Disney films, to me, are 50-percent entertainment and 50-percent therapeutic. You practice the emotions as a child and go through that experience in a way. I think this is what stories are meant to do; to prepare you for what's ahead–to prepare you for the

Disney films, to me, are 50-percent entertainment and 50-percent therapeutic. You practice the emotions as a child and go through that experience in a way. I think this is what stories are meant to do; to prepare you for what's ahead–to prepare you for the commonalities within the human experience.

Seeing that journey and that adventure of finding your family, and in the midst of this having bonds that completely seem impossible or unconventional–his best friend is a dragon! I think that is really a powerful message.

Simply telling stories that intertwine or integrate the imaginary world, the mystical world with the real world.

It allows us to transcend the daily grind of reality. It reminds us to look for magic. To look for something you can believe in. I think we all have a sense of wonder within us.
Discover the magic of Pete's Dragon in theaters now, and see Bryce Dallas Howard as Grace in theaters everywhere now!
Pete's Dragon Synopsis:
A reimagining of Disney's cherished family film, "Pete's Dragon" is the adventure of an orphaned boy named Pete and his best friend Elliot, who just so happens to be a dragon.
For years, old wood carver Mr. Meacham (Robert Redford) has delighted local children with his tales of the fierce dragon that resides deep in the woods of the Pacific Northwest. To his daughter, Grace (Bryce Dallas Howard), who works as a forest ranger, these stories are little more than tall tales…until she meets Pete (Oakes Fegley). Pete is a mysterious 10-year-old with no family and no home who claims to live in the woods with a giant, green dragon named Elliot. And from Pete's descriptions, Elliot seems remarkably similar to the dragon from Mr. Meacham's stories. With the help of Natalie (Oona Laurence), an 11-year-old girl whose father Jack (Wes Bentley) owns the local lumber mill, Grace sets out to determine where Pete came from, where he belongs, and the truth about this dragon.