I received Sainthood Herbs Stress and Sleep in order to facilitate an honest review.
I am one of those people who worries. I stress about things that I know I REALLY have no control over. I stress over money. I stress over how my children are doing in school, am I giving them enough of what they need. I stress about my job. It all comes back to haunt me when I lie down tired and exhausted and my mind is still reeling.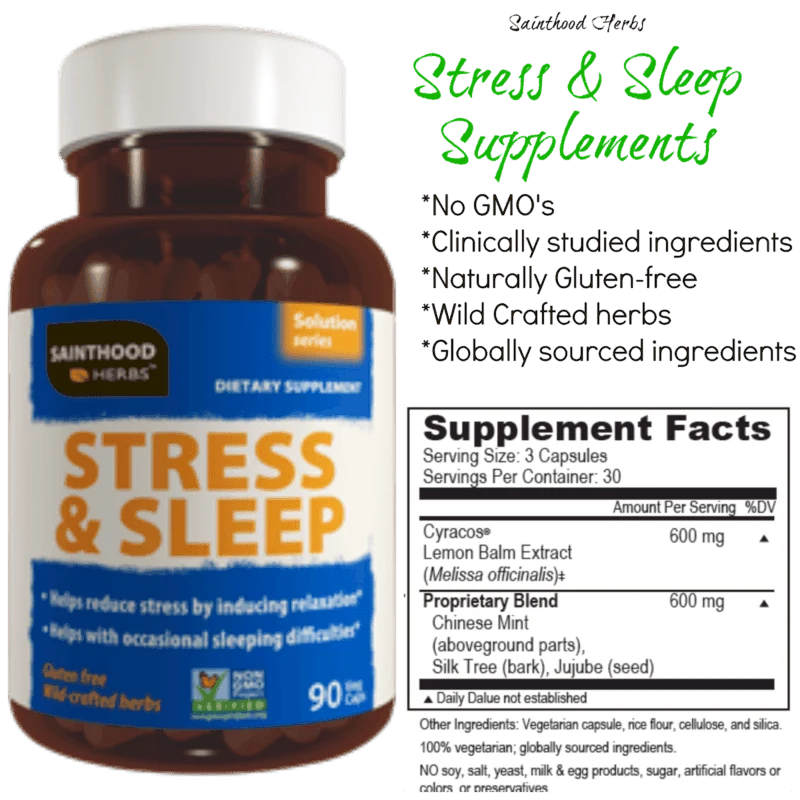 Sainthood Herbs Stress and Sleep helps reduce stress by inducing relaxation. It helps with occasional sleeping difficulties.
The capsules contain Lemon Balm and a 'proprietary blend' of Chinese Mint, Silk Tree, and Jujube. I am not a doctor by any means, but I do utilize natural herbs whenever possible. My parents had an herb company many years ago I learned a lot. Sainthood Herbs formulas are gluten-free, Non-GMO project verified, and free of artificial additives. They have a goal to use only wild-crafted herbs. I love that!>
Work and the weather have been huge stress factors. The thought of missing work gives me anxiety. I try and go to bed early (lately, that means 8:30) to wake up at my 4:30am alarm blast. But my sleep has really been restless. I toss and turn, and, most of the time, I wake up feeling like I haven't slept at all.
Since taking the Sainthood Stress and Sleep, my sleep is much more sound, and I wake up feeling refreshed.
While I do like being able to sleep and rise feeling well-rested, the cost is something to consider. The bottle recommends three capsules at a time. The bottle they come in has 90 capsules with a price tag of $28.95.
Sainthood Herbs offers more than just Stress and Sleep, it has options for weight maintenance, menopause, blood sugar control, and more. All of their products are available online.
The Stress and Sleep are working for me, and I love that it is a high-quality, natural product.