Our everyday routines can sometimes take a toll on our minds and body. We may encounter situations that may cause us to be agitated, nervous, or worried. It could be an upcoming deadline for a report your boss wants at short notice, a loved one's long-going illness, or even a minor issue such as a traffic jam in the city.
Regardless of the root cause, says Medline Plus, stress can lead to an increased heart rate, muscle tension, and fatigue. The symptoms of stress can affect your thoughts, behavior, and body. If left untreated, stress can contribute to a number of health problems such as high blood pressure, heart disease, fluctuation in weight, and diabetes. (Mayo Clinic)
We may not be able to control challenging situations, but we can develop a healthy response on how to deal with them. Learning relaxation techniques such as meditation, deep breathing, getting some exercise, or listening to soothing music are just some of the effective ways to build resilience from the stress that may arise each day.
To help we have listed below the essential tips for relaxation and stress relief.
Pick up a scent
Your sense of smell is one of the strongest senses that can impact your brain activity which is connected to the process of learning and emotion.
The simple inhalation of an aroma activates our hypothalamus, an area in our brain that transmits messages to other parts of our system or body.
According to WebMD aromatherapy has been proven to ease stress and make a person feel more relaxed by lowering blood pressure, aiding in sleep order, and strengthening the immune system.
Essential oils are also known to possess antiviral, antibacterial, and anti-fungal properties.
Lavender is one of the most used essentials for aromatherapy due to its many health benefits in treating anxiety, depression, insomnia, and many others.
A combination of sleep hygiene techniques and lavender essential oil therapy can improve sleep onset.
The experts at Sisters of the Valley share that in order to relax after a long day at work, you can use a lavender spray for sleep to ensure a good night's rest.
Meditation is key
Take a few minutes in the morning, to set aside time for meditation, which is one of the most effective relaxation tools.
This can help you start your day right and encourage you to have a positive attitude as you go about your routine.
Practice sitting in a comfortable position, bring attention to your breathing, and focus your mind's attention on the present moment without wandering off to past thoughts.
In the evening find time alone, and combine calming balms or essential oils with your meditation practice.
If you enjoy games, you can play solitaire with mindfulness prompts to help you focus your thoughts.
Meditation is a proven solution to stress, induces sleep, and relieves people suffering from anxiety, depression, and chronic pain.
Take deep breaths
Be conscious of your breathing by taking long, slow deep breaths that start from your abdomen or belly.
As you breathe in and breathe out, disconnect your mind from thoughts that can lead to any form of distraction.
Sit up straight, close your eyes, and take slow deep breaths as you place your hand on your abdomen.
Inhale through your nose, feeling it start from your abdomen as it rises to the top of your head.
Reverse this step as you exhale through your mouth.
Deep breathing offsets the effects of stress by slowing down a person's heart rate and blood pressure. (WebMD)
A five-minute break to focus on your breathing while at work can do wonders for your health and overall well-being.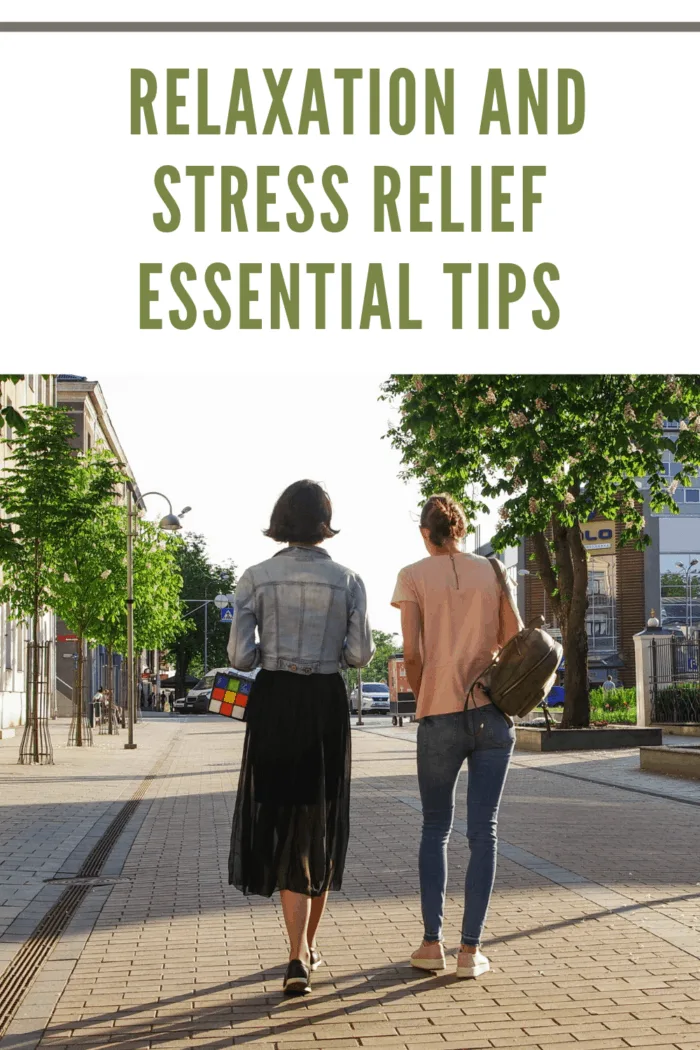 Get some exercise
The endorphins released while your body is in action can aid in relaxation.
A good workout or simply going outdoors for a walk can help you release anxiety and blow off steam, leading your body to loosen up.
Look into joining a yoga or tai chi class that combines a series of body postures, breathing techniques, and flowing movements that can improve your flexibility.
Let your mind focus on what your body can do and slowly build up your strength and agility.
Remember, if you are one of those people with underlying health issues or ones who don't exercise often, it's always wise to consult a health professional and fitness trainer before undertaking any strenuous or complex athletic activity.
Music
Playing your favorite music is a wonderful way to relieve stress and stimulate relaxation.
Music therapy has proven to help lower blood pressure, heart rate, and severe anxiety shares the University of Nevada Reno.
Tune in to the radio or have a calming playlist with you that can be listened to at home or on your phone while on the go.
You can alleviate stress by singing or dancing to cheerful melodies or for those who want something quiet, create a selection of sounds from nature such as the ocean, birds chirping, or a flowing stream that will allow your mind to find peace and tranquillity.
Invest in a good pair of earphones and download an application or a setlist of songs to your mobile phone so you can access your music wherever you are.
Visual imagery
Summon soothing memories such as cherished scenery, or past experiences in your mind to assist you in staying focused and relaxed.
A suggestion from Very Well Mind is to use imagery that has a personal meaning to you, concentrate on calming experiences or revisit old photographs from your past travels.
Guided visual imagery can reinforce your mind to look into a positive vision of yourself by recollecting a memory that brought you happiness.
This helps those who tend to be creative and find it easy to invoke images in their minds.
In Closing
Chronic stress and anxiety can lead to a host of issues that may take their toll on your health and well-being.
Relaxation techniques can help you become more resilient to stress and equip you with ways to react better to different situations that may come into your life.
It will also give you a better perspective and gratitude for your blessings.
After all, learning to relax your mind and body is the key to a happy and fruitful life for you and your loved ones.