I received Raw, Quick and Delicious Cookbook in order to facilitate an honest review.
175 quick, easy and creative raw recipes that can be prepared in a flash.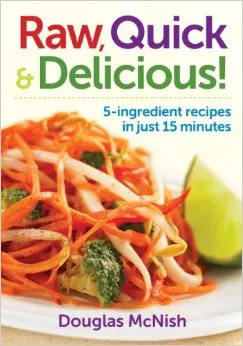 It seems so often when I speak with a friend who has lost weight, their success has stemmed from them giving up the processed foods and going back to food as it was intended. Raw-food diets have become increasingly popular and more and more people are looking to incorporate raw foods into their diets.
I read a book about the Raw-food movement and the author was truly passionare about it, she gave up all modern conveniences and ate her food at room temperature. The problem is that many raw food recipes require significant planning and preparation (using a dehydrator or a sprouting technique, etc.). That's where Raw, Quick and Delicious Cookbook comes in, offering delicious and tantalizing recipes that are different — all can be prepared and on the table in 15 minutes or less!
It's now so easy to add these nutrient-rich dishes to your lifestyle — whether you're fully committed to the raw food lifestyle, curious about the lifestyle or simply someone who wishes to incorporate more energizing dishes into their mealtime routine.
There are more than 175 fantastic recipes for main courses like Sweet Potato Enchilada, Shepherds Pie, Curried Cashew and Mixed Vegetables and Lime, Tomato and Avocado Chili. And for all those pasta lovers, Doug has masterfully created great substitutes for the real thing like Carrot Pad Thai, Celery Root Ravioli and Zucchini Fettuccini Alfredo.
Sides can be enjoyed by everyone — since no one can resist Shoestring Jicama Cheese Fries, Cheesy Broccoli or Avocado Corn Salsa. And the desserts are simply sublime! White Chocolate Coconut Cream, Banana Walnut Sticky Toffee Pudding, Summer Berry Parfait – all are creamy, decadent and sinfully satisfying.
If you're new to the raw food lifestyle, there are informative and easy-to-follow sections on equipping a 15-minute raw food kitchen as well as pantry. And the Raw Food Know-How section provides answers to the most frequently asked questions both about raw food and the lifestyle.