I received the Al Tiramisu Restaurant Cookbook in order to facilitate an honest review.
One of my favorite books is the cookbook. I love the variety, the pictures, and indulging in all the ways simple ingredients can come together to create incredible results.
I just received The Al Tiramisu Restaurant Cookbook by Award-winning Chef and Restaurateur, Luigi Diotaiuti, and there's plenty I love about the content.
I've never been to the Al Tiramisu restaurant.
It's a bit far for my dining enjoyment, located in the heart of Washington DC.
Reviews lead me to believe it is like taking a trip to Italy without leaving the country.
It's cozy, warm, and joyful and captures the effervescent and playful personality of Chef and owner Luigi Diotaiuti.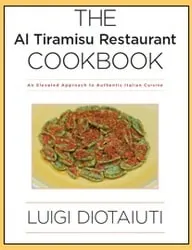 The book is a unique collection of 100 of the restaurant's mouthwatering recipes and tells the history of Washington DC's "most authentic" Italian restaurant as well as the life story of its chef/owner.
In Al Tiramisu Restaurant Cookbook, home chefs can take lessons from Diotaiuti and experience his Italian culinary heritage and favorite recipes.
It's an elevated approach to authentic Italian Cuisine with a collection of 100 of the restaurant's most popular recipes.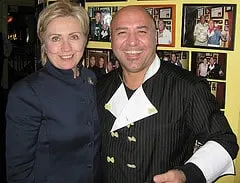 What I really find unique about this cookbook is that part of it is a culinary memoir.
Chef Diotaiuti takes the reader from his birthplace in Basilicata, Italy to the kitchens of Sardinia, Paris, Venice, Tuscany, and ultimately Washington DC.
Each chapter is devoted to a distinct phase in the chef's career and features recipes that can create a complete menu.
"As chef-owner of Al Tiramisu, I love to keep learning and refreshing my skills. But as a teacher at heart I also enjoy sharing my knowledge and discoveries with others, whether it's my staff, guests, students in my cooking classes, or audiences on television and radio programs," Luigi explains. "In that vein, I also offer culinary tips in these pages that I accumulated over my long career. I share advice on selecting top quality products and where to buy them, and on using authentically Italian cooking techniques."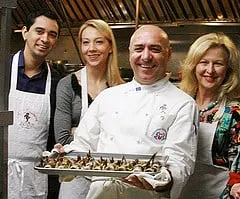 "But the heart and soul of this book are my treasured recipes. Each recipe is special to me and starts with a bite-size memory of an event, person, or emotion that the dish evoked. They are culled from family recipes and from those of friends and colleagues in far-off places. Many appeared on the very first Al Tiramisu menu in 1996 and remain on the menu today. Others I have created more recently and I am very excited to present them in my book."
Some of Chef Luigi's treasured recipes he shares in the book include:
Sausage and Mascarpone Crostini
Swordfish Carpaccio
Placido Domingo's Antipasto Platter
Tuscan Swiss Chard and Spinach Filled Crepes
Cream of Chestnut Soup with Herb-Coated Goat Cheese Quenelles
Shrimp and Cranberry Bean Salad
Vegetable Terrine with Red Pepper and Leek Coulis
Country-Style Morning Vegetable Fritatta
Fava Beans with Chicory
Lagane Pasta with Beans and Chestnuts
Radicchio and Ricotta Gnocchi with Sweet Gorgonzola
Grilled Sea Bass with Asparagus and Potatoes
Tuna with Onion in Parmigiano-Reggiano Cups
Stuffed Swordfish Involtini
Classic Tiramisu
Bread with Chocolate, Fleur del Sel, and Olive Oil
Chocolate Mousse with Candied Orange Peel
Yogurt Panna Cotta with Strawberry Coulis
Each recipe is followed by an Italian Cooking Primer giving home cooks interesting background information and chef tips along with a Sommelier's Pick of recommended wine to serve with the dish.
"The food that arrives at your table at Al Tiramisu directly reflects who I am. Food has always been central to my life, starting with my childhood on our family farm, where our lives and livelihood revolved around food. Food, culture, and history are all connected in my view and traditional recipes reflect a people, a place, and a time. They mirror historic events —invasions, catastrophes, deprivation, excesses—and even express a community's manner of celebrating or mourning. Fundamentally, they reflect the rapport between humans and Mother Nature at a given moment in time. I believe we must respect our traditions, and doing so is an important part of my mission at Al Tiramisu and what I hope to share with others who love to cook through my book."
Take a culinary journey to the countryside of Italy and bring Chef Luigi's refreshing tastes of his homeland to your dining table.
"My wife Jean and I have enjoyed Al Tiramisu for more than a decade. Luigi Diotaiuti always makes us feel at home. Now with this book, we have a fuller window into Luigi's life – and success."
-Steve Case, former chief executive officer, AOL; chair of Case Foundation
"Chef Luigi's story is a wonderful example of how vision, dedication, and selflessness results in excellence. Blessed with an abundance of passion, culinary skill and great character, he has truly achieved the American dream. Remembering his roots and upbringing in Italy, Chef Luigi has become one of the very best in his profession."
-Gen. Raymond T. Odierno, Army Chief of Staff
ABOUT CHEF LUIGI DIOTAIUTI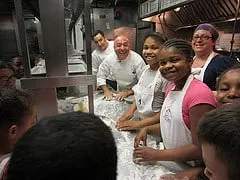 Chef Luigi is a world-renowned authority on Italian cooking and living. A celebrity favorite for decades, this certified Sommelier was born on a farm in Basilicata in the mountains of southern Italy. Chef Luigi's formal training experiences include working in world-renowned restaurants such as Hotel Georges V in Paris, the Grand Hotel Bauer Grunwald in Venice, Il Gourmet restaurant, and Hotel Bellavista in Montecatini, Tuscany and Costa Smeralda and Forte Village in Sardinia. He opened Al Tiramisu restaurant in Washington DC in 1996 and has been awarded the coveted "Insegna del Ristorante Italiano," the seal of approval by the President of Italy. While Secretary of State, Hillary Clinton inducted Chef Luigi into the American Chef Corps, an elite group of some 80 "culinary ambassadors" from around the country. When not cooking at his restaurant, he is a regular on US and Italian television showing home cooks how to prepare some of his favorite recipes. He also works with elementary school children in DC teaching them how to cook and enjoy and appreciate healthy food, gives cooking demos at local farmers' markets, and is part of the Washington DC sustainable food movement.
www.AlTiramisu.com.