Recipes from Farm to Table
I love cookbooks. My new favorite is The Homesteader's Kitchen, Recipes from Farm to Table. I have spent some time every day this week with it. It's filled with more than 100 recipes created for a healthy body, mind, and soul.
One of the qualities I appreciate about The Homesteader's Kitchen is that it's not a complex process.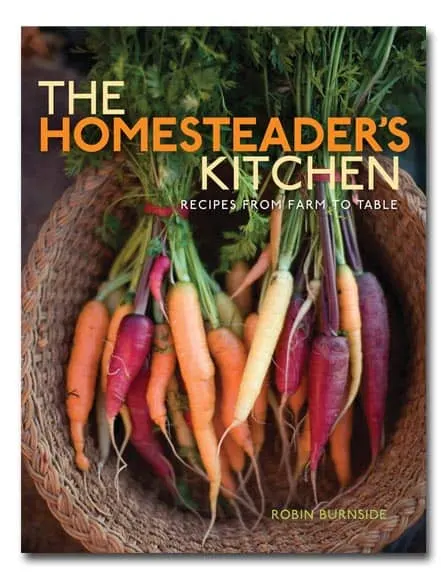 All of the recipes are simple, made from scratch recipes using homegrown or farm-fresh ingredients.
Simplicity and homegrown to me go hand in hand.
The author, Robin Burnside, takes the time to share tips and thoughts throughout the book, like sitting at the table with a good friend.
For a few years now, I've been looking for an easy yet tasty tortilla recipe.
Burnside offers a recipe I have yet to try.
Still, I totally agree with her thought, "The wonderful flavor and texture of freshly made tortillas is well worth the extra effort, and once you try them, it might be tough going back; to eating the commercially made varieties."
Burnside is a resident of beautiful Big Sur, California. She has lived the past two decades homesteading and practicing a sustainable lifestyle.
This includes growing her own food and body surfing at the beaches in stunning Big Sur.
She is an experienced chef, as her resume includes: former co-owner chef of Carmel Cafe in Carmel, California, running Cafe Amphora at Nepenthe in Big Sur, and managing, for several years, the kitchen at Esalen Institute, the wellness retreat center.
This cookbook offers everyone in taste and cooking skills—recipes for grilled whole fish, hummus, oatmeal, stocks, sauces, and salad dressings.
I love the creativity of recipes like Creamy Mango Coconut Smoothy–we're talking with soaked cashews!), Thai Cilantro Pesto.
Burnside appeals to my baking addiction with Fresh Summer Fruit Tart with Citrus Cream or Spinach.
She adds some texture and new variety to a simple salad with Tangerine Salad with Maple Pecans.
Check out these sample recipes from the book.
The photographs in the book have the feel of a warm, inviting kitchen.
I wish there were more photographs, and they are truly lovely.
The Homesteader's Kitchen is available through Amazon; currently, at $14.39 (it's suggested retail is $19.99), it would make a great addition to the Cookbook Cupboard, a delightful gift for anyone.
I'm going to make a few of the recipes I've bookmarked, but for now, I'm enjoying just putting my feet up and enjoying the beauty of the book and unique recipes that have me whispering, "Wow!"
I received The Homesteader's Kitchen as compensation for this post. No other compensation was received. The opinions are my and were in no way influenced by the sponsor. Others' experiences may vary.