There's a new mission, PAW Patrol. Alex is stuck on a rocket-powered ATV that's out of control and the pups must rescue Ryder. This action-packed episode is on the newly released PAW Patrol: Pups Save Rocket Ryder, available exclusively at Walmart.
PAW Patrol is ready for rescue in this new DVD with eight action-packed adventures from Nickelodeon's hit preschool series, PAW Patrol. Can they rescue Rocket Ryder, round up runaway chickens and help zip-liners in the jungle?​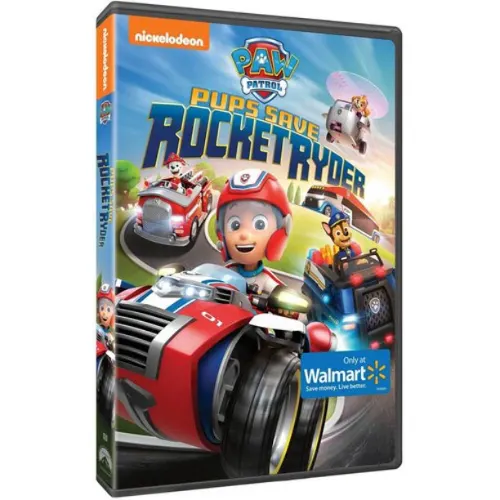 ​
PAW Patrol: Pups Save Rocket Ryder episodes:
Pups Save Rocket Ryder
Pups Save the Dizzy Dust Express
Pups Save the Treetop Trekkers
Pups Save the Treasure Cruise
Pups Save the Bookmobile
Pups Save a Tour Bus
Pups Save Election Day
Pups Save a Runaway Rooster
PUPS SAVE ROCKET RYDER DVD REVIEW
Get ready for eight daring rescues with out of control vehicles, missing passengers and a runaway train, an imposter mayor, penguins, robots driving vehicles and more.
Tune in as different pups yelp for help and the PAW Patrol is ready to help!
One thing to note is that mild peril is in nearly all eight episodes.
An example is in the episode Dizzy Dusters there is talk of the problem source being ghosts and aliens (spoiler: it is a clever spin on "dust").
When I was young, Saturday cartoons had mini-films about voting (I'm Just A Bill, for example) and I love the PAW Patrol teaches children about voting, natural phenomenon, and more.
There is even an episode about the Bookmobile, cue nostalgia.
I think the big takeaway for me is that even those "heroes" who save the job as their career sometimes need help.
It can carry over to recognizing sometimes we all need help and it's okay to ask for it.
PAW Patrol: Pups Save Rocket Ryder synopsis:
PAW Patrol, to the PAW Patroller!
Launch to the rescue with 8 pup-tastic adventures!
First, the PAW Patrol must stop the Dizzy Dust Express, a runaway train, and find the missing passengers.
Then, the pups rescue Ryder when his rocket-powered ATV goes out of control.
They also rescue friends stranded in treetops during a jungle zip-lining adventure, save a treasure cruise gone awry, and so much more!
Make It a Family Movie Night:
Ready to race with the PAW Patrol?
Make it a movie night with this Walmart exclusive DVD with these delicious snack options!
Try these ATV Wheel Donuts inspired by Rocket Ryder! PAW Patrol: Pups Save Rocket Ryder created by Cutefetti.com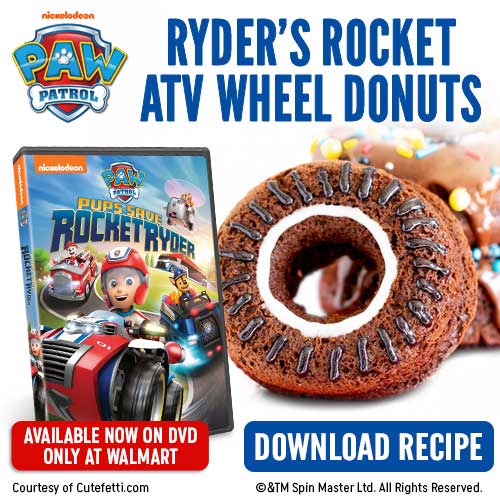 Paw Patrol Ryders Rocket ATV Donut Wheels Instructions

This DVD is action-vehicle adventure in eight daring missions.
Press pause for these fun, paw-tastic stoplight brownie recipe inspired by the PAW Patrol that was created by Amy over at AsTheBunnyHops.com!
Find the full PDF of instructions on how to make this delicious treat, click the image below!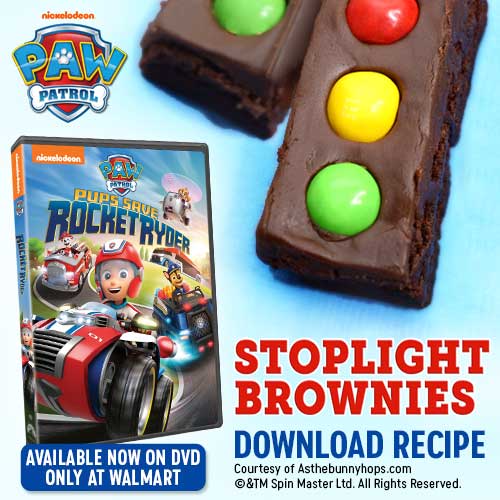 StoplightBrowniesInstructionsFINAL

About Paw Patrol:
The series, which focuses on a 10-year-old leader of the PAW Patrol, a boy named Ryder and his crew of search and rescue dogs known as PAW Patrol premiered on Nickelodeon on August 12, 2013.
Together the pups work on missions, protecting their Adventure Bay community and surrounding areas.
Each pup has a unique set of skills related to their profession within emergency services such as an aviation pilot, police officer or firefighter.
The doghouses, where they live, transform into pupmobiles, which are customized vehicles for their missions.
Each pup in the patrol also has a special pup pack (backpack) that contains tools relating to their job.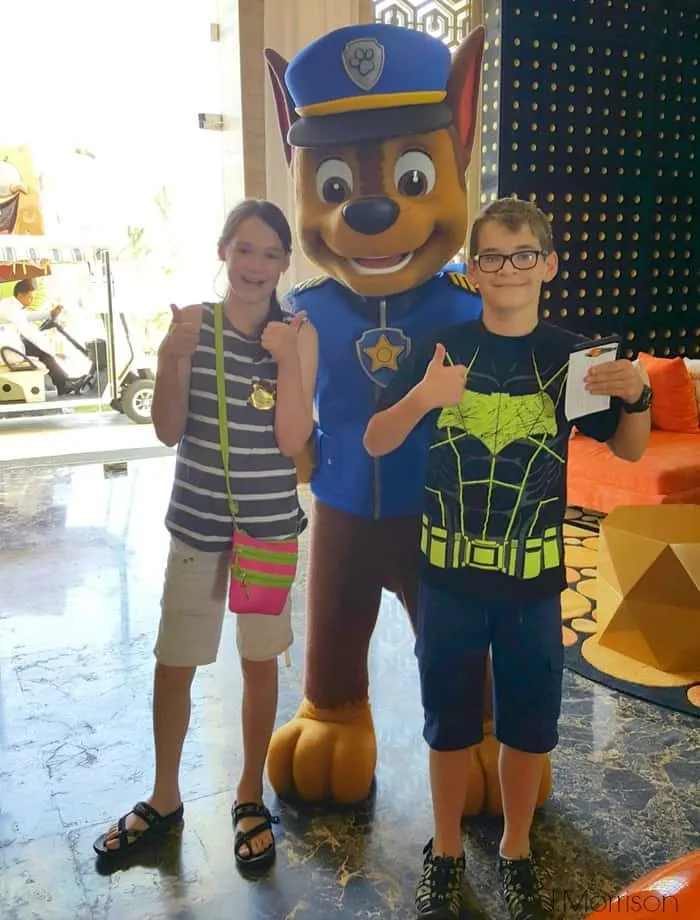 About Spin Master
The leading global children's entertainment company, Spin Master Corp. (TSX:TOY) is known for creating exceptional play experiences through a diverse portfolio of innovative toys, entertainment franchises and digital games. Spin Master is best known for award-winning brands PAW Patrol®, Bakugan®, Kinetic Sand®, Air Hogs®, Hatchimals®, Rubik's Cube® and GUND®, and is the toy licensee for other popular properties. Through its in-house studio and partnerships with outside creators, such as the preschool success PAW Patrol as well as nine other original shows, distributed to more than 190 countries, Spin Master Entertainment creates and produces compelling multiplatform content, stories, and endearing characters. The Company has an established digital presence anchored by the Toca Boca® and Sago Mini® brands, which combined have more than 50 million monthly active users. With close to 2,000 employees in 28 offices globally, Spin Master distributes products in more than 100 countries.
About Nickelodeon
Nickelodeon, now in its 42nd year, is the number-one entertainment brand for kids. It has built a diverse, global business by putting kids first in everything it does. The brand includes television programming and production in the United States and around the world, plus consumer products, digital, location based experiences, publishing and feature films. For more information or artwork, visit http://www.nickpress.com. Nickelodeon and all related titles, characters, and logos are trademarks of ViacomCBS Inc. (Nasdaq: VIACA, VIAC).


About Paramount Home Entertainment
Paramount Home Entertainment (PHE) is part of Paramount Pictures Corporation (PPC), a global producer and distributor of filmed entertainment. PPC is a unit of Paramount (NASDAQ: PARA, PARAA), a leading global media and entertainment company that creates premium content and experiences for audiences worldwide. The PHE division oversees PPC's home entertainment and transactional digital distribution activities worldwide. The division is responsible for the sales, marketing, and distribution of home entertainment content on behalf of Paramount Pictures, Paramount Animation, Paramount Television Studios, Paramount Players, MTV, Nickelodeon, Comedy Central, and CBS and applicable licensing and servicing of certain DreamWorks Animation titles. PHE additionally manages global licensing of studio content and transactional distribution across worldwide digital distribution platforms including online, mobile, and portable devices and emerging technologies.