Paw Patrol: Pups Save Rocket Ryder is now available as a Walmart exclusive DVD.
PAW PATROL TO THE PAW PATROLLER! There's a new Paw Patrol Mission: Pups Save the Rocket Ryder!
The PAW Patrol is ready for action with a new Walmart Exclusive DVD, PAW Patrol: Pups Save Rescue Ryder!
Even Rescue Ryder sometimes needs a little help, but the PAW Patrol is ready for action as they rescue Rocket Ryder, round up chickens, help stranded zip-liners, and more!
This Walmart Exclusive DVD is on Walmart shelves now.
You won't want to miss the eight action-packed adventures from Nickelodeon's hit preschool series.
Paramount Home Entertainment and Nickelodeon Home Entertainment's PAW Patrol: Pups Save Rocket Ryder is on DVD and has a suggested retail price of $10.99.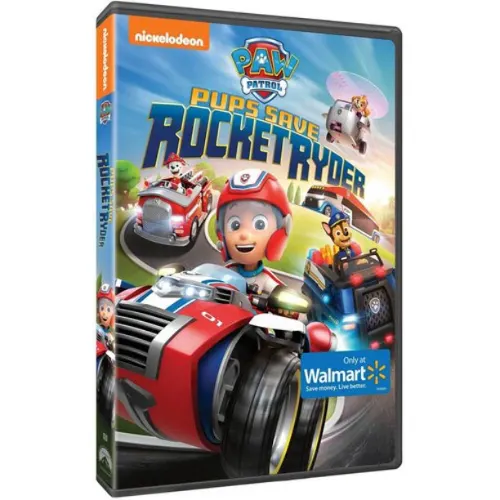 The eight adventures are broken into eight episodes:
Pups Save Rocket Ryder
Pups Save the Dizzy Dust Express
Pups Save the Treetop Trekkers
Pups Save the Treasure Cruise
Pups Save the Bookmobile
Pups Save a Tour Bus
Pups Save Election Day
Pups Save a Runaway Rooster
PAW Patrol: Pups Save Rocket Ryder synopsis:
PAW Patrol, to the PAW Patroller! Launch to the rescue with 8 pup-tastic adventures! First, the PAW Patrol must stop the Dizzy Dust Express, a runaway train, and find the missing passengers. Then, the pups rescue Ryder when his rocket-powered ATV goes out of control. They also rescue friends stranded in treetops during a jungle zip-lining adventure, save a treasure cruise gone awry, and so much more!

PAW Patrol: Pups Save Rocket Ryder fast facts:
Street Date: March 1, 2022
Catalog: 191329213384 (US)
Running Time: 1 hr 38 min
Audio: Dolby Digital English 5.1, French Stereo, Spanish Stereo
US Rating: Not Rated
US M.S.R.P.: $10.99


About Spin Master
The leading global children's entertainment company, Spin Master Corp. (TSX:TOY) is known for creating exceptional play experiences through a diverse portfolio of innovative toys, entertainment franchises and digital games. Spin Master is best known for award-winning brands PAW Patrol®, Bakugan®, Kinetic Sand®, Air Hogs®, Hatchimals®, Rubik's Cube® and GUND®, and is the toy licensee for other popular properties. Through its in-house studio and partnerships with outside creators, such as the preschool success PAW Patrol as well as nine other original shows, distributed to more than 190 countries, Spin Master Entertainment creates and produces compelling multiplatform content, stories, and endearing characters. The Company has an established digital presence anchored by the Toca Boca® and Sago Mini® brands, which combined have more than 50 million monthly active users. With close to 2,000 employees in 28 offices globally, Spin Master distributes products in more than 100 countries.
About Nickelodeon
Nickelodeon, now in its 42nd year, is the number-one entertainment brand for kids. It has built a diverse, global business by putting kids first in everything it does. The brand includes television programming and production in the United States and around the world, plus consumer products, digital, location based experiences, publishing and feature films. For more information or artwork, visit http://www.nickpress.com. Nickelodeon and all related titles, characters, and logos are trademarks of ViacomCBS Inc. (Nasdaq: VIACA, VIAC).


About Paramount Home Entertainment
Paramount Home Entertainment (PHE) is part of Paramount Pictures Corporation (PPC), a global producer and distributor of filmed entertainment. PPC is a unit of Paramount (NASDAQ: PARA, PARAA), a leading global media and entertainment company that creates premium content and experiences for audiences worldwide. The PHE division oversees PPC's home entertainment and transactional digital distribution activities worldwide. The division is responsible for the sales, marketing, and distribution of home entertainment content on behalf of Paramount Pictures, Paramount Animation, Paramount Television Studios, Paramount Players, MTV, Nickelodeon, Comedy Central, and CBS and applicable licensing and servicing of certain DreamWorks Animation titles. PHE additionally manages global licensing of studio content and transactional distribution across worldwide digital distribution platforms including online, mobile, and portable devices and emerging technologies.