Escape to an enchanting family paradise at Dominican Republic's Nickelodeon Punta Cana! Luxurious fun, gourmet delights, and Nickelodeon magic await!
Welcome to the enchanting world of Nickelodeon Punta Cana, where paradise meets playful imagination! Nestled along the breathtaking coastline of the Dominican Republic, this all-inclusive luxury resort is a vibrant and exhilarating destination designed for families and kids of all ages. As the first-ever Nickelodeon-themed resort in the Caribbean, it promises an extraordinary vacation filled with non-stop fun, unforgettable memories, and the magical touch of your favorite Nickelodeon characters.
Whether you're a die-hard SpongeBob SquarePants fan or a Teenage Mutant Ninja Turtles enthusiast, Nickelodeon Punta Cana is the ultimate haven for Nickelodeon lovers. Imagine waking up to the sounds of the ocean waves and being greeted by the iconic characters you adore at every turn, making your stay a one-of-a-kind adventure.
From exhilarating water slides and pools to whimsical play areas, the resort boasts a plethora of activities tailored to keep kids entertained all day long. Meanwhile, parents can indulge in relaxation at the serene spa, savor gourmet dining experiences, and revel in the tropical paradise that surrounds them.
As the sun sets over the golden sands, the fun doesn't stop – prepare for nightly shows, live entertainment, and themed parties that will leave you dancing and singing along with your cherished Nickelodeon friends. Whether it's a quiet moment under the stars or a laughter-filled family extravaganza, Nickelodeon Punta Cana guarantees a vacation experience like no other.
Join us on this extraordinary journey, where the Dominican Republic's natural beauty merges with the whimsical world of Nickelodeon, creating an unparalleled escape for families seeking laughter, adventure, and endless joy. Let your imagination run wild and make memories to last a lifetime at Nickelodeon Punta Cana – the ultimate destination for those who believe in the magic of Nickelodeon and the splendor of the Caribbean.
Our Dominican Republic Nickelodeon Punta Cana Review
Sometimes a family needs to play together. Sometimes the playground is our backyard, and sometimes, it requires a little more travel.
On a warm, humid morning, before the sun illuminated the horizon, we boarded a plane in the middle of August. That flight left North America and headed to the oldest country in the Americas, the first place reached by Christopher Columbus in 1492–the Dominican Republic.
From the air, my children took pictures of the island of Hispaniola. It was the first stamp on their passports once we landed in Punta Cana.
From the Punta Cana airport, we then travel 35 minutes east to our final destination, Dominican Republic Nickelodeon Hotel, and Resorts Punta Cana.
It was the first stamp on their passports once we landed in Punta Cana.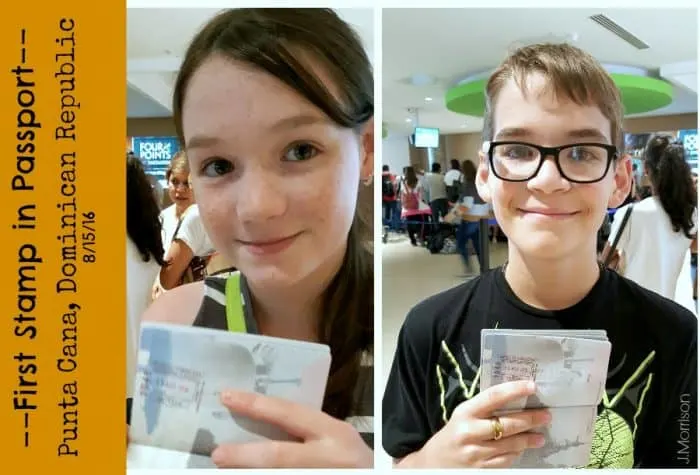 I recently shared with you that the Dominican Republic Nickelodeon announced a new partnership with Karisma Hotels. Nickelodeon Hotels and Resorts Punta Cana hosted the grand opening of the first Nick-branded Karisma hotel August 15-19, and we were there. Plans are underway to open a second Nickelodeon Resort in Mexico.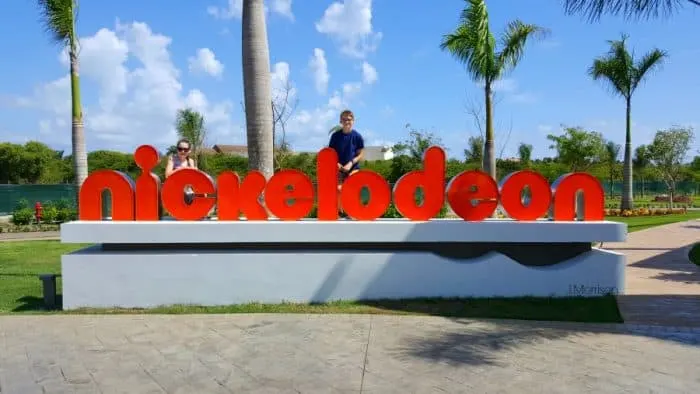 It was our first excursion out of the country together.
Checking in, there were awes and oh's as our Nickelodeon fanboy and fangirl kicked in. While they were dreaming of Nickelodeon Slime and Bikini Beach Bottom, I was daydreaming about some adult rest.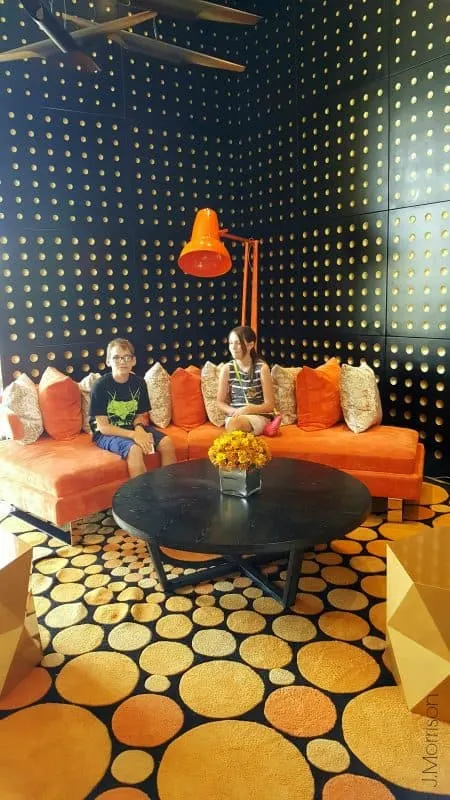 While we took in the beauty of the lobby, we ran into one of the PAW PATROL pups, so we snapped a photo.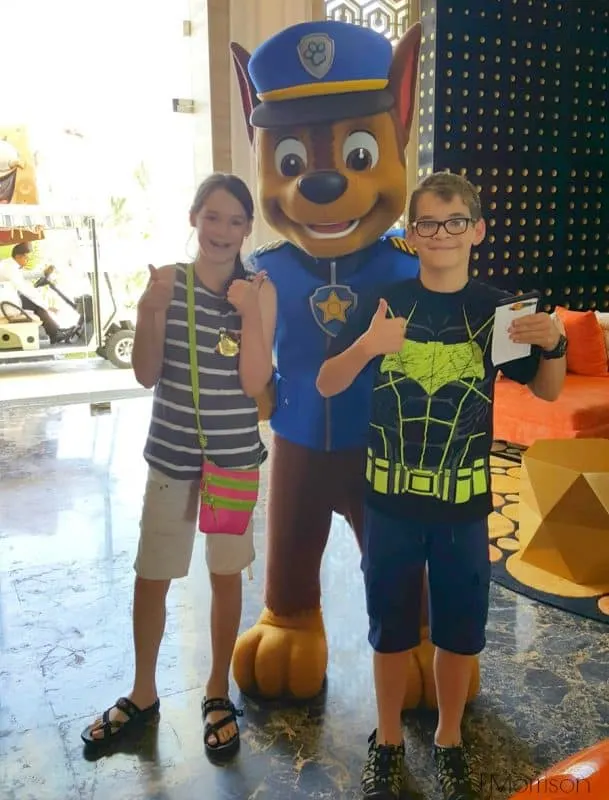 We had some time to kill before check-in, so we dropped off our luggage and stepped out into paradise. The kids love the welcome by the Nickelodeon icon, SpongeBob Square Pants.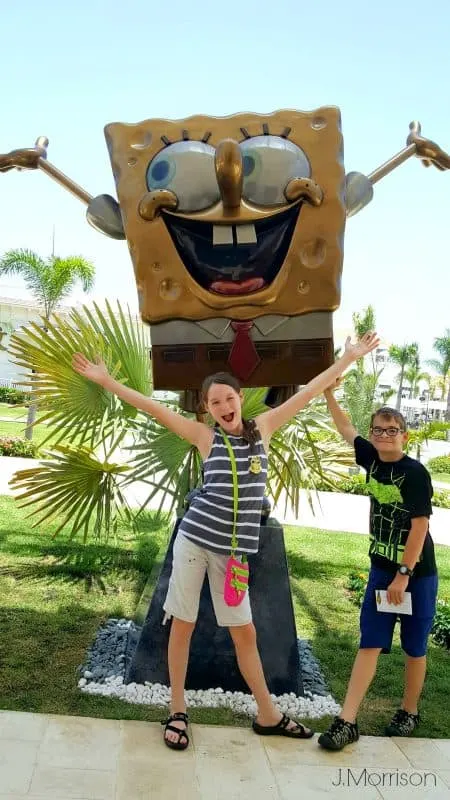 Then we were standing in the middle of the Gourmet Inclusive Village.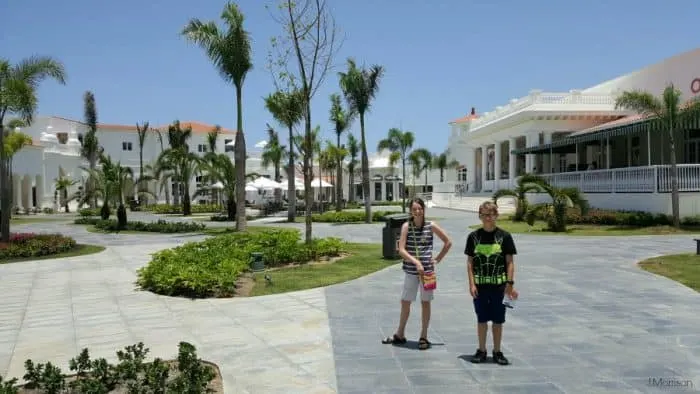 It was the perfect time to eat at BRGRS PH.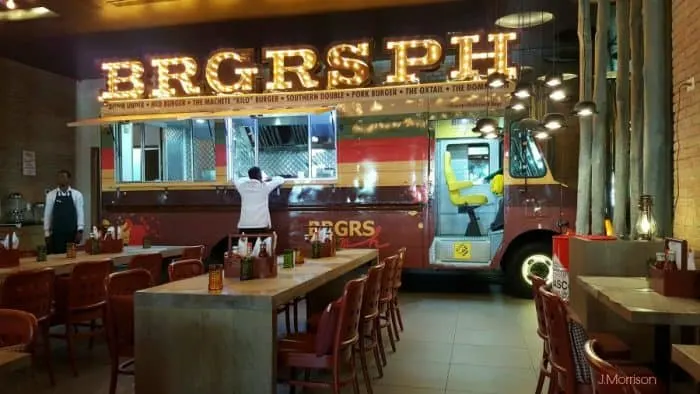 We all ordered the Southern Double, which turned out to be the BEST burger any of us have ever had! A burger perfectly cooked. Beef patty nestled between a homemade bun and tucked in with all the fixins!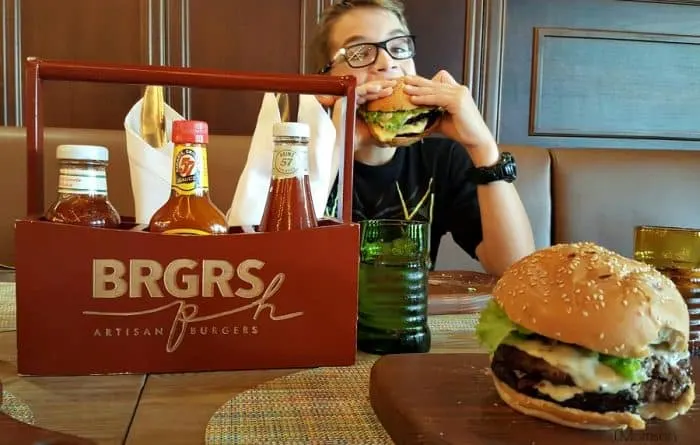 And then, I introduced the kiddos to their version of Pina Colada and Strawberry Daiquiris…they would become the most sought-after drink for the kiddos this week.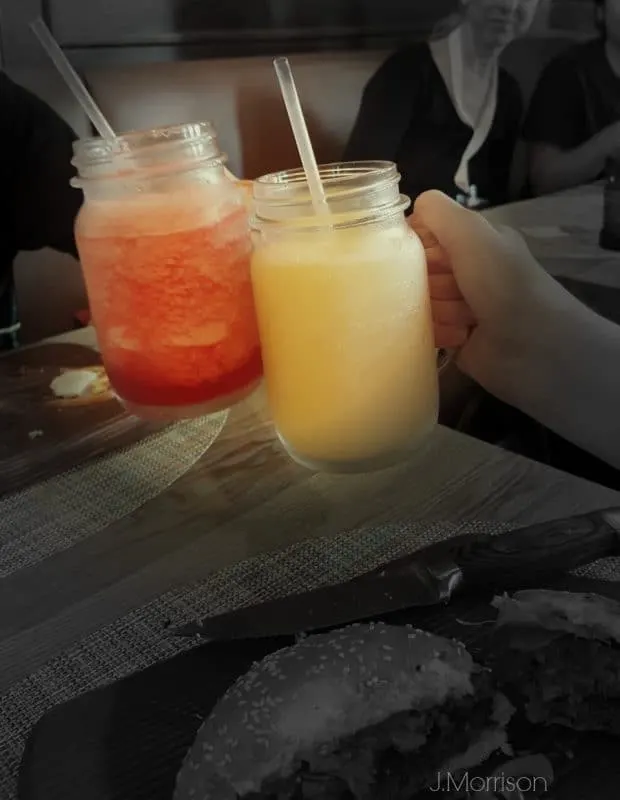 Dominican Republic Nickelodeon Punta Cana Dining Experiences
The Nickelodeon Hotels & Resorts Punta Cana offers a diverse and delightful dining experience for its guests. The resort takes pride in providing a range of culinary options to cater to various tastes and preferences.
Here are some key highlights you might find at the resort:
Gourmet Inclusive® Dining: The resort follows the Gourmet Inclusive® concept, which means that guests can expect high-quality, gourmet meals prepared by talented chefs. This concept emphasizes fresh and locally-sourced ingredients, and the menus often feature a mix of international cuisine and local Dominican flavors.
Restaurants and Dining Venues: Nickelodeon Punta Cana typically offers a variety of themed restaurants and dining venues. Each restaurant might have its own unique atmosphere and menu. Some of the restaurants may feature Nickelodeon characters and themes, making dining a fun and interactive experience for families and fans.
Buffet and À La Carte Options: Guests can usually choose between buffet-style dining and à la carte options. Buffet restaurants offer a wide selection of dishes, ideal for families and those who prefer to try various items. On the other hand, the à la carte restaurants offer a more intimate and personalized dining experience.
Kid-Friendly Menus: Since the resort is family-oriented, you can expect kid-friendly menus at many of the restaurants. These menus often feature familiar dishes that children enjoy, making mealtime enjoyable for young guests.
Specialty Cuisine: Depending on the resort's offerings, you might find specialty restaurants serving specific types of cuisine, such as Italian, Asian, Mexican, or Mediterranean, among others.
Bars and Snack Stations: In addition to restaurants, the resort might have various bars and snack stations throughout the property. These spots offer a selection of refreshing beverages, cocktails, and light snacks for guests to enjoy throughout the day.
Please note that dining options and offerings can change over time, so it's essential to check the official website or contact the resort directly for the most up-to-date information about their food and dining options before planning your visit.
The World's ONLY Pineapple Villa
Cartoon magic can come to life only at the Dominican Republic Nickelodeon Resort!
The world's only Pineapple Villa, affectionately modeled after SpongeBob SquarePants' iconic home in Bikini Bottom, is a unique and whimsical accommodation that brings the beloved Nickelodeon character's world to life in a truly enchanting way.
Located within the Nickelodeon Hotels & Resorts Punta Cana in the Dominican Republic, this extraordinary villa offers an unforgettable experience for fans of all ages. As soon as you step through the doors, you'll be transported into SpongeBob's undersea abode, complete with all the vibrant colors and quirky details that make it instantly recognizable.
The exterior of the Pineapple Villa mirrors SpongeBob's cheerful pineapple home, featuring its distinctive shape, large oval windows, and a thatched roof that captures the essence of Bikini Bottom. Upon entering, guests are greeted with an array of SpongeBob-themed décor and furnishings that evoke the cheerful and playful atmosphere of the cartoon world.
Every corner of the villa is thoughtfully designed to immerse visitors in SpongeBob's universe. From the pineapple-themed bedroom, where you can sleep under a replica of SpongeBob's hammock, to the nautical-inspired living room with quirky furniture that resembles the show's characters, every detail exudes the charm and whimsy of the beloved animated series.
In addition to the unique interior design, the Pineapple Villa offers exclusive amenities and services fit for a Nickelodeon star. Guests can enjoy a private swimming pool, personalized concierge service, and even surprise visits from SpongeBob himself, adding an extra touch of magic to the stay.
The Pineapple Villa provides an unparalleled opportunity for families and fans to step into SpongeBob SquarePants' world and experience a dream vacation like no other. Whether you're young or young at heart, this extraordinary accommodation promises an unforgettable journey into the beloved animated universe, creating cherished memories that will be treasured for a lifetime. So, get ready to dive into the whimsical world of SpongeBob SquarePants and make your stay at the Pineapple Villa an adventure filled with laughter, joy, and endless fun!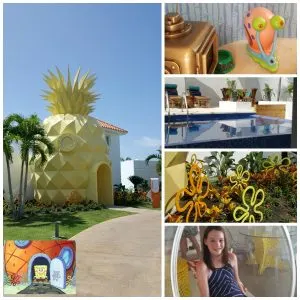 Unique Geographical Location
The Dominican Republic, a captivating jewel in the heart of the Caribbean, is blessed with a unique geographical position that offers an awe-inspiring meeting of two great bodies of water. To the north lies the mighty North Atlantic Ocean, its vast expanse stretching into the horizon, while to the south, the warm and inviting waters of the Caribbean Sea beckon travelers to explore its hidden treasures.
This enchanting island nation serves as the ideal gateway to experience the harmonious union of these two magnificent bodies of water. Along the northern coastline, visitors are greeted by the grandeur of the North Atlantic Ocean, where waves crash upon rugged cliffs and picturesque shorelines. The ocean's mesmerizing shades of blue evoke a sense of power and majesty, leaving a lasting impression on all who witness its grand spectacle.
As one ventures southwards, the landscape undergoes a tranquil transformation. The Caribbean Sea reveals its charm, with its waters adopting a vibrant emerald and turquoise hue. The sea here is gentle and inviting, offering a perfect setting for water enthusiasts to bask in the sun, swim, snorkel, and indulge in an array of water-based activities.
But what makes the Dominican Republic's geography truly captivating is the unique instances where the Caribbean Sea and the Atlantic Ocean coalesce. In certain locations, the two bodies of water meet in a stunning display of contrasting colors. Picture one side of the shoreline adorned in rich, deep blue, while the other side boasts a vivid shade of green. This natural wonder becomes a visual feast, a testament to the incredible diversity and beauty this island nation has to offer.
Whether you find yourself on the northern shore, witnessing the sheer power of the Atlantic Ocean, or on the southern coast, immersing yourself in the tranquil allure of the Caribbean Sea, the Dominican Republic consistently captivates with its natural splendor. It is a paradise where every turn leads to breathtaking vistas, and every moment spent in the embrace of the ocean is an experience of wonder and serenity.
As the Caribbean Sea and the Atlantic Ocean marry in this exquisite land, the Dominican Republic embodies the very essence of tropical allure. Its beauty is ever-present, from the lush greenery that adorns its landscapes to the pristine beaches that meet the glistening waters. For travelers seeking a destination that unites the best of both worlds, the Dominican Republic stands as a testament to the harmonious blend of nature's wonders, where every sunrise and sunset paint a canvas of breathtaking beauty.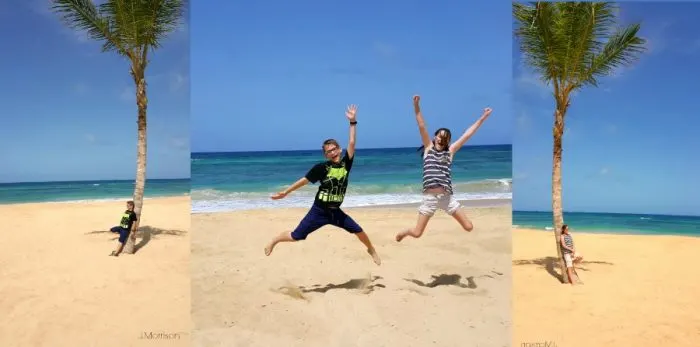 With bellies fed, the Pineapple is seen and the beach exploring. It was time to get our key card–which the kiddos thought was adorable with its Nickelodeon cartoon theme.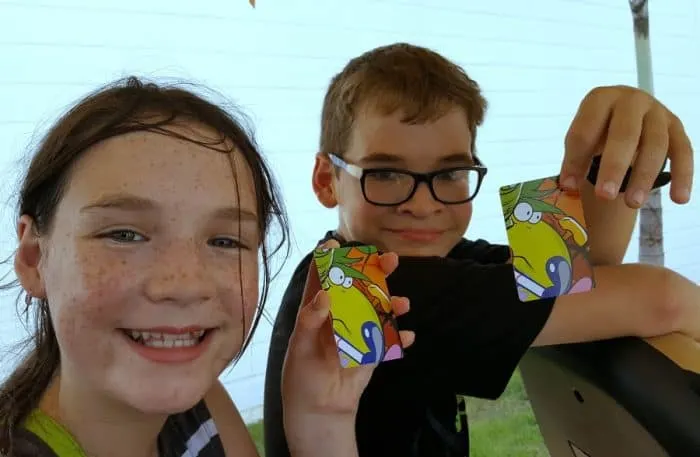 At Nickelodeon Resort Punta Cana, transportation is easy.
Just wait at a gathering spot; a golf cart will pick you up and take you where you need to go.
Nickelodeon Punta Cana Room Accommodations:
Nickelodeon Hotels & Resorts Punta Cana offers a wide variety of beautifully designed and well-appointed rooms to suit the preferences and needs of every guest. These rooms are part of the resort's Gourmet Inclusive® experience, where guests can enjoy top-notch amenities and exceptional services throughout their stay.
Here are some of the room categories you can find at the resort:
Pad Suites: The Pad Suites are comfortable and stylish accommodations featuring modern amenities and a playful Nickelodeon theme. These rooms offer options such as Garden View Pad Suites, Pool View Pad Suites, and more.
Flat Suites: The Flat Suites are spacious and thoughtfully decorated, providing a relaxing environment for guests. You may find options like Garden View Flat Suites and Swim-Up Flat Suites (different from the Swim-Up Pad Suites).
Super Pool Suites: These suites offer direct access to a shared pool, where guests can enjoy the convenience of a semi-private pool experience.
Pineapple Suites: As mentioned earlier, the Pineapple Suites are an iconic feature of the resort, designed to resemble SpongeBob SquarePants' home in Bikini Bottom. These suites are a whimsical and enchanting option for fans of the beloved cartoon.
Villa and Villa Pool View: The Villas are elegant and spacious accommodations, perfect for families or groups. They offer a luxurious experience with upscale amenities and beautiful views of the pool area.
The Swank Wraparound Terrace Suite: This suite provides a truly grand experience, with a wraparound terrace offering breathtaking views of the surrounding area.
Sensatori and The Pineapple Villa: These special suites are known for their exclusivity and luxury, providing extra space and a wide range of premium amenities and services.
Each room category is designed with attention to detail, ensuring that guests have a comfortable and enjoyable stay. The resort's commitment to providing a fantastic selection of rooms allows guests to choose the accommodation that best suits their preferences and budget, whether they are families, couples, or solo travelers.
Please note that room offerings and availability may change over time, so it's recommended to check the resort's official website or contact their reservations department directly for the most up-to-date information on room categories and their features.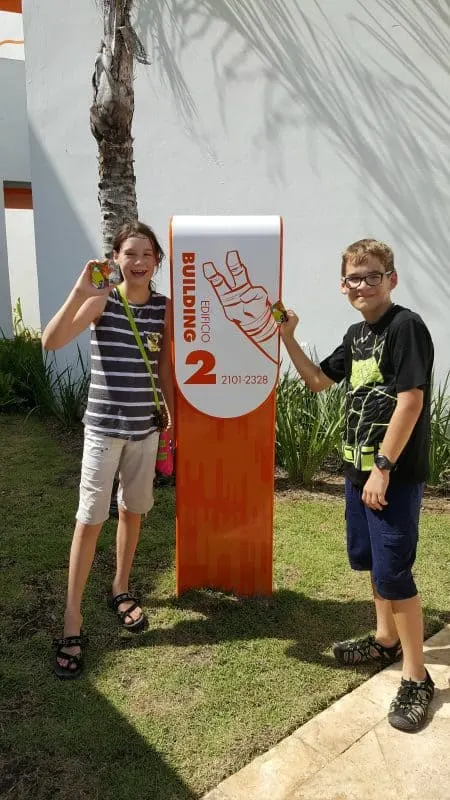 Our Room
We caught a lift to Building 2!
The kiddos raced up to the room, and then MacKenzie took us on tour.
Nickelodeon Hotel & Resort Punta Cana offers a great selection of rooms.
Ours was ideal for our family.
The sofa is a pullout, and the bed a king-size.
The bathroom was heaven with its size (almost half the size of our room).
It had a walk-in shower with a rain head and handheld shower head, an amazing bathtub, a full closet with drawers, and a safe we could set our combination to each day.
There was also a large balcony where we sat and enjoyed the view during our rest times.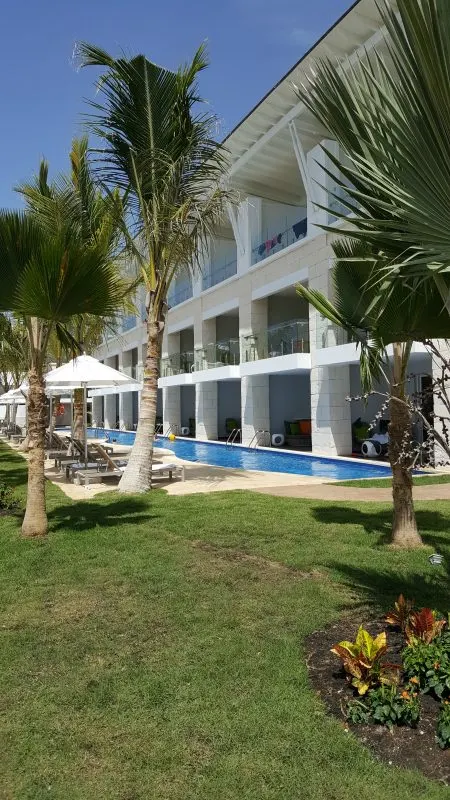 The decor was Nickelodeon colors. The plastic Nickelodeon blimp at the foot of the bed was a nice touch.
We settled in for a few minutes before getting ready for dinner.
The kiddos were supposed to be bathing and getting dressed when I came into the room and saw them watching Nickelodeon on the room's flat-screen and lounging in the hotel-provided robes–which I will admit were LUXURIOUS.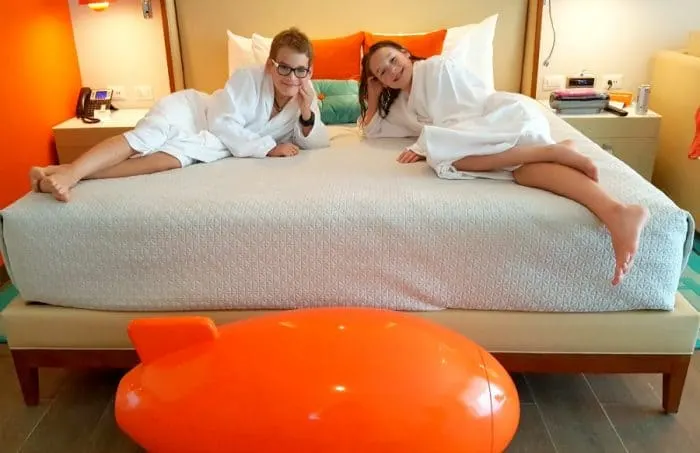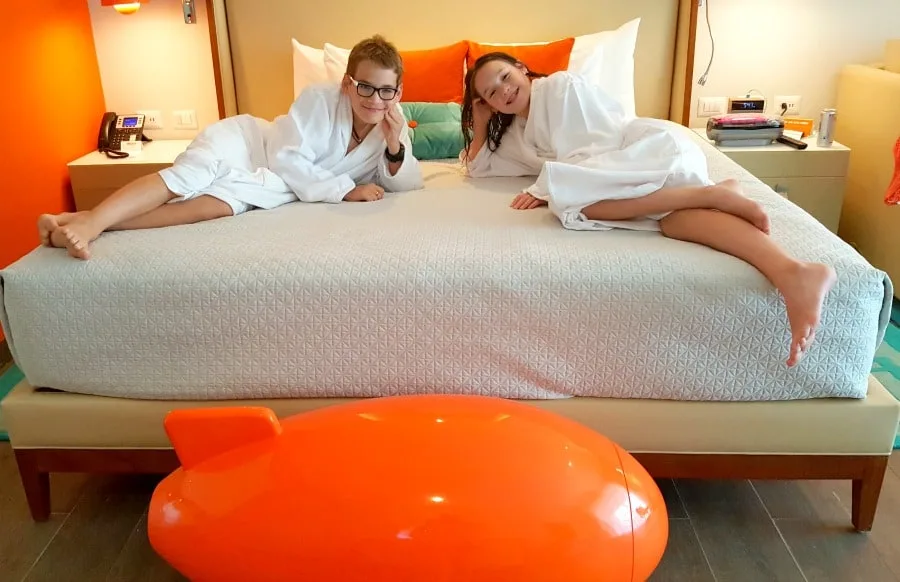 Swim-Up Pad Suites
Nickelodeon Hotels & Resorts Punta Cana offers a unique and luxurious accommodation option known as the "Swim-Up Pad Suites." These suites are part of the resort's Gourmet Inclusive® experience, designed to provide guests with a lavish and unforgettable stay.
Swim-Up Pad Suites are a type of room category that offers direct access to a private pool right from your suite's terrace or balcony. Guests staying in these suites can enjoy the convenience of stepping out of their room and immersing themselves in a refreshing pool at any time they desire, without having to walk to a shared pool area.
Some key features and amenities you might find in the Swim-Up Pad Suites at Nickelodeon Punta Cana include:
Private Terrace or Balcony: The suites typically feature a private terrace or balcony equipped with comfortable seating, allowing guests to relax and enjoy the stunning pool views.
Direct Pool Access: As the name suggests, these suites come with direct access to a designated pool, shared among a limited number of rooms in the same category.
Spacious Accommodation: The Swim-Up Pad Suites are known for their spacious layout, providing ample room for families or couples to feel comfortable during their stay.
Modern and Upscale Design: The suites are thoughtfully decorated with modern and upscale furnishings, creating an inviting and luxurious ambiance.
In-Suite Amenities: Guests can expect a range of amenities inside the suite, such as a plush king-size bed, a well-appointed bathroom, air conditioning, flat-screen TVs, a minibar, and more.
Personalized Services: Guests staying in Swim-Up Pad Suites often receive personalized services, such as concierge assistance and special turndown services.
It's important to note that resort offerings, including room categories and amenities, can change over time. For the most up-to-date and specific details about the Swim-Up Pad Suites at Nickelodeon Hotels & Resorts Punta Cana, I recommend checking the resort's official website or contacting their reservations department directly. They can provide you with comprehensive information about the suite features, availability, and any additional inclusions that come with booking this luxurious accommodation option.
It took some persuading, but I finally got them in elegant resort wear for our dinner at Verdello's in the Gourmet Inclusive Village.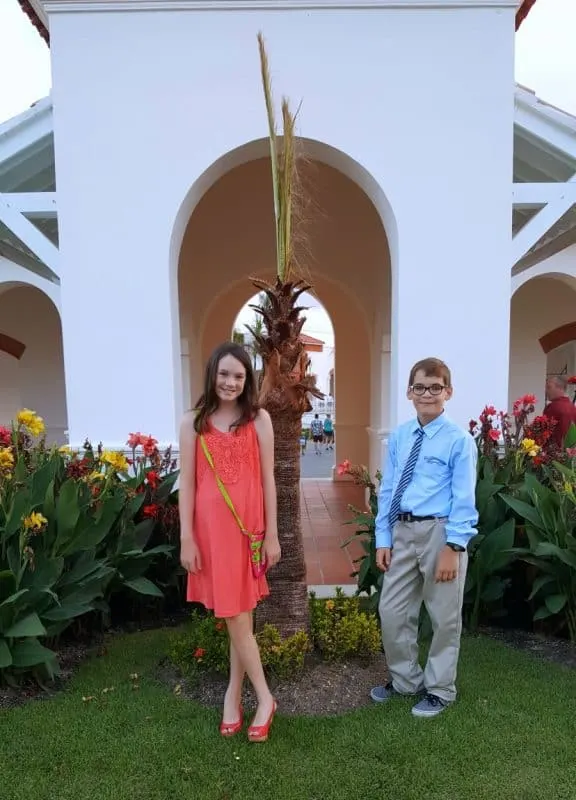 We walked to Verdello.
Be sure and check out the video MacKenzie did from the Gourmet Village.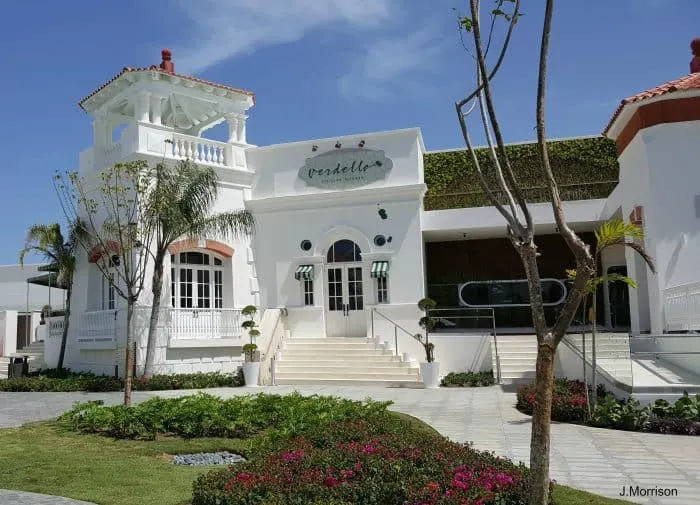 Before we go to the restaurant, I want to share with you that Karisma pride is evident everywhere throughout the resort, however, being a gourmet-inclusive resort, the quality of the food is of the highest priority. Nickelodeon isn't Las Vegas and the buffets. Every restaurant (there are eight on the property), had food that was amazing!
The inside of Verdello is breathtaking.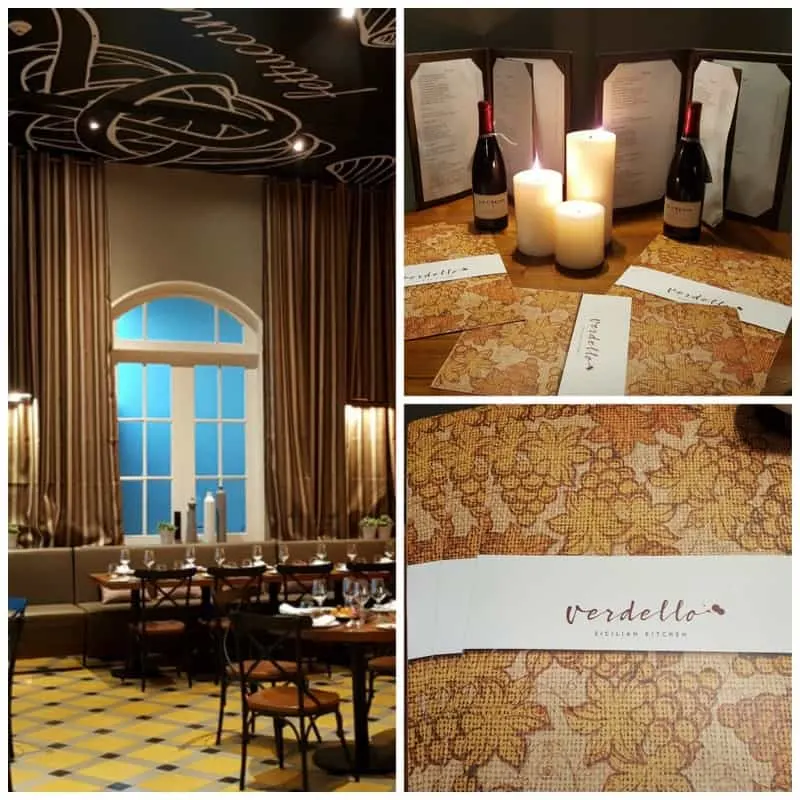 There were no menus.
It was just one amazing dish after the next.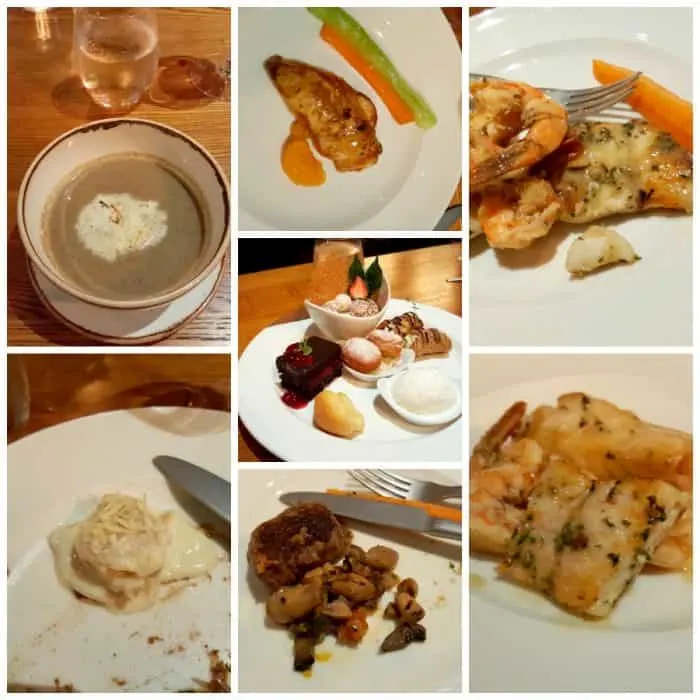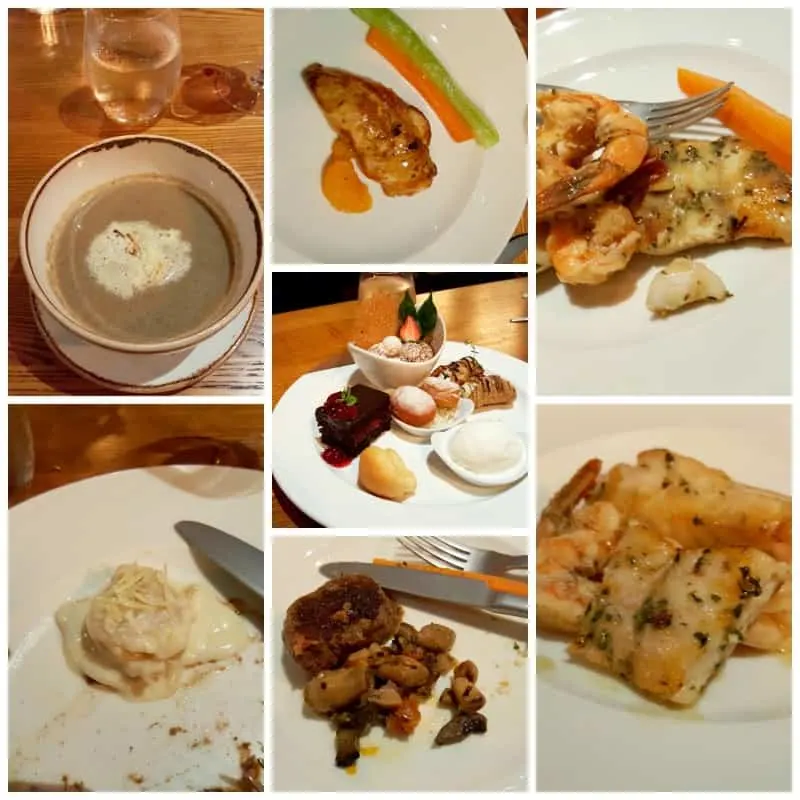 Then we were serenaded by the Chefs.
It was so incredible that my son looked at me with tears in his eyes and told me, "This is amazing, Mom!"
I will say that I found the food to be delicious with every bite.
My kiddos tried everything. Including the sardines that were battered and crunchy.
At the end of the night, my son turned to me and said, "This has been a very good time, but I just don't think my taste buds have matured just yet."
We walked back to our room.
Past the World's only Pineapple Villa.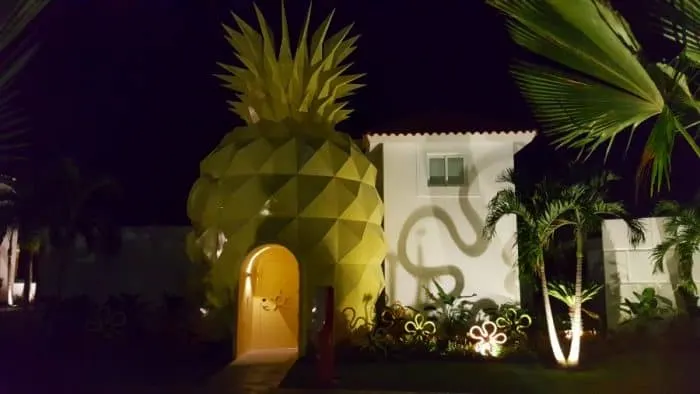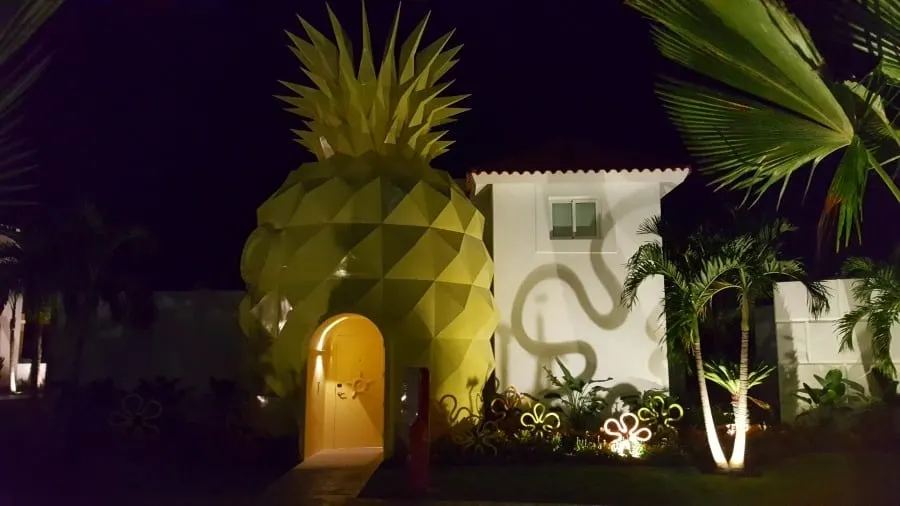 Through the resort where illumination highlights the pools.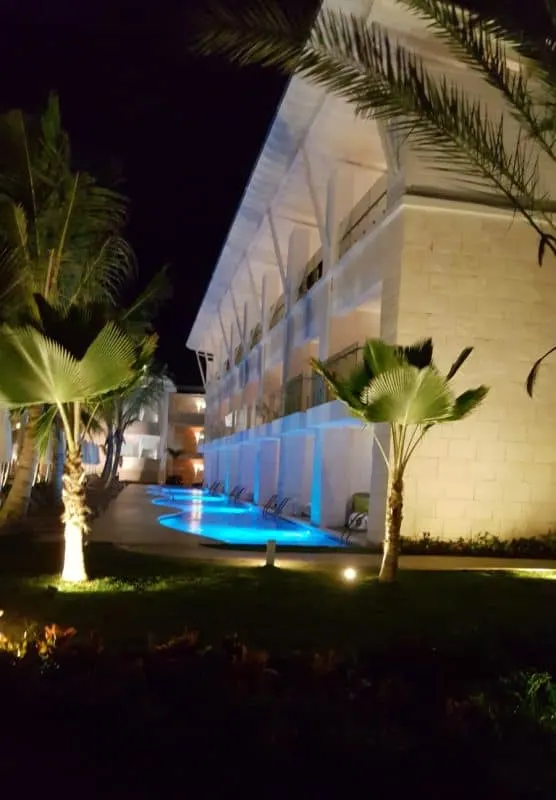 And past the Ninja Turtle shadows.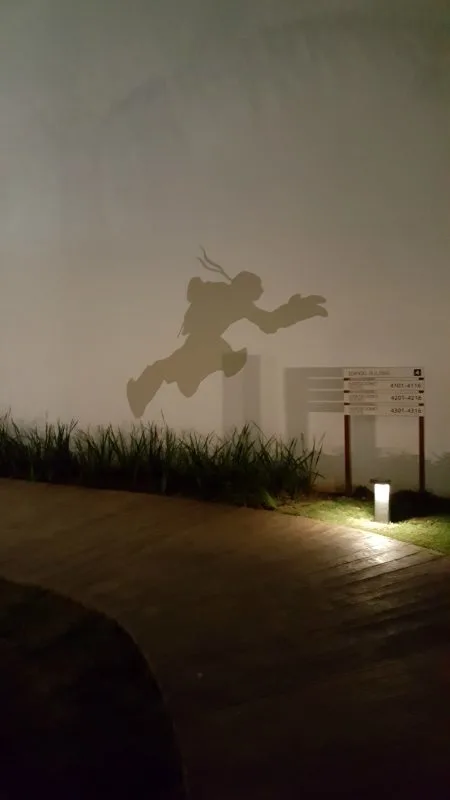 The kiddos were tucked into bed and were out before I could get to the lights.
The next morning we woke up–earlier than I thought we should.
We headed off to breakfast.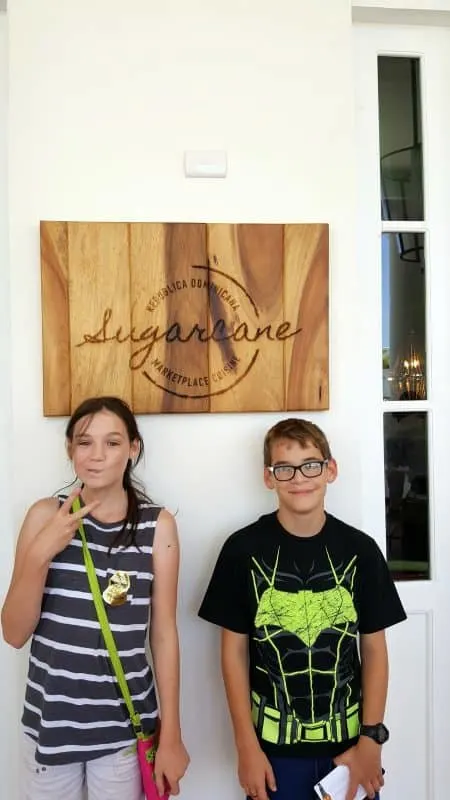 We ate at the Sugar Cane, a fresh market restaurant with a food display.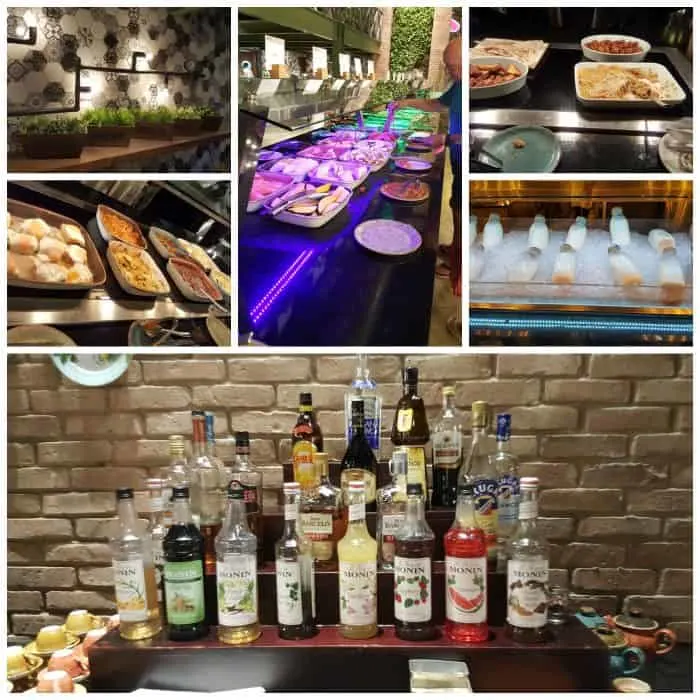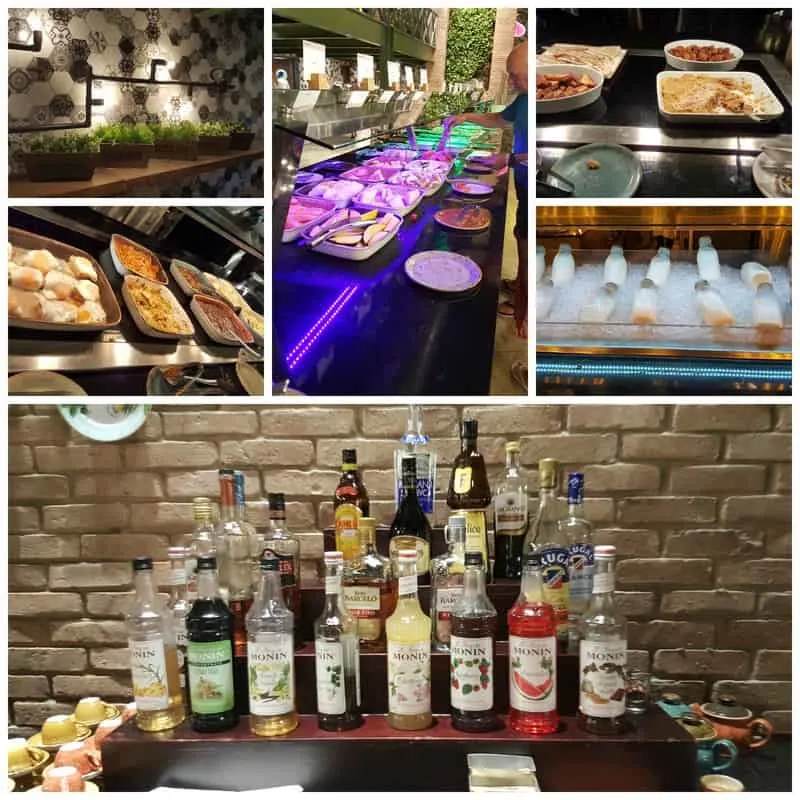 To be honest, I just came for the donuts~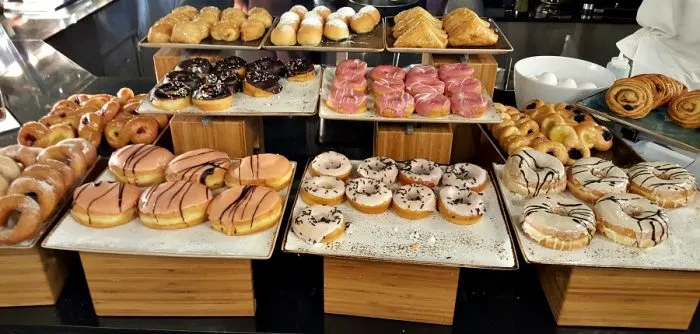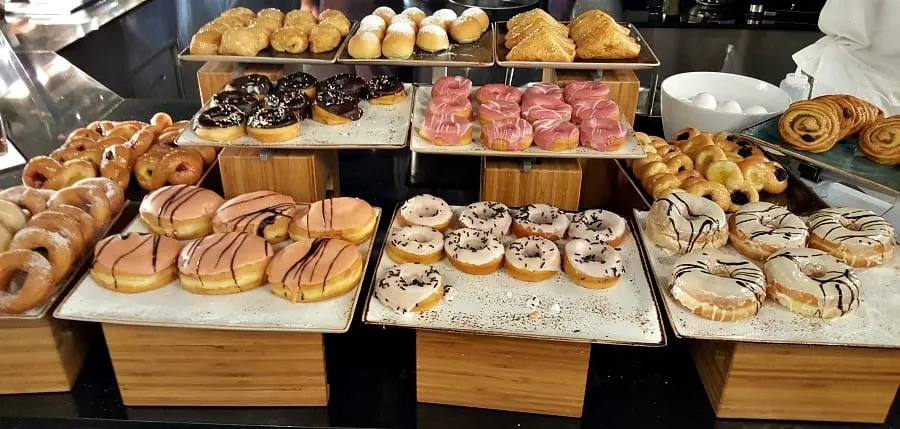 Nickelodeon Hotel & Resorts Punta Cana offers two "food display" (buffet) restaurants, Sugar Cane and Lighthouse.
Sugar cane was MacKenzie's favorite restaurant in the Gourmet Village.
During breakfast, William returned to the table and shared that he had just seen the YouTube family, The Eh Bees.
They happen to be MacKenzie's favorite YouTubers.
Then it was, "Forget about SpongeBob; we just met the EhBee Family, Mom!"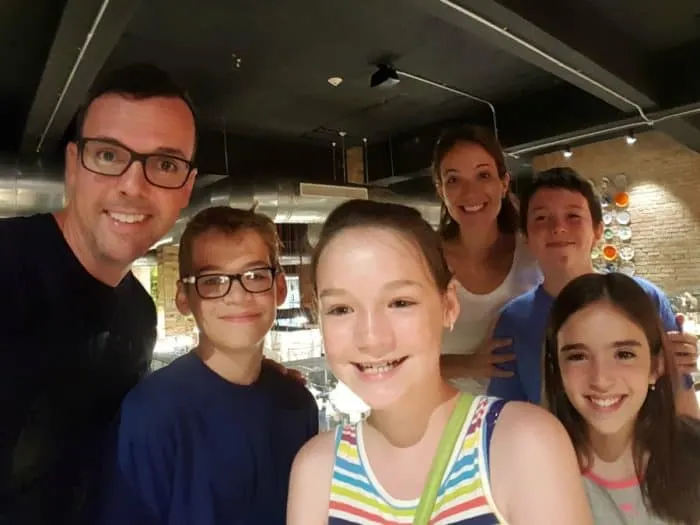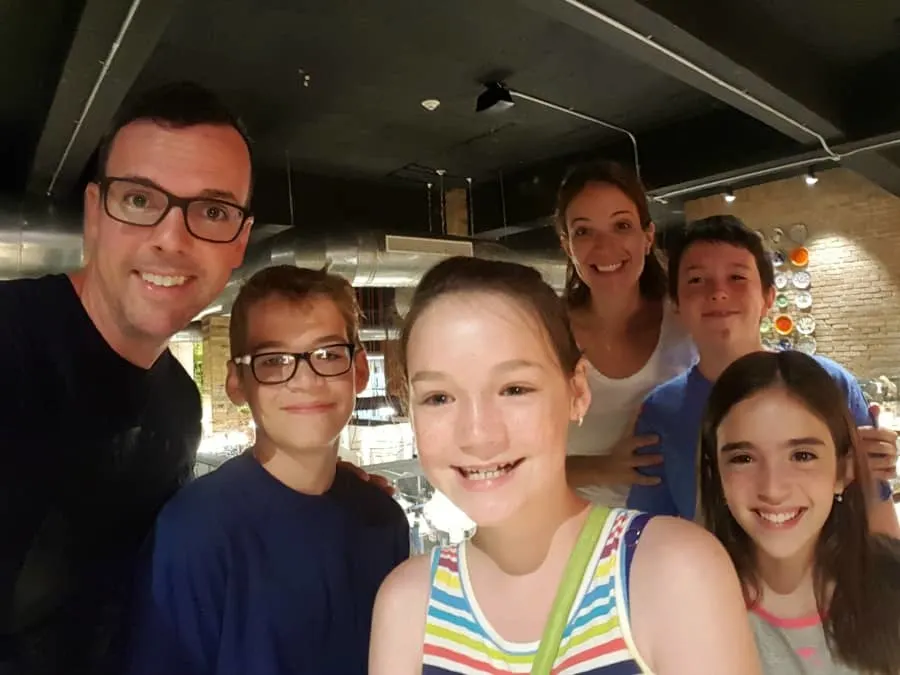 Pajama Jam-Character Breakfast
At Zest, you can indulge in a Nickelodeon character breakfast called Pajama Jam.
Nickelodeon-themed resorts or family-friendly destinations, character breakfasts are common occurrences. During a character breakfast, guests have the opportunity to enjoy a delightful meal while interacting with beloved Nickelodeon characters, such as SpongeBob SquarePants, Dora the Explorer, the Teenage Mutant Ninja Turtles, and others.
The "Pajama Jam" theme suggests that guests might be encouraged to wear their pajamas during breakfast, adding a fun and playful element to the experience. These character breakfasts are often a hit with children and families, as they provide a memorable and interactive way to start the day.
It was high-energy and entertaining.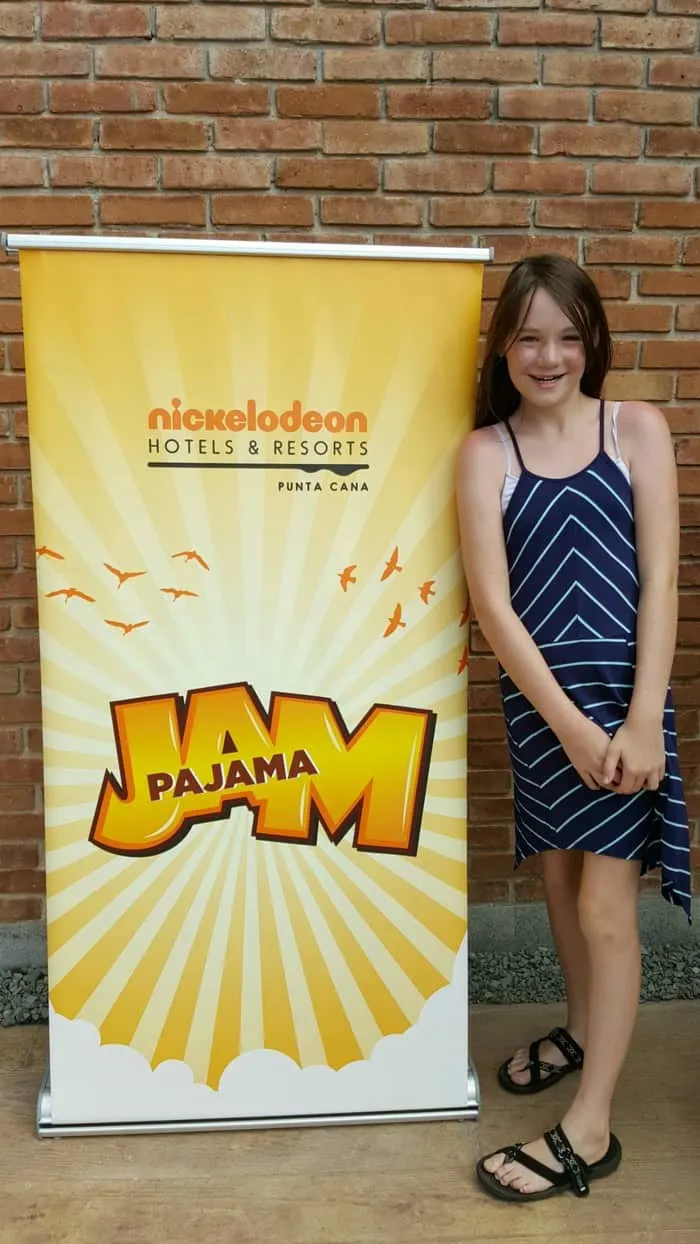 My kiddos loved getting to meet Patrick, SpongeBob, Dora and other characters from the Nickelodeon lineup!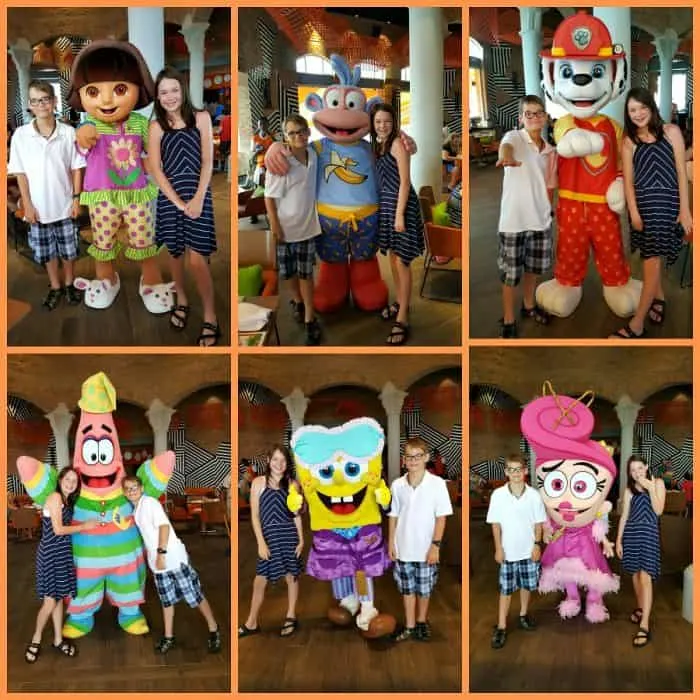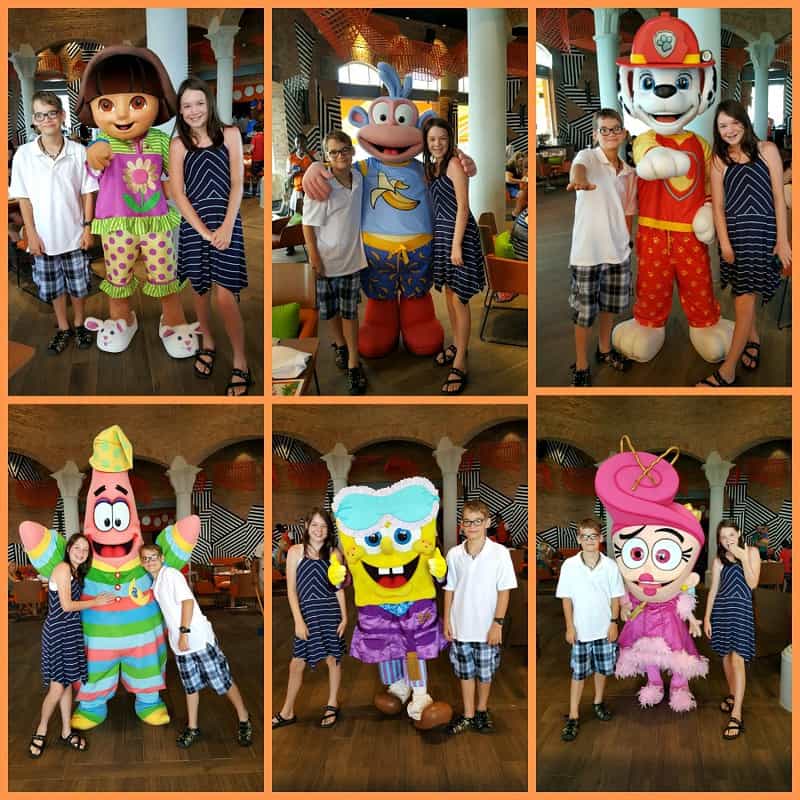 They even left with autographs.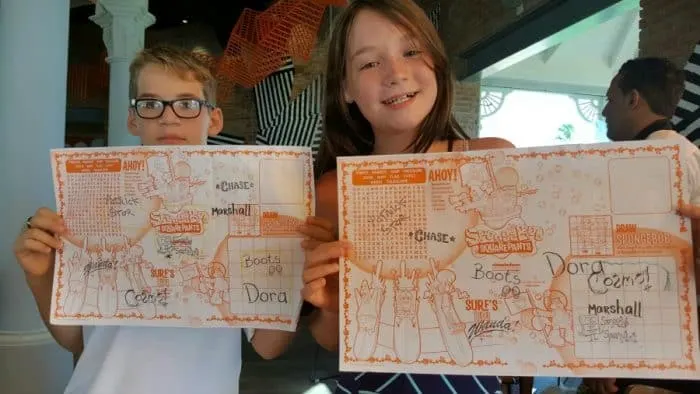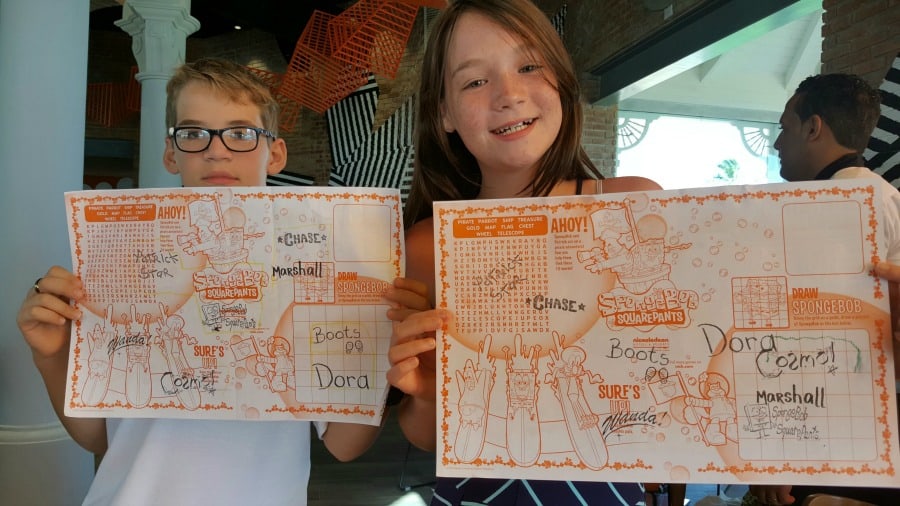 We were at the resort Monday through the afternoon of Thursday.
We kept long hours, waking up early and going to bed late, and we still didn't do everything.
There is a whole teen area we never even saw!
There is yoga on the beach, a spa, and MacKenzie insisted if anything is happening, we are there.
This thought to send us to the beach one night for a party found us rained out!
There are swimming pools galore throughout the resort.
MacKenzie and William LOVED the swim-up pools, and every time we walked past one, they went for a swim to the bar, where they shared a pina colada.
It was the sweetest thing!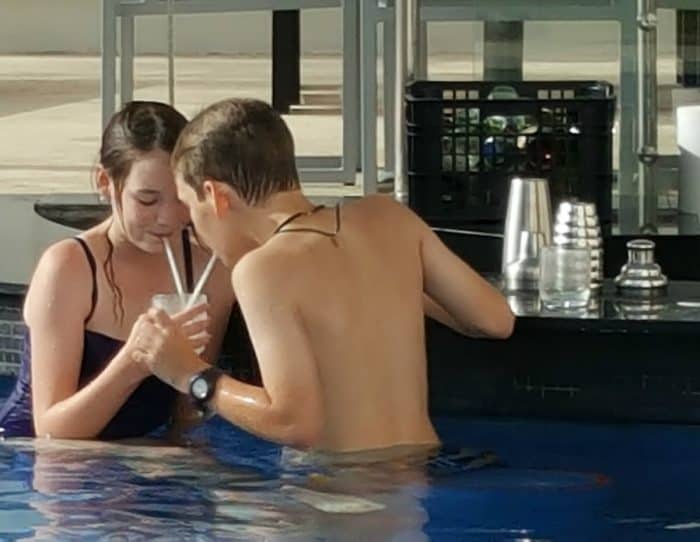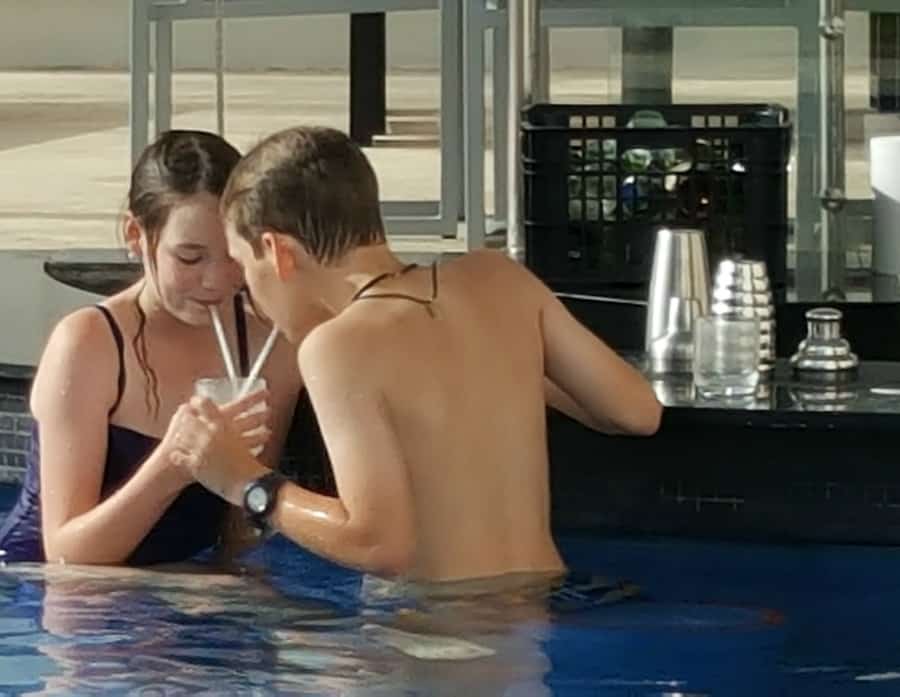 We spent a few hours in the Infinity Pool that faced the ocean. Drinks were delivered, and the kiddos had a great time enjoying the water. It was about four feet in-depth, and the view was stunning.
At the other end of the resort, we discovered Nickelodeon Place.
Nickelodeon Place
Nickelodeon Hotels & Resorts Punta Cana features a special area called "Nickelodeon Place." It is an exclusive zone within the resort that is dedicated to providing guests with a fully immersive Nickelodeon experience. Nickelodeon Place is designed to bring the beloved characters and shows from the Nickelodeon universe to life, offering a variety of activities and entertainment for guests of all ages.
Here are some key features and attractions you might find at Nickelodeon Place:
Character Greetings: Guests can meet and interact with their favorite Nickelodeon characters, such as SpongeBob SquarePants, Dora the Explorer, the Teenage Mutant Ninja Turtles, and more. These character greetings provide an opportunity for guests to take photos, receive autographs, and create lasting memories.
Aqua Nick: Aqua Nick is a fun-filled water park located within Nickelodeon Place. It features exciting water slides, splash zones, and pools, providing endless opportunities for guests to cool off and have a splashing good time.
Just Kiddin' Kids Club: The Just Kiddin' Kids Club is a dedicated space for children to engage in supervised activities and games under the guidance of trained staff. Kids can participate in arts and crafts, interactive play, and other age-appropriate entertainment.
Entertainment and Shows: Nickelodeon Place often hosts live entertainment and shows inspired by popular Nickelodeon programs. These performances can include music, dance, and theatrical productions that the whole family can enjoy.
Character Dining: As mentioned earlier, the resort may offer character breakfasts or character-themed dining experiences within Nickelodeon Place. Guests can enjoy a delicious meal while being surrounded by their favorite Nickelodeon characters.
Special Events and Activities: Depending on the season and resort schedule, Nickelodeon Place may organize special events and themed activities, such as costume parties, treasure hunts, and more.
Overall, Nickelodeon Place serves as the heart of the Nickelodeon Hotels & Resorts Punta Cana experience, where guests can immerse themselves in the world of Nickelodeon and create unforgettable memories with their favorite characters. It is a place where laughter, play, and the magic of Nickelodeon come together to provide an extraordinary vacation for families and fans of all ages.
For the most current information on Nickelodeon Place and its attractions at Nickelodeon Hotels & Resorts Punta Cana, I recommend checking the resort's official website or contacting their guest services for details about the latest offerings and events.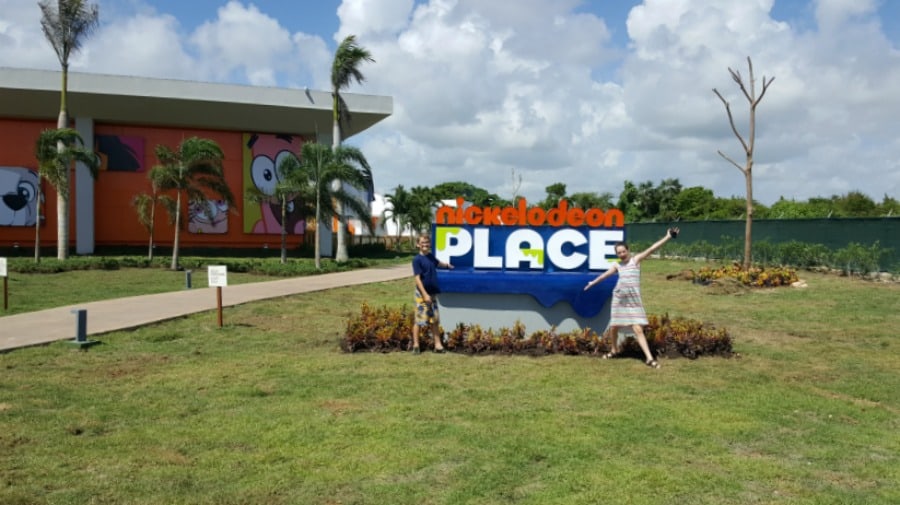 William loved some downtime at Just Kiddin' Kids Club. It's designed for kids ages 4-12 years of age and offers indoor fun.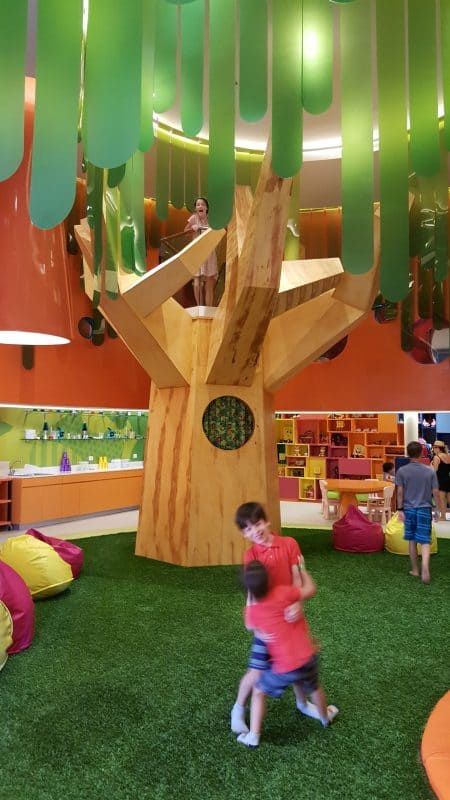 It features a huge slide, a ball pit, a craft area, video games, and the staff has organized activities.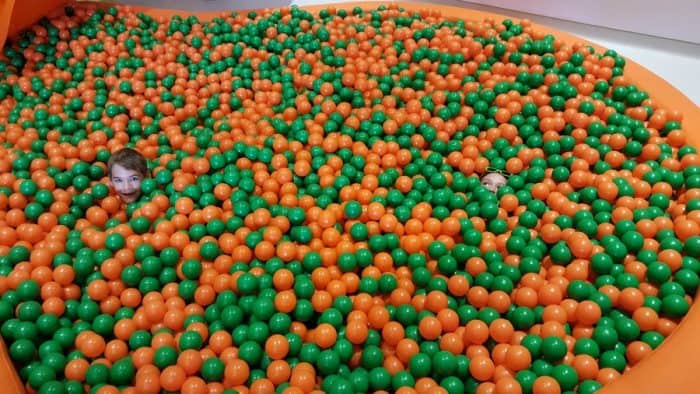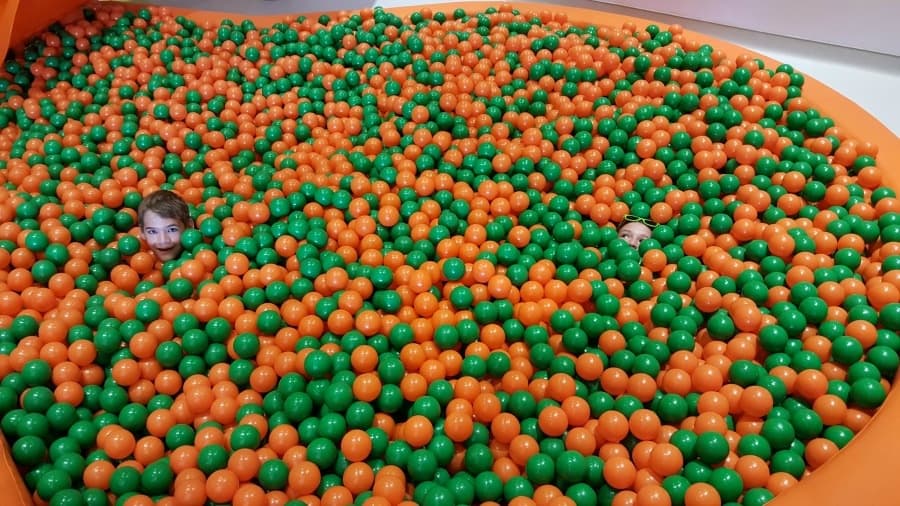 A street separates this area from the gourmet-inclusive village and resort.
It's a short ride by golf cart, or you can travel by foot along a walkway.
Contained in this area is Aqua Nick.
Aqua Nick:
Aqua Nick is a fantastic water park located within the Nickelodeon Hotels & Resorts Punta Cana in the Dominican Republic. It is a major highlight of the resort, offering guests of all ages a fun-filled and refreshing aquatic experience. Aqua Nick is designed with a playful and immersive Nickelodeon theme, making it a must-visit destination for families and fans of the beloved characters from the Nickelodeon universe.
Here are some key features and attractions you might find at Aqua Nick:
Water Slides: Aqua Nick boasts an array of exhilarating water slides suitable for different age groups and thrill levels. From winding twists and turns to heart-pounding drops, guests can experience the excitement of various water slide adventures.
Splash Zones: The water park includes splash zones with interactive water features, such as water cannons, dumping buckets, and spraying fountains. These areas are perfect for younger children who can enjoy safe and playful water play.
Lazy River: For those seeking a more relaxing water experience, Aqua Nick often features a lazy river. Guests can float along the gentle current while enjoying the beautiful scenery and soaking up the sun.
Pools: The water park typically offers several pools, providing ample space for swimming, playing, and lounging. Some pools might include designated areas for water sports or games.
Aqua Nick Characters: Throughout Aqua Nick, guests may encounter meet-and-greet opportunities with Nickelodeon characters, making the experience even more special for kids and families.
Lifeguards and Safety: Aqua Nick places a strong emphasis on guest safety. Trained lifeguards are typically stationed throughout the park to ensure a safe and enjoyable experience for all visitors.
Dining and Snack Options: Aqua Nick might offer dining and snack options within or nearby the water park, allowing guests to refuel and recharge without leaving the fun.
Aqua Nick is a fantastic addition to the Nickelodeon Hotels & Resorts Punta Cana, providing guests with an exciting water park adventure immersed in the world of Nickelodeon. It offers the perfect balance of thrilling water attractions and relaxing areas, making it a favorite destination for families and friends seeking a memorable and entertaining vacation.
For the most current information about Aqua Nick's attractions and operations at Nickelodeon Hotels & Resorts Punta Cana, I recommend checking the resort's official website or contacting their guest services for the latest details.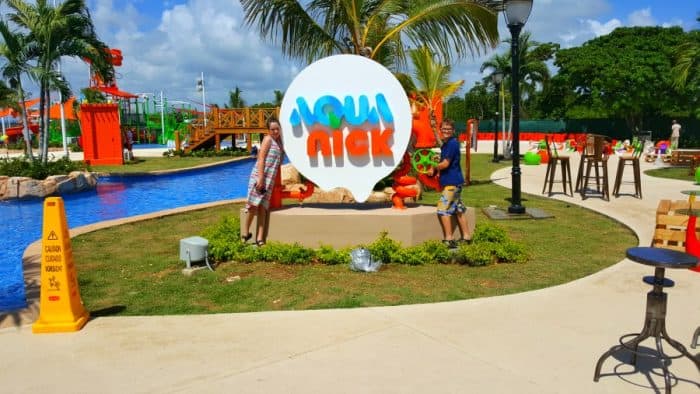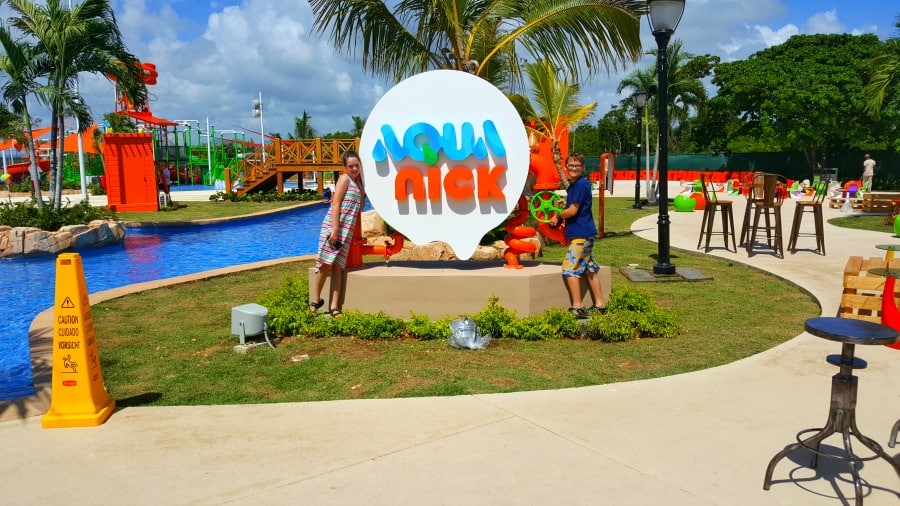 Here there is a large water play area with slides, fountains, and a lazy river.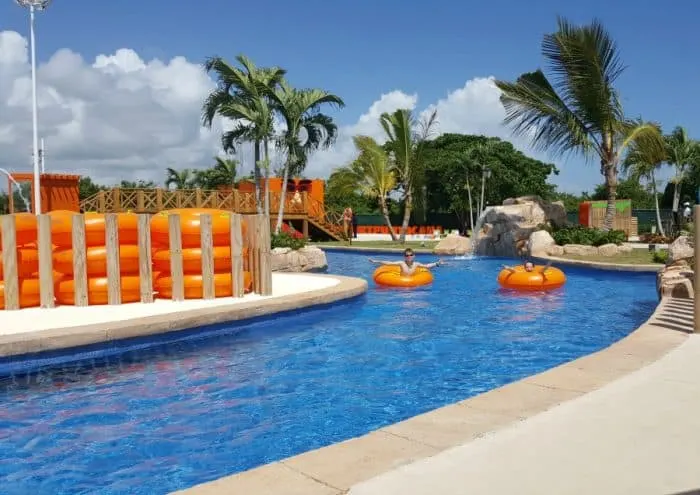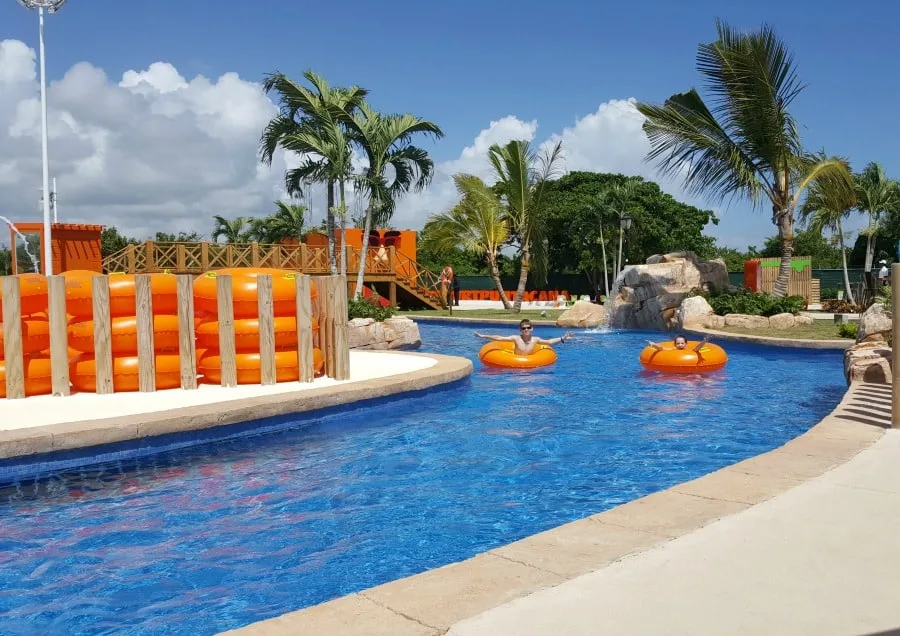 We spent a lot of time here.
I would take a lap around the lazy river and then order up pina colada for me and the kiddos.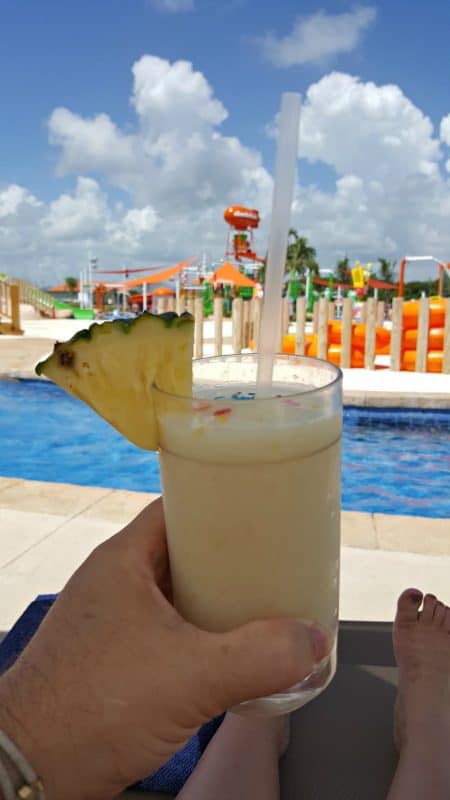 And the kiddos would order up burgers when they felt like eating.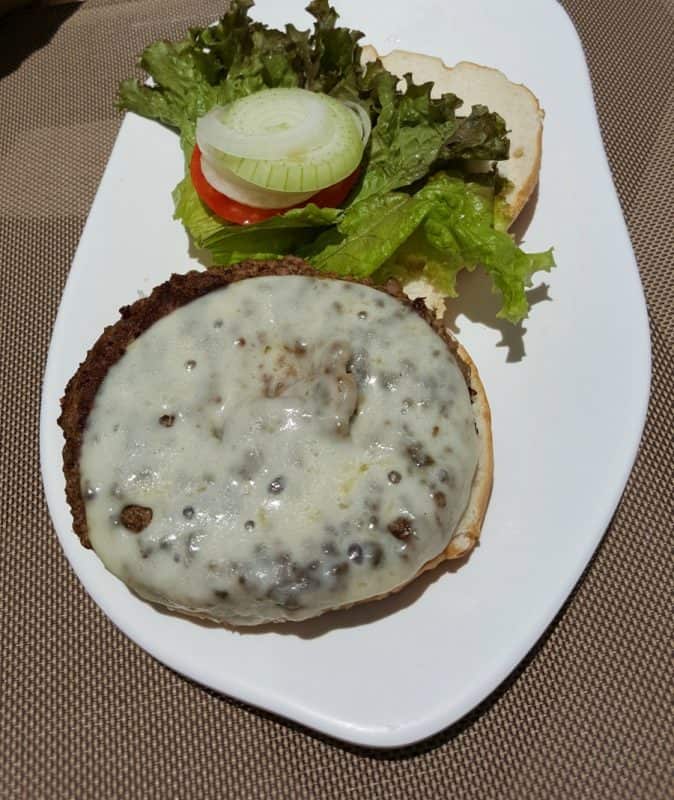 There was also ice cream.
Getting Slimed at Nickelodeon
And what's a trip to Nickelodeon without being slimed?!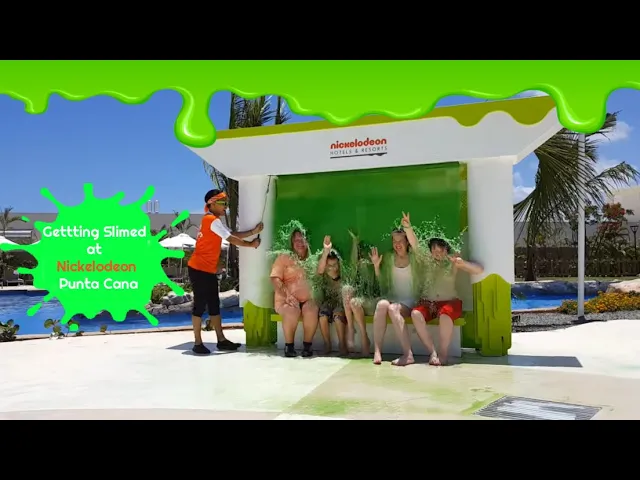 "Sliming" at Nickelodeon Hotels & Resorts Punta Cana is not a standard or advertised activity at the resort. However, I can provide some information about the concept of "sliming" and its association with Nickelodeon.
"Slime" is a signature substance associated with the Nickelodeon network, which is a popular children's television channel known for its colorful and playful programming. Slime is a green, gooey substance that has become an iconic symbol of the network. Nickelodeon often features "slime" in various shows, events, and award ceremonies, where celebrities and participants are playfully doused with the gooey material as a fun and lighthearted gesture.
While Nickelodeon is famous for incorporating slime into its entertainment, it's essential to note that not all Nickelodeon-themed resorts offer sliming as part of their guest experience. The sliming experience is typically reserved for special events or occasions organized by the Nickelodeon channel itself, and it might not be a regular occurrence at the resorts.
If you are interested in knowing whether the Nickelodeon Hotels & Resorts Punta Cana offers any specific events or opportunities for guests to experience sliming, I recommend checking their official website or contacting their guest services directly. They can provide you with the most up-to-date information about any unique activities or events related to slime that may be available during your stay.
See the slime action play out in video:
Final Thoughts:
During our unforgettable stay at Nickelodeon Hotels & Resorts Punta Cana, the evenings were filled with energy and excitement as we eagerly attended the lively dance parties. The resort's vibrant atmosphere came to life under the enchanting Caribbean night sky, as guests of all ages gathered together to dance, laugh, and create cherished memories.
Days at the resort were an absolute dream, a delightful cycle of joyous activities that had us happily immersed in a routine of pure bliss. From the moment the sun graced the horizon, we indulged in a wonderful rhythm of experiences. Mornings were met with delectable dining options, where we savored gourmet meals crafted with care and creativity. The resort's culinary offerings catered to every palate, providing a delightful fusion of international flavors and local delicacies that delighted both adults and children alike.
The shimmering beach beckoned us, and we eagerly answered its call. Time spent by the ocean was enchanting as we felt the warm, soft sand beneath our feet and the gentle caress of the turquoise waves. The crystal-clear waters invited us to swim and play, creating endless moments of laughter and shared joy.
Adventures knew no bounds at Nickelodeon Hotels & Resorts Punta Cana, as we found ourselves exploring a world where imagination had no limits. The family-friendly activities kept the little ones delighted and entertained, making their vacation experience nothing short of magical. From the excitement of meeting beloved Nickelodeon characters to the captivating shows and entertainment tailored for all ages, there was never a dull moment.
As the sun began to set, the resort's evenings came alive with dance parties that ignited the spirit of celebration within us. With infectious beats and a vibrant ambiance, we found ourselves dancing the night away, surrounded by new friends and old, forming connections that transcended language and background. These dance parties were a testament to the resort's commitment to ensuring an exceptional experience for everyone, whether young or young at heart.
Nickelodeon Hotels & Resorts Punta Cana truly is a destination that caters to the desires of all its guests. Amidst the grown-up luxuries and world-class amenities, families and kids found themselves embraced by a world of endless entertainment and joy. It's a place where cherished memories are crafted, where the heart is filled with laughter, and where the spirit of adventure reigns supreme.
From the captivating dance parties under the stars to the enchanting days spent eating, playing, and repeating, our time at Nickelodeon Hotels & Resorts Punta Cana became an extraordinary journey of love, laughter, and pure delight. It was a destination for everyone, young and old, reminding us that the magic of a shared vacation can create bonds that last a lifetime.
Karisma Hotels & Resorts is a renowned luxury hospitality company that operates various high-end resorts in top vacation destinations around the world. One of their notable collaborations is with Nickelodeon, the popular children's television network. Together, they have created the Nickelodeon Hotels & Resorts Punta Cana, an exceptional and family-friendly all-inclusive resort located in the beautiful Dominican Republic.
Nickelodeon Hotels & Resorts Punta Cana is a result of the partnership between Karisma Hotels & Resorts and Nickelodeon, aiming to bring the magic of the beloved Nickelodeon characters and shows to life in a tropical paradise setting. The resort offers a unique vacation experience that caters to guests of all ages, combining luxury, entertainment, and immersive Nickelodeon-themed experiences.
Key features of Nickelodeon Hotels & Resorts Punta Cana:
Nickelodeon Place: Within the resort, there is a designated area called "Nickelodeon Place," where guests can interact with their favorite Nickelodeon characters, enjoy character-themed dining experiences, and participate in entertaining shows and events.
Aqua Nick Water Park: Aqua Nick is a water park located within the resort, providing guests with thrilling water slides, splash zones, pools, and other aquatic attractions. It's a great place for families to have fun and cool off under the Caribbean sun.
Gourmet Inclusive® Experience: The resort follows Karisma's Gourmet Inclusive® concept, offering guests an array of dining options that showcase fresh and locally-sourced ingredients. From international cuisine to local flavors, the dining experiences at the resort are sure to please every palate.
Luxurious Accommodations: Nickelodeon Hotels & Resorts Punta Cana features a wide range of upscale and spacious accommodations, including Pad Suites, Flat Suites, Super Pool Suites, Pineapple Suites, Villas, and more. These rooms and suites are designed with contemporary elegance and comfort in mind.
Kid-Friendly Amenities: The resort provides a host of kid-friendly amenities and services, such as the Just Kiddin' Kids Club, where children can engage in supervised activities and entertainment while parents enjoy their own leisure time.
Activities and Entertainment: Throughout the day, guests can enjoy a variety of entertainment options, including dance parties, live performances, sports, and other scheduled activities to keep everyone entertained.
Nickelodeon Hotels & Resorts Punta Cana is a fantastic destination for families seeking a luxurious vacation experience with a touch of whimsy and a whole lot of fun. Whether it's meeting their favorite Nickelodeon characters, enjoying the water park, indulging in delicious cuisine, or simply basking in the beauty of the Caribbean, guests are sure to create lasting memories at this exceptional resort.
Karisma and Nickelodeon Hotels & Resorts Punta Cana provided my airfare and accommodations for my family during our stay.