Why wait for Summer? Hey Kids! Are you Ready? Aye Aye, Captain! I can't hear you? Who is ready for s'mores SpongeBob? This Kampfire Smores recipe is like the smores you roast at Bikini Bottom's summer sleepover camp, Kamp Koral over underwater campfires!
We're celebrating the new series and just released prequel Kamp Koral: SpongeBob's Under Years with this Kampfire Kone recipe inspired by the show!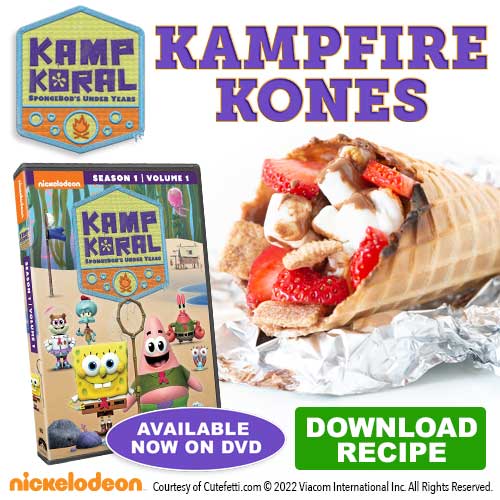 Smores are the flavors of summer.
Melted chocolate with ooey-gooey marshmallows, the crisp crunch of graham crackers.
In Bikini Bottom they do things a little differently.
This delicious Kampfire Kone recipe adds fresh fruits, a heap of topping selections like cinnamon cereal, coconut, and fun sprinkles!
Kampfire Kones Recipe
Ingredients:
Waffle Cones
Mini Marshmallows
Sweetened coconut flakes
Chocolate bars (broken into small pieces)
Chpped fruits (strawberries, pineapple, raspberries)
Mini Cookies
Cinnamon Graham Cereal
Mini Churros cookies or cereal
Sprinkles
How to Make Kampfire Kones inspired by Kamp Koral: SpongeBob's Under Years:
Preheat oven to 350-degrees.
Fill each waffle cone with approximately ½ cup mini marshmallows and ½ cup of other ingredients of choice.
Wrap each filled cone in aluminum foil.
Place wrapped cones on a baking sheet.
Heat for five minutes, or until chocolate and marshmallows are melted.
Carefully remove from oven, cool, and enjoy.
Kampfire Kones Instruction sheet FINAL
Kampfire Kones Instruction sheet FINAL

SpongeBob and Friends are Back for a Brand-new Prequel Series: KAMP KORAL: SPONGEBOB'S UNDER YEARS

Available on DVD NOW! from Paramount Home Entertainment and Nickelodeon Home Entertainment, for the suggested retail price of $15.99.
Read our review of the new SpongeBob Series.
Kamp Koral: SpongeBob's Under Years episodes:
The Jellyfish Kid
Sugar Squeeze/Tag You're It
Quest for Tire/Cabin of Cusiosities
In Search of Camp Noodist/Kitchen Sponge
The Treasure of Kamp Koral/Camper Gary
Midnight Snack Attack/Hot Pearl-tato
What About Meep?/Hard Time Out
Pat's A Li'l Sinker/Camp SpongeBob
Squisery/Game Night
My Fair Nobby/Gimme a News Break
Wise Kraken/Squash Swap
The Ho! Ho! Horror!/Outhouse Outrage
Are you Afraid of the Dork?
Kamp Koral: SpongeBob's Under Years synopsis:
Kamp Koral is a sleepaway summer camp for the kids of Bikini Bottom.
It's the perfect place for 10-year old SpongeBob, Patrick and Sandy to make new friends, build underwater campfires, catch wild jellyfish, swim in Lake Yuckymuck, and drive their teenage camp counselor Squidward absolutely crazy!
This volume contains the first 13 episodes of season one in a 2-disc set!

Kamp Koral: SpongeBob's Under Years fast facts:
Street Date: March 8, 2022
Catalog: 191329214954 (US)
Audio: Dolby Digital English 5.1, French Stereo, Spanish Stereo
US Rating: Not Rated
US M.S.R.P.: $15.99

About Nickelodeon
Now in its 42nd year, Nickelodeon is the number-one entertainment brand for kids. It has built a diverse, global business by putting kids first in everything it does. The brand includes television programming and production in the United States and worldwide, plus consumer products, digital, location-based experiences, publishing, and feature films. For more information or artwork, visit http://www.nickpress.com. Nickelodeon and all related titles, characters, and logos are trademarks of ViacomCBS Inc. (Nasdaq: VIACA, VIAC).
About Paramount Home Entertainment
Paramount Home Entertainment (PHE) is part of Paramount Pictures Corporation (PPC), a global producer and distributor of filmed entertainment. PPC is a unit of Paramount (NASDAQ: PARA, PARAA), a leading global media and entertainment company that creates premium content and experiences for audiences worldwide. The PHE division oversees PPC's home entertainment and transactional digital distribution activities worldwide. The division is responsible for the sales, marketing, and distribution of home entertainment content on behalf of Paramount Pictures, Paramount Animation, Paramount Television Studios, Paramount Players, MTV, Nickelodeon, Comedy Central, and CBS and applicable licensing and servicing of specific DreamWorks Animation titles. PHE additionally manages global licensing of studio content and transactional distribution across worldwide digital distribution platforms, including online, mobile, and portable devices and emerging technologies.
---
Original recipe created by cutefetti.com