Catch six paws-itively fun new episodes of Madagascar: A Little Wild on Hulu and Peacock on April 4!
Walking on the wild side is easy with a new season of Madagascar: A Little Wild.
New episodes arrive on April 4 on Hulu and Peacock!
Fortune Feimster (The Mighty Ones; The Mindy Project) as "Manager Cow" and Patrick Warburton (Emperor's New Groove) as "Ranger Hay" guest star this season:
Check out the season 7 trailer below!
Madagascar: A Little Wild Synopsis
Alex, Marty, Melman, and Gloria, New York's favorite Habitat crew, continue to have each other's backs while following their dreams, no matter the size!
Marty's change to become a Junior Ranger Zebra has finally arrived.
Melman will perform an original song for his favorite animal country star–if he can get past the severe stage fright.
Attention-seeking Gloria will be Habitat's first-ever radio show host.
Alex hopes to become a big-time celebrity chef.
The gang helps Ant'ney convince his mom he's mature enough to build his own nest.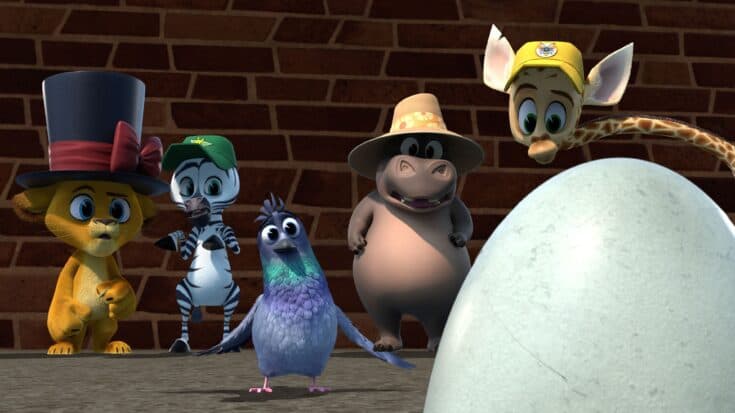 Watch as the friendly foursome, Alex the Lion, Marty the Zebra, Gloria the Hippo, and Melman the Giraffe steal the show in Madagascar: A Little Wild.
Madagascar: A Little Wild showcases the iconic personalities of each of the four dynamos residing in their Central Park Zoo rescue habitat.
They might be small, but like everybody who lands in New York City, these little guys have big dreams, and Madagascar: A Little Wild follows their adventures.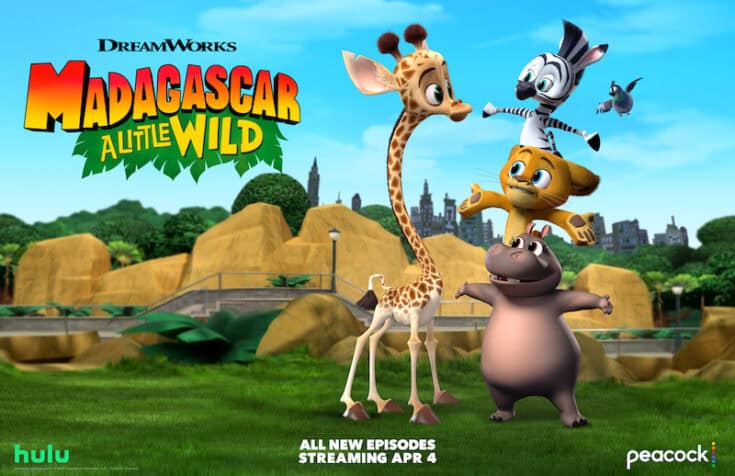 SERIES DETAILS:
Release Date: April 4, 2022
Episodes: 6
Voice Actors:
Tucker Chandler as "Alex"
Amir O'Neil as "Marty"
Shaylin Becton as "Gloria"
Luke Lowe as "Melman"
Jasmine Gatewood as "Kate"
Eric Petersen as "Ant'Ney"
Guest Stars:
Fortune Feimster as "Manager Cow"
Patrick Warburton as "Ranger Hay"
Producers:
Johanna Stein (Kung Fu Panda: The Paws of Destiny) is the Executive Producer while
Dana Starfield (Monster High: Welcome to Monster High) is the Co-Executive Producer.
ABOUT DREAMWORKS ANIMATION:
DreamWorks Animation, is one of the world's leading producers of high-quality, animated family programming, reaching consumers in more than 190 countries and creating a diverse array of original content in various formats to deliver deep, fully immersive worlds and compelling characters. Since its inception in 2013, Dreamworks has garnered 27 Emmy®. Dreamworks Animation houses such beloved series as All Hail King Julien, Archibald's Next Big Thing, Dragons: Race to the Edge, the recently released Gabby's Dollhouse, and Go, Dog. Go! And other favorites such as Kipo & the Age of Wonderbeasts, Kung Fu Panda: The Paws of Destiny, She-Ra and the Princesses of Power, Spirit Riding Free, The Boss Baby: Back in Business, and The Epic Tales of Captain Underpants
DreamWorks is a Universal Filmed Entertainment Group division within NBCUniversal, a subsidiary of Comcast Corporation.