They're back! All your favorite dancing and singing all-stars from Illumination's Sing return in the definitive feel-good event of the year. Sing 2.
Sing 2 is the sequel to 2016's popular animated musical comedy Sing.
Most of the original SING cast members reprise their roles.
Sing 2 Movie Synopsis:
The ever-optimistic Koala, Buster Moon (Matthew McConaughey), and his cast have big dreams of staging their most dazzling show yet in the glittering entertainment capital of the world, Redshore City.
There's just one hitch: They must persuade the world's most reclusive rock star, Clay Calloway (Bono, in his animation debut), to join them.
Rosita (Reese Witherspoon), Ash (Scarlett Johansson), Johnny (Taron Egerton), Meena (Tori Kelly) and Gunter (Nick Kroll) return with all-new characters, spectacular hit songs, and electrifying performances in Sing 2, a comedy about the emotional healing power of music.
The best part is you can watch it from the comfort of your couch-Enter to win a digital code to watch Sing 2 with your family!
Written and Directed by Garth Jennings (Sing, The Hitchhiker's Guide to the Galaxy) with an all-star cast of Matthew McConaughey, Reese Witherspoon, Scarlett Johansson, Taron Egerton, Bobby Cannavale, Tori Kelly, Nick Kroll, Pharrell Williams, Halsey, Letitia Wright, Jennifer Saunders, Nick Offerman, and Bono.
The original score was created by Joby Talbot.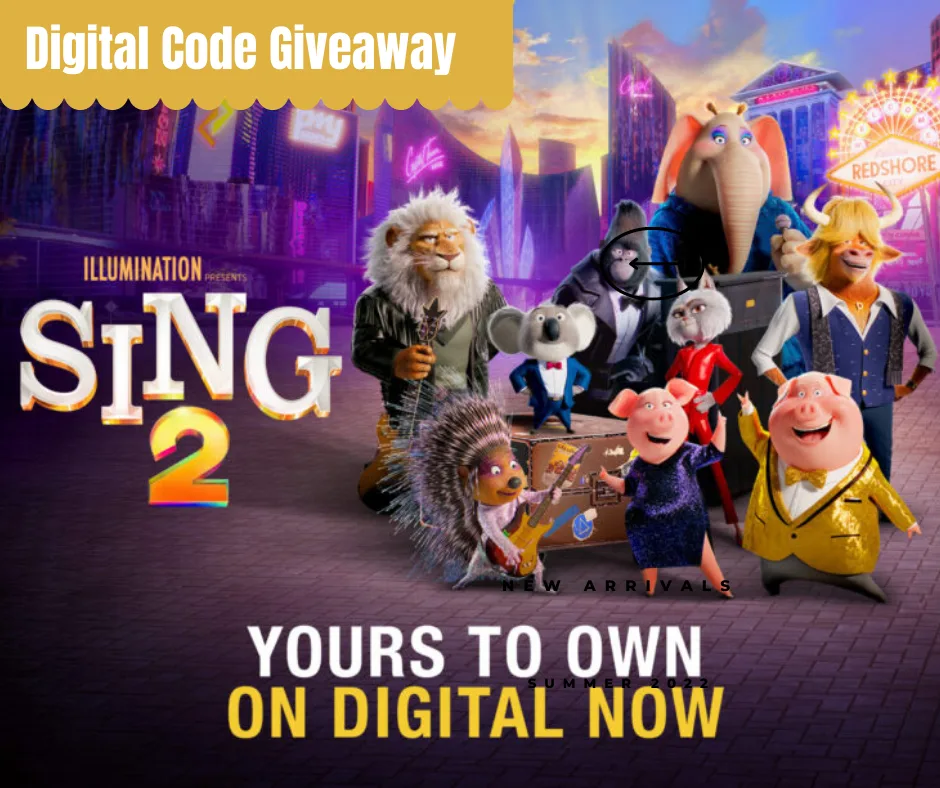 Our Review:
We love this movie.
The original SING filled us with so much laughter and characters we love and Sing 2 delivers the same cozy fun!
My kids are much older and they were still entertained, so it's sure to amuse younger viewers.
We love the animation.
For older kids the movie may be predictable, but who cares?!
The song covers are eclectic and awesome.
Prince's Let's Go Crazy!
Scarlett Johansson reminds us she's not just a Marvel character, but can sing with a husky "Heads Will Roll" by the Yeah Yeah Yeahs.
Taron Egerton swoons with Coldplay's "A Sky Full of Stars".
One of my favorite songs found its way here, "Your Song".
There's also Say a Little Prayer, also music from The Weeknd and Billie Eilish.
U2 fans, get ready, Bono not only makes his animation debut, but U2 gave permission for three of their iconic hits to be covered in the film: Where the Streets Have No Name, I Still Haven't Found What I'm Looking For and Stuck in a Moment You Can't Get Out Of.
My husband was not a fan of the musical numbers and felt they were constant (he's sort of a dull one), but it's something to consider if you have a child with sensory needs.
We loved the storylines of Johnny and Meena and are so glad there is a sequel to the original.
Sing 2 was truly a great family movie night.
There are no bad words, though it does have conversations about death.
Bonus Features on 4K Ultra HD, Blu-Ray, DVD and Digital:
FOR GUNTER'S EYES ONLY (MINI MOVIE)* –
Johnny and Gunter attend a hypnotist show in Redshore City where Gunter is hypnotized and believes he is a 007 type spy.
ANIMAL ATTRACTION (MINI MOVIE)* –
Darius messes up his commercial shoot and audition.
OUTTAKES*
MEET THE ANIMATORS
SUPER SING-ALONGS*
HOW TO DANCE & MORE!
HOW TO DANCE TO SING 2*–
Choreographer Sherrie Silver takes you through dance steps inspired by the film –slowing down the process and simplifying just a bit to make sure you get your groove on.
STAGE DESIGN 101 –
The stars of SING 2 will make sure you'll have the skills to put together a stage-worthy of Redshore City!
MAKE-UP –
Learn how to create a look that's out of this world!
MICS –
Step-by-step instructions for making your own space-age microphone
COSTUMES –
Make amazing cosmic crowns and interstellar accessories
PROPS –
See how to build your very own spaceship – complete with a control panel and observation deck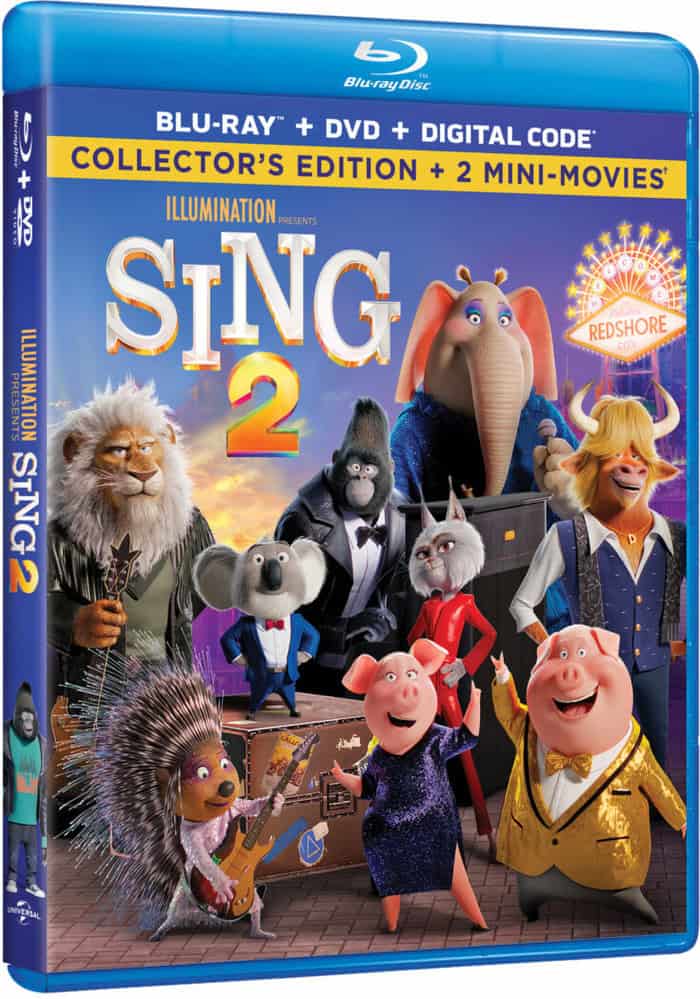 The Voices of Sing 2:
Matthew McConaughey as Buster Moon*
Reese Witherspoon as Rosita*
Taron Egerton as Johnny
Tori Kelly as Meena
Nick Kroll as Gunter
Garth Jennings and Miss Crawly
Sing 2 Movie Trailer:
FROM THE DRAWING ROOM
TALENT TALK WITH TORI KELLY –
Director Garth Jennings chats one-on-one with Tori Kelly.
CHOREOGRAPHY –
Famed African choreographer, Sherrie Silver, puts the dancers through their paces to create realistic moves in the animated space.
FRIENDS AND FAMILY –
Check out these cameos from some of the friends and family of the SING 2 filmmakers.
COSTUMES BY RODARTE –
Award-winning fashion label Rodarte designs the incredible costumes of SING 2.
ANATOMY OF A SCENE –
The Bus Sequence & The Bicycle
FROM SCRATCH TO VOICE –
A step-by-step look at how voices are added to an animated film.
SINGING –
See some of the stars of the film as they record their songs.
HOW TO DRAW
Learn how to draw your favorite characters in the movie!
BUSTER MOON*
ASH*
JOHNNY
MISS CRAWLY
CLAY CALLOWAY
*Included on DVD
SING 2 will be available on 4K UHD, Blu-ray™, DVD and Digital.
4K Ultra HD delivers the ultimate movie-watching experience. Featuring the combination of 4K resolution, the color brilliance of High Dynamic Range (HDR).
Blu-ray™ unleashes the power of your HDTV and is the best way to watch movies at home, featuring 6X the picture resolution of DVD, exclusive extras, and theater-quality surround sound.
Digital lets fans watch movies anywhere on their favorite devices. Users can instantly buy or rent.
Enter For the Chance to Win 1 of 5 Sing 2 Digital Movie Codes:
We are giving away five Sing 2 Digital Movie Codes.
Complete the Rafflecopter Below and winners will be notified by email at end of giveaway.
Giveaway ends 4/7/2022 at 11:59PM EST.
Easy Entry–