The LatchOn Nursing Blanket Strap: A Game Changer for Nursing Moms
If you're a nursing mom, you know the struggle of trying to discreetly breastfeed your baby in public. That's where the LatchOn Nursing Blanket Strap comes to the rescue! This ingenious accessory is a must-have for any breastfeeding mother. Let's dive into everything you need to know about it:
What is the LatchOn Nursing Blanket Strap?
The LatchOn Nursing Blanket Strap is a convenient and stylish accessory designed to make breastfeeding in public more comfortable and discreet. It's essentially a strap that holds your nursing blanket or cover securely in place, allowing you to breastfeed your baby with confidence, anywhere you go.
History of the LatchOn Nursing Blanket Strap
The idea behind the LatchOn Nursing Blanket Strap was born out of a mother's desire to make breastfeeding in public more convenient and less stressful. It was created by a team of dedicated parents who understood the challenges that nursing moms face when trying to feed their babies on the go.
Our LatchOn Nursing Blanket Strap Review
latchOn nursing blanket strap is designed for busy moms, nursing on-the-go, who want to discreetly feed their babies in public without having to haul around a separate nursing blanket. This is so wonderful for me because I am not a mom who carries around a huge diaper bag. I know a mom who literally has to have her "to-go" stuff on one of those pull-carts.
Measuring just 2 ½" wide x 19 ½" long, latchOn folds up so small, it fits easily in any diaper bag, purse, or even in your pocket. Babies need lots of "stuff" when they travel, and latchOn frees up precious diaper bag space. And weighing less than 2 oz, it's a breeze to carry and to wear. My kids are lucky if I bring my purse with me let alone a ginormous bag filled with all sorts of whos-its. latchOn is perfect for me because I know that Clara will always have a blanket with her in her car seat, and latchOn® folds up so small, it will fit in my purse or I could even leave it in the console of my car. I even have attached the clips to the car seat canopy and then all I have to worry about are diapers and wipes. How easy-peezy!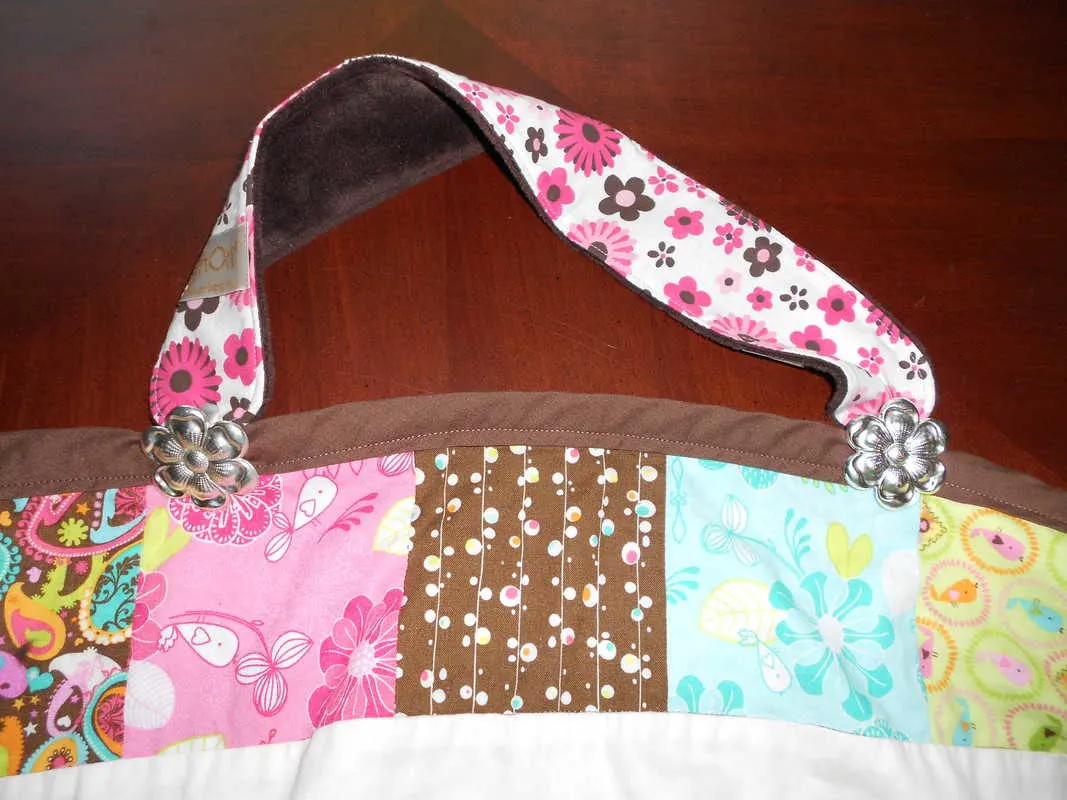 The LatchOn attaches easily to any blanket
latchOn® eliminates the need to carry a bulky nursing cover. Whichever blanket you have with you quickly and easily converts to a nursing blanket. I love that I can choose the blanket that I want to use. Since I have fallen in love with making baby quilts, we have many to choose from, and, well, it's nice to show off my handiwork to someone other than my family. I know that you can use your nursing cover as a blanket, but the problem I found was that the boning got in the way and then I also had to contend with the metal clips and the strap. latchOn® eliminates those problems. Just remove the strap from around your neck when you are finished feeding baby, wrap her up snug as a bug and you're on your way!
latchOn® is made from stylish, high quality fabrics, and their unique, sterling silver plated flower clips that grip tightly without damaging the blanket. The minky fabric on the back is so soft on my neck, and the floral print is fun and goes well with our girly blankets. Functional and fashionable, latchOn is the essential accessory for any nursing mom. The clips are beauties in and of themselves. Tween has already declared that she is hijacking latchOn® after I am done nursing so she can use the fabric for a bookmark and the clips on a pretty clipboard. My ever-creative girl!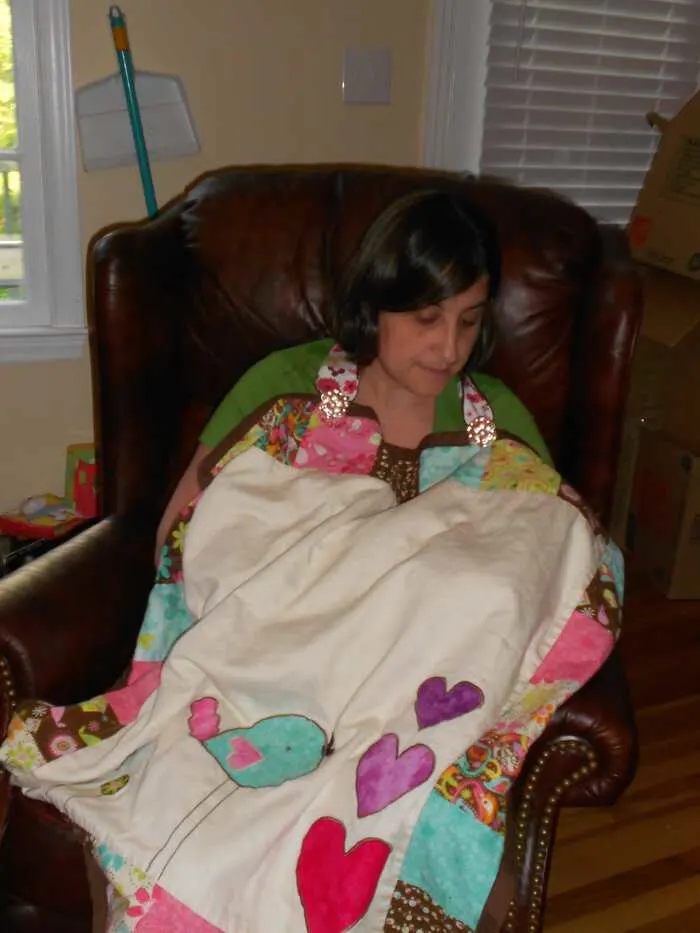 One of my friends was over on Thursday so I whipped out latchOn with my favorite orange fleece blanket (okay, so not ALL of our girly blankets go with this particular latchOn®, but if you NEED to match, they have lots of variety available for purchase. Technically, you could get a different latchOn® for each blanket IF you REALLY are that obsessive about matching – which I am not). She was SO impressed with the beauty and with the practicality of the *create-your-own* nursing blanket.
I love my latchOn® and take it everywhere. Oh, speaking of which, we are late for a birthday party; gotta run!
Post-birthday party note: Everyone loved the latchOn®! All the moms – and some of the dads – thought that was the best little gadget ever! This baby shower gift would make a nursing mom's day!
Right now, latch on is offering Mommy's Memorandum's readers an exclusive 15% off any latch on.
Versions and Variations
The LatchOn Nursing Blanket Strap comes in various styles and designs to suit different tastes. You can find it in different colors, patterns, and materials, ensuring that you can choose one that matches your personal style. Some versions even come with pockets for storing essentials like pacifiers or nursing pads.
Expanded Information
Materials: The LatchOn Nursing Blanket Strap is typically made from high-quality, soft, and breathable fabrics that are gentle on both mom and baby.
Adjustable Straps: Most versions feature adjustable straps, making it suitable for moms of all sizes.
Secure Fasteners: It's equipped with secure fasteners that keep your nursing blanket in place, ensuring privacy and comfort for both you and your baby.
Expert Tips for Using the LatchOn Nursing Blanket Strap
Practice at Home: Before using it in public, practice using the strap at home to get the hang of it.
Choose the Right Blanket: Ensure your nursing blanket is large enough to provide ample coverage but not too bulky to handle comfortably.
Adjust the Straps: Take the time to adjust the straps to your liking for a secure fit.
Stay Relaxed: Remember to stay calm and relaxed while breastfeeding, as your baby can sense your mood.
Storage Information
When not in use, simply fold your LatchOn Nursing Blanket Strap and store it in your diaper bag or purse. It takes up very little space, making it an ideal companion for moms on the go.
FAQs for the LatchOn Nursing Blanket Strap
Q1: Can I use the LatchOn Nursing Blanket Strap with any nursing blanket? A1: Yes, the strap is designed to work with most standard nursing blankets.
Q2: Is it easy to clean? A2: Absolutely! Most versions are machine washable for easy cleaning.
Q3: Will it fit plus-size moms? A3: Yes, the adjustable straps are designed to accommodate a wide range of body sizes.
Known Alternate Names
Nursing Cover Strap
Breastfeeding Blanket Holder
Baby Feeding Privacy Strap
In conclusion, the LatchOn Nursing Blanket Strap is a game-changing accessory for nursing moms. It provides comfort, convenience, and privacy, allowing you to breastfeed your baby confidently in any setting. Say goodbye to the stress of nursing in public and hello to a more relaxed breastfeeding experience!
Disclosure of Material Connection: I received one or more of the products or services mentioned above for free in the hope that I would mention it on my blog. Regardless, I only recommend products or services I use personally and believe will be good for my readers. I am disclosing this in accordance with the Federal Trade Commission's 16 CFR, Part 255: "Guides Concerning the Use of Endorsements and Testimonials in Advertising."
Lauralee loves homeschooling her three kiddos: Ballerina, age 8, Big Boy, age 6, and MESS, age 3. She enjoys sewing when she can find a spare corner to set up her machine and dig out fabrics, cooking and baking – especially if the kiddos are helping, and enjoying a good book after the kiddos have gone to bed. She is thrilled to have welcomed a baby girl into the family on March 23, 2012.