Bath Time Fun with Gerber Childrenswear
Gerber Childrenswear has been a trusted name in baby apparel for decades. Their "Bath Time Fun" collection offers adorable and practical solutions for your little one's bath time needs.
History of the Collection
Gerber Childrenswear, a subsidiary of the iconic Gerber brand known for its baby food, has been serving parents since the early 1920s. With a legacy of quality and care, they ventured into baby apparel, including bath essentials, to make the lives of parents easier.
Variety of Bath Time Fun Products
Hooded Towels: Wrap your baby in cozy comfort with Gerber's hooded towels. They come in various cute designs and are made from soft, absorbent materials to keep your baby warm and dry after a bath.
Washcloths: These gentle washcloths are perfect for delicate baby skin. They're small, soft, and easy to handle, making bath time a breeze.
Bath Mittens: Make bath time interactive and fun with Gerber's bath mittens. Slip them on and transform your hand into a playful puppet to entertain your baby.
Bath Thermometers: Ensuring the right water temperature is crucial. Gerber offers bath thermometers that help you achieve the perfect bath conditions for your baby's safety and comfort.
Bath Toys: Keep your little one entertained with Gerber's bath toys. Designed with safety in mind, these toys add an element of fun to every bath.
Also available are complete gift sets like this adorable Gerber Bear Childrenswear for Bathtime.
Expert Tips
Proper Water Temperature: Aim for a bathwater temperature between 37-38°C (98-100°F) for your baby's comfort and safety. Use a Gerber bath thermometer to check.
Gentle Cleansing: Use mild, baby-specific soap and shampoo to keep your baby's delicate skin soft and healthy. Gerber washcloths are perfect for this.
Bath Time Routine: Establish a consistent bath time routine to soothe and relax your baby before bedtime.
Our Gerber Childrenswear Bath Time Fun Review
I love Gerber Childrenswear. Clara has several of their cutie-patootie sleep-n-plays. I am a mom who strives for comfort during the first year versus phoo-phoo. I think the baby's cuteness speaks for itself, so my babies live and breathe in cotton onesies and sleep-n-plays. Gerber is right up my alley since their bodysuits and sleep-n-plays hold up well in the wash and fit just the way they should. But they aren't just practical; Gerber has baby-friendly designs, bright colors, and cheerful motifs on all of their clothing. I also like that they offer a line of sleep-n-plays with zippers.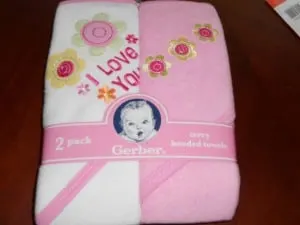 Gerber also has bath time all wrapped up. Their four-piece bath set is perfect for a baby. Their terry hooded towels are great for snuggling baby up after a nice warm bath. Just like the sleep-n-plays, it is cuteness combined with utilitarianism at its finest. I love the embroidery on the hood of each towel. The hooded towels come in great colors. My Clara just has to have PINK, though… and plenty of flowers!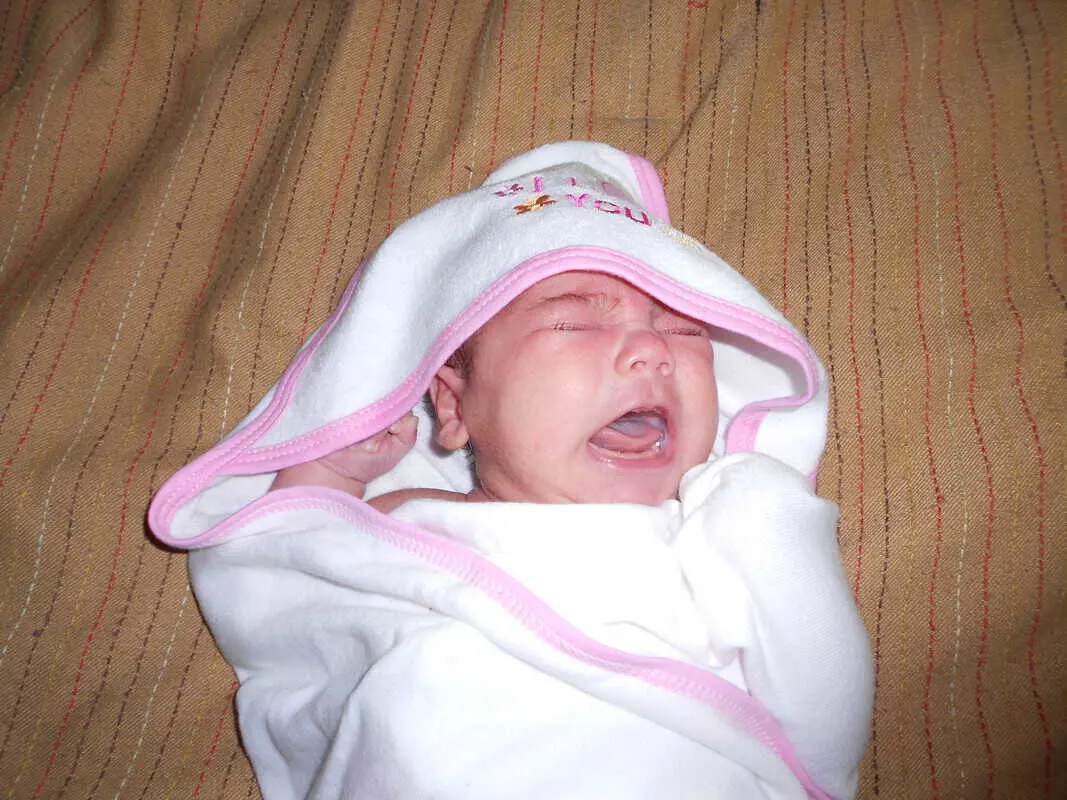 Each towel is made of terry cloth that is stretchy enough that you can swaddle the baby in the towel if your baby needs that extra security. The edges are bound in a soft knit fabric. There is nothing itchy or irritating about these towels. Baby's sensitive skin will love the softness of these towels.
Gerber also has the softest washcloths just for babies. Again, that super-soft, super-stretchy terrycloth that baby will love to hold and feel against her skin.
Of course, Gerber coined the phrase onesies, so they are my go-to brand for onesies. They don't stretch out around the neck like other brands, and they are good thick cotton that doesn't stain too badly with all that spit up!
Gerber has receiving blankets, burp cloths, bodysuits, and even cloth diapers. Of course, if you want organic, Gerber has you covered in that department too. So, when you think of Gerber, don't just think about baby food; check out their incredible line of children's wear at www.gerberchildrenswear.com. They also have a Real Mom Community, lots of tips, and a place to find out about current promotions on their Facebook page.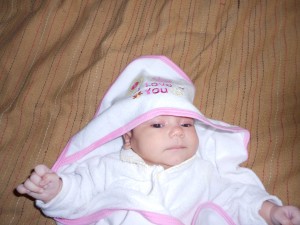 Bath Time Tips from Gerber Childrenswear
Tip #1
Bath time isn't all about getting clean. It's also about having fun and bonding with your baby.
Set a time every night that is just for bathing, so you and the baby stay on schedule. That's important early on!
Bath time can also be a wonderful daddy/baby bonding experience after a long day at work. You'll look forward to it and so will be baby!
Make sure you have all your bath time essentials within reach before starting so you can give the baby all your attention: bath wash, washcloths, hooded towels, Onesies brand one-piece underwear, sleepwear, gowns, cap, and booties.
We've got you covered for bath time!
Tip #2
Establish a bedtime routine with your baby.
Your baby will feel more relaxed, likely to go to bed easier, and fall asleep more quickly if you establish a nightly routine from the time she arrives home. Bathing a newborn baby is very soothing, so making it a part of the bedtime ritual is important. Be sure to have all your Gerber essentials within arms reach during and after the bath:
Washcloths for cleaning
Hooded towel to swaddle them when done and keep the chill-out
Sleep 'n play outfits to easily slip on and keep them cozy warm all night long
Once you are done with the bath, diaper change, and dressing, it's now storytime in the nursery rocking chair. You'll soon find that bedtime is a special time for parents to create that special bond with their baby.
Storage
Store Gerber Childrenswear Bath Time Fun products in a dry and clean space, away from direct sunlight. Wash and dry towels and washcloths after each use to maintain hygiene.
FAQs
Are Gerber Childrenswear products safe for my baby's sensitive skin? Yes, Gerber takes great care in selecting materials that are gentle on your baby's skin. Their products are tested to meet high safety standards.
How often should I wash Gerber hooded towels and washcloths? It's best to wash them after each use to prevent the buildup of bacteria. Use a gentle baby detergent for laundering.
Can I use Gerber bath toys for newborns? Some bath toys are suitable for newborns, but always supervise playtime to ensure safety.
Alternate Names
Gerber Childrenswear Bath Time Fun products are sometimes referred to as "Gerber baby bath essentials" or simply "Gerber bath products."
Lauralee Saad loves homeschooling her three kiddos: Ballerina, age 8, Big Boy, age 6, and MESS, age 3. She enjoys sewing when she can find a spare corner to set up her machine and dig out fabrics, cooking and baking – especially if the kiddos are helping, and enjoying a good book after the kiddos have gone to bed. She is thrilled to have welcomed a baby girl into the family on March 23, 2012.
Disclosure of Material Connection: I received one or more of the products or services mentioned above for free hoping that I would mention them on my blog. Regardless, I only recommend products or services I use personally and believe will be good for my readers. Therefore, I am disclosing this in accordance with the Federal Trade Commission's 16 CFR, Part 255: "Guides Concerning the Use of Endorsements and Testimonials in Advertising."