What's Smallprint.com All About?
Smallprint.com is an online platform that specializes in creating personalized jewelry with a unique twist. Their mission is to help you capture precious moments, memories, and sentiments in the form of beautifully crafted jewelry pieces. Whether you're looking for a heartfelt gift or a keepsake for yourself, Smallprint.com has you covered.
The Story Behind Smallprint.com
It all began with a simple idea: to transform cherished memories into wearable art. The founders combined their passion for jewelry design with a desire to create something truly meaningful. And thus, Smallprint.com was born.
A Treasure Trove of Personalized Jewelry
Smallprint.com offers a wide range of customizable jewelry options, including:
Fingerprint Jewelry: Crafted by taking an impression of your loved one's fingerprint, these pieces are a tangible connection to those you hold dear.
Hand and Footprint Jewelry: Perfect for parents, this collection features the tiny hand and footprints of your little ones, preserving that precious moment forever.
Signature Jewelry: You can have a loved one's signature or a special handwritten message turned into a unique piece of jewelry.
Soundwave Jewelry: Capture a special sound or voice recording and turn it into a visually stunning soundwave pendant.
Photo Jewelry: Transform your favorite photos into personalized pendants, charms, or even cufflinks.
Ingredient Expanded Information
Smallprint.com uses high-quality materials such as sterling silver and gold to ensure your jewelry not only looks exquisite but also stands the test of time. Each piece is meticulously crafted by skilled artisans, paying close attention to every detail.
Expert Tips for Customizing Your Jewelry
Choose a Meaningful Memory: Select a fingerprint, signature, or sound recording that holds special meaning to you or the recipient.
Consider Metal Options: Smallprint.com offers various metal options, so choose the one that suits your style and budget.
Opt for Engraving: Personalize your piece further with custom engravings, like names, dates, or messages.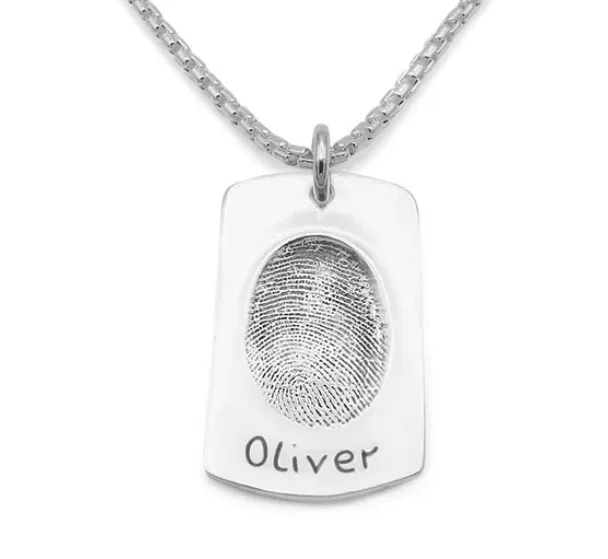 Our Smallprint.com Review
Jake is getting married on Saturday. So many memories of him flood me. We had lunch on Wednesday and laughed over all the tears of joy I shed when he first got his driver's license. I broke down and cried to the point I couldn't speak every time I saw him driving. He remembered asking me why? and my answer was, "It's just so weird."
When he was six weeks old, I remember tracing his tiny hand and making Christmas tree ornaments for every one of his tiny handprints. I still have a few of those construction paper keepsakes, and each Christmas, they are a fond reminder of how tiny he was an how much he has grown.
Now, my firstborn is starting his own family, and I feel so blessed, and yet there are tears because he is no longer my baby. Perhaps Maija Pykett is stepping up as a heroine to mothers and fathers everywhere. In 2004, she came up with the idea of preserving children's fingerprints, hand and footprints, and more recently doodles and writing in silver jewelry. Her company
SmallPrint
was born.
Her vision was far greater than my construction paper cut-outs. When her son Dylan was born, she made a pendant using his fingerprint and wore it around her neck. It was her way of keeping him close to her all the time while she was working or away from him. It took her two more years and another baby, Noah, for it all to come together–that other moms and dads would love the ability to capture their babies prints while they were small.
A success in the UK, SmallPrint, has just launched in the USA. It's one of the most unique and exceptional
gift ideas
in my mind.
While Mother's Day is this Sunday, and SmallPrint would make any mother's heart pity-patter, they are also thinking about Dad. What dad wouldn't love the High Fives and Little Kickers Cuff Links
Or maybe Dad isn't so formal? SmallPrint has a delightful selection of keyrings available!
With Mom and Dad covered, this is a company that takes our treasured lovies to heart including their doodles and artwork with the Mini-Masters line of jewelry like Dog Tags/Pendants, Cuff Links, and keyrings.
If you are fortunate to live in an area where a Smallprint representative works, the FingerPrint jewelry is a real treat. The child actually touches the piece–there's no molds or casts, like your child, the piece is one of a kind. Currently, there is coverage in California, Ohio, New Jersey, Pennsylvania, and Virginia, but they are growing and hope to be in a community near you very soon.
Give Mom, Dad or the grandparents a keepsake that speaks more than words and leaves in imprint of "remember when". Give the gift of SmallPrint.com
FAQs for Smallprint.com
How long does it take to receive my customized jewelry?

Typically, it takes a few days for Smallprint.com to create your personalized piece. Shipping times may vary.

Can I order from outside the United States?

Yes, Smallprint.com ships internationally. Be sure to check their shipping policies for specific details.

Is Smallprint.com's jewelry suitable for all ages?

Yes, Smallprint.com offers a range of designs suitable for people of all ages, from babies to adults.
Storage Information
To ensure your Smallprint.com jewelry retains its beauty, store it in a cool, dry place when not in use. Avoid exposure to harsh chemicals or extreme temperatures. With proper care, your cherished pieces will last a lifetime.
Known Alternate Names for Smallprint.com
Smallprint Jewelry
Personalized Keepsake Jewelry
Custom Memory Jewelry
Now you're all set to explore the world of Smallprint.com and discover the perfect personalized jewelry piece that captures your most treasured memories. Enjoy your journey of creating and cherishing these special moments!
Disclosure of Material Connection: This giveaway is sponsored by SmallPrint.com Regardless, I only recommend products or services I use personally and believe will be good for my readers. I am disclosing this in accordance with the Federal Trade Commission's 16 CFR, Part 255: "Guides Concerning the Use of Endorsements and Testimonials in Advertising.".