Easy Instant Pot Dog Food Recipe: Delight Your Pup's Taste Buds!
Are you a loving pet parent looking to provide your furry friend with a delicious and nutritious meal? Look no further! Introducing our Easy Instant Pot Dog Food Recipe, designed to make mealtime a wag-worthy experience for your four-legged companion.
Unleash a Tasty Adventure: Your pup deserves a flavorful meal made with love and care. Our easy-to-follow recipe combines premium ingredients to create a delectable feast that will have your furry friend's tail wagging with joy.
A Wholesome Blend of Nutrition: Our recipe features a carefully balanced combination of protein, healthy grains, and colorful vegetables to ensure your dog receives all the essential nutrients they need: no artificial additives or fillers, just wholesome goodness.
Quick and Hassle-Free Cooking: Thanks to the magic of the Instant Pot, preparing your pup's meal has never been easier! With our recipe, you can have a nutritious and tasty meal ready in a fraction of the time compared to traditional cooking methods. Simply set it, forget it, and focus on spending quality time with your furry friend.
Tailored for Picky Eaters: Is your dog a picky eater? Don't worry; our recipe is designed to entice even the most selective taste buds. The enticing aroma and mouthwatering flavors will have your pup begging for seconds!
Vet-Approved and Safe: Rest assured, our Easy Instant Pot Dog Food Recipe has been crafted with your dog's health in mind. You can consult with veterinarians to ensure that every ingredient meets the highest standards of quality and safety.
Personalize to Your Pup's Needs: Every dog is unique, and their dietary requirements may vary. Our recipe allows for customization, enabling you to tailor the ingredients to your pup's specific needs or dietary restrictions. You can easily adjust the protein source, grains, and veggies to suit your furry friend perfectly.
Join the Happy and Healthy Pet Community: When you choose our Easy Instant Pot Dog Food Recipe, you become part of a community that prioritizes the well-being and happiness of its pets. Connect with other pet parents, share tips and tricks, and embark on a journey of providing the best for your beloved companion.
Give Your Dog the Love They Deserve: Don't settle for ordinary dog food when you can give your furry friend a culinary adventure with our Easy Instant Pot Dog Food Recipe. Treat your pup to a meal that will nourish their body and warm their soul.
Try our Easy Instant Pot Dog Food Recipe today and see the tail-wagging difference! Your dog will thank you for your love and care in their meals. Bring a taste of gourmet dining to your pet's bowl!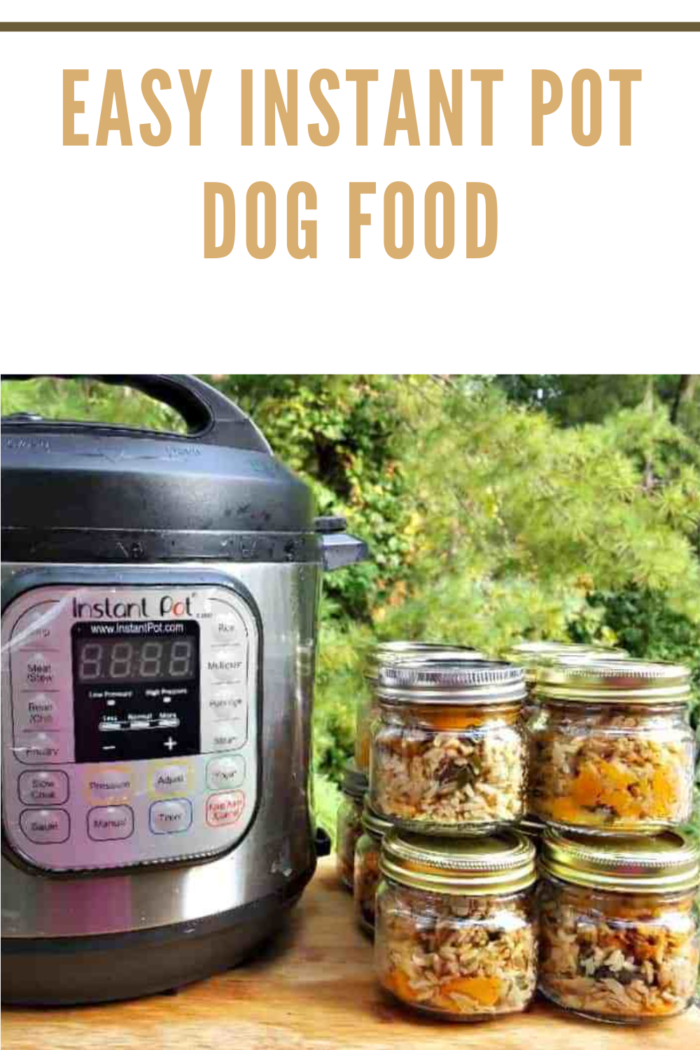 Why We Choose Easy Instant Pot Dog Food
Bailey Mae is well-loved and well-fed. The latter is due, in part, to this easy Instant Pot Dog Food Recipe. We hadn't realized just how well-fed she was until one day, she rolled over for someone to pet her belly and was coughing and carrying on. She'd put on some weight, and since we wanted her to be around as long as possible, we started cutting back on her food. It's frustrating trying to determine if the experts are for a grain-free diet or if it is not good for your dog's food. Perhaps your dog needs to be on a grain-free diet because of weight or food allergies; add more diced sweet potato, butternut squash, or pumpkin (not pie-filling pumpkin) to this recipe, and omit the rice.
There is a variable where even some experts state that kibble is dangerous. Where were those experts when the kibble was first introduced?! Then there is trying to keep up with the constant recalls. I mean it's crazy trying to figure out what is safe for our dogs to eat. Introduce and reintroduce new kibble into her diet. Kibble wasn't enough for her anymore.
She begged. She flashed her big brown eyes at us, making them dramatically sad for effect, hoping she could have just a little table scrap.
You may also want to check out my Pinterest Instant Pot board for more great recipes like this pressure cooker dog food!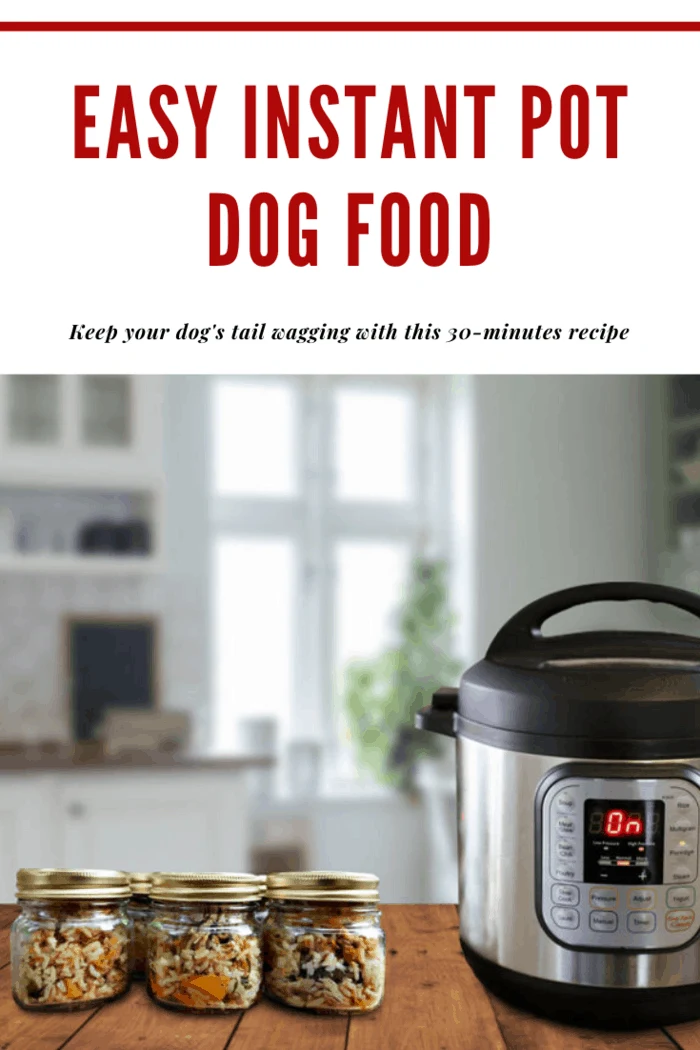 My Instant Pot Dog Food Testers:
This was when I started making Bailey Mae and Jeb Instant Pot Dog Food. It's easy, takes 30 minutes, and the dogs absolutely love it. It may be the best dog food.
I love that I control what they are eating. Add more or add less of a particular ingredient as I choose. It reminds me to think about how much I hate feeding my humans processed foods. I KNOW that's not good for them. Did you know processed dog food is just like that? Think about that. We love our fur babies, and yet, for the sake of "cheaper" or lack of knowledge, we choose to feed them processed dog food.
Learn how to check your dog's food. We talked to Bailey's veterinarian and were told dogs need lots of protein, fat and fat-soluble vitamins, and healthy carbohydrates (by the way, an all-raw diet lacks these carbs). Keep in mind there are foods that you should not feed your dogs. Bailey Mae and Jeb love it. They *think* it's human food..the same stuff we're eating. And seriously? There is no reason why, with some added spices, it wouldn't work like a human's meal.
How To Serve:
They will eat it cold, but we still spoil them and serve it to them heated up. I add a little hot water to the jar, put the lid back on, and give it a shake or two. I want to be clear; we still feed our dogs kibble–just more of this instant pot homemade dog food and less of the kibble. Then pour it onto their serving dish and watch them lick their chompers as I set it down for them to eat. If this seems like too much work, you could purchase a similar vet-formulated, healthy dog food called Pet Plate. It's healthy and free from all the bad parts.

In three weeks, after switching her to this dog food made in the Instant Pot, Bailey Mae trimmed down so she could go on longer walks, and roll over for belly love, and she's nowhere near the beggar she once was, thanks to this dog food recipe!
Instant Pot Dog Food Recipe
It's not just for helping dogs lose weight; it's a great option for everyday food. I put half of the mixture into gallon-sized ziplock bags and stored them in the refrigerator. The other half I place in half-pint jars and store in the refrigerator. Jeb and Bailey Mae each eat one full jar daily in addition to their kibble. I give them half of the jar at lunch and half of the jar at dinner. I recommend checking with your veterinarian how much your dog should eat each meal. Please remember that dogs need meat as a first ingredient. Before making vegan food for dogs, please discuss it with a veterinarian to ensure your dog's health is front and center and will not be put at risk. In fact, whether you are switching brands or switching from commercial dog food to homemade dog food, your first priority should always be that your dog gets all their needed nutrients.
Please, first, consult with your vet before going entirely homemade.
This recipe is healthy, safe, and nutritious for dogs, but it is not intended as a complete diet for your dog. This recipe is intended as a delicious, wholesome supplement to your dog's regular diet, not a complete meal replacement. Your dog will like this delicious treat; I sometimes add 1 cup of blueberries to this homemade dog food recipe for the antioxidants, vitamins, and extra boost of low-glycemic carbs.
Dogs need fruits and vegetables.
Some great fruits to try are:
blueberries
diced apple (but not the seeds)
banana
fresh pineapple (with all spines and skin removed)
mango (without the pit)
watermelon (rind and seeds removed)
peaches (no pit)
strawberries
raspberries
You can also cut back on everyday food waste by adding these:
carrot tops
beet greens
green beans
Brussels sprout tops
diced cabbage cores
over-ripe bananas
bruised or mushy fruit (check to be sure its dog-safe)
I keep these items in a gallon bag in my fridge until I am ready to make a batch of homemade dog food. This recipe also adds coconut oil. Coconut oil is one of those foods that are just as beneficial for dogs as it is for humans! The saturated fat in coconut oil is awesome for your dog's energy levels and the shine in their fur coats. Add a spoonful of coconut oil for your fur baby to reap the rewards. In older dogs, coconut oil helps keep their metabolism going strong. And while this is Instant Pot Homemade Dog Food with Chicken, you can substitute the chicken for pork, beef, turkey, etc. Lamb and rice dog food can help those dogs that have allergic reactions to other types of ingredients. While I encourage you to experiment to give your dog a variety as you implement this Instant Pot Homemade Dog Food into their diets, please
Do NOT Add These Foods To Homemade Dog Food
grapes
raisins
cherries
avocado
anything with chocolate or cacao
onions or leeks
anything with xylitol
macadamia nuts
garlic (unless directed by your vet) and other allums
brewer's yeast
raw bread dough
NOTE: Xylitol is an all-natural alcohol sweetener that may be present in all-natural peanut butter.
ALWAYS read your ingredients and be familiar with them, especially if you plan to use them in your dog's recipes.
Xylitol can be deadly to your dog.
Never give any ingredient that contains Xylitol to your dog.
Just because it says "all-natural " doesn't mean it's safe!
Read the Peanut Butter label to ensure that there is NO xylitol.
Be Gentle and Make the Switch
Your dog's digestive system is sensitive, so you'll want to switch to homemade food gradually. Start by mixing one part of homemade food with four parts of your pet's current food. Over the course of up to 2 weeks, gradually increase the amount of homemade food, while gradually decreasing the amount of commercial food.
Please consult your vet prior to making any homemade dog food.
Instant Pot Dog Food Ingredients:
1 whole chicken
3 cups chicken broth (without onions as an ingredient) or Bone Broth
2 sweet potatoes, peeled and diced
2 cups baby spinach
1 Tablespoon coconut oil
2 cups rice
How to Make Instant Pot Dog Food:
Add everything to the Instant Pot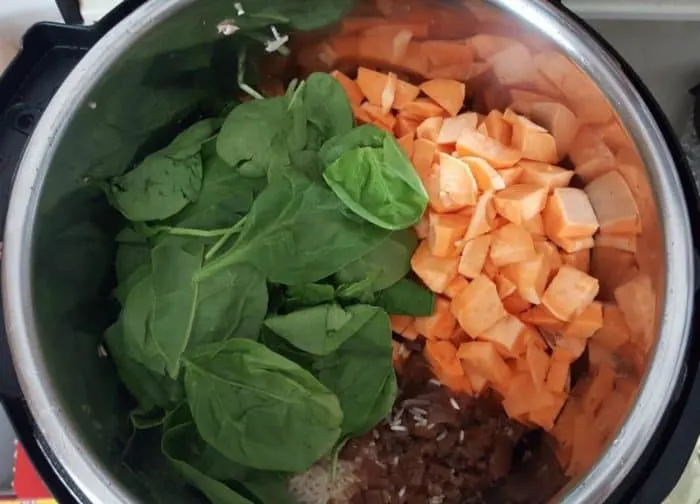 Press Manual for 30 minutes
Quick Release when it beeps
Remove chicken from bones and shred.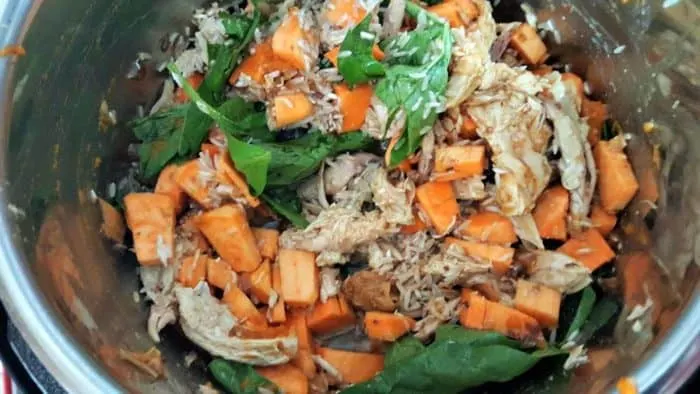 Store in airtight containers.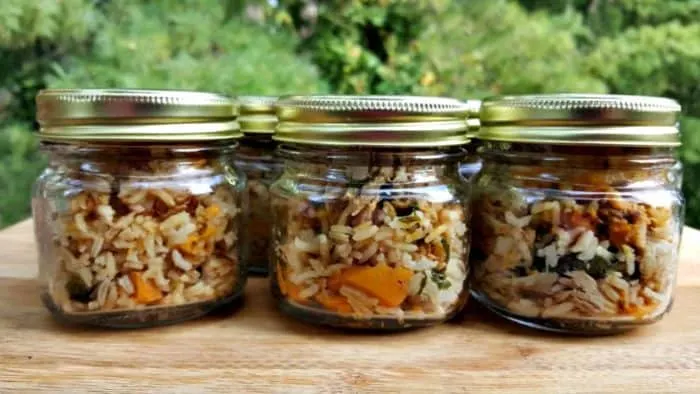 I have made this so many times, and sometimes I have added leftover veggies.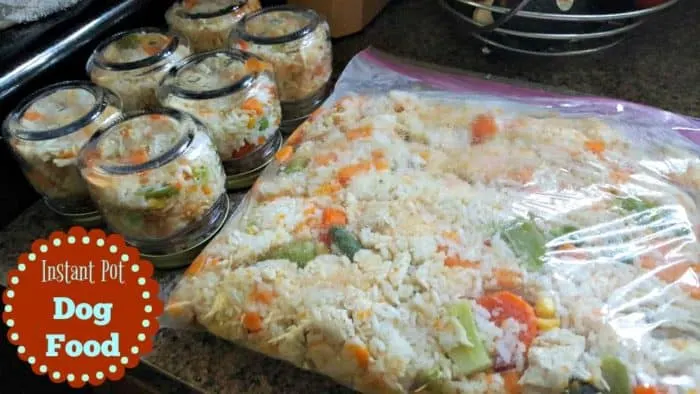 It's a great basic recipe to add to (do your research and don't include anything that is harmful to a dog).
FAQs on Easy Instant Pot Dog Food Recipe:
Can I use a different protein source instead of chicken? Absolutely! This recipe is versatile, and you can substitute chicken with other lean meats like turkey or beef. Ensure that the meat is cooked thoroughly before serving it to your dog.
Can I use homemade chicken broth instead of store-bought? Yes, homemade chicken broth is an excellent option. Just make sure that it doesn't contain any onions, as they can be toxic to dogs. You can prepare a simple broth by boiling chicken bones or meat in water and straining it.
Are sweet potatoes safe for dogs? Yes, sweet potatoes are generally safe for dogs and provide a good source of vitamins and fiber. However, always ensure that the sweet potatoes are cooked thoroughly to aid digestion. If your dog has specific dietary restrictions, consult your veterinarian before including sweet potatoes in their diet.
Can I substitute baby spinach with other greens? Certainly! Baby spinach is a nutritious choice, but you can substitute it with other dog-friendly leafy greens like kale or collard greens. Be sure to wash the greens thoroughly and remove any tough stems before adding them to the recipe.
Is coconut oil safe for dogs? Coconut oil in moderation can be beneficial for dogs. It can help improve their coat and skin health and aid in digestion. However, consult your veterinarian before adding coconut oil to your dog's diet, especially if they have any existing health conditions.
Can I use a different type of grain instead of rice? Absolutely! Rice is a common grain used in dog food, but you can substitute it with other grains like quinoa, barley, or oats. Adjust the cooking time accordingly, as different grains may require different cooking times.
Remember, if your dog has any specific dietary needs, allergies, or health concerns, it's always best to consult with your veterinarian before introducing new ingredients or recipes into their diet.
Easy Instant Pot Dog Food Recipe
Ingredients
1 whole chicken
3 cups chicken broth (no onions in ingredients)
2 sweet potatoes, peeled and diced
2 cups baby spinach
1 Tablespoon coconut oil
2 cups rice
1 cup blueberries (optional)
Instructions
Add everything to the Instant Pot
Press Manual for 30 minutes
Quick Release when it beeps
Remove chicken from bones and shred.
Store in airtight containers
Notes
You can save time by using a rotisserie chicken already cooked. We also save our leftover meat throughout the week and use it in place of the whole chicken.
You can substitute pork or a combination of proteins (pork, beef, chicken, turkey, etc.)
Nutrition Information:
Yield:

8 quarts
Serving Size:

1
Amount Per Serving:
Calories:

278
Total Fat:

12g
Saturated Fat:

4g
Trans Fat:

0g
Unsaturated Fat:

6g
Cholesterol:

68mg
Sodium:

424mg
Carbohydrates:

18g
Fiber:

1g
Sugar:

2g
Protein:

23g
Nutritional information may not be accurate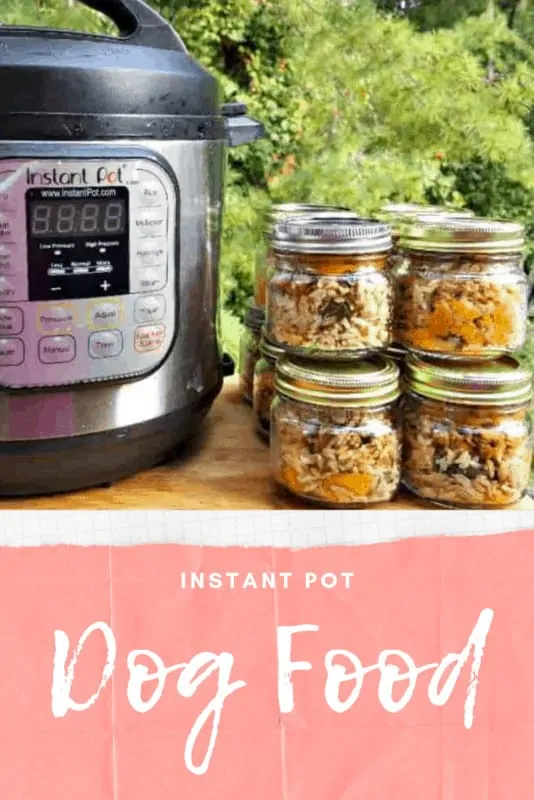 ---
Resources: