Some mornings begin with coffee; this one begins with the legendary Kenny Ortega.
We walk into the viewing room at ABC Studios, and a man in golden rod colored khakis, a black tee-shirt and muted brown jacket greets us. We take a seat, hear an introduction to Disney's Descendant's 2, watch a few featurettes and then move to a more intimate setting.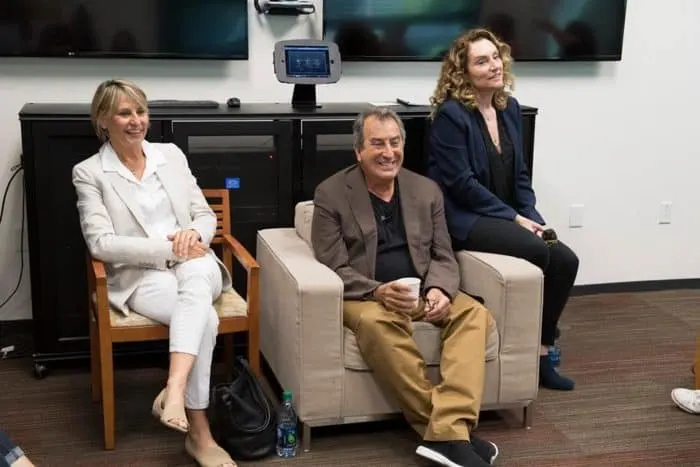 The man takes a seat between two women. The trio has every tween awaiting Friday night's debut of Descendants 2. I am in the company of Kenny Ortega, Josann McGibbon, and Sara Parriott.
It is a humbling introduction from Ortega as he talks about Descendants 2.
"We're nothing without the words."
He continues,
The writers are so responsible for why I'm here today. Sara and Josie, who have created "Descendants" and who wrote both the first and second movies, really deliver.

It's feature work, and the kids and myself, all of us, everyone, the production designers, choreographers, music people, we get so much out of what they place there.

It gives us permission to travel in the capacity that we travel in, to adventure, to journey, to play, to take chances, to sing and to dance and to develop these characters. It all starts right here [with the writing] and we're so appreciative."
Ortega was part of the original, Descendants, THAT premiere was the fifth-most-watched cable movie of all time.
Having just watched parts of Descendants 2, my 48-year-old self is excited, but for all accounts, I'm using my thirteen-year-old as an excuse to watch it.
Ortega sums it up:
I think that we're going to have the ability to reach a far greater audience, a more dynamic range of audience. We really have a movie that is family entertainment, focused on our core audience, your children, but we've been now living with this. It evolves, it develops, and now looking at it, I am so entertained by it.
Ortega, who is known for his choreography. He was a staple of my childhood working on St. Elmo's Fire, Pretty in Pink, Ferris Bueller's Day Off, and Dirty Dancing.
Without any spoilers, Mal (Dove Cameron) and Uma (ChinaAnn McClain) have a dance-off fight on the pirate ship. It reminded me much of West Side Story, but someone more in sync with the times suggests it is very "Hamilton-esque."
Ortega discusses the musicals and shows he got inspiration from for Descendants 2 and that whole Hamilton relationship."
Well, [Lin-Manuel] Miranda and I are really good friends and I was slated to direct his film for a minute. He is an inspiration to me in life. He's a poet and an amazing writer. For me, it starts all the way back to "West Side Story" when I was 13 years old.
He is an animated, lively man transporting us back to his 13-year-old self as he elaborates:
"If you think about it the Jets and the Sharks are like the Isle of the Lost and Auradon, the pirates and the villain kids. I find myself having a hard time not going there for inspiration. It's so relevant all the time, no matter what I'm doing I can go to that movie.

Jerome Robbins's work and the performances in it [are incredible]. Rita Moreno won an Academy Award. But I listen to all genres of music. I love movies. Bob Fosse, Michael Jackson — there's Michael Jackson in everything that I do."
Now may be a good time to mention that Ortega, together with Michael Jackson, created and designed the Dangerous World Tour 1992-1993 and the HIStory World Tour 1996-1997, and directed the concert film Michael Jackson's This Is It.
Perhaps, Descendants 2 is another way of paying tribute to The King of Pop for Ortega. He talks about Michael Jackson and Disney.
"If you're like I am, when you watch this movie you're going to feel a little bit of Michael. You're going to feel a little of the classic movie musical. You're gonna feel a little bit of Peter Pan and the adventure of old Disney. I think that it's an inspired piece, certainly as a director."
Sara Parriott and Josann McGibbon have their own success. The pair wrote, and exec produced USA's The Starter Wife. They also scripted features Runaway Bride, Worth Winning and found their first success with The Favor" starring Brad Pitt.
Parriott discusses the music and working on the set of Descendants 2.
"I think the music is so fresh and that was exciting for me. Kenny allows you [to be in] the whole process which is thrilling for us. Sometimes you're [not involved] but Disney and Kenny and Wendy want us to be involved, and it was fun just to be in the room where they're picking the songs. They have these wonderful writers coming in and doing songs and we're all sitting there. There will be a song that just pops out and you're saying, "Oh my gosh, I love it!"
McGibbon adds,
"You have the input into it because the songs are part of the story."
It begins a conversation on how the writing flows into the music in Descendants 2.
"The lyrics are tweaked a little bit to carry the song along. But it was thrilling for Josie and me to be in those rooms and just be part of that process of picking a song. And I just love the music in this one. I love it."
Of course, every legend has a legacy, and Ortega discusses the legacy he hopes to leave:
I just had the most amazing experience. I got to talk with Doctor Jane Goodall, the scientist of primate behavior, who is now going way beyond saving the primate species for the planet and for our future generations. She's now an activist, out there doing everything she can to leave a legacy. She talked about how important it was for her that she gave up something that she really loved for something that she felt was more important. She was not serving herself but serving a greater idea, which was that in order to save a species you have to enlighten the people that live with the species.

She put the legacy of it all, which was what I left with that day. It made me audit myself and think about what it is that I do. What I try to do always in my life and have for a long, long time is to make good choices.

Entertaining people with fireworks and color and dance moves has never been something that I've been interested in.

I've always been interested in those stories that are layered beneath the dance, beneath the words or beneath the music. And my choreography is always storytelling, and so there's a story that is living inside of all that movement.

I hope that my legacy one day would be that I told good stories and that they were important stories, and that there were some good stories through my choreography.
Parriott takes a moment to share her thoughts about Ortega's work and the Descendants franchise as a mom.
"There's a goodness that shines through in Kenny's work and in the "Descendants" [franchise], a hopefulness and mutual respect theme. It's very inclusive and it's very optimistic and I think that encourages kids. I think that the world is a dark place in a lot of ways. Everybody in here is probably a mom and I know for us as moms that you want to put something good out into the world and that's what he does."
Of course, what would an interview be with Kenny Ortega without discussing Dirty Dancing?
"That was a big part of my youth. I grew up in the '60s. I was born in 1950 and I was dancing in my middle-school gymnasiums.

When I got the job to choreograph that movie, the director Emile Ardolino said, "What does Dirty Dancing mean to you?"

I told him I just remembered when we would go to our Saturday night dances in middle school, that the teacher would come up on the stage and, and say into the microphone,

"If there's any dirty dancing out there the lights are on, the music is over and the party is off."

Sometimes we weren't even dancing for 20 minutes and the lights came on. But for me, dance was conversation.

Before I was a choreographer I danced and there were things that I couldn't say, that I didn't know how to say, that I was afraid to say. But I could dance them and so I could communicate through movement. And I think that was always a big thing for me – was that dance was an opportunity to communicate and to have conversation. And that's what I love about doing it, you know?

Where the words stop on the page, the dance can continue to evolve characters, can continue to evolve relationships, can continue to tell story, so that by the time you get to the end of the dance you're further along than you were when you started it."
But seriously, back to this whole Descendants 2 thing. Let's talk about new characters and storylines!
Parriott gives insight into one of the most anticipated characters and the actress who was chosen for the role.
"We had been searching for who was going to be on the Isle. I think we had always known that Ursula is the villain that people love and we saved her in hopes that there would be a Descendants 2. We have a huge character in Uma and China Ann McClain is wonderful in this part, just wonderful. There's also Captain Hook's son, Harry's, character to go to."
She shares insight on writing Descendants 2.
"Josie and I wrote Captain Hook's son to be a little more goofy and fun, and Kenny said no, no, no."
It sparks McGibbon who adds:
"We wanted a younger character to come in and that was Dizzy. I loved [Cinderella's] wicked stepsisters, so it was fun to pick out [Drizella's] daughter and Dizzy is such a cute name, and so you go through all the iconic characters.

Gaston's son Gil is wonderful, too."
Friday (July 21) the much-anticipated musical sequel, Descendants 2 will debut, at 8 pm EST, on six different channels at the same time: ABC, Disney Channel, Disney XD, Lifetime, Lifetime Movies, and Freeform (formerly ABC Family).
Descendants 2 will also be available through online applications and available on DVD Aug. 15.