Happy Wax provided me with samples. All thoughts are my own.
We are a house of 4 dogs, two teenagers, and chaotic chaos. We also are a home where we like to relax, and some smells make our house feel like a home. We love using wax melts and warmers. We love that they are a safe alternative to burning candles–no flame, no smoke residue, just the aromatic smells we seek.
We've been using Happy Wax and a Happy Wax warmer. Both wax and warmer have delivered beyond our expectations.
The Happy Wax Mission
Happy Wax® is the first brand committed to making wax melting fun, easy, and healthy. We take pride in delivering our wax melts to you, because we are passionate about creating all-natural, unforgettable fragrances that are infused with essential oils and free of phthalates. Our wax is 100% soy, making it environmentally friendly and sustainable; our wax warmers are innovative, designed to make wax melting a painless process. Our "No-Scrape" silicone dish allows you to switch between wax scents quickly and effortlessly, and variable timing options allow you to turn on your warmer for a designated time period. Besides, they're easy to look at—we have unique warmers designed to fit every taste and style. We hope you love our collections as much as we love creating them.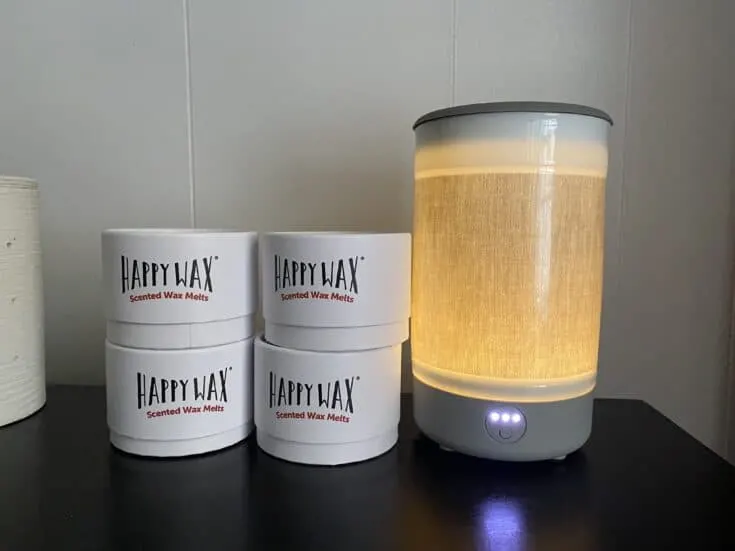 Happy Wax Happy Home
We have tried so many brands, and types of warmers and wax melts. Some aren't lengthy in smell, and others are a challenge to remove from the warming dish.
First, it's a beautiful warmer that adds to the
decor
of our home.
It is modern and includes everything you need to get started.
Place the warmer on the base, insert the warming dish, add the silicone warming tray, and it's ready.
The silicone warming tray made this a keeper for us.
Once the max cools, you can remove the silicone warming tray and, without effort, pop the wax out for disposal.
It's so easy.
Mess-free.
It makes changing the wax melts out a cinch!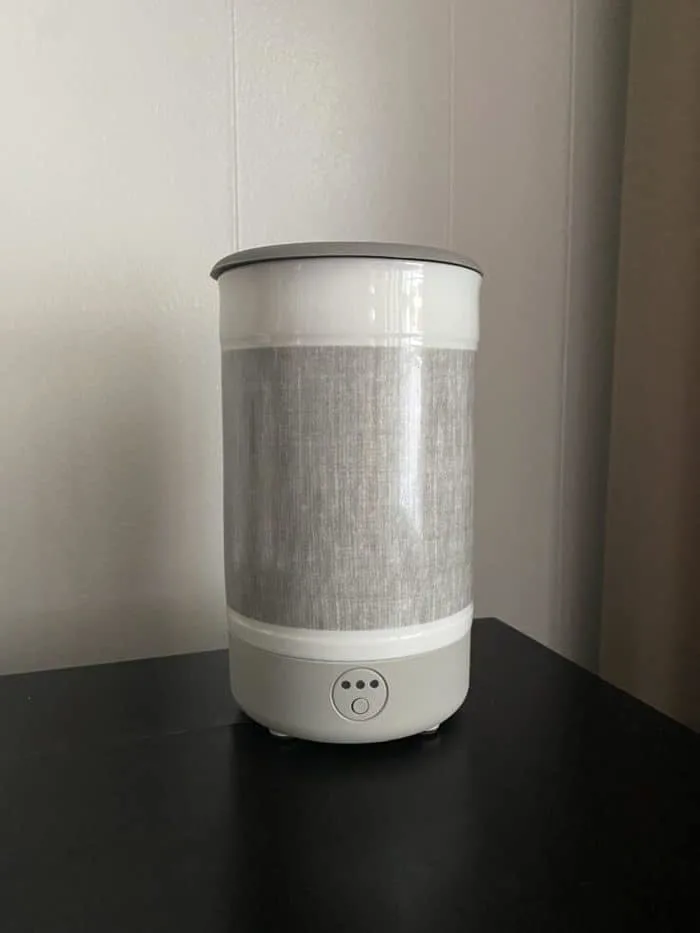 My husband loves the fact that there's no bulb in the warmer.
We've had a couple of brands where the bulb was expensive, or we were bribing someone with small hands to change the bulb when it burned out.
It's one less thing to worry about.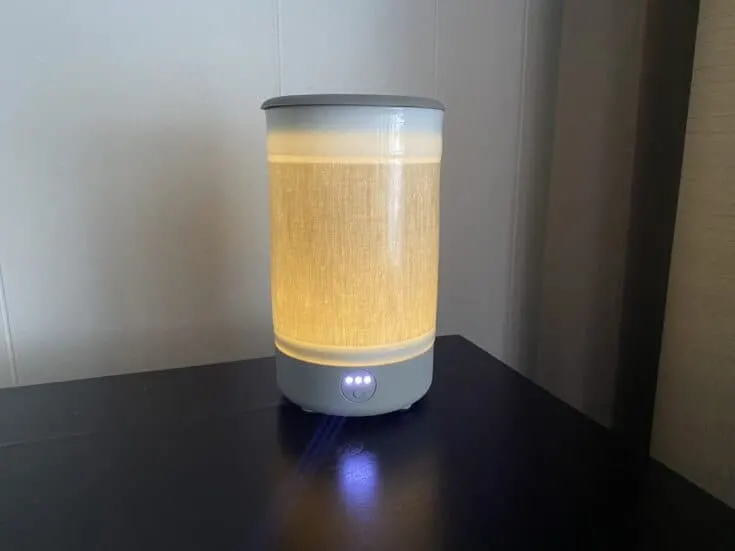 The Happy Wax warmer also offers a setting option of 3, 6, 9 hours.
This integrated feature allows easy management of fragrance delivery.
Why Choose Happy Wax Melts?
Happy Wax melts are made with the best ingredients possible: Soy Wax
It's 100-percent soy wax made using all-natural ingredients.
Essential Oils.
The aromatic component comes from modern scents infused with essential oils.
Phthalate-Free
You won't find any phthalate in Happy Was fragrances.
Incredible ingredients make Happy Wax and a Happy Home.
Half Pound (8 oz) wax melt pouches are just $17.95 or 2 for $30.00!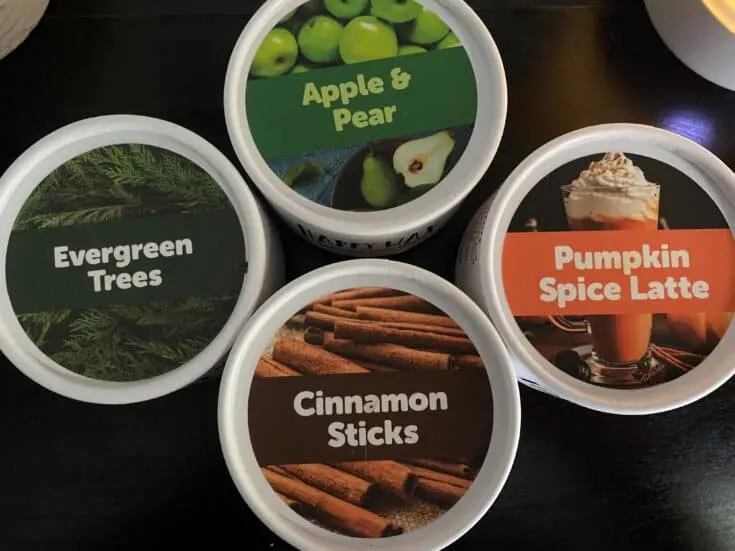 Happy Wax melts are available in so many amazing scents!
You can choose standalone fragrances, like Cinnamon Sticks, or choose mixes that contain 2-3 different scents, all together in one tin or bag.
The half-pound wax melt bags are an incredible value, giving you 200+ hours of burn time per bag!
It's an incredible showcase of options.
We have tried:
Evergreen Trees:
A wintertime favorite, our Evergreen Trees wax melts strike that perfect balance of a strong scent that isn't overpowering. Capture the magic of Christmas morning all season long with this delightful pine aroma. Subtle wood tones support classic spruce notes for a smooth, strong, and refreshing fragrance!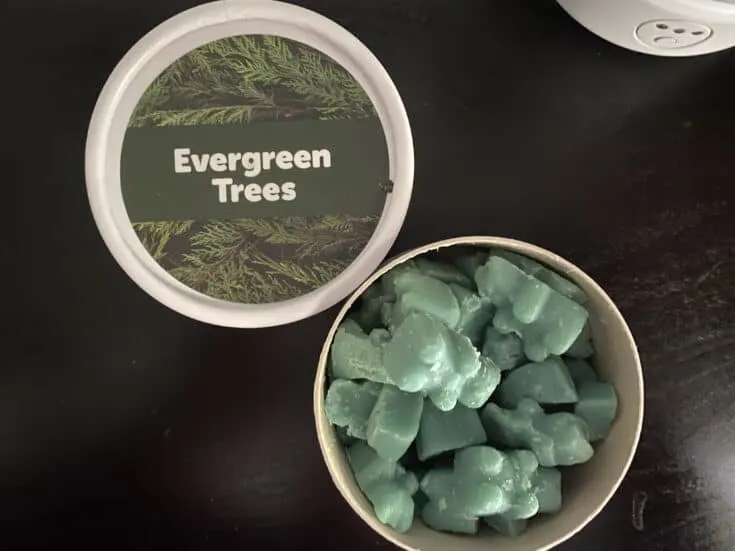 Apple and Pear:
A celebratory scent of fresh-picked Cosmic Crisp apple illuminated by breezy orchard greens and crisp Bartlett pear touched by tart green apple accents.
Cinnamon Sticks:
The alluring scent of warm, spicy cinnamon sticks enhanced with soft citrus elements, smooth vanilla, and sprinkles of golden clove.
Pumpkin Spice Latte:
Snuggle up with this fall favorite! Melt our Pumpkin Spice Latte scented soy wax melts, and you'll be indulged with notes of warm, toasted pumpkin accented with cinnamon, kissed with hints of clove and creamy vanilla. Infused with clove, cinnamon, and patchouli essential oils.
My favorite is the pumpkin spice latte right now. It has a scent that is very fall. It is subtle and clean.
I love that Happy Wax melts are shaped like little bears. It's like opening a bag of happiness and cooing over its cuteness and then having it reciprocate gratitude by filling the room with the incredible scent.
There are also holiday shapes such as trees and hearts.
Happy Wax products are easy to use and easy to love!
Happy Wax, Happy Home Every Day!
There are mornings I get up, and the illumination breaks the darkness of the Happy Wax Warmer, and the scent of the day waifs through the air. It's a beautiful greeting.
It's easy to change the wax melts to change them up with my mood or to suit the company.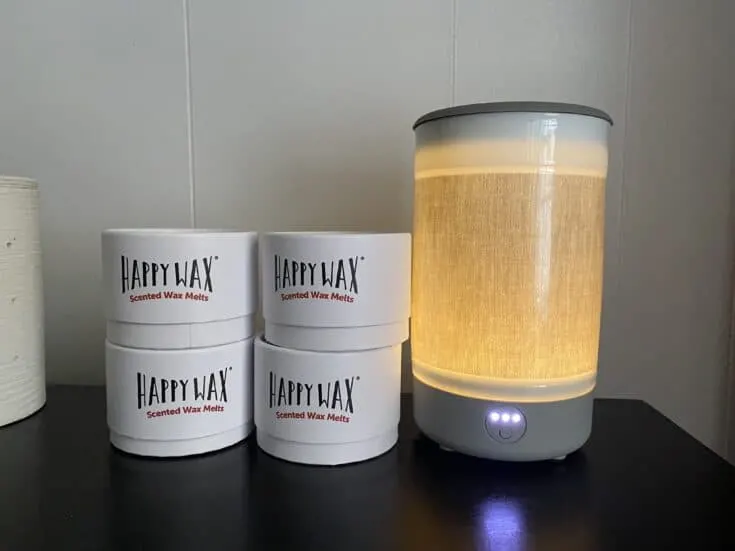 Signature Wax Warmer in Herringbone + Half Pound Soy Melts Mix Kit – $49.99
The Signature Wax Warmer Kit would make a fantastic addition to any home.
Just select your favorite warmer design and a half-pound soy melt mix to go along with it!
There are also mini warmer and wax melt tin options available!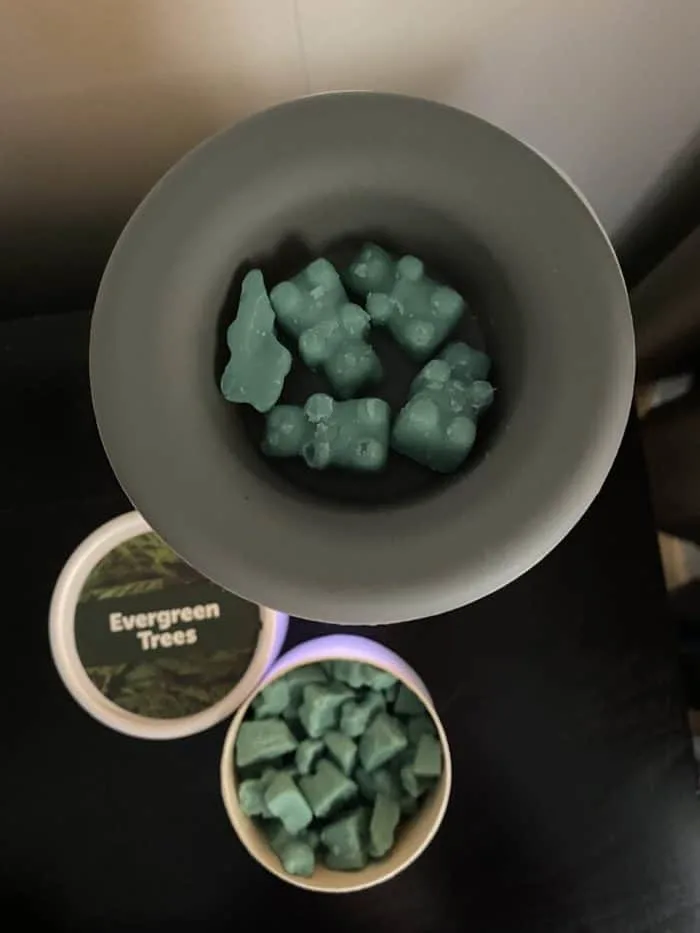 Make your Home Happy with Happy Wax
Happy Wax is a wonderful company with incredible products.
They have a line of bath bears and so much more.
It's a happy place, for a happy home.
Find your bundle of happiness with Happy Wax Scented Soy Melts and Happy Wax Warmer.
You can customize your scent, and trust me; it'll make you happy!