We received The Care Crate Company Personal Care Box for review. All opinions remain our own.
College is in session and The Care Crate Company makes it easy to send a care package to your favorite freshman, upperclassman or anyone anywhere.
Loaded with sweet and salty, it's a box of tempting tastes to make the recipient feel special.
What is The Care Crate Co.
A thoughtful gift for anyone, anywhere that you want to treat to tasty and satisfying sweet and salty snacks!
They offer a super wide variety of snack boxes and gift sets. Perfectly curated gift sets catering to a range of specific holidays, as well as a Women's Spa Day Gift Box, and a Men's Luxe Gift Box!
Incredibly detailed care boxes, with the option to also shop and browse by diet, who you are looking to gift a box to, greetings, and even emergency food kits! The options are endless with The Care Crate Co.
Personal Care Box from Care Crate Company
This box included over 70 food and personal care items.
Over 45 pre-packaged food items, 10 microwaveable meals, more than 15 personal health care items, and a few items from the Care Crates emergency survival kit too!
Once the box was opened I was impressed by how much was really inside.
Personal Items included a first aid kit, Q-Tips, tissues, a few masks, a lint roller.
There was ramen, popcorn, single-serve macaroni and cheese and pop tarts.
Sweets like starbursts, chocolate candies, peanuts, fruit snacks, granola bars.
Salty chips and Slim Jims.
It's all name brand and I loved that you discover items as you start unboxing.
It was like a snack lovin' Christmas!
It delivered happiness and would make such fun gift for your favorite person to receive.
The Care Crate Co. has a variety of boxes and options to choose from!
Beyond their website, you can also find their product on Amazon, Walmart, and eBay.
Here is a run down of what's inside the Personal Care Box:
Personal Care Items
3-Play Facemask
First Aid Kit Including:
Cleansing Wipes
Johnson + Johnson First Aid Gauze Pads
BAND-AID Brand Knuckle Adhesive Bandages
BAND-AID Brand Flexible Fabric Adhesive Bandages 3/4 inch x 3 inches (1.9 cm x 7.6 cm)
BAND-AID Brand Flexible Fabric Adhesive Bandages 5/8 inch x 2 1/4 inches
Latex Gloves
Qtips
Emergen-C
Kleenex
Disinfectant Wipes
Microwaveable Meals
Ramen Noodles
Act 2 Popcorn
Mac & Cheese Cups
Pop-Tarts
Pre-packaged Food
Skittles & Starburst Variety
Hershey's Assortment
Rice Krispy Treats
Motts Gummies
Planters Peanuts
Twizzler's
Slim Jims
Nature Valley Fruit & Nut
Quaker Chewy Bars
Nature Valley Crunch
Nature Valley Sweet & Salty
TGIFridays Chips
Cheez-Its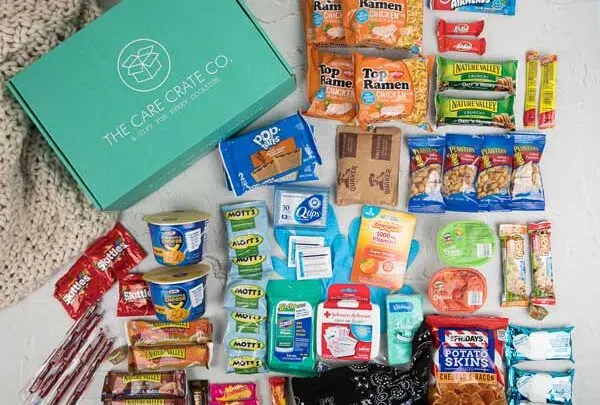 Manufacturer guarantee
Please note that Specific snack items and brands may vary. If you don't love your snack variety pack, simply return your healthy snack box and we'll refund you. No-fuss, no tricks, no fine print; just incredible customer service from Care Crate.
About the Care Crate Brand
" At The Care Crate Co., we deliver premium snack packs put together with meticulous attention to quality. Each care package features only name-brand snacks and fulfills the highest standards that thousands of The Care Crate Co. customers have come to expect. Our premium variety packs are selected by hand and contain only the very best individually wrapped snacks. With painstaking attention to quality, The Care Crate Co. snacks are second to none. "