The World Health Organization (WHO) reports that they closely monitor at least ten variants of the virus that causes COVID-19, and they categorize them as "of concern." One of those variants is B.1.1.7, which is currently wreaking havoc in India. All this is to say that even with vaccines being rolled out across the United States, we still need to do our part in protecting ourselves and others from the virus because we never know how it can mutate and how severely we can get affected.
With summer around the corner, it's much safer(not to mention financially lighter!)to stay home and find ways to entertain ourselves from the comfort of our homes. Here are some at-home ideas you can explore as the warmer months roll around.
Maximize your backyard
No matter how small your backyard, there are plenty of ways to make the most out of it. Here are some fun backyard ideas you can try with your family this summer:
Hang some string lights to create a romantic atmosphere and have family dinners together. Consider investing in a barbecue grill or cooking station to encourage everyone in the family to learn how to cook new meals. You can also set up a picnic if your yard's grass is healthy.
Invest in a trampoline or a small playground for the small kids.
Start planting a garden. You can start your own veggie garden where you and your family members can cultivate your own produce.
Spruce up your home's backyard area by connecting the indoors and outdoors through a porch, deck, or sunroom.
Set up your own at-home theater
If you and your family miss the feeling of being in a movie theater, consider converting your basement into your own at-home theater. Doing this need not break the bank. Here are some tips for turning your spare room into a movie theater:
Paint the walls a darker color, but don't go full black. Choose a stylish navy, dark gray, or dark emerald moss green. Trust and believe that more moody hues work even in small spaces when done right.
Invest in a big screen that can take up the entire wall. Opt for closed shelves to avoid the clutter of DVDs and other entertainment items and consoles.
Consider getting a big sectional couch so that the entire family can fit during movie nights.
Ensure your air conditioning (AC) unit is up to scratch, especially since projections say the country is up for another record-breaking drought and heat this year.
Explore the possibility of adding a bar on the side where you and your family can prepare some drinks and snacks.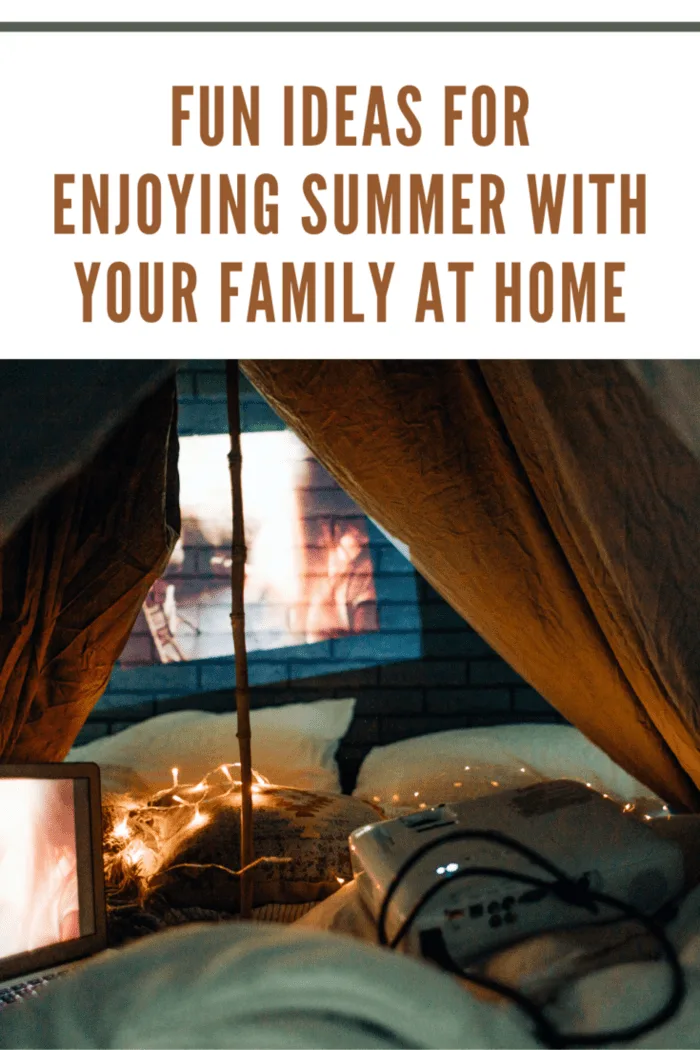 Plan an at-home summer camp for the kids
If you have kids, and they're bummed out by the idea of missing summer camp this year, consider planning one for them at home. With enough creativity and resourcefulness, there's no reason why your kids need to miss out on some summer fun. Think of it as planning some outdoor activities for them, except you're doing it at home and in a more organized fashion. Here are some activities you can set up for them:
A scavenger hunt can be a great way to teach your kids some analytical and strategic skills. You can tailor the theme and concept according to their interests; if your boy loves pirates, you can make them hunt for gold, and if your girl loves nature, have her make some observations about bugs and plants in the garden.
Making tie-dye T-shirts is also a classic summer camp activity. If your kid has a penchant for art and creativity, teach them how to make their own tie-dye shirts in the styles and colors they love.
What is a summer camp without some water games? If you have a pool in your yard, consider setting up a friendly competition between your kid and their cousins to help them cool off for the summer. Some games include sponge dodge ball, sprinkler limbo, and even some basic outdoor obstacle courses that involve water buckets, water balloons, jumping jacks, and others.
Arts and crafts are also an iconic part of summer camps. Choose some DIY activities that don't require making too much mess, like friendship pattern bracelets and origami.
Summer need not be a boring time, even if you're staying home. It's a wonderful time to meditate, rest, and spend time with your family. Invest in your home and make sure that everything is working the way it should so that you won't feel the need to go somewhere else to enjoy the warmer months.
---
Resources:
https://www.cnbc.com/2021/05/03/who-is-closely-monitoring-10-covid-variants-as-virus-mutates-around-the-world-.html
https://actionplumbing.net/service-area/plumbing-heating-ac-in-lehi-utah/
https://www.almanac.com/summer-weather-forecast
https://www.goodhousekeeping.com/life/parenting/g32050844/scavenger-hunt-ideas-for-kids/
https://artfulparent.com/kids-arts-crafts-activities-500-fun-artful-things-kids/