Introducing the epiphanie Bag – Your Perfect Fashion Companion! 👜
Discover the ultimate accessory that will elevate your style and make a bold statement wherever you go. Introducing the Epiphanie Bag, the epitome of elegance, functionality, and craftsmanship!
Unparalleled Elegance: Crafted with precision and passion, the Epiphanie Bag exudes timeless sophistication. Its sleek design, premium materials, and attention to detail will leave you mesmerized.
Fashion Meets Functionality: Embrace the perfect blend of style and practicality with the Epiphanie Bag. Its spacious compartments and cleverly designed pockets allow you to organize your essentials effortlessly. TheEpiphanie Bag has got you covered from your daily must-haves to your tech gadgets.
Your Style, Your Choice: Available in a stunning array of colors and textures, the Epiphanie Bag lets you express your unique personality. Whether you prefer a classic black for a formal occasion or a vibrant hue to make a statement, they
Versatile All-Day Accessory: Transition seamlessly from day to night with the Epiphanie Bag. Whether you're conquering the boardroom, strolling through the city, or enjoying a glamorous evening event, this bag is your loyal companion.
Sustainable Luxury: They take pride in our commitment to the environment. The Epiphany Bag is responsibly sourced and made from eco-friendly materials, allowing you to indulge in luxury while supporting sustainable practices.
Limited Edition: The Epiphanie Bag is not just a bag; it's a collectible piece of art. Each bag is carefully crafted in limited quantities, ensuring exclusivity and uniqueness for every owner.
Perfect Gift: Surprise your loved ones with a gift they'll cherish forever. The Epiphanie Bag is the perfect present for any fashion enthusiast who values style and quality.
Satisfaction Guaranteed: They stand behind the quality of our products, and your satisfaction is our top priority. If, for any reason, you're not delighted with your Epiphanie Bag, we offer a hassle-free return policy.
Don't wait to experience the Epiphanie Bag – the embodiment of luxury and style. Elevate your fashion game and make every day an extraordinary journey with the Epiphanie Bag by your side!
OUR Ephiphanie Bag Review
I received an Epiphanie Bagg in exchange for this review. All opinions remain my own.
I suppose this review began before I even received my Epiphany Camera Bag. Less than two years ago, I splurged and updated my camera after visiting home and coming together with my siblings. I went with a Nikon, a newer model than the one my baby sister has after hearing her rave and seeing her pictures. She warned me it would be bulky and heavy, but the pictures were awesome.
The camera arrived, and I have used it very little. It has only been taken out in a "controlled area" because I have a camera bag that is a pain to get the camera in and out of, and it's an "extra" thing to carry. I know. I am pathetic.
Fast forward to a couple of weeks ago when I flew out to Los Angeles to join the fun of Disney's Million Dollar Arm Event. I took three cell phones–two I really don't know how to use. My pictures did NOT capture this amazing once-in-a-lifetime adventure. The bloggers who had brought their bulky, heavier cameras were taking amazing pictures, and I watched…it was an ephiphanie that was making this possible.
I received an ephiphanie camera bag for review. My opinions remain my own.
I'm a handbag junkie so when the Epiphanie Bag arrived, Miss M commented on my new "purse". I didn't say a thing.
By comparison the Ephiphanie Bag is a tad larger than my everyday handbag. Here is a photo that shows the contrast..the Epiphanie Bag is behind. The Clover Ephipanie Bag has an exterior measurement of 18″L x 6.25″W x 13″H .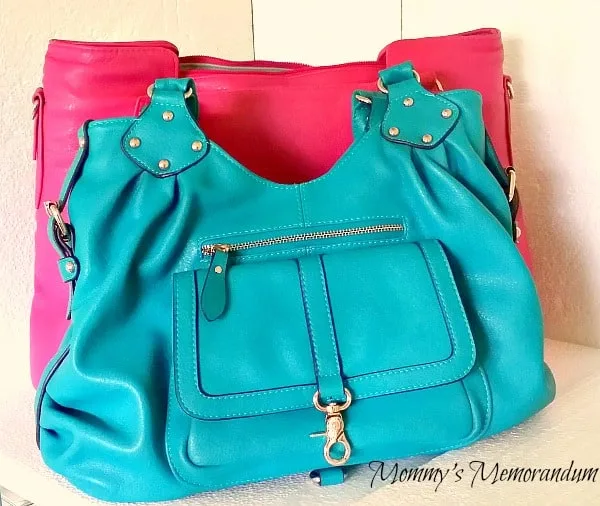 I have tried carrying my camera in my purse, but I wrapped it up with everything short of bubble wrap and then couldn't relax because it was tossed in there with all my other junk…and my kiddos tend to shove things in my purse they don't want to carry. It was too taxing on my nerves.
Now I'm thankful to a woman named Maile who recognized the need for functional yet beautiful camera bags that an everyday woman would be proud to own and carry. A fashionable, functional bag that protected my splurge on myself and allowed me to use the camera as I intended. Maile founded Epiphanie Bags and is changing how women everywhere are arriving with their cameras!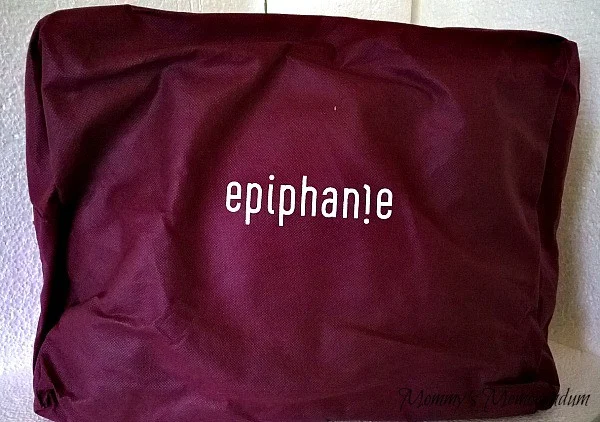 My Epiphanie was dressed in a beautiful plum zipper case when she arrived. I love that the company cares enough about their product and their customer to protect it.
I could go on and on about my Epiphany Camera Bag, but I think I should probably let you see it first.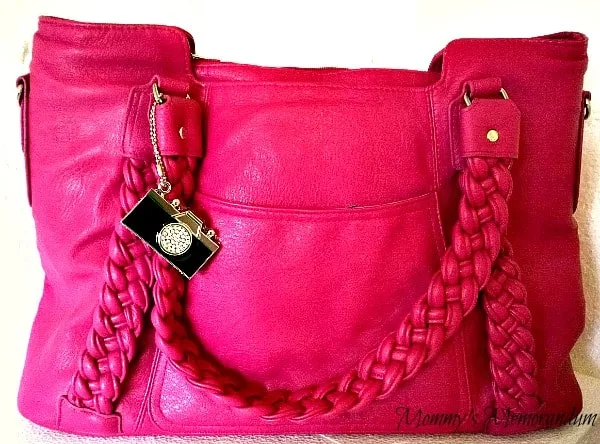 Meet Clover from Epiphany Bags. She is function and fashion fused to make one fab bag! She is not JUST a camera bag…she also is a purse and a laptop bag!
The exterior of the bag is constructed with water-resistant, high-quality synthetic leather. It's incredibly soft and accented by comfortable braided shoulder straps.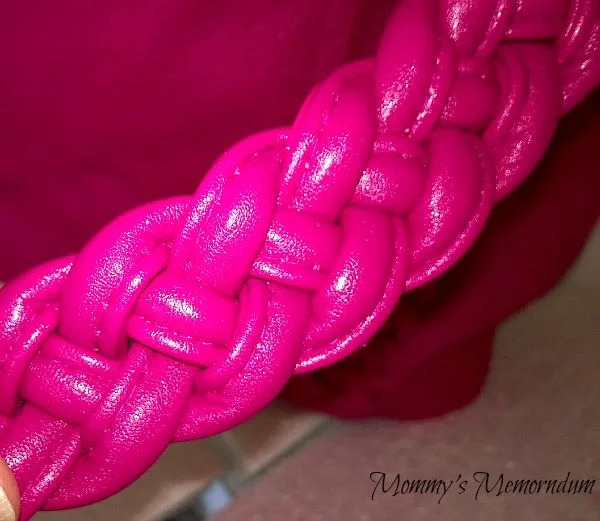 The braided straps are about ten inches in length. The Clover also comes with detachable, padded cross-body straps that measure approximately 50″ in length.
For further protection, the Clover also has a zipper closure on the top to keep everything secure.
Clover is built to haul and she's ready! Load her with your iPad or 15″ laptop, camera + attached lens, extra lenses (2 or 3!), your battery pack. Throw in your wallet, keys, cell phone, memory cards and more! It's ready to be your sidekick on any adventure.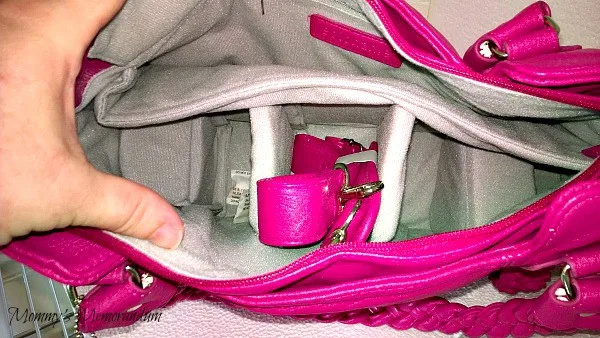 The inside of the Clover offers dividers to keep things organize, or they can be full removed so you can transition the Clover to an everyday bag.
The dividers are crafted with extra padding giving your precious equipment maximum protection. There is also one sewn-in panel that allows separation from the laptop pocket.
There are also four Velcro panels can be adjusted to any position for maximum customization (2 long, 2 short) plus one zipper pocket.
I love that the Clover offers a light gray lining making it easy to spot things in an instant, plus the lining is super soft.
So what can it hold?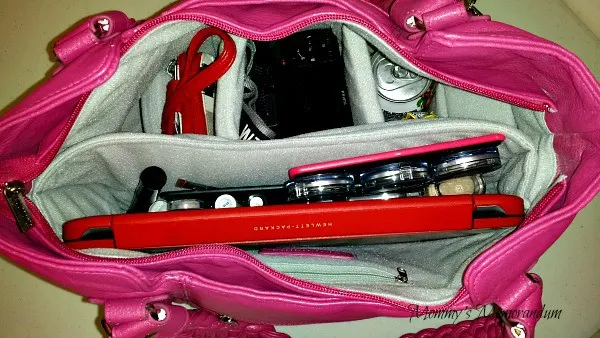 I still had two pockets available, but there comes a point where you begin to wonder what else you can put in your purse!
Here are the contents of what's inside my epiphanie Clover at the moment: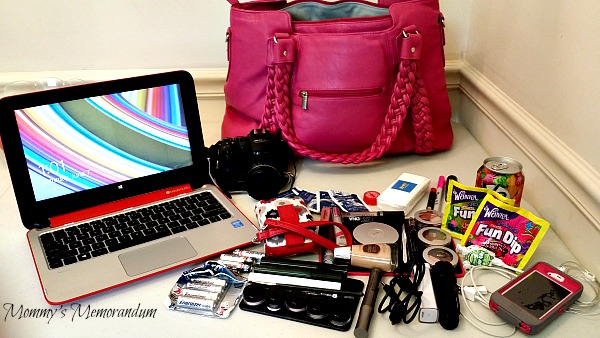 8 AA batteries
iPhone
iPhone Charging cable
bud headphones
Charging stick
Wallet
5 individual Davidson's Organic Tea packets
Package of Pocket Tissues
Cherry Chapstick
Mary Kay Lash Love Waterproof Mascara
Mary Kay Nourishing lip gloss
Hot Pink Sharpie Pen
Maybelline Healthy Rose Lipstick
Mary Kay Lash Love Mascara
Clinique High Impact Mascara
Mary Kay Lash Primer
MAC Eyebrow Brush
Rimmel Exaggerate Eye Liner
5 Mineral Eye Shadows
PUR Minerals Lust Lip Gloss
Sensai Lip Shine
Smashbox Lash DNA
PUR Minerals Powder Compact
tweezers
MAX Eye Liner
PUR Minerals Eye Liner
3 PUR Minerals Eye Shadow Trios
Large Beauty Butler
Small Beauty Butler
Defiant Flashlight
2 Fun Dips
Charms Blow Pop
Nikon Camera with Lens
Can of V8
And there was still lots of room!
Impressive; right?
Stylish. Quality. Roomy. Affordable. That's exactly what you get with Epiphanie Bags . Head on over and take a look around! There's one that is all YOU!