When the Beauty Butler Makeup Organizer arrived for review, I set it aside. Then, after hearing I was headed to LA for the Million Dollar Arm Red Carpet Event, hosted by Disney, I knew I needed help. My makeup is chaos! I have makeup bags of this and that. Something I put on "this time" and a color I tried because it was "trendy".
Miss M LOVES anything that has to do with my makeup, so together we spent a girls' day getting my makeup act together with the Beauty Butler. When we pulled it out, I thought, "Hmmm…how is this flat board going to help me solve the problem?" It seemed so simple and plain…baords with Velcro. With a shrug we were off ready to see what happened.
Here was the canvas we were working with: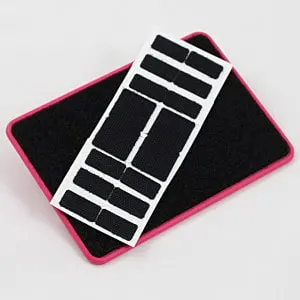 The Beauty Butler is a patent pending makeup manager designed to help anyone that uses makeup. It can organize most cosmetics of various shapes and sizes in seconds. Created by Danielle Smith who was sick of digging through her purse and makeup bag, she is now "making the world a better place one makeup bag at a time".
We decided to organize my makeup by creating a board with the things I use most. We cut the velcro and applied it to the make up. Larger pieces require larger velcro stickers. It didn't take long at all.
The finished product was "Wow!"
I picked up the board and put it in my makeup bag. I LOVED that I could just reach in, grab the board and all my makeup is right there. It's like an artist's palett with the colors I choose!
Here's the Beauty Butler Makeup Organizer coming out of my makeup bag.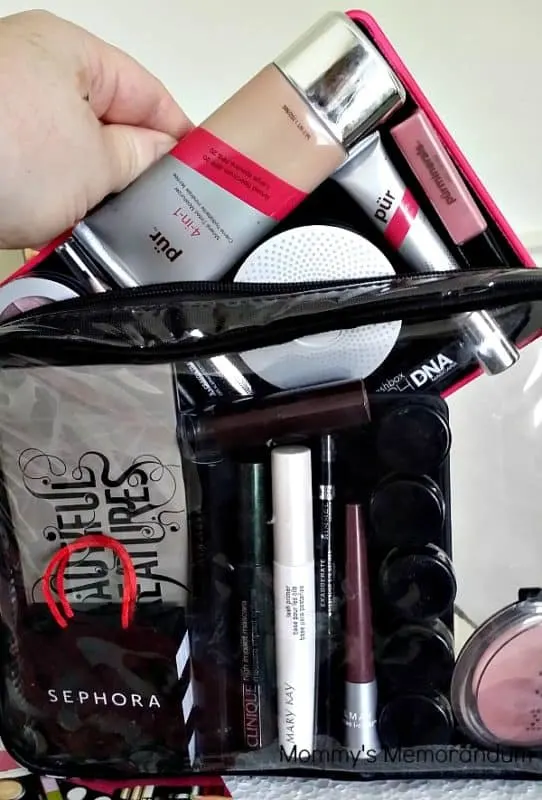 It is so simple and so easy to make work for anyone. I also love that Beauty Butler stands behind this product; if you are not completely satisfied with your Beauty Butler purchase, you may return it, and they will issue a full refund.
Beauty Butler solves so many issues. No more digging through anything to find mascara, eyeliner, lipstick, etc. It's all within reach! It's not just for your makeup bag; Beauty Butler works with your purse, diaper bag, and more. It can be utilized for more than makeup…use it to organize beauty tools, crochet/knitting needles, medication, and anything!
Beauty Butler sells in two convenient sizes:

"Flirt" — 4 in. by 6 in., $10.99
"Diva" — 6 in. by 8 in., $12.99
Size combinations are also available, adding to the savings.
Connect with Beauty Butler through Social Media:
Beauty Butler on Facebook
@getbeautybutler on Twitter
Beauty Butler on Pinterest
I am looking forward to taking the Beauty Butler with me to LA and having all my makeup organized and ready for the red carpet.