YoYo Lip Gloss Minis Review
My girls are lip gloss junkies. They love it all! It seems every time we are out we have to buy another balm or gloss because "I lost mine" has become the slogan for "lips". It drives me bonkers and more times than I care to admit, I become the enabler.
Then, we discovered YoYo Lip Gloss and have adopted their slogan, "Never at a Loss for Your Gloss".
It's pure genius! Miniature tubes of lip gloss on a retractable lanyard.
We're talking fun and efficient all in one!
My girls have seen the YoYo Lip Gloss commercial that has been on Nickelodeon, so when the YoYo Lip Gloss arrived for this review, I turned it over to my girls.
Immediately, they clipped it on to their shirts.
One of my girls just kept going on and on about how "delicious" it smelled.
All-day long, I looked at them and they had shiny lips and were raving about the flavor.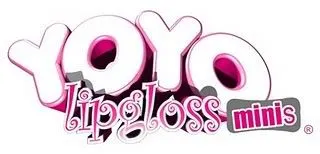 We were sent four YoYo Lip Gloss Minis to review:
Cha Cha Chocolate
Kissable Kiwi
Big Bounce Bubble Gum
and Girly Green Apple
After listening to my girls go on and on about the flavors, I decided I needed in on the action.
I tried the Cha Cha Chocolate.
One lick and I became a junkie. It made my lips tingle.
It added a hint of tint and the taste was pure scrumptious!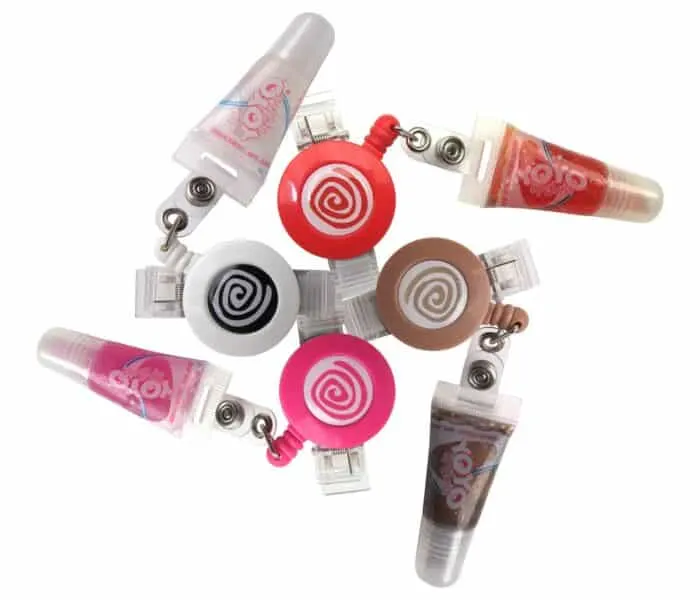 I staked a claim on a YoYo Lip Gloss and clipped it to my purse.
I cannot tell you how many times before YoYo Lip Gloss I have searched in the abyss of my purse to find anything to put on my lips only to pull my hand out empty.
YoYo Lip Gloss has eliminated this problem.
The YOYO Zipper Pouches are fun gift sets that feature 3 YOYO Lip Gloss Minis and 1 resealable Zipper Pouch.
The YOYO Lip Gloss Minis are retractable lip glosses that you can clip on for easy access; pull the cord and it extends 2 1/2 feet long, apply that delicious sparkle gloss, and then back YOYO goes!
Clip a YOYO Lip Gloss Mini to your schoolbag, purse, jeans, belt, or pocket.
Use it to spunk up your outfit!"
The lanyard keeps it close to you.
Clip it on your belt loops, blouse, purse anywhere you want and it stays put.
I was impressed by the power of this clip.
I love that my girls don't have to haul "lips" with them if we're out and about and they've elected not to bring a purse.
They can grab the YoYo Lip Gloss from my purse, put it on and it never once has to leave my possession.
Love it!
YoYo Lip Gloss Minis are made from high-quality ingredients.
They shimmer and shine like crazy.
The taste is incredible.
This lip gloss isn't sticky and lasts for hours, provided you don't eat it off like me!
Each YoYo Mini sells for $2.99, which includes the retractable lanyard.
My girls also enjoyed the website and enjoyed learning about the History of Lip Gloss as well as the YoYo Lip Gloss Study Sheet.
It was fascinating to me!
This can all be located on the YoYo Lip Gloss Website under Girls Corner. Check it out!
Disclosure: No monetary compensation was offered or accepted for this post. I was sent the item mentioned in this post in order to facilitate my review. The opinions are my own and in no way influenced by the sponsor. Others experience may vary.