Ready for a simple snow ice cream recipe?
If you're getting snow, your bowl should be outside collecting it! Collecting it to make snow ice cream or snow cream.
Snow fast-moving system, so we have to collect snow while we can.
I've had requests for my homemade snow ice cream–it's similar to homemade ice cream, but it's the sweet treat made with snow.
It is an easy recipe.
Add it to your winter bucket list and start a family tradition.
It's a fun winter activity that will create fond memories.
Get ready for the best snow ice cream recipe!
Remember you can make flavors like chocolate with hot chocolate packets or instant pudding mix.
The pudding mix opens you up to a variety of flavors.
You can also add fruit like frozen strawberries.
The recipe is not exact.
You have to taste and adjust as you mix.
Snow Cream is Ice Cream–that's right ice cream made with fresh, fluffy snow!
It is so easy; it's all my kiddos want now.
Unfortunately, Winston-Salem doesn't get much snow….or, that's what they told me all summer.
It doesn't snow much in North Carolina–sometimes there is the occasional snowflake and when that happens, it's mayhem!
Here's what day two of the blizzard looks like:
When life gives you snow, make snow ice cream.
So now that we've cleared up that it really does snow in Winston-Salem, and I should not have given up those snow boots, we've settled in and are indulging in SNOW CREAM!
This recipe is so easy, and my kiddos will even go out foraging for the snow to make this delicious treat.
The only rule is "clean snow."
AND you have to mix it fast–before the snow melts!
You can set a large mixing bowl out during the snow to collect the main ingredient. (cleanest snow option)
Trust me, parents, a big bowl of fresh snow is great, or eating the foraged snow at your own risk.
Basically, it's snow, dairy, and sugar.
You can add various flavors, but we like the pure stuff best.
Got Snow?
Any snow will do, but for the best results, you'll want soft, freshly fallen snow.
You can indulge in snow cream too!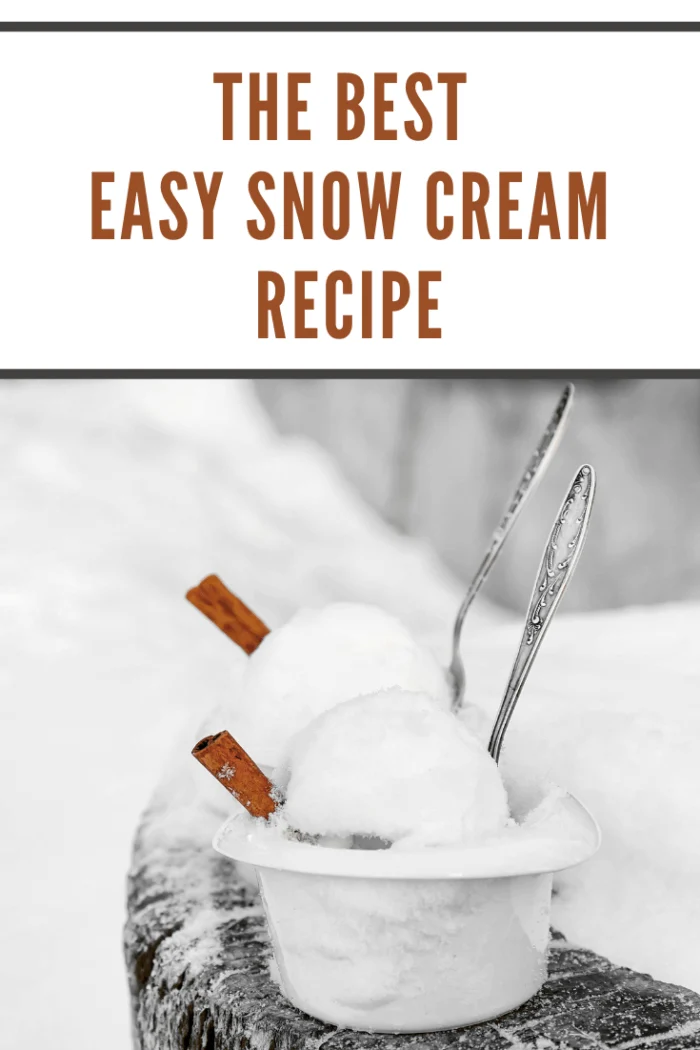 For those pondering this and wondering, Will Snow Ice Cream Kill You?
There are some risks when it comes to making ice cream out of snow. I mean, there's more than just water in snow. With the snow that's made it to the ground, anything that was on the ground could be included in the mix, including the salt and chemicals used to melt snow off the roads and sidewalks, according to AccuWeather.
An article on education site ThoughtCo warns of eating colored snow — be it yellow snow, brown snow, green snow, or anything else. It also warns of eating snow gathered from near roads because of the exhaust fumes from vehicles driving by.
Snow Cream Origin
Al Coombs at CJBK radio in London, Ontario discusses this.
Elizabeth Ellicott Lea, from Ellicott City, Maryland., wrote a cookbook in 1845, and added Snow Cream to it in 1846 and 1851.
Her recipe appears to be the first ice cream version of Snow Cream.
Earlier recipes using that title were the froth from whipping cream and egg whites.
Country Music singer, Loretta Lynn recalls her mother making this delicious concoction in Kentucky, where Lynn grew up.
She speaks of going out to the porch, collecting freshly fallen snow in a dishpan, and bringing it back in to be mixed with three beaten eggs, vanilla flavoring, and sugar, in her cookbook, You're Cookin' It Country.
This recipe is easier than that!
Things to Keep in Mind:
You don't want to have to go scooping too close to the ground or surface (especially if you have dogs and lots of wildlife around your yard).
Set out a large bowl when you're expecting a snowstorm to collect the snow as it falls.
You don't need a lot of snow.
You can also set out two large sheet pans on your porch or deck. This works great when there isn't much snow.
In general, if it's harder to make a snowball with, you will need more milk.
If you have moist snow (the kind that makes great snowballs), you won't need quite as much milk.
Remember snow cream will melt quicker than ice cream so you want to add the milk in small quantities to find the right consistency.
Adult option: swap half of the milk for Bailey's Irish Cream and/or use Kahlúa in place of the vanilla extract.
Extra light option: use Splenda instead of real sugar.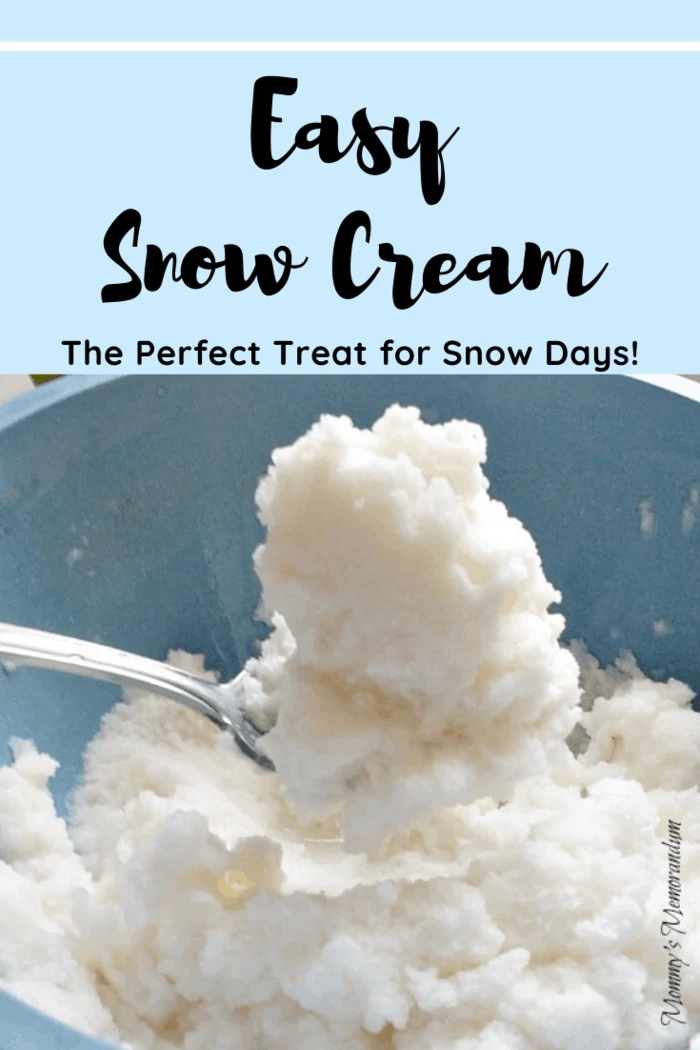 Here's how to make Snow Cream-or Snow Ice Cream!
Ingredients:
1 cup milk
1/3 granulated sugar
1/2 teaspoon vanilla extract
4 to 6 cups clean, freshly fallen snow, PACKED
Recipe Directions
In a large bowl mix milk, vanilla extract, and sugar.
Stir until sugar is dissolved, about 3 minutes.
Stir in the snow, a cup at a time, until it reaches the preferred consistency
Enjoy!
Don't forget to use your favorite ice cream toppings.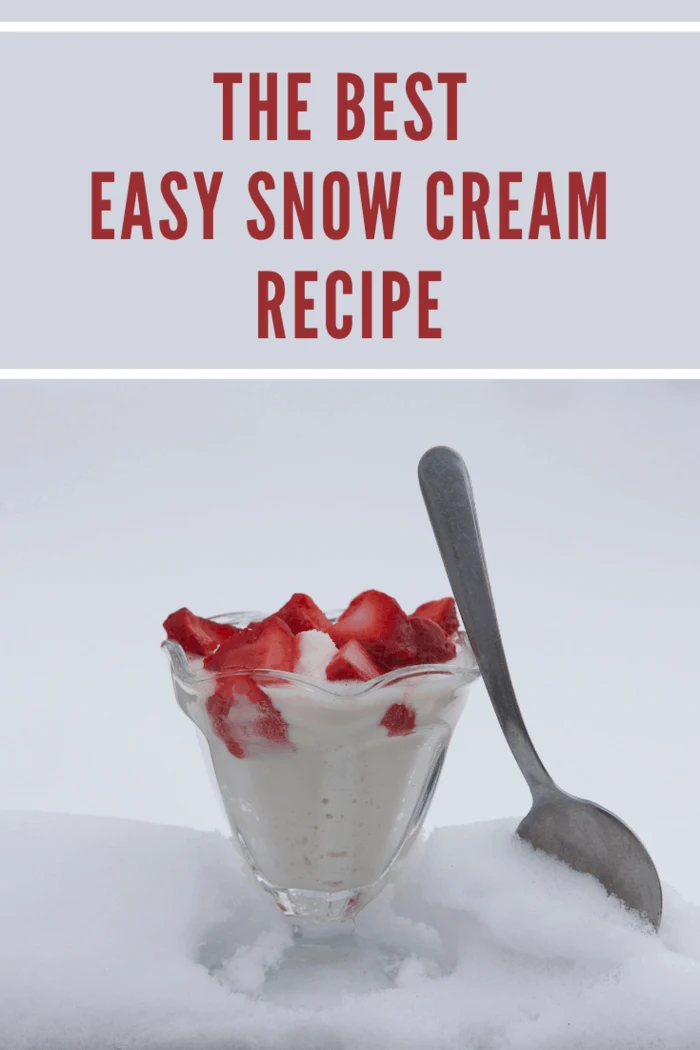 If you're looking for a dairy-free Snow Cream Recipe
4-6 cups fresh clean snow
1 cup of coconut milk
½ teaspoon vanilla extract
honey or maple syrup to taste, optional
Directions:
Add snow to large milk, stir in enough coconut milk to reach desired consistency.
Stir in vanilla extract.
Add honey or maple syrup to taste.
Enjoy!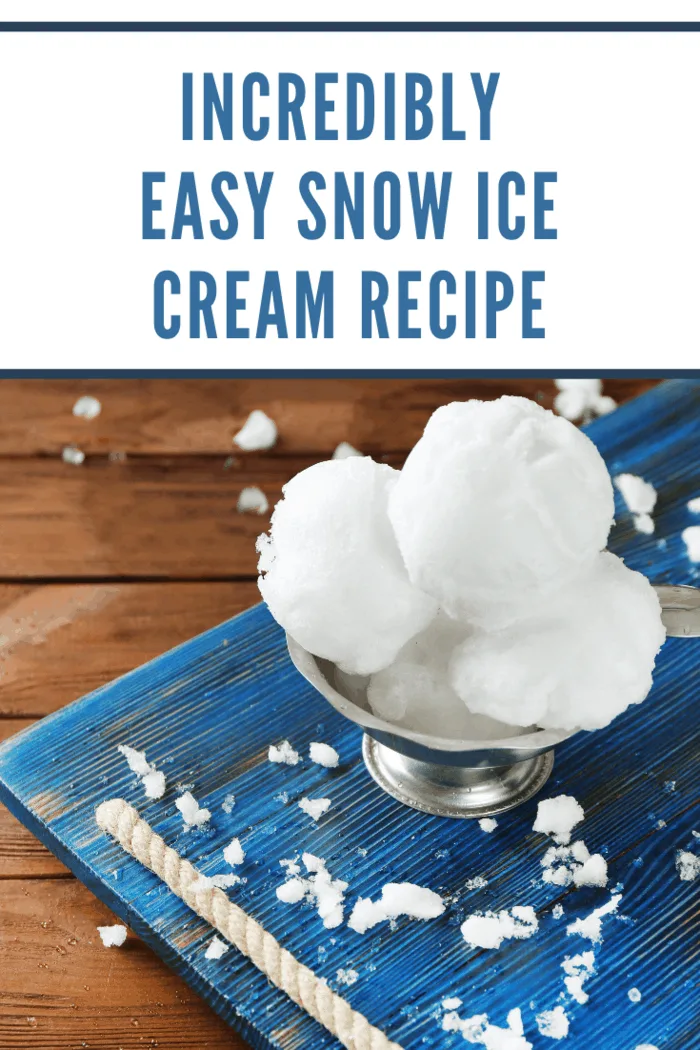 Snow Cream with Condensed Milk:
4 cups freshly fallen snow (it needs to be powdery consistency)
1 (14 ounces) can of sweetened condensed milk
1 teaspoon vanilla extract
Mix well.
Add another 4 cups of snow.
Mix well.
Chocolate Snow Ice Cream
2 cups milk
2 hot cocoa mix packets or ½ cup chocolate syrup, or to taste
8 cups clean fresh snow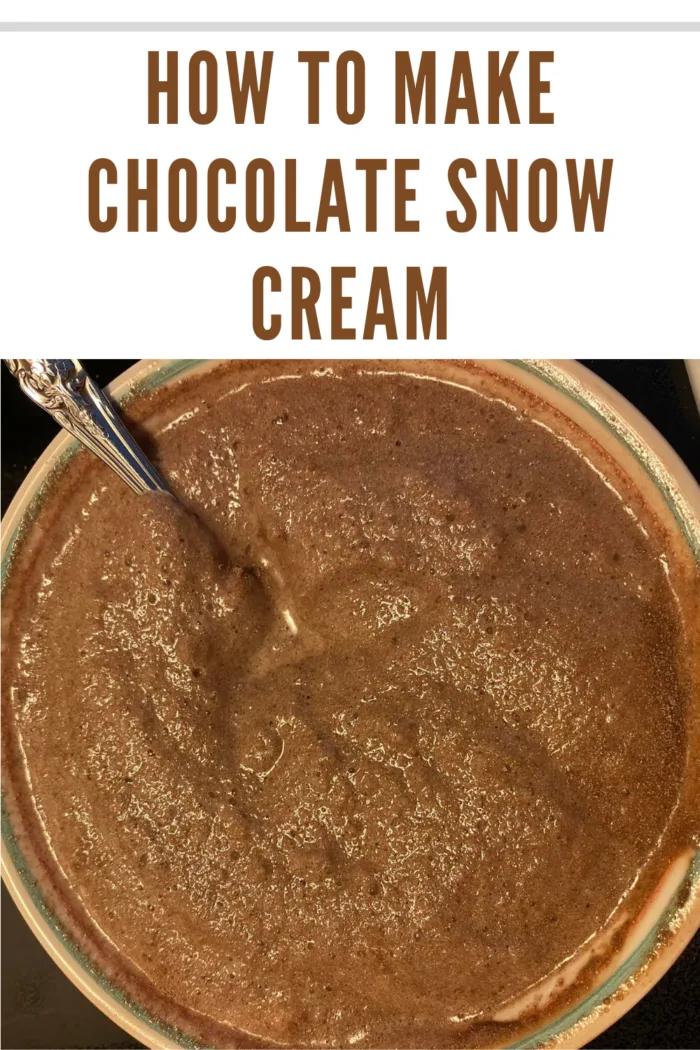 strawberry snow ice cream
1 cup milk
1/3 granulated sugar
1/2 teaspoon vanilla extract
4 to 6 cups of snow clean, freshly fallen snow, PACKED
1 small box instant strawberry pudding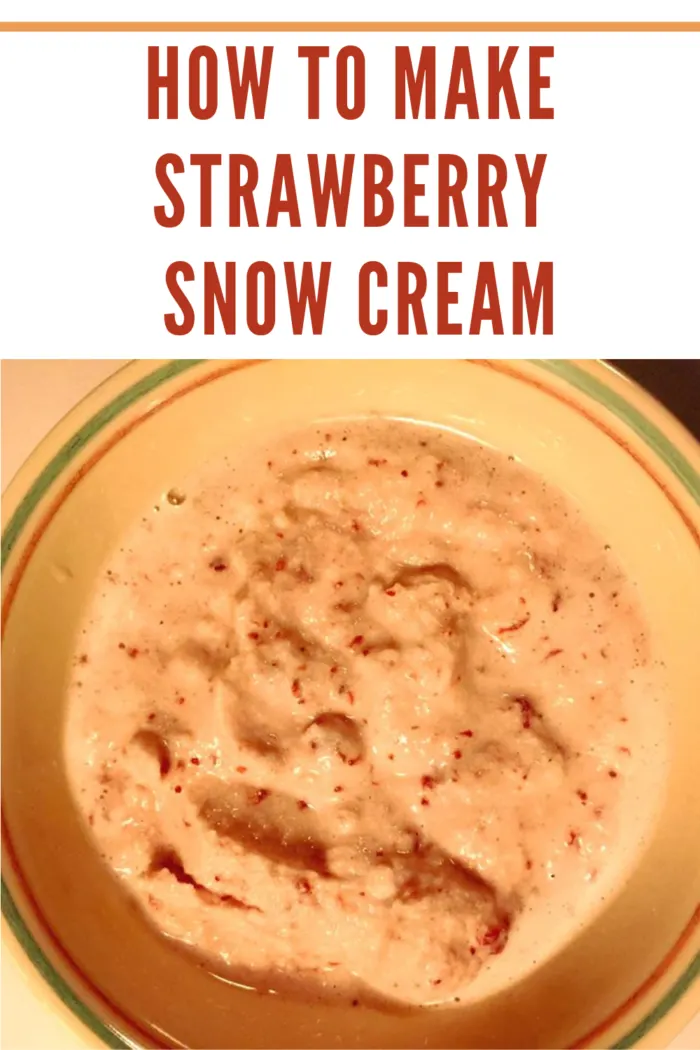 Mocha Snow Cream:
2 cups whole milk
1 cup powdered sugar
1 tablespoon vanilla extract
¼ cup unsweetened cocoa powder
1 teaspoon powdered instant coffee
1 gallon clean fresh snow
How to make Mocha Snow Cream
In a bowl, whisk together the milk, powdered sugar, vanilla extract, cocoa powder, and instant coffee until the sugar has dissolved and the mixture is smooth.
Place the snow into a large bowl, and pour the chocolate mixture over the snow. With a large spoon, stir until the snow ice cream is thoroughly combined. Serve immediately.
Flavor Mixers and fun:
Add a drop or two of food coloring to brighten up dreary days.
Mix in cocoa, lemon, coconut, honey, peppermint, fresh fruit, or, for adults only, rum.
Putting your bowl on a level surface will help collect the snow earlier. A metal bowl on a deck rail or outside table works well.
3-Flavors of snow cream can be made! Chocolate can be made by adding hot chocolate packets. Instant pudding packets can help you make many different flavors.
Snow cream must be eaten immediately.
It will lose its consistency if kept in the freezer.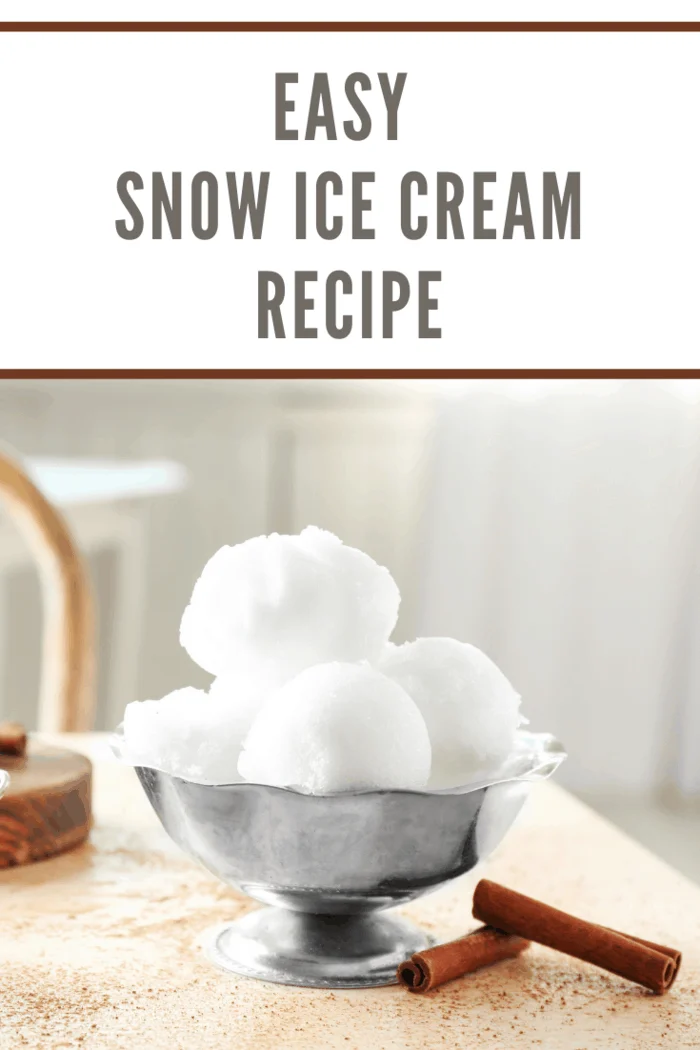 FRIENDLY REMINDER- I am willing to accept ALL DONATIONS of snow! Please do not complain about such a beautiful thing! If you have snow and don't know how to enjoy it, I can gladly take it! We have just had the time of year when people like to donate to the needy. I am SNOW NEEDY! PLEASE help me get some snow since Mother Nature enjoys taunting me! Thank you in advance for your generous donations!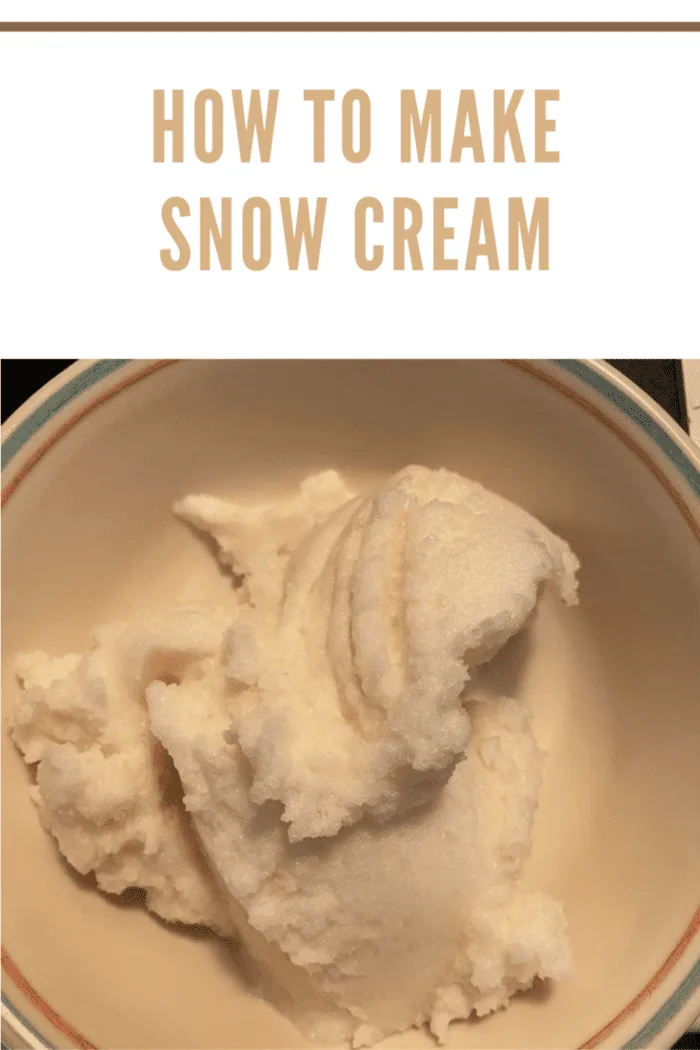 Looking for more ice cream recipes? You'll love these too:
Raspberry Ice Cream
Fried Ice Cream
Waffles and Ice Cream Dinner with History on the Side
Pina Colada Ice Cream
Lime and Mandarin Orange Ice Cream
Basic Vanilla Ice Cream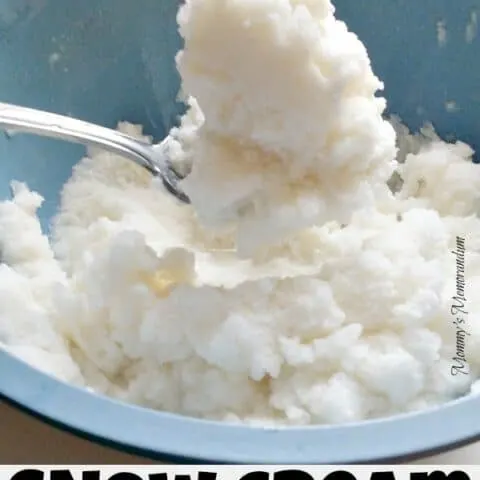 EASY Snow Cream Recipe
Additional Time:
5 minutes
Don't let the snow get you down, turn it into an opportunity to make delicious, easy snow cream! It's incredibly easy and your kiddos will love snow ice cream.
Ingredients
1 cup milk
1/3 granulated sugar
1/2 teaspoon vanilla extract
4 to 6 cups clean, freshly fallen snow, PACKED
Instructions
In a large bowl mix milk, vanilla extract, and sugar. Stir until sugar is dissolved, about 3 minutes.
Stir in the snow, a cup at a time, until it reaches the preferred consistency
Notes
Eat the snow ice cream immediately. Snow cream loses its consistency in the freezer.
Nutrition Information:
Yield:

4
Serving Size:

1
Amount Per Serving:
Calories:

34
Total Fat:

1g
Saturated Fat:

1g
Trans Fat:

0g
Unsaturated Fat:

0g
Cholesterol:

5mg
Sodium:

32mg
Carbohydrates:

3g
Fiber:

0g
Sugar:

0g
Protein:

2g
Nutritional Information may not be accurate