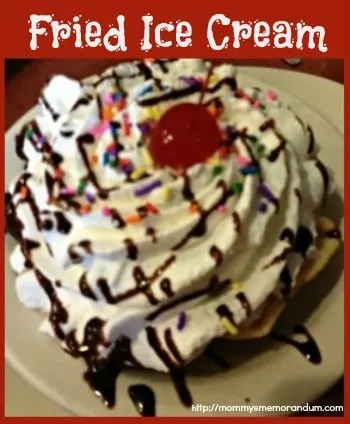 Ingredients
1 quart vanilla ice cream
1 cup crushed frosted cornflakes
1 cup cookie crumbs
2 large eggs
2 tablespoons sugar
Vegetable oil, for frying
Optional Toppings:
Sprinkles
Hot Fudge Chocolate Sauce
Whipped cream
How to Make Fried Ice Cream
Form 4 large balls of ice cream, using a spoon or ice cream scoop. Place on a waxed paper-lined sheet and cover with plastic wrap. Freeze for at least 2 hours.
Meanwhile, combine the cornflake crumbs with the cookie crumbs. Spread the mixture in a shallow dish.
Remove ice cream balls from the freezer and roll the ice cream balls in the crumb mixture.
Freeze for 30 minutes.
Meanwhile, beat the eggs and sugar together in a medium bowl.
Dip the coated ice cream balls into the eggs, then roll in the crumb mixture again, coating completely.
Freeze for 1 hour.
IF you want a thicker crust, roll again in eggs and crumbs and freeze.
Remove coated ice cream balls from the freezer and heat the oil in a large pot or fryer to 400 degrees F.
One at a time, lower the balls into the oil and fry until golden brown. It will happen quickly, about 30 seconds to 1 minute.
Remove from the oil and place in a dessert bowl.
Drizzle with chocolate sauce and whipped cream, as desired, and sprinkle with rainbow sprinkles.
Repeat with the remaining ice cream.