Diana Rodgers is a registered dietitian, nutrition consultant, and author known for her work in the field of paleolithic (paleo) and gluten-free nutrition. One of her notable works is the book titled "Paleo Lunches and Breakfasts On the Go: The Solution to Gluten-Free Eating All Day Long with Delicious, Easy and Portable Primal Meals."
The book aims to provide practical and tasty solutions for individuals who follow a paleo or gluten-free diet and struggle with finding suitable options for breakfast and lunch, especially when they are on the go. The paleo diet is based on the concept of eating foods similar to what our ancestors might have eaten during the Paleolithic era, focusing on whole foods like meats, fish, eggs, vegetables, fruits, nuts, and seeds, while avoiding grains, legumes, dairy, refined sugar, and processed foods.
In "Paleo Lunches and Breakfasts On the Go," Diana Rodgers likely offers a collection of recipes and meal ideas that are in line with the principles of the paleo diet and are easy to prepare, delicious, and convenient to take with you wherever you need to go. The book may include tips and tricks for meal planning, batch cooking, and making use of portable containers to keep your meals fresh and flavorful while you're on the move.
The goal of the book is to address the challenges of maintaining a paleo and gluten-free lifestyle in today's fast-paced world, where finding suitable meals can be a struggle. By providing options that are both nutritious and satisfying, Diana Rodgers likely aims to help readers stick to their dietary choices and achieve their health and wellness goals.
Our Paleo Lunches and Breakfasts on the Go Review
The Solution to Gluten-Free Eating All Day Long With Delicious, Easy, and Portable Meals
With the trend in dieting leaning towards the Paleo diet, carb-heavy meals can be the toughest to plan and eat without breaking the paleo diet, especially during the work week…you're running out the door in the morning and grabbing anything to eat on the way to work and a lunch to go.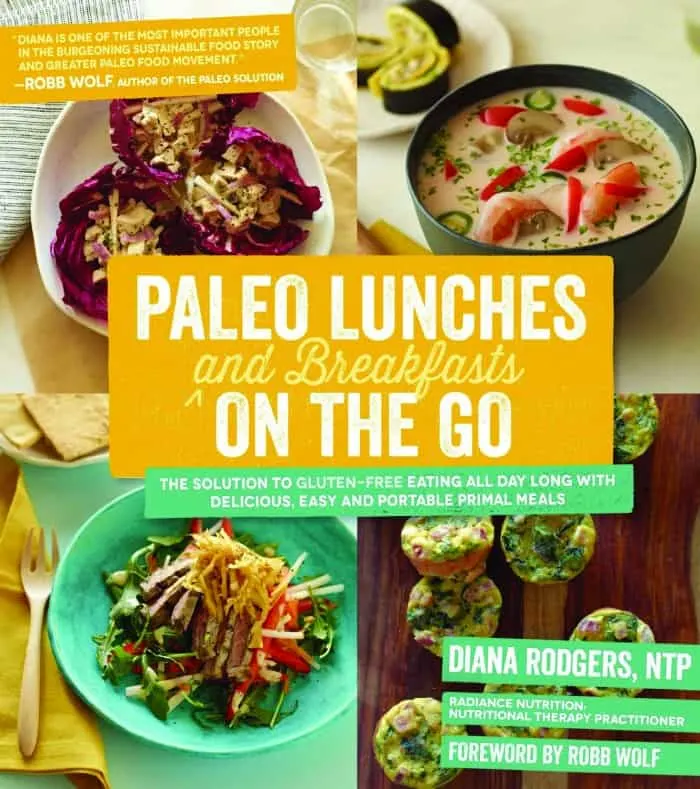 Let's face it, most recipes call for gluten, rice, processed oils, sliced bread, sandwich buns but the paleo diet is a commitment to the primal ways, calling for easy, portable, filling and delicious foods. Diana Rodgers has solved the problem and made eating a paleo diet easy and delicious with her book,
Paleo Lunches and Breakfasts On the Go: The Solution to Gluten-Free Eating All Day Long with Delicious, Easy and Portable Primal Meals
.
Author Diana Rodgers, a nutritional therapist and nutritional consultant to several Crossfit Gyms, solves the problem with 100 packable meals. From lettuce wrap sandwiches to egg muffins to creative uses for toothpicks and packaging, she takes the confusion out of how to make hand-friendly and fast meals without bread.
Recipes include:
Chicken Salad with Fennel and Cranberries perfectly cradled by a leaf of romaine lettuce
Paleo Italian "Sub" with pesto, nestled in Boston lettuce
To-die for Cherry Tarragon Breakfast Sausage
Paleo-friendly Bubble and Squeak.
There are also sections on handheld wraps, commuter salads, soups and stews for the office, and even ideas for kids. In the new book, Paleo Lunches and Breakfasts On the Go: The Solution to Gluten-Free Eating All Day Long with Delicious, Easy and Portable Primal Meals
you'll have mouth-watering, portable meals that are healthy and easy to make so you can eat the primal way all day.
Final Thoughts
Navigating a Paleo and gluten-free diet can be particularly challenging when it comes to lunch and breakfast choices. Many traditional recipes rely heavily on gluten, processed oils, and bread, making it tough for those adhering to these dietary restrictions to find suitable options that are both convenient and delicious.
However, Diana Rodgers, a renowned nutritional therapist and active member of the Paleo community, comes to the rescue with her fantastic solution in the form of "Paleo Lunches and Breakfasts On the Go." This remarkable book presents a treasure trove of 100 easy-to-prepare and mouthwateringly delicious packable meals, all of which are free from bread and gluten.
With creativity and expertise, Diana Rodgers offers a diverse array of delectable recipes that cater to the busy, on-the-go lifestyle while staying true to the principles of the Paleo diet. Gone are the days of mundane meals that lack excitement and flavor. Instead, readers can relish in delightful dishes such as lettuce-wrap sandwiches that perfectly encase savory fillings, egg muffins that are both satisfying and nourishing, and ingenious ideas that incorporate toothpicks and smart packaging to make hand-friendly, fast, and convenient Paleo meals.
Some tempting examples from the book include her Chicken Salad with Fennel and Cranberries, lovingly cradled within a fresh leaf of romaine lettuce, and the irresistible Cherry Tarragon Breakfast Sausages that will leave taste buds singing. Even a beloved comfort food, the Bubble and Squeak, has received a delightful Paleo-friendly makeover.
The beauty of these recipes lies not only in their scrumptious taste but also in their portability, making them the perfect companion for those who are constantly on the move. Whether you're heading to work, embarking on a road trip, or simply seeking a hassle-free lunch or breakfast option, Diana Rodgers' creations fit the bill effortlessly.
What sets these Paleo lunches and breakfasts apart is their unwavering commitment to health and nutrition. They are crafted with whole, natural ingredients that nourish the body while delivering a gourmet experience for the taste buds. Gone are the days of compromising on taste or nutrition, as Diana Rodgers' culinary expertise ensures that every bite is a delightful and wholesome indulgence.
In conclusion, "Paleo Lunches and Breakfasts On the Go" is an essential companion for anyone embracing a Paleo and gluten-free lifestyle. With Diana Rodgers' expert guidance and tantalizing recipes, individuals can bid farewell to the struggle of finding suitable meals and embrace a world of flavorful, hand-friendly, and nutrient-rich options that cater to their dietary needs without compromising on taste or convenience.