If dogs are man's best friend, they're kids' best friend forever, or BFF, as we said back in the day.
Getting a family pet can help your children learn responsibility and round out your family dynamic.
If raised around kids and well trained, most dogs are good with children.
Not all the rumors you hear about "bully breeds" are true. A dog will act the way they were trained.
That said, just like people, some dogs are better with kids than others.
Want to learn about dogs that are good with kids?
Read on.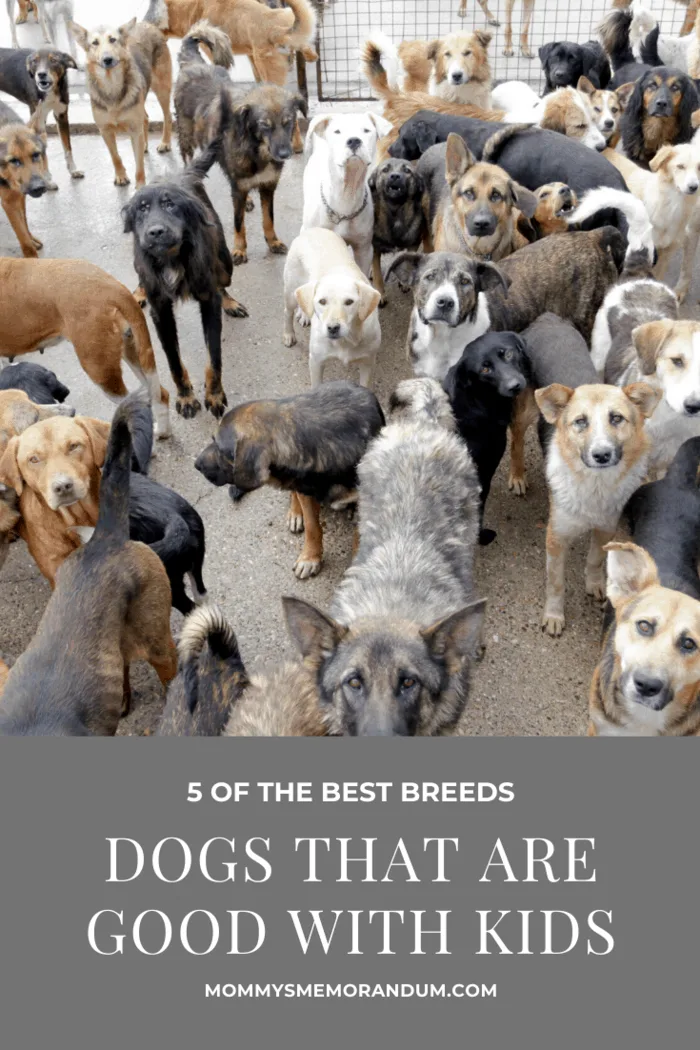 Dog Shopping? 3 Things to Consider
Before we get into our breed recommendations, we wanted to let you know how we came to these conclusions.
We considered three main things when picking the dog breeds for this list, and so you can make an educated decision, we've listed them below.
Temperament
Dogs, like people, have temperaments. Temperament is another attitude or a way to judge how quick to anger or frustration someone (or some dog) is.
Since dogs learn aggression (and aren't born into it), this is most important when you're rescuing an adult dog that's already been partly trained.
Generally, they have a "calm" or "excitable" temperament.
Energy Level
Saying a dog has an "excitable" temperament doesn't necessarily mean they're one of the higher-energy breeds, but it's a good indicator of what you're getting yourself into.
If you're looking for a low-key family member and not a dog that will be like an extra child, tell the person working at the shelter that you're looking for a mild-energy dog.
Energy level also determines how much exercise and play your dog needs per day.
We'll give you more details on that later. Remember that most puppies have more puppy joy than adult dogs and that dogs get milder as they age.
Size
You probably already know if you want a big dog or a small dog.
Our advice would be not to get too hung up on dog size.
All dogs are loveable, and you may fall in love with a breed/size you never considered when visiting a rescue facility.
Dogs That Are Good With Kids?
Ready to learn about the best breeds?
Read below.
1. The Mutt
People who whole-heartedly believe in rescuing dogs don't overlook a dog because they're not the specific breed on this list.
The breeds on this list are prevalent, and most dogs have at least one of the breeds below in their mixed lineage.
The best way to make sure you're getting a safe mutt is to work through a rescue facility with outside fosters.
Fosters are people who keep the dog at their house, loving and caring for it like their own until the dog gets adopted.
This allows them to learn all about the dog, how it interacts with other pets and other people.
Talk to the people at your local rescue about what kind of dog you're looking for and see if any of their fosters (or in-house pups) are a good fit.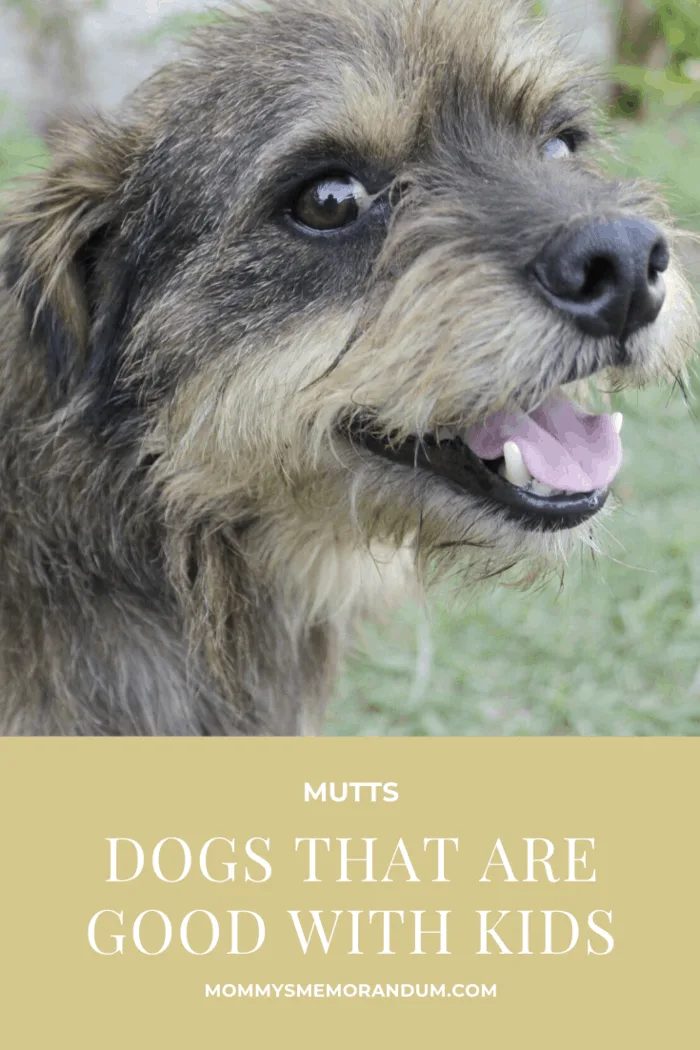 2. Golden Retrievers & 3. Labradors
If there were a quintessential family dog, the golden retriever would be it. It goes right along with that nuclear family, 2.5 (they're the .5) kids, and white picket fence.
Goldens are brilliant and easy to train.
As long as you're consistent with them, you shouldn't have issues with behavioral problems.
They're very gentle with kids, and they love running around, so chasing your toddler around the house when they won't sit still is an excellent way to help them get some energy out.
Labradors and Goldens are very similar.
You won't notice many differences between the two, except for the Golden's long, flowing coat.
Older kids can learn about the importance of contributing to the family with chores by walking the dog twice a day (and getting some exercise themselves).
The only downside to goldens is that they shed a fair amount, but it shouldn't be a problem as long as you brush them regularly.
Plus, they make re-usable washable lint-rollers these days, so you have no excuse!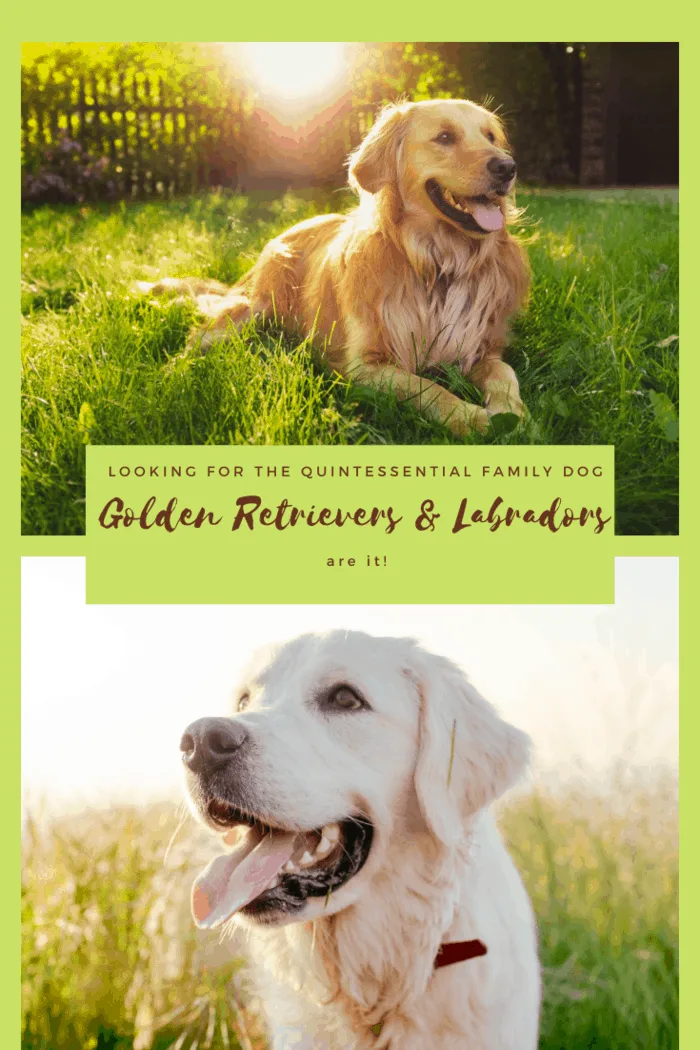 4. Golden Doodles
The Golden Doodle is a mix between a poodle, which is #4 on our list, and a golden retriever (above).
They have the hypoallergenic coat of a poodle but aren't relatively as high maintenance.
It's like if you put the best parts of a poodle and a retriever together.
Plus, they're adorable and get along well with other dogs.
Since they have the patience of a retriever, they're very good around kids and hardly ever nip or bite.
You should still teach your children to be gentle, though, and not to disturb any dog when they're eating or chewing on a bone.
The only downside to a doodle is that they need regular grooming as a poodle would.
Golden doodles aren't as high energy as the golden retriever, but you'll still need to give them two walks a day.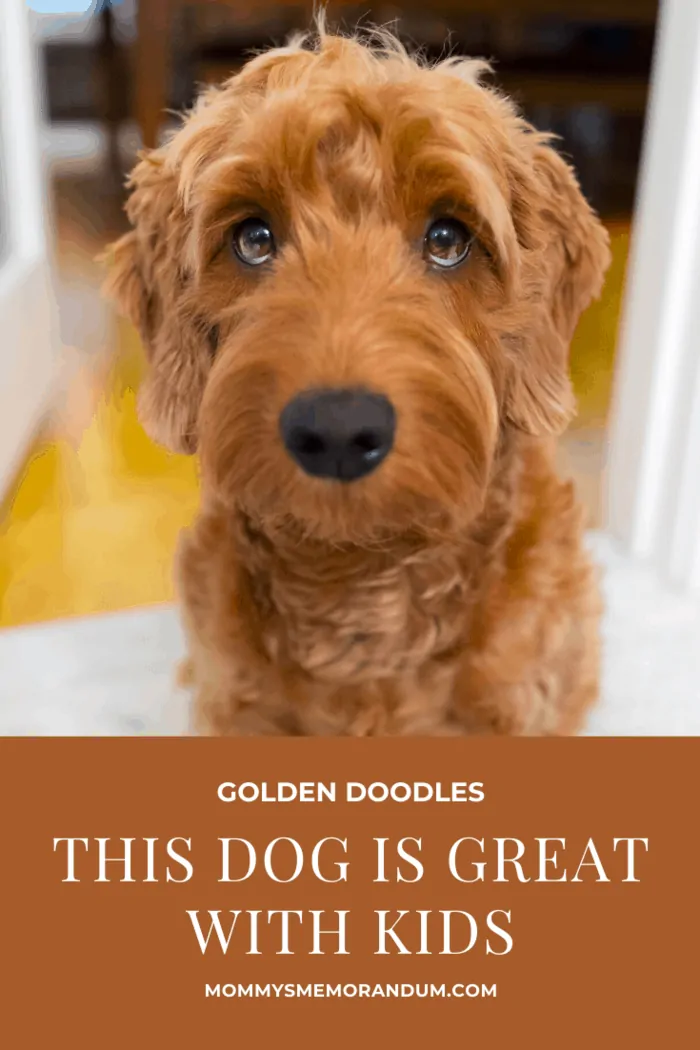 5. Poodles
The greatest thing about poodles is that they come in various sizes, and they're hypoallergenic.
They're the perfect dog for a family that doesn't like a mess or, more likely, has enough mess on their hands already.
According to the Poodle Club of America, Poodles are known to develop health issues later in life, so getting pet insurance may be worth the monthly cost.
These dogs have to be groomed monthly as well, but since they don't shed, it's a small price to pay for hair-free clothes.
Since poodles are prone to health issues down the line (like 10-15 years old), you may want to consider raw feeding.
Davy Feller from Puppy Joy says that feeding a dog raw meat is better for digestion than cooked meats and may help put off health issues for longer.
Their hypoallergenic status doesn't guarantee your child with dog allergies can tolerate them; no dog is 100% hypoallergenic.
Still, most allergy-prone people have no problem around these sweet curly-haired pups.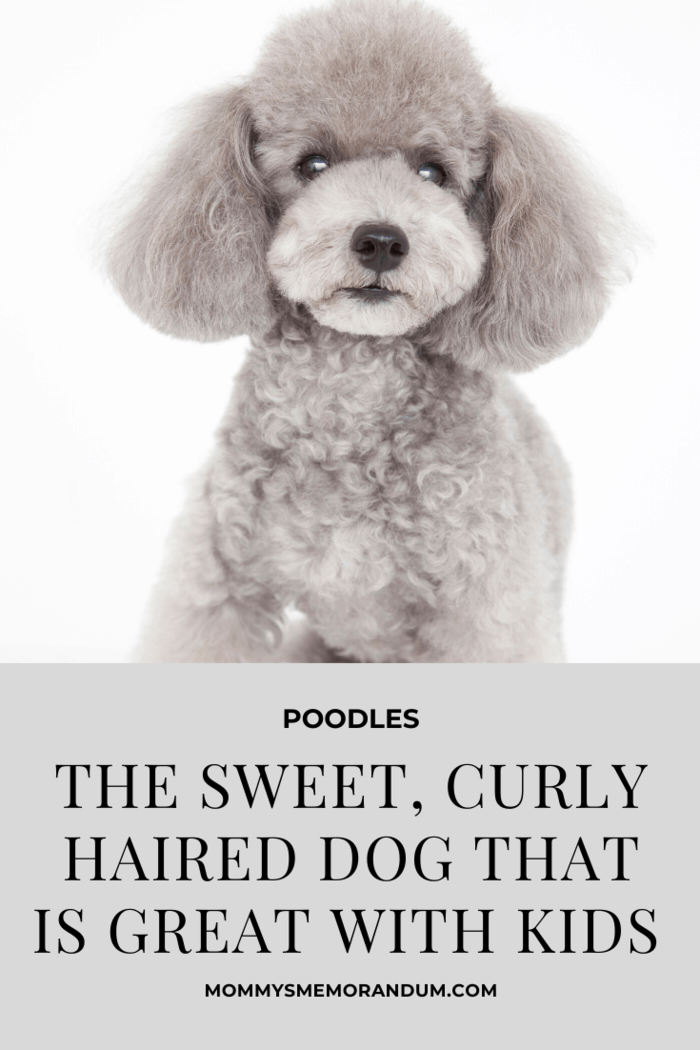 Dogs That Are Good With Kids
If you're looking to get a dog, most breeders or shelters will allow you a "trial period" to ensure the dog is a good fit in your home.
99% of the time, they will be, and the entire family will fall in love, but sometimes the chemistry is off, or you'll find out there's another problem like your child has allergies you didn't know about.
We hope our dogs that are good with kids guide helped you and that you'll visit your local rescue shelter to give a lonely dog a second chance.