This post is sponsored by Therabis™ and the BlogPaws® Pet Influencer Network™. I am being compensated for helping share information about Therabis – Hemp wellness products to help your dog with itching, anxiety and joint mobility. Mommy's Memorandum only shares information we feel is relevant to our readers. Therabis is not responsible for the content of this article.
There are those of us who need an emotional support dog to help us get through anxiety or depression, and there are dogs who need humans to help them.
We have the latter.
Jeb, our rescue dog, is a high-anxiety dog.
We rescued him from running the streets.
It didn't take us long to recognize he has been abused.
He has taught me about Freedom, and we have taught him about love.
Jeb has come a long way, but when the sun sets, his anxiety kicks into overdrive.
We joke he has "sundowner Alzheimers."
At dusk, he forgets who we are, is jumpy and cannot relax.
We tip-toe, whisper and try and stay very calm around him.
This is no way for any of us to live, but keeping him calm and quiet is our goal.
He sleeps with his eyes open.
Alert and ready to defend himself, or run away.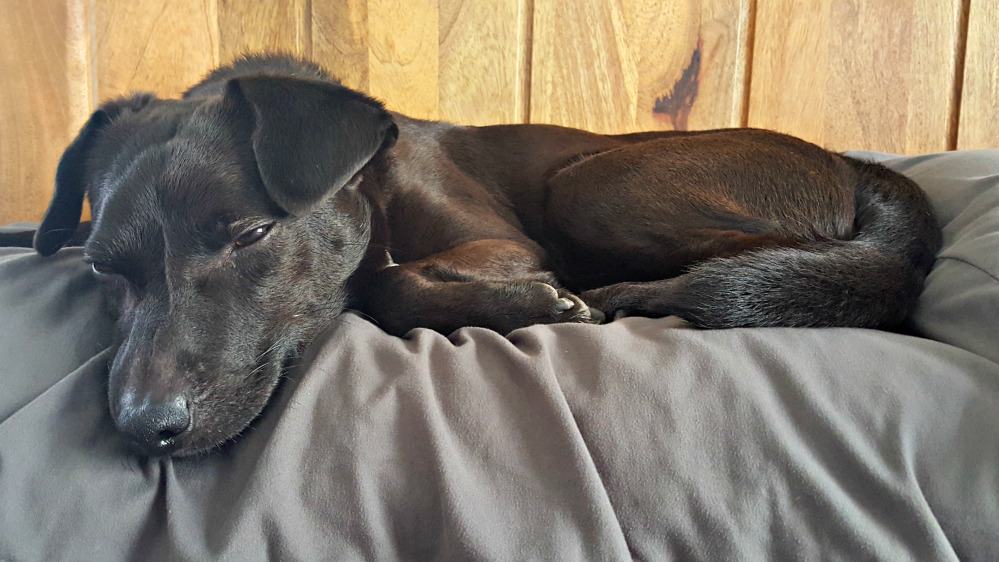 Recently, we introduced Jeb to Therabis™, Calm and Quiet, a hemp-based cannabinoid (or CBD) supplement for dogs.
Cannabidiol (or CBD) is a naturally occurring chemical compound found in hemp that is classified as a cannabinoid.
CBD interacts with your pet's endocannabinoid system—the central regulatory system known to affect bodily processes such as digestion, mood, and sleep.
Note: There is no THC in Therabis.
Your dog is not going to have a psychoactive reaction to Therabis.
You can find more information in this informative video below:
Therabis Calm and Quiet
We aren't a prescription family, and it carries over to our pets.
We want what's best, and try to look at the overall effect.
Therabis is easy to use. It comes in a box with single-serving packets.
You open a packet, sprinkle it on one meal per day of your dog's food.
Currently, Therabis is available as a powder, but a treat formula will be available just in time for delivery before July 4th.
It works to reduce stress levels and help keep the dog's calm and quiet.
Therabis' veterinarian-developed formula combines whole-plant cannabinoids from hemp with L-Theanine (from green tea) to keep your dog at his or her social and emotionally best for a happier, healthier pet.
It took about three days of using Therabis Calm and Quiet before we saw any change in Jeb.
His demeanor is changing.
He isn't as jumpy at night.
We've been using it for about two weeks, and Jeb is now coming to cuddle with us on the couch in the evening.
He sleeps on a pillow next to our bed at night and is sleeping through the night, and he's a nap taker.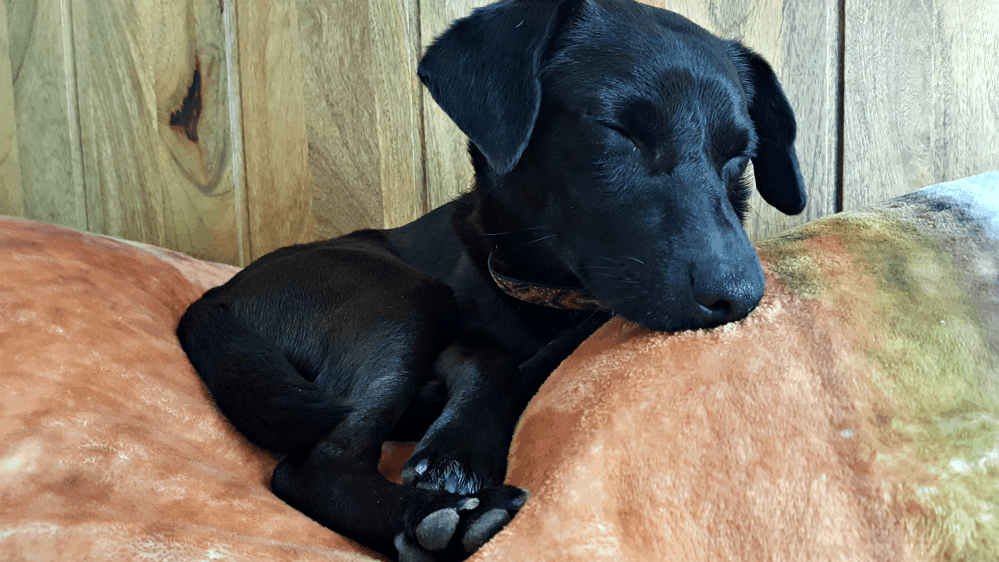 We even took him in the car to hike with us, and he was okay with it.
He wasn't climbing the seats or anxious at all.
In fact, he sat between the children, and if we stopped at a light, he would nudge my husband, almost asking him to keep moving.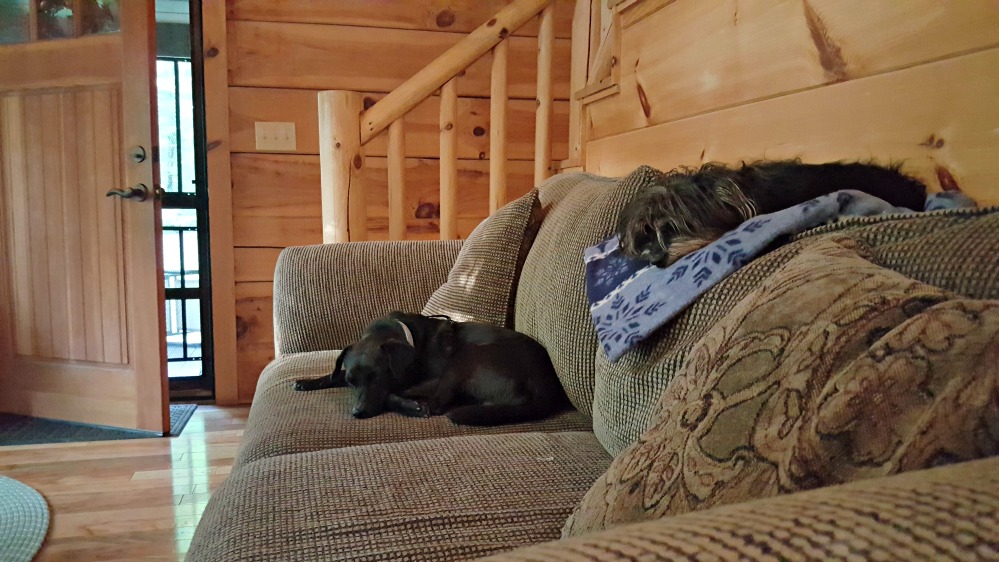 Information About Therabis
I encourage you to do the research to see if Therabis might be a good fit for your dog.
Therabis was created by a veterinary expert, Dr. Stephen M. Katz.
He has made a lifetime commitment to researching, developing and perfecting natural formulations, resulting in unparalleled and specific products.
With 25-years of veterinary expertise, Therabis is powered by hemp-derived cannabinoids like CBD, designed to address the specific areas that challenge your pet.
In the realm of veterinary science, cannabinoids are one of the most exciting and promising therapies being studied today
Understand that despite common misconceptions, hemp is not another euphemism for marijuana.
In fact, hemp and marijuana are two very different plants.
Hemp has been bred to fulfill industrial applications like fiber, paper, and nutrition, and contains less than .3% THC by law (note the decimal), which is why neither people nor dogs experience a high when they consume hemp-derived products.
Get your dog active again, #GrabTheLeash with Therabis Calm and Quiet.
Help your dog by reducing stress so he can relax and enjoy the better things life has to offer, like long walks.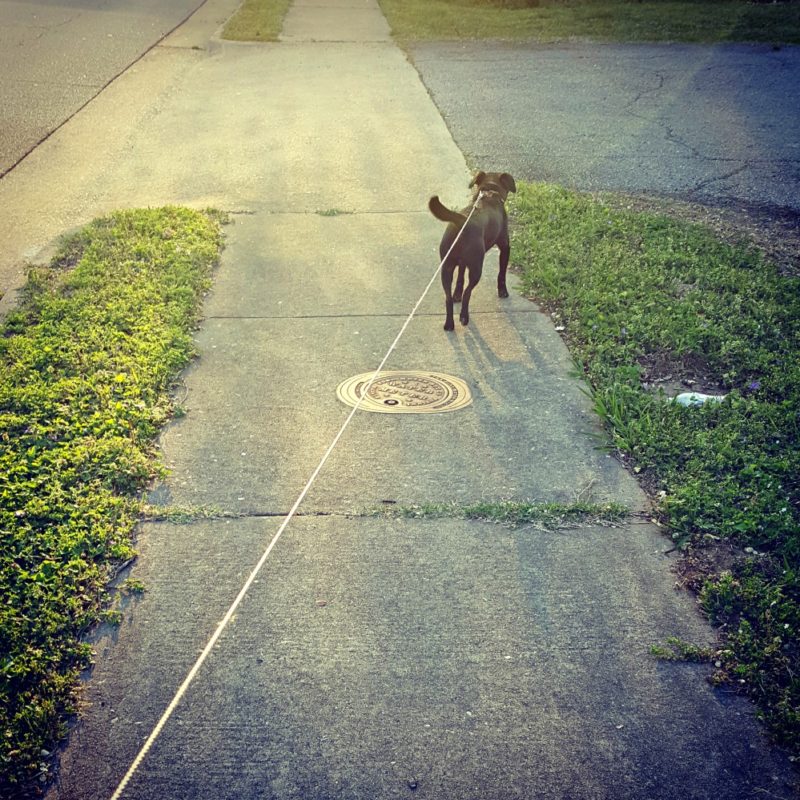 This is a sponsored conversation written by me on behalf of Therabis™. The opinions and text are all mine.