We knew what we were getting into as we stared up the hill at the small dog with fur the color of Carolina dirt. A broken dog. We couldn't get close enough even to touch him, much less capture him. He'd been running the neighborhood for weeks, perhaps months. He was quiet and kept to himself. His fur his cloak to prowl through the darkness as the humans around him grew still.
This brown dog was sly. This broken dog was smart and fast.
Capturing Our Rescue Dog:
Two days later, my husband had him. I watched as my sturdy husband seemed no match for the dog. From a distance, the dog looked like he was a bucking bronco in a championship rodeo. They went to the ground, my husband and the dog. My husband was swift to reach for the dog's chain collar; the dog's lips curled up, and he wanted to bite. He wanted to reclaim his freedom. Instead, he took a break.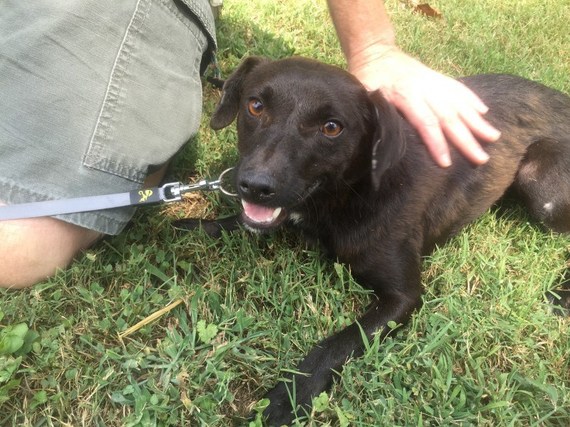 In the house he was frantic. He ran out of rooms at the sight of a human. He as leaping over the couch in a single bound to escape what he deemed threatening.
He was starving. His rib cage was prominent. He would not take food from us.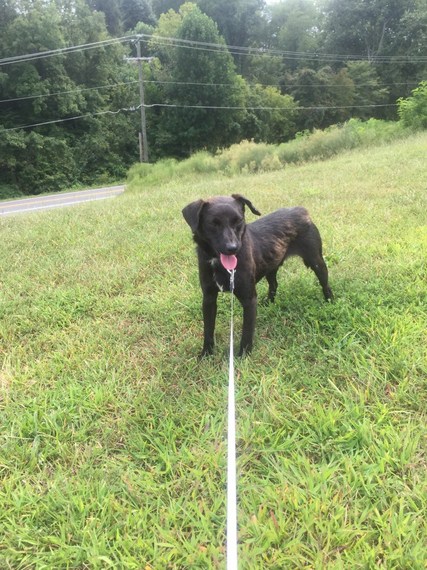 We took him to the SPCA to see if anyone was missing him.
Nothing.
We paid for shots and had a veterinarian look him over.
In the end, he was ours.
Capturing Our Rescue Dog: Round 2
Three weeks, to the day, in our usual routine, during a morning walk at the corner of the school a tow truck pulled into the church parking lot across the street.
The tow truck turned on its lights and the engine revved.
It was enough Jeb bolted, darting with such force that his lease was yanked from my husband's hand.
My husband couldn't keep up with the dashing dog.
He was gone.
My husband was frantic. He called me telling me to get in the car and head to the park, Jeb was on the run!
Hours of searching for our broken rescue dog, dragging his leash behind him.
Growing more frantic as the handle slammed against the asphalt.
We made flyers using a dog lost flyer template.
We went door to door.
We couldn't find him.
Back home, the children were crying hysterically.
We had promised to protect Jeb.
We had vowed all the love we had to this dog.
If we knew one thing, it was that Jeb would be okay.
He had roamed the neighborhood, licking the water off of grass and leaves and scavenging before we captured him.
Our other dog, Bailey Mae, a pint-sized princess, begged to go for a walk.
She pulled hard to get us into the wooded area across the street. It was dark and growing darker, the forest of trees dense and dark within itself.
Every ounce of her 8 pounds pressed forward deeper into the wooded area.
There was Jeb. He fled when we shined the flashlight at him.
For days we filled his dog bowl with dog food and left it out for the dog we had named, Jeb.
Every morning the bowl was empty.
One week later, we captured him again.
Life with Our Rescue Dog:
Nine months later, here we are, and he's taught me a lot about life.
I look at both my Bailey Mae, a princess who has only known our love and the safety and warmth of our home and I see a dog that is loyal.
She loves that the seasons are changing and romping through leaves with the kiddos.
She loves racing through the skateboard park, thinking she's showing the kiddos new tricks!
She thinks she is ferocious, so even when GINORMOUS dogs visit, she holds her ground.
Jeb is good-natured too.
He is starting to trust us more.
I love my mornings with him. In the safety of the darkness, he puts his guard down and rests against me.
We haven't had a lot of time to create many memories together-Jeb is new, and he seems to have a terrible past.
He loves walks.
I also know that making him ours took his freedom.
It extinguished his ability to run wild at his leisure.
He can no longer come and go as he pleases.
I see him gaze out the window and I can almost see him remembering the times he was a hero in his own adventures.
But Freedom comes with a cost. I am reminded of this too when I think back to his lean and tender body. Freedom didn't mean a meal every day.
Freedom didn't have a warm shelter in the rain and wind.
Freedom wasn't safe. It required him to be vigilant at all times, to be hyper-aware of his surroundings.
There was no clean water. Freedom meant licking dew off blades of grass for drinking water or drinking sludge from mud puddles.
I think of the differences between Bailey Mae and Jeb.
Bailey Mae is spoiled. She has been from the moment she was born. She doesn't know fear, or what it's like to be hurt. She has always had a bowl of dog food and treats. She has a warm bed and her own blanket. She is pampered and loved.
Jeb cannot say the same. He has been cold, wet and hungry. He has been treated terribly by humans. He knows what it's like to have to work to survive, to be on guard at all times.
In the end, it doesn't matter. Both dogs are loved tremendously, and their life here will always be one of snuggles, love, and safety.
I hope in time, they both know the freedom Jeb knows and the love Bailey Mae knows.
---
This post was a featured post in The Huffington Post GPS Life Section 4/27/16.
Resources: