🎉 Experience Philadelphia Like Never Before! Hop Aboard Our Party Bus and Explore the City's Hidden Gems! 🎉
Are you ready to embark on an unforgettable adventure through the historic streets of Philadelphia? Look no further! Our Party Bus Tour is the ultimate way to see the city's iconic landmarks while having an absolute blast. Buckle up and get ready for an extraordinary journey that will leave you with memories to last a lifetime!
Why Choose A Party Bus Tour?
A The Party Bus Tour offers an unparalleled experience of Philadelphia's most iconic sights, combined with an infectious party atmosphere that will have you dancing in the aisles.
Here's why you should hop aboard:
✨ Unforgettable Memories: Make memories with friends or meet new ones as you journey through the city in style.
✨ Expert Guides: Knowledgeable guides will share fascinating stories and historical insights along the way, making the tour both educational and entertaining.
✨ Party Onboard: The Party Bus is equipped with state-of-the-art sound systems, vibrant lighting, and comfortable seating to ensure a lively and enjoyable experience for all.
✨ Hassle-Free Transportation: Forget about navigating through traffic or finding parking. Sit back, relax, and let our experienced drivers take care of the logistics.
Don't miss out on this unique opportunity to explore Philadelphia's top attractions while partying on wheels! Book your spot on a Party Bus Tour now and prepare for an adventure like no other. Let's paint the town red, white, and blue together!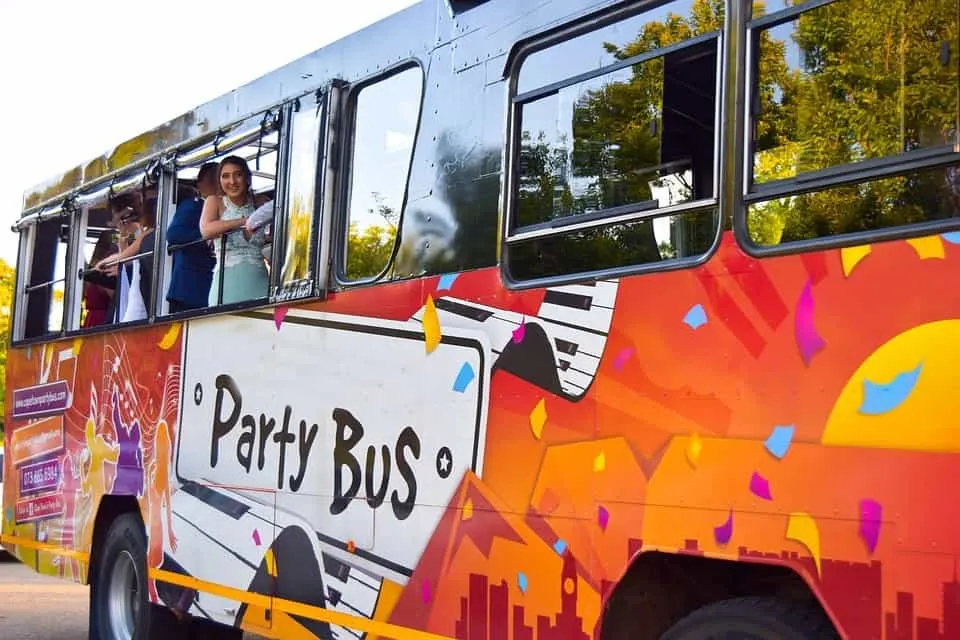 The Best 4 Things to See in Philadelphia Via Party Bus
The Independence Hall
Independence Hall Adventure: Where History Comes to Life! Immerse yourself in the birthplace of American freedom as we take you to Independence Hall. Marvel at the hallowed halls where the Declaration of Independence and the Constitution were signed. A Party Bus will transport you through time with its lively ambiance and celebration-worthy atmosphere. Sing, dance, and toast to the courageous visionaries who shaped the nation we know and love today.
Here are some key details about Independence Hall:
Historical Significance: Independence Hall served as the meeting place for the Second Continental Congress from 1775 to 1783. It was within these walls that the Founding Fathers of the United States debated and adopted the Declaration of Independence on July 4, 1776, proclaiming the nation's independence from Great Britain. Additionally, the Constitution was drafted and signed at Independence Hall in 1787, establishing the framework for the United States government.
Architecture: The building itself is an excellent example of Georgian architecture, characterized by its red brick exterior, white trim, and symmetrical design. It features a distinctive clock tower, known as the steeple, which houses the renowned Liberty Bell.
Assembly Room: The Assembly Room, located on the first floor, is where both the Declaration of Independence and the Constitution were signed. It is a historically significant space, meticulously restored to reflect its appearance during the time of the Founding Fathers. Visitors can see the original inkstand used to sign these historic documents.
Guided Tours: To experience the rich history of Independence Hall, visitors can participate in guided tours led by knowledgeable park rangers. These tours provide in-depth information about the events that took place in the building and offer a deeper understanding of the founding principles of the United States.
Surrounding Area: Independence Hall is situated within the Independence National Historical Park, which includes several other significant landmarks. These include the Liberty Bell Center, where visitors can view the iconic cracked Liberty Bell, and Congress Hall, which served as the meeting place for the U.S. Congress from 1790 to 1800.
A visit to Independence Hall offers a unique opportunity to step into the footsteps of the Founding Fathers and gain a deeper appreciation for the ideals of freedom and democracy upon which the United States was built. It is a must-see destination for history enthusiasts, patriots, and anyone interested in understanding the foundations of American history.
The Liberty Bell
Liberty Bell Extravaganza: Ding-Dong Fun! Step back in time and discover the symbol of American independence – the legendary Liberty Bell. As you explore this national treasure, a Party Bus will keep the party spirit alive with pulsating music, vibrant lights, and an onboard atmosphere that will make you want to dance. Capture the perfect selfie with the Liberty Bell as a backdrop while enjoying the infectious energy of your fellow adventurers.
The Liberty Bell is one of the most iconic symbols of American independence and is located in Philadelphia, Pennsylvania, specifically in the Liberty Bell Center, which is part of the Independence National Historical Park.
Here's some interesting information about the Liberty Bell:
Historical Significance: The Liberty Bell has a deep historical significance as it became a symbol of freedom and democracy in the United States. It gained fame for its association with the American Revolution and the struggle for independence from British rule.
Inscription: The bell features an inscription that reads, "Proclaim LIBERTY throughout all the Land unto all the Inhabitants thereof." This inscription is a reference to the biblical verse Leviticus 25:10 and serves as a powerful reminder of the core values and principles upon which the United States was founded.
Crack: One of the most distinctive features of the Liberty Bell is its famous crack. The bell initially cracked during a test ringing in 1752, shortly after it was first cast. The crack was repaired twice but continued to expand over time. The bell is no longer functional but is preserved as a symbol of national pride.
Transfers and Public Display: The Liberty Bell has traveled to various locations across the United States, becoming a symbol of freedom and inspiring countless individuals. It was first displayed in the Pennsylvania State House (now known as Independence Hall) and later traveled to exhibitions in different cities, including New Orleans, Charleston, and Boston.
Arrival in Philadelphia: In 1776, the Liberty Bell returned to Philadelphia and has remained there ever since. It became an important part of the city's history and culture and is now housed in the Liberty Bell Center, adjacent to Independence Hall.
Public Access and Viewing: The Liberty Bell Center welcomes visitors who can view the bell up close. The center provides a wealth of historical information and exhibits that delve into the bell's significance, the history of American independence, and the ongoing pursuit of liberty and equality.
Symbol of Freedom: The Liberty Bell has come to represent various causes and movements advocating for civil rights, freedom, and justice throughout history. It has become a powerful symbol for activists fighting for equal rights, inspiring individuals and communities to stand up for what they believe in.
The Liberty Bell remains an enduring symbol of American ideals and serves as a reminder of the country's ongoing pursuit of liberty and equality. Its image can be found on everything from coins to stamps, and it continues to captivate visitors from around the world who come to Philadelphia to see this iconic piece of American history.
Franklin Square
Franklin Square Spectacular: Play, Laugh, and Unwind! Get ready for an exhilarating experience at Franklin Square! This beautiful park is filled with endless excitement, including mini-golf, a carousel, and plenty of picturesque spots to capture the perfect group photo. On a Party Bus, the fun continues as they transform the journey into a mobile dance floor, complete with a top-notch sound system that will have you grooving to your favorite tunes!
It was laid out by William Penn in his earlier plan for Philadelphia. It is believed that William Penn laid out the land in 1682. It was initially used for grazing pasture and as a cattle and horse market. At some point, it served as a burial ground and a drill ground for the American military. Currently, it offers an urban green space and refreshing areas on the 8-acre piece of land. It boasts of friendly attractions for parents and kids. Also, the piece of land houses Franklin Square Fountain, which was built in 1838.
Franklin Square is a charming public park located in the heart of Philadelphia, Pennsylvania. It offers a delightful blend of history, family-friendly attractions, and beautiful green spaces.
Here's more about what makes Franklin Square a must-visit destination:
Historical Significance: Named in honor of Benjamin Franklin, one of America's founding fathers, Franklin Square has a rich history that dates back to the late 17th century. It was one of the original five public squares planned by William Penn, the founder of Pennsylvania.
Family-Friendly Fun: Franklin Square is known for its array of family-friendly attractions and activities. One of the park's highlights is the Philadelphia-themed miniature golf course, which features iconic landmarks such as the Liberty Bell, Independence Hall, and the Ben Franklin Bridge. The course provides a fun and interactive way to explore the city's history while enjoying a round of golf.
The Parx Liberty Carousel: Step back in time with a ride on the Parx Liberty Carousel, a beautifully crafted merry-go-round featuring whimsical animals and chariots. This carousel is adorned with hand-painted murals depicting scenes from Philadelphia's past, adding a touch of nostalgia to the park.
Playground and Picnic Areas: Franklin Square offers a well-equipped playground where children can climb, slide, and play to their heart's content. The park also provides ample picnic areas, making it an ideal spot to relax and enjoy a meal amidst the serene surroundings.
Fountain and Summer Splash Pad: The central fountain at Franklin Square is a popular gathering spot. The fountain's synchronized water shows and colorful lighting create a mesmerizing experience for visitors. In the summer months, a splash pad is available, allowing kids to cool off and have a splashing good time.
Events and Entertainment: Throughout the year, Franklin Square hosts various events, including concerts, festivals, and movie nights. From live music performances to holiday-themed celebrations, there's always something happening in the park, providing entertainment for visitors of all ages.
Historic Sites Nearby: Franklin Square's location puts it within walking distance of several other historic sites, including the Liberty Bell, Independence Hall, and the National Constitution Center. Exploring Franklin Square provides an opportunity to immerse yourself in Philadelphia's rich history while enjoying its recreational offerings.
Whether you're looking to play a round of mini-golf, ride the carousel, relax by the fountain, or simply enjoy a leisurely stroll through a beautiful park, Franklin Square offers something for everyone. It's a place where history, recreation, and family fun come together, creating a vibrant and memorable experience in the heart of Philadelphia.
The Magic Gardens
Magic Gardens Delight: Unleash Your Creativity! Prepare to be enchanted by the magical world of Philadelphia's Magic Gardens. This awe-inspiring mosaic art installation will ignite your imagination as you wander through its whimsical pathways. Inside the Party Bus, the artistic vibes continue to flow as they host a live art session, allowing you to unleash your creativity and contribute to a collective masterpiece.
It is Philadelphia's art and gallery space made of mosaics and labyrinths. It is a non-profit making organization and the largest artwork created by a mosaic artist. The materials used to make the collections include old bike wheels, tiles, and many more. The garden has an interesting history. Isaiah bought it in 1994. He also purchased the adjacent lots in 2002 and decorated them with his artwork. The garden opened its doors to the public in 2008.
The Magic Gardens in Philadelphia is an extraordinary and immersive art installation created by artist Isaiah Zagar. It is a one-of-a-kind mosaic wonderland that showcases Zagar's unique artistic vision and has become a beloved cultural landmark in the city.
Here's more about the Magic Gardens:
Background: Isaiah Zagar started working on the Magic Gardens in the late 1960s as a way to beautify and transform the South Street neighborhood of Philadelphia. Over the years, Zagar covered numerous buildings, walls, and walkways with vibrant mosaics, incorporating an eclectic mix of found objects, tiles, glass bottles, mirrors, and other materials.
Outdoor and Indoor Spaces: The Magic Gardens encompass both an outdoor sculpture garden and an indoor gallery space. The outdoor section consists of a labyrinthine maze of walls adorned with intricate mosaics, including dazzling murals, cascading patterns, and hidden artistic treasures. The indoor gallery features additional artworks, exhibits, and a gift shop.
Themes and Inspiration: Zagar's artwork is inspired by a variety of sources, including folk art, Latin American and Asian design, and his personal experiences and travels. The mosaics depict a mix of abstract and figurative imagery, ranging from human figures and animals to symbolic motifs and whimsical patterns. The overall effect is a kaleidoscope of colors, textures, and symbolism that sparks the imagination of visitors.
Community Engagement: The Magic Gardens not only serve as an artistic spectacle but also act as a catalyst for community engagement. Isaiah Zagar involved neighbors, volunteers, and local students in the creation and maintenance of the space, fostering a sense of collaboration and pride within the community.
Events and Programming: The Magic Gardens host a variety of events and programming throughout the year, including art exhibitions, live performances, workshops, and educational programs. Visitors can attend guided tours to learn more about the artwork, Zagar's creative process, and the significance of the Magic Gardens within the context of Philadelphia's art scene.
Impact and Recognition: The Magic Gardens have gained international acclaim and recognition for their unique artistic vision. They have become a popular tourist destination and a symbol of Philadelphia's vibrant art and cultural scene. The space attracts visitors of all ages, from art enthusiasts and photographers to families and school groups.
A visit to the Magic Gardens is an immersive and awe-inspiring experience that allows you to explore an enchanting world of mosaic artistry. It provides a glimpse into the creative mind of Isaiah Zagar and showcases the transformative power of art in revitalizing communities. Whether you appreciate art, seek inspiration, or simply want to immerse yourself in a whimsical environment, the Magic Gardens offers a truly magical adventure in the heart of Philadelphia.
Why You'll Love Seeing Philly on a Party Bus
A party bus offers a unique and exciting way to explore Philadelphia, making it a must-do for a tour of the city.
Here's why a party bus tour enhances the experience:
Fun and Festive Atmosphere: A party bus creates a lively and celebratory ambiance from the moment you step aboard. The bus is equipped with vibrant lighting, a high-quality sound system, and comfortable seating, ensuring that the party spirit is alive and well throughout the tour. It sets the stage for a memorable and enjoyable adventure.
Group Bonding and Socializing: Traveling on a party bus allows you to bond and socialize with your friends, family, or fellow travelers. The communal space encourages interaction, laughter, and shared experiences, fostering a sense of camaraderie and creating lasting memories. It's a fantastic opportunity to connect with others and make new friends while exploring Philadelphia.
Convenience and Comfort: With a party bus tour, you don't have to worry about navigating through traffic, finding parking, or dealing with transportation logistics. The bus is driven by experienced drivers who will handle all the transportation details, allowing you to sit back, relax, and enjoy the ride in comfort. You can focus on having a great time without any logistical hassles.
Sightseeing with Entertainment: A party bus tour combines sightseeing with entertainment, offering a dynamic and engaging experience. As you travel from one iconic landmark to another, you can revel in the onboard entertainment, including music, dancing, and a lively atmosphere. It elevates the tour from a simple sightseeing expedition to an immersive and unforgettable adventure.
Knowledgeable Guides: Party bus tours often come with knowledgeable guides who provide commentary, historical insights, and interesting stories about the city's landmarks and attractions. They enhance your understanding of the sights you visit, making the tour educational as well as entertaining. The guides ensure that you gain a deeper appreciation for Philadelphia's history and culture.
Flexibility and Customization: Party bus tours offer flexibility and customization options, allowing you to tailor the experience to your preferences. You can choose the landmarks you want to visit, the duration of the tour, and even incorporate additional activities or stops along the way. This flexibility ensures that the tour aligns with your interests and ensures a personalized and enjoyable experience.
By opting for a party bus tour, you can combine the excitement of a festive atmosphere with the exploration of Philadelphia's iconic sights. It adds a dynamic and memorable element to your tour, ensuring that you have a fantastic time while discovering the city's history, culture, and landmarks.
You may want to see many other places while on a party bus in Philadelphia, but the independence hall and liberty bell rank high. If time allows, consider visiting the Magical Garden and the exciting Franklin Square.