Super Bowl XLV Sunday is approaching and this morning marks a milestone in my life. My 84-year-old grandmother, Charlotte the Great, brought up the Super Bowl. I've never heard my grandmother talk sports so when she mentioned the Pittsburgh Steelers and Green Bay Packers were going to the Super Bowl it stunned me.
It turns out, it is a memory that this Super Bowl has jolted within her. In 1966, her nephew, Bruce Van Dyke, was selected in the 12th Round of the NFL Draft to play for the Philadelphia Eagles. From there, he was picked up by the Pittsburgh Steelers where he was a key player. His first year with the Steelers would teach him to be a good loser, as the Steelers only won ONE game in 1967. Those lessons of the failure–of their best not being good enough, raised the bar and helped the Steelers win the AFC Division Title in 1973–the last year Bruce was part of the team.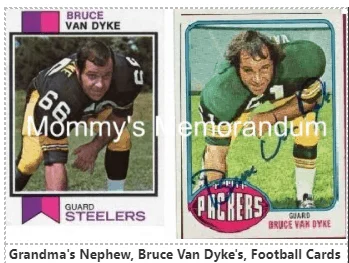 Injury struck and Bruce was traded to the Green Bay Packers. "He was devastated!" my grandmother remembers. "He loved the Steelers." For two years Green Bay and Bruce were a team until he retired in 1976.
It gives my heart great joy to hear my grandmother take this journey. She knows little about the sport of Football. She knows her sister, Pauline, was very proud of her son, and those memories of "Aunt Pat" sharing Bruce's games cause my grandma to blink to hold back the tears.
Grandma won't watch the Super Bowl. She wonders who it is Bruce wants to win. I point out that in 2008 he was named to the Steelers Legends Team. She whispers, "His Mom always said he was good."
We appreciate your subscription to Mommy's Memorandum