Borax has been around for as long as I can remember. Being a small girl I remember my grandmother pulling her box of Borax from the shelf and adding it to her laundry as a laundry booster. I've used in my own home to remove stains and visited their site for cleaning tips.
I'm sure when I received the 20 Mule Team Borax the intention was to write a review about laundry. Let's face it, we know how to do laundry! It consumes a large portion of our week. So? We decided to show you something amazing you can use 20 Mule Team Borax for besides laundry!
Something like Borax Bouncy Balls!
Homemade Borax Bouncing Balls
Prep Time: 10 minutes
Servings: Makes 1 bouncing ball
History of Borax Bouncing Balls
Borax bouncing balls have been a popular DIY project for both kids and adults for quite some time. They are simple to make and provide endless hours of bouncy fun. This recipe combines basic ingredients like Borax, water, and school glue to create a squishy, bouncy ball that can entertain people of all ages.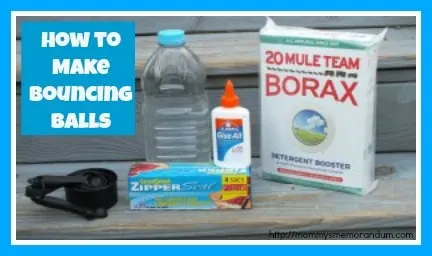 Ingredients:
1 Tablespoon (15 grams) 20 Mule Team Borax
1/2 Cup (120 milliliters) Warm Water
Ziploc Bag
3 Tablespoons Elmer's School Glue
How to Make Borax Bouncy Balls
Instructions:
Prepare the Borax Solution:
Pour 1/2 cup of warm water into a Ziploc bag.
Add 1 tablespoon of 20 Mule Team Borax to the water.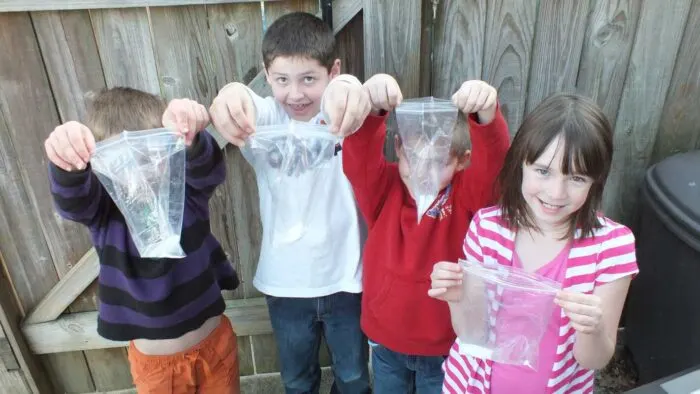 Dissolve the Borax:
Seal the Ziploc bag and gently mush it until the Borax completely dissolves in the water. This will create a borax solution.
Add the Glue:
Quickly add 3 tablespoons of Elmer's School Glue to the borax solution. Note that the glue will start to thicken rapidly, so it's best to add it as swiftly as possible.
Mix and Knead:
Seal the Ziploc bag again and start kneading the glue and borax solution together. You might encounter pockets of glue, so be prepared to work through them.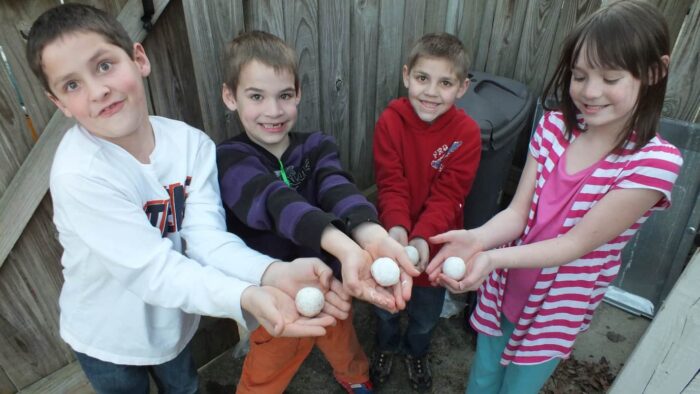 Form the Bouncy Ball:
Once the mixture starts to firm up and is no longer sticky, remove the glue "glob" from the bag and continue kneading it with your hands. Shape it into a round, ball-like form.
Testing Time:
Your homemade bouncy ball is ready to use once it's no longer sticky. Give it a bounce and enjoy the fun!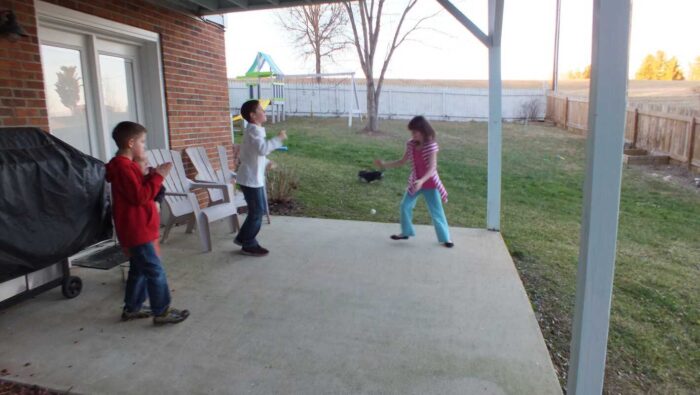 Expert Tips:
Be sure to work quickly when adding the glue to the borax solution, as it can become stiff in a matter of seconds.
If your bouncy ball becomes sticky after use, you can store it in the borax water solution to prevent it from drying out. Simply knead it again when you're ready to use it.
Storage and Leftovers:
If you have leftover borax bouncing ball mixture, you can store it in an airtight container for future use. Make sure to label it clearly. To reanimate the mixture, knead it again and form it into a ball.
FAQs for Borax Bouncing Balls:
Q1: Is Borax safe for this activity? A1: When used as directed in this recipe, Borax is generally safe for making bouncing balls. However, it's essential to handle it with care and avoid ingesting it or getting it in your eyes. Adult supervision is recommended, especially when kids are involved.
Q2: Can I color the bouncing ball? A2: Yes, you can add food coloring to the glue before mixing it with the borax solution to create colorful bouncing balls.
Q3: Why is my ball too sticky? A3: If your ball remains sticky after kneading, it may need more kneading or a bit of additional borax to reduce stickiness.
Alternate Names for Borax Bouncing Balls:
DIY Bouncy Balls
Homemade Squishy Balls
Glue and Borax Bouncers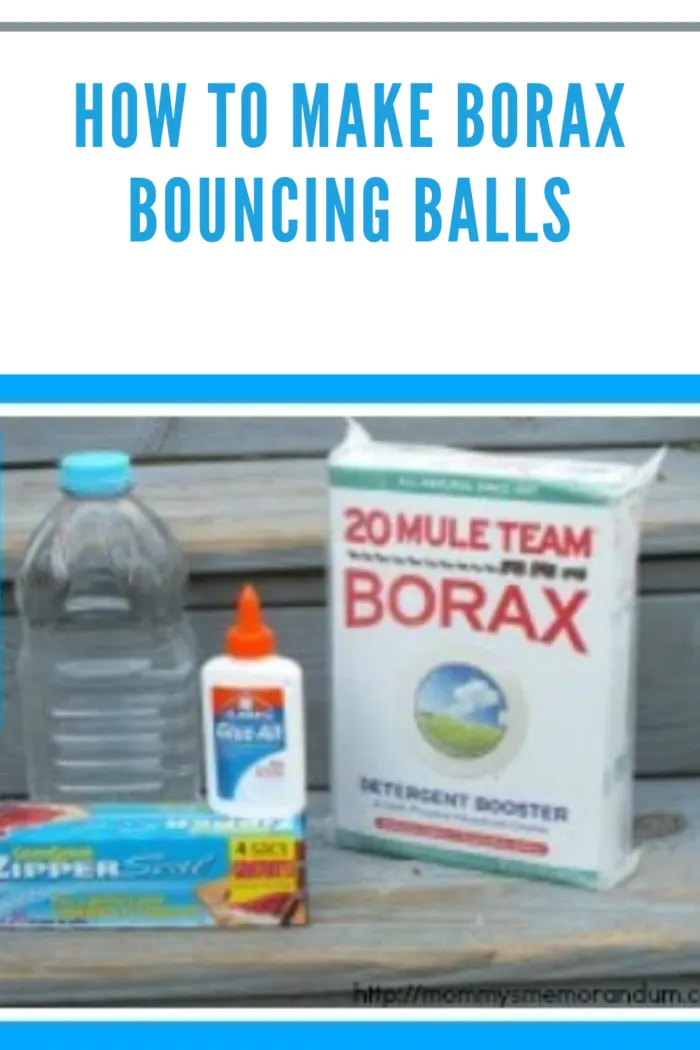 Exploring the Many Uses of Borax
Borax, a naturally occurring mineral composed of sodium, boron, oxygen, and water, has a wide range of practical applications beyond making bouncing balls. Here are some other common uses for borax:
1. Cleaning Agent:
Borax is a powerful and eco-friendly cleaner. It can be used to remove stains, scrub sinks, deodorize carpets, and clean toilets. Mix it with water to create a multipurpose cleaning solution.
2. Laundry Booster:
Add a small amount of borax to your laundry detergent to enhance its cleaning power. It helps soften hard water and brightens whites.
3. Pest Control:
Borax can be used to control pests like ants, cockroaches, and fleas. Sprinkle it in areas where you've seen pests, and it can be an effective natural deterrent.
4. Weed Killer:
Create a weed-killing solution by mixing borax with water and spraying it on unwanted plants. Be cautious not to apply it to areas where you want desirable plants to grow.
5. Fire Retardant:
Borax is used in the manufacturing of fire-resistant materials. It can be applied to fabrics, wood, and other materials to make them more fire-resistant.
6. Rust Remover:
Make a paste with borax and lemon juice or vinegar to remove rust from metal surfaces. Apply the paste, let it sit, and then scrub away the rust.
7. Preserving Flowers:
Borax can be used to preserve flowers by drying them out slowly. Bury the flowers in a mixture of borax and cornmeal for several weeks, and they will dry beautifully.
8. Fungicide:
Borax can help control fungal growth on plants. Dilute it in water and spray it on affected areas to prevent further fungal development.
9. DIY Slime:
Borax is a key ingredient in many homemade slime recipes. When mixed with water and white glue, it creates the perfect slime consistency.
10. Candle Making:
Borax can be used to coat wicks before making candles. This helps the wick burn more evenly and slowly.
11. Dishwasher Detergent Booster:
To boost the effectiveness of your dishwasher detergent, add a small amount of borax to help remove stains and residue.
12. Craft Projects:
Borax can be used in various craft projects, such as making crystal ornaments or snowflakes.
13. Metal Welding:
In welding, borax is sometimes used as a flux to prevent oxidation on the surface of metals, allowing for better welds.
14. Fireworks Production:
In the pyrotechnics industry, borax is used to create green-colored flames in fireworks.
15. Buffer Solution:
Borax is used in laboratory settings to create buffer solutions for various chemical experiments.
Always exercise caution and follow safety guidelines when using borax, especially if it involves skin contact, ingestion, or use around children and pets. It's a versatile household item with many practical applications, but it should be used responsibly.
Julee is a quirky, dorky, North Carolina Transplant with an appetite to taste the world, meets its desserts and blog about them. When she's not behind the computer you can find her playing with her family, reading a good book and celebrating the little things.
Disclosure of Material Connection: I received one or more of the products or services mentioned above for free in the hope that I would mention it on my blog. Regardless, I only recommend products or services I use personally and believe will be good for my readers. I am disclosing this in accordance with the Federal Trade Commission's 16 CFR, Part 255: "Guides Concerning the Use of Endorsements and Testimonials in Advertising.".Julee Morrison