Experience Luxury and Elegance at The Ballantyne Hotel!
Indulge in a world of refined luxury and unparalleled hospitality at The Ballantyne Hotel, where every detail is meticulously crafted to create a truly unforgettable experience. Nestled amidst the serene beauty of Charlotte, North Carolina, our prestigious hotel offers a haven of sophistication and charm.
Immerse Yourself in Exquisite Accommodations: Step into a realm of opulence with beautifully appointed rooms and suites. Each space exudes timeless elegance and features lavish amenities, plush bedding, and breathtaking views. Whether you're traveling for business or pleasure, these accommodations will envelop you in comfort and style.
Delight in Culinary Excellence: Savor the art of gastronomy at their exceptional dining establishments. From exquisite fine dining to casual and cozy settings, their award-winning chefs create culinary masterpieces that will tantalize your taste buds. Indulge in a variety of delectable cuisines, complemented by an extensive wine selection and impeccable service.
Rejuvenate Mind, Body, and Soul: Escape to tranquility at our luxurious spa and wellness center. Pamper yourself with rejuvenating treatments, invigorating massages, and revitalizing therapies designed to soothe your senses and restore balance. Their skilled therapists and state-of-the-art facilities will help you achieve ultimate relaxation and well-being.
Unleash Your Golfing Passion: For avid golfers, The Ballantyne Hotel is a golfer's paradise. Tee off at our championship golf course, meticulously designed to challenge and inspire players of all levels. Surrounded by breathtaking landscapes, lush fairways, and pristine greens, it's the perfect setting to elevate your game and create unforgettable memories.
Celebrate Life's Special Moments: From dream weddings to corporate events and social gatherings,their dedicated team of event planners will ensure every detail of your special occasion is flawlessly executed. With their elegant venues, impeccable service, and personalized attention, your event will be a resounding success.
Shop and Explore: The Ballantyne Hotel is conveniently located near upscale shopping districts, cultural attractions, and vibrant entertainment. Embark on a shopping spree at renowned boutiques, explore local museums and art galleries, or indulge in thrilling outdoor adventures—all just moments away from our doorstep.
Unforgettable Experiences Await You at The Ballantyne Hotel: Discover a world of refined luxury, impeccable service, and unparalleled elegance. Whether you seek relaxation, culinary delights, or unforgettable experiences, The Ballantyne Hotel is the perfect destination. Book your stay today and let them exceed your every expectation!
Visit us at www.ballantynehotel.com to reserve your luxurious escape. Your extraordinary journey begins at The Ballantyne Hotel!
Our The Ballantyne Hotel Review
The Ballantyne, part of Starwood Resorts, Luxury Collection Hotel, was where we received a complimentary night's stay to spend Miss M's birthday as she celebrated turning ten! TEN is a milestone, and honestly, how we would rate our room and the staff at The Ballantyne. We're not alone in our ratings; the U.S. News List rates The Ballantyne #2 in Best Charlotte Hotels and #11 in Best North Carolina Hotels!
We have lived in North Carolina for a year. We had previously driven through Charlotte, North Carolina, on our way to a cousin's Star Wars birthday party. As we drove through, we each commented on this incredible city. The Ballantyne Hotel is just 16 miles south of downtown Charlotte. It's in a quiet area of Ballantyne.
I kept it a surprise from Miss M. Grandma, and I told her we were heading out for lunch, and we drove to Charlotte to eat at The Dish with dessert from Amelie's. Both were incredible, but I was about to learn they paled in comparison to The Ballantyne.
It was a road trip with a celebration destination. I wanted something family-friendly but still comfortable and quiet for myself. After picking up French-inspired pastries from Amelie's, we headed the 25 minutes to The Ballantyne. Rain began to splat against the windshield, but this girl's night out was not fazed.
We arrived, and Miss M squealed in awe as she saw the magnificent hotel. And well she should, this luxurious four-star hotel is where Michelle Obama stayed in September 2012, and rumor has it, Oprah Winfrey may have as well! The rain blurred my picture, but here is a picture of this stunning hotel on a beautiful spring or summer day from a media file.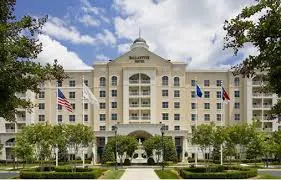 Out only celebrity was Miss M, who posed outside by the fountain displaying her "ten" fingers as a reminder she is now in the double-digits.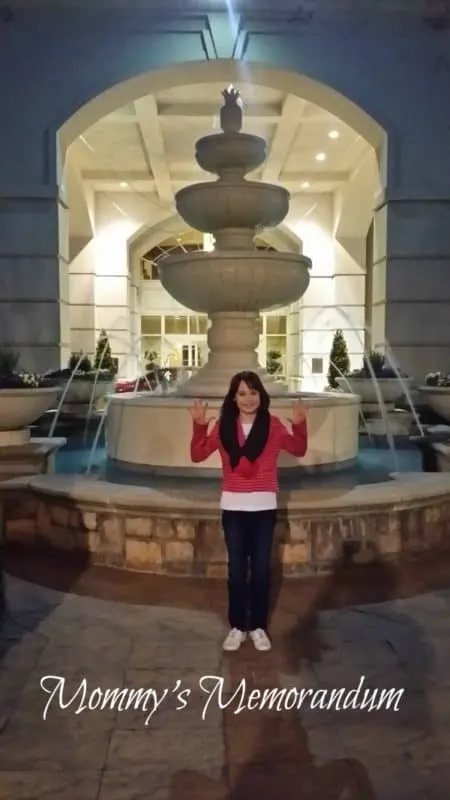 After our brief photo session around the outside fountain, we were greeted by the concierge and then walked through the doors to a spectacular lobby decked out for the holidays. It left Miss M breathless.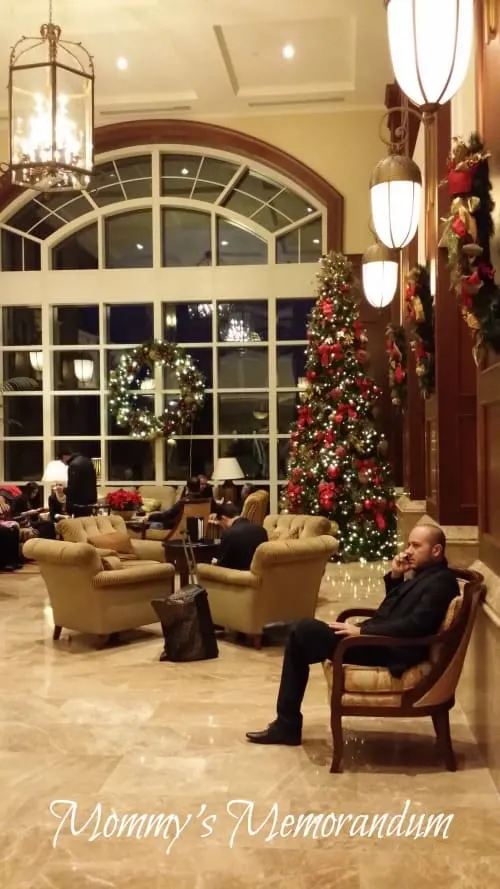 We checked in without effort. Incredible service at the front desk where my name was used often, and we were welcomed as though we were the only guests expected to arrive that evening.
Within minutes we were back in the lobby where Grandma and Miss M admired the festive tree between the lobby and the bar area.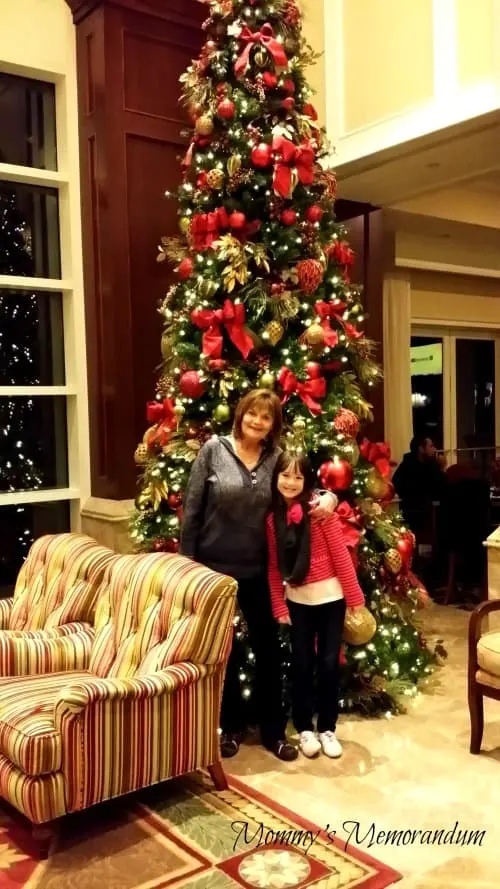 They mingled among the comfortable seating and admired the attention to detail.
We fell in love with the planters filled with ruby-red poinsettia!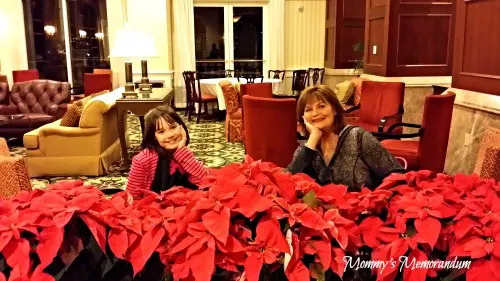 Then Miss M snuggled up next to the fireplace and eased the chill from the rain.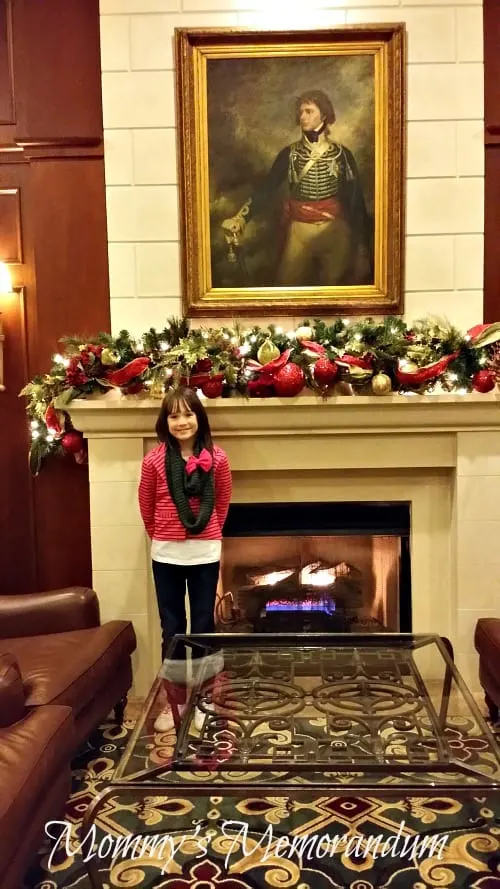 We felt so at home and were surrounded by so much awe that we almost forgot we had a key to a room.
We remedy this by stepping into the elevator.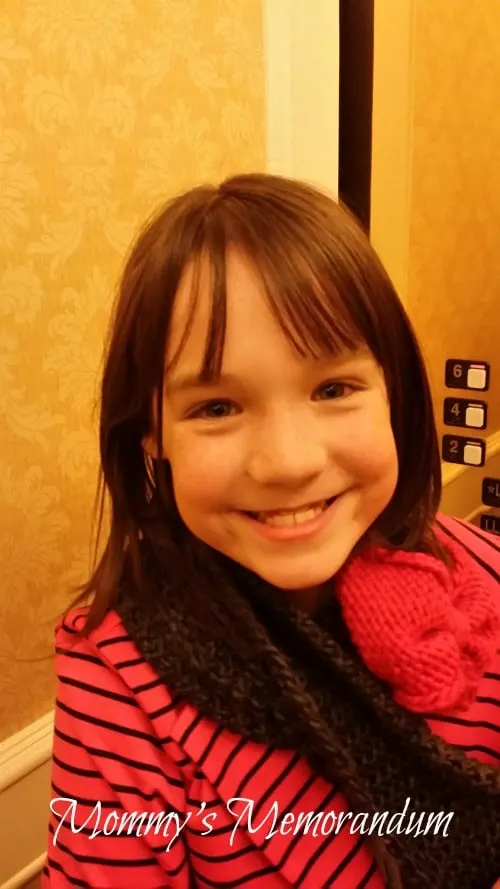 It was a short trip to the sixth floor via elevator.
Miss M stepped out and lost her breath again and the beauty that just engulfed her.
The long hallways were immaculate and quiet as she searched for our room's number.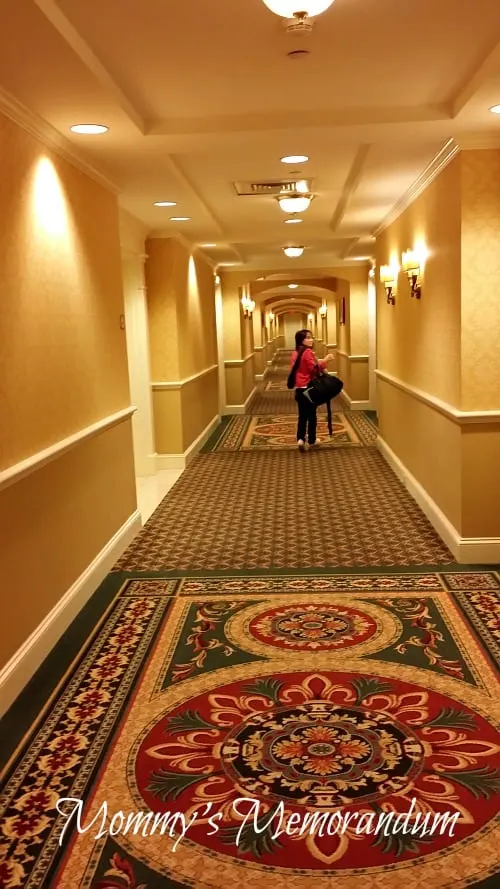 In the end, she found the room, and I could hear her heart beating in such excitement as she opened the door.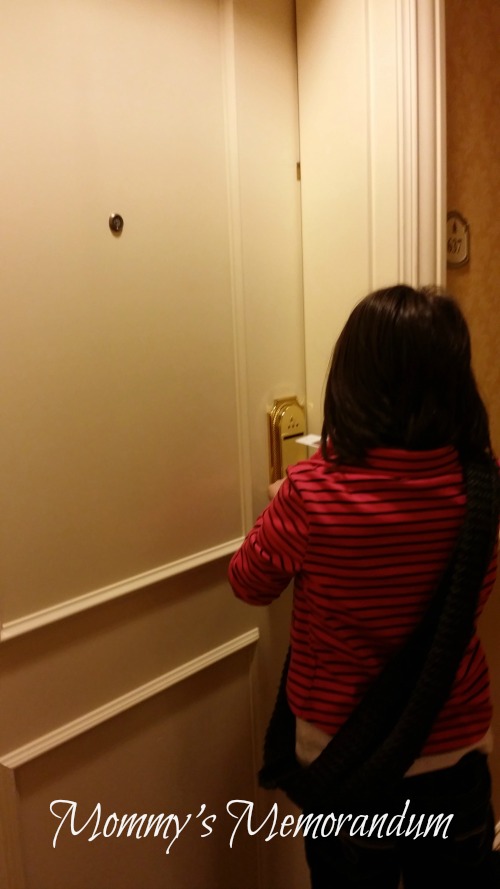 Inside we all lost our breath!
Hands down, The Ballantyne is the MOST immaculate hotel I've ever encountered.
Every service shined! Miss M stood gaping and admiring the exquisite foyer leading into the room.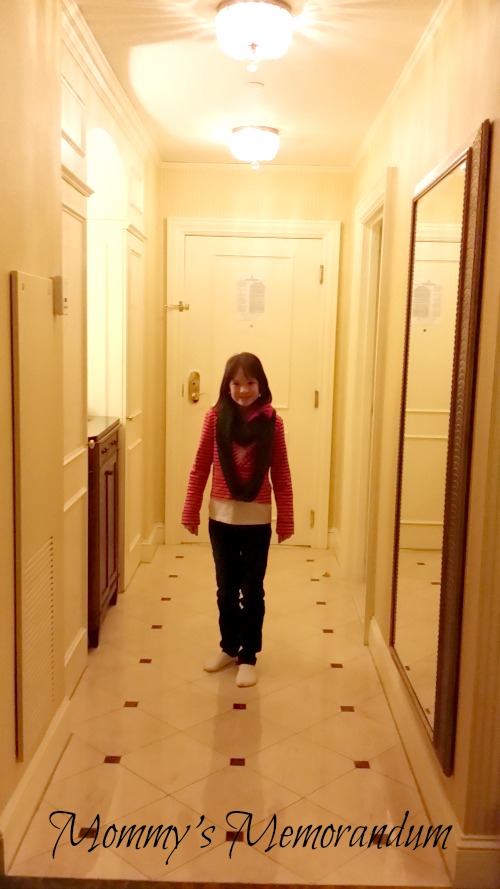 She announced, "I want to move here!"
The foyer was spacious and offered a beautiful service area with gorgeous wood cabinets.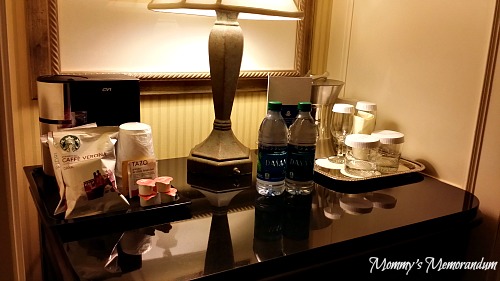 It took a few minutes of standing in the foyer for Miss M to venture into the elegant living area.
There are many textures in the living area, from the tri-layered curtains to the seating area.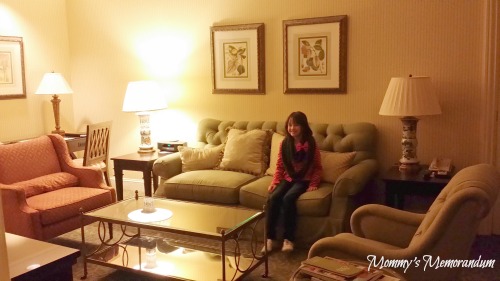 The hues are semi-pastel, offering a relaxing area to prop up your feet and enjoy a book, watch your favorite show on the 37″ LG LED television, or enjoy some music from the Bose Wave® Radio.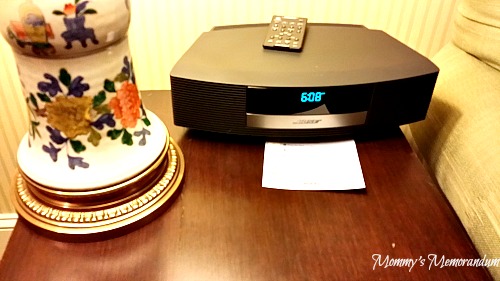 Miss M enjoyed looking through the executive desk in the living area.
She thought maybe it would urge her to do her homework!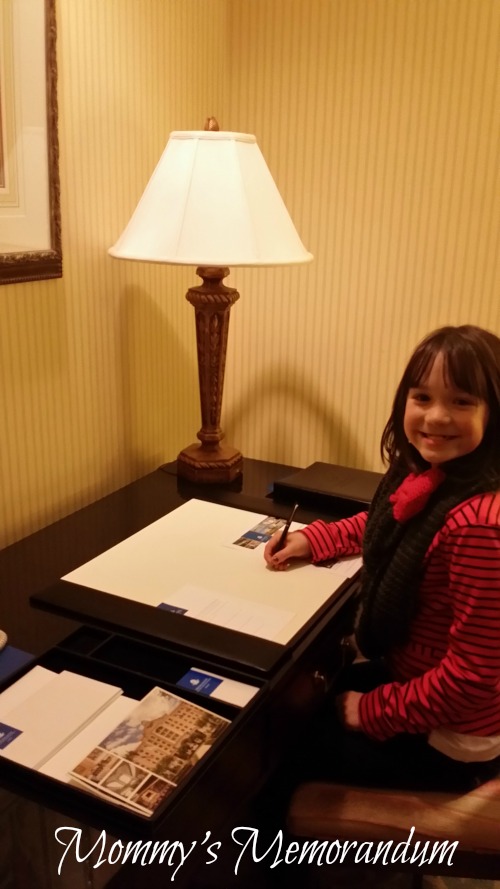 As she was enjoying her new-found sophistication, there came a knock on the door from another room.
Her eyes widened as she went in search of the door.
She opened it to find a staff member presenting us with a welcome note.
With the note in hand, she announced, "I have a butler!"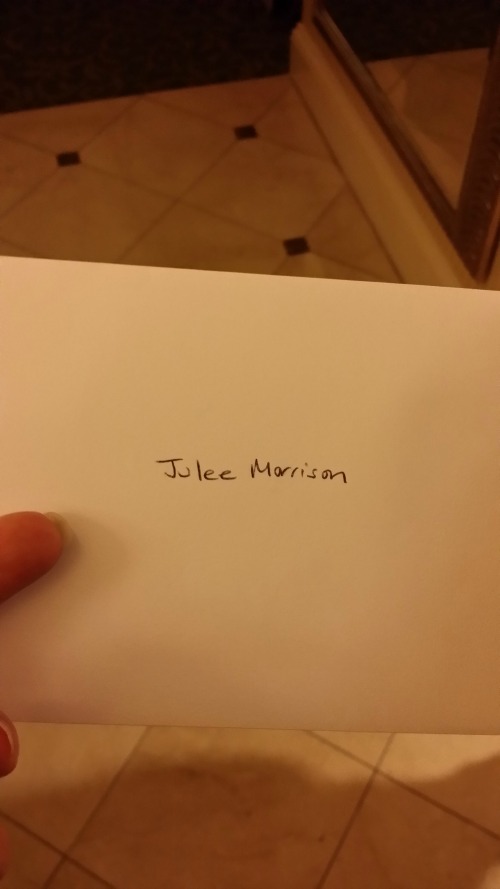 That's when she turned to see the bedroom! TWO luxury beds with Egyptian cotton linens and the choice of foam or feather pillows.

Another 37″ LG LED television, another executive desk, two beds, and a color scheme that melted the day-to-day wear stress.
Grandma and Miss M discussed the sleeping arrangement.
Miss M announced, "I think I am a PRINCESS!"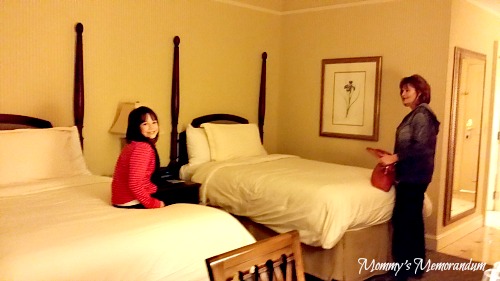 Once it was all settled, Miss M tested out her bed.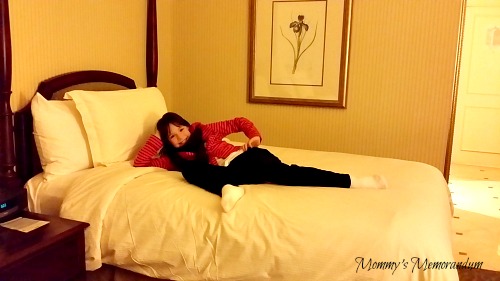 This was when Miss M's adrenaline must have settled somewhat because suddenly she shrieked, "They know it's my birthday! They know it's MY birthday!" and dashed from the bed to the desk where she discovered all the makings for a very amazing celebration!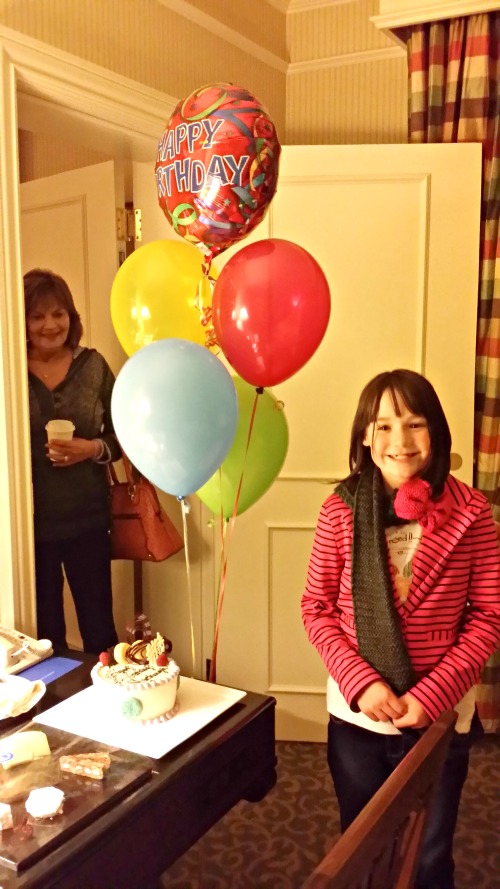 It was such a personal and fantastic touch, I cried.
My daughter was on top of the world.
There were balloons and cheese…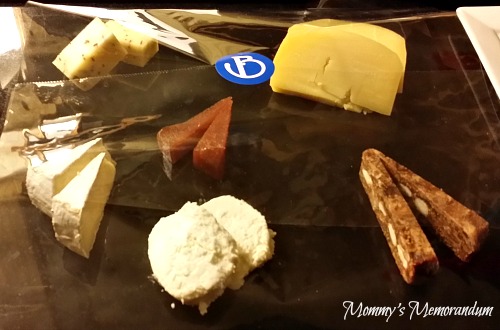 There were wine and fancy crackers…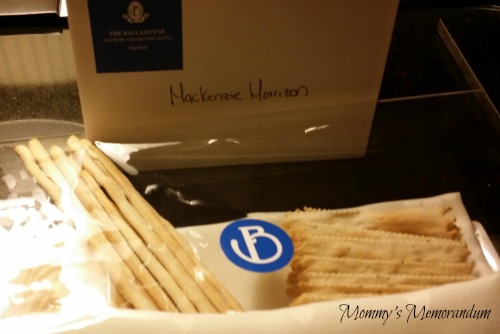 And there was a special cake, personalized with her name and favorite colors.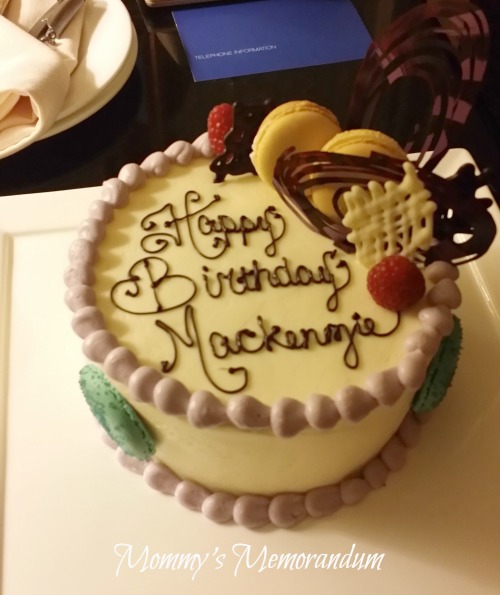 Everything was so attentive to the details.
There was even a personalized birthday note: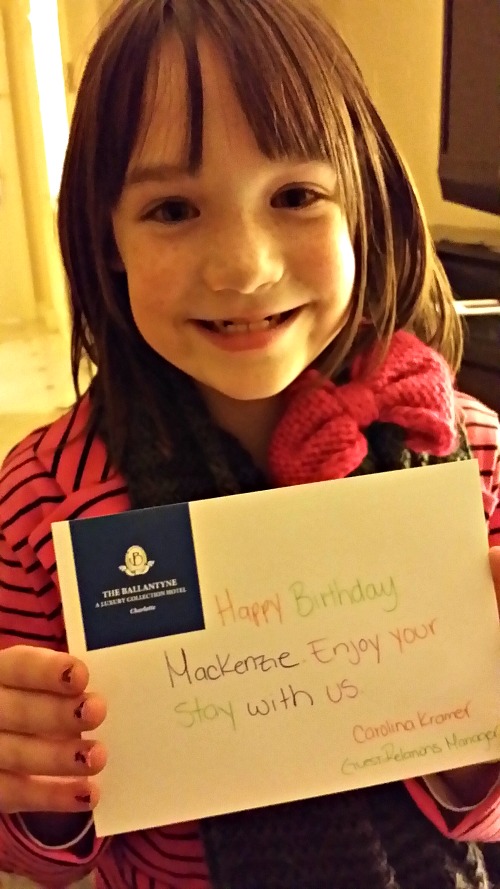 We moved it into the living room for a round of "Happy Birthday" as my tears attempted to dry up and my daughter's grin only widened!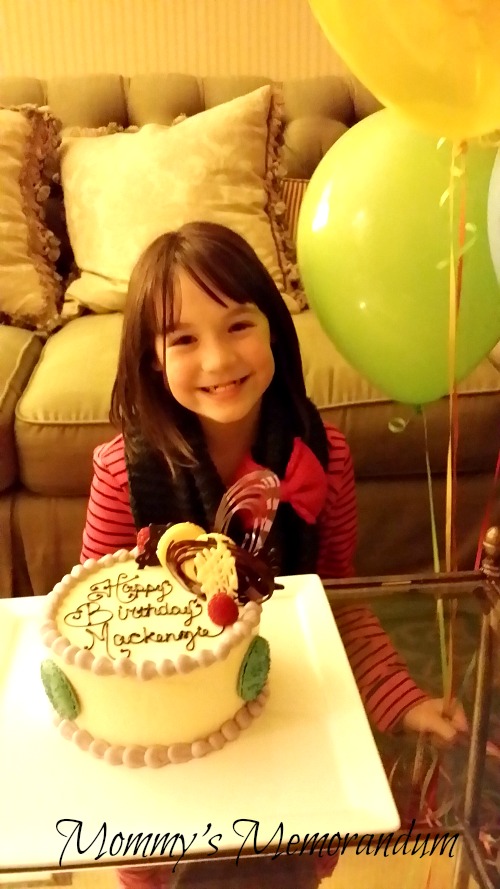 The attention to Miss M melted my heart.
As the parent of many children, it is a refreshing and relaxing feeling to know my child was a welcome guest and not a nuisance but someone who was worthy of celebration.
Both the bedroom and the living area feature ten-foot ceilings with large picture windows.
The living area opened up to a spacious balcony.
It overlooked the skyline for a view that overlooks the Ballantyne Community and golf course.
It was awesome.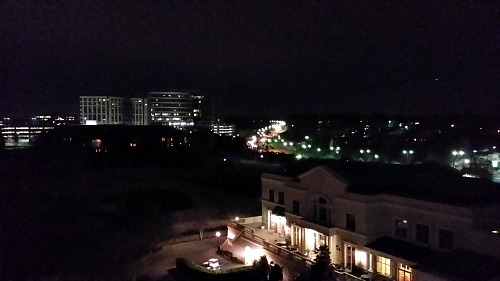 Both the living area and the bedroom feature the magnificent marble foyer.
Off each of these is a bathroom that had Grandma believing she was a Queen!
Both bathrooms are very much alike.
No detail has been missed here.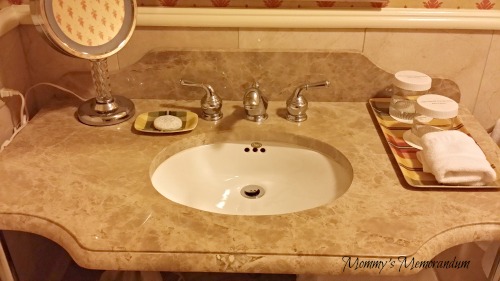 The sink has a marble counter and is truly the centerpiece — a large mirror above with a wooden, open cabinet below.
There is a blow dryer and plenty of accessories.
Drinking glasses and a hand towel sit waiting on a plaid serving tray on top of each sink.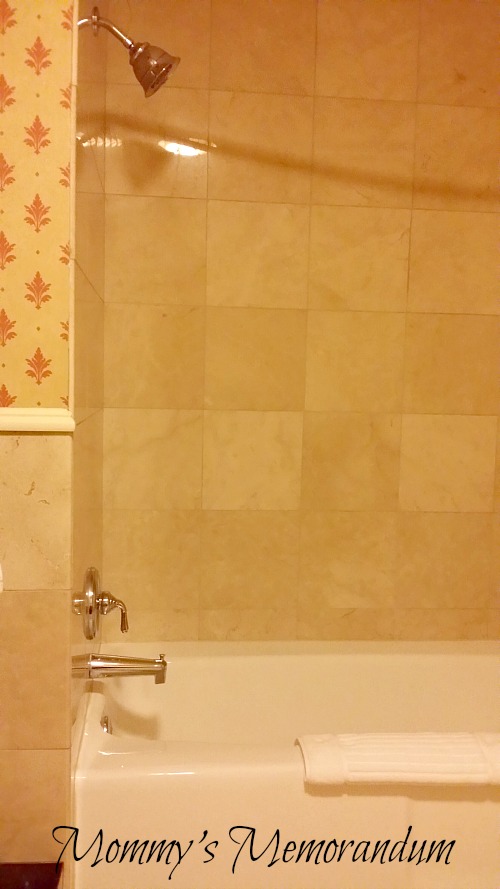 The bathroom off the living area features a spacious marble bathtub.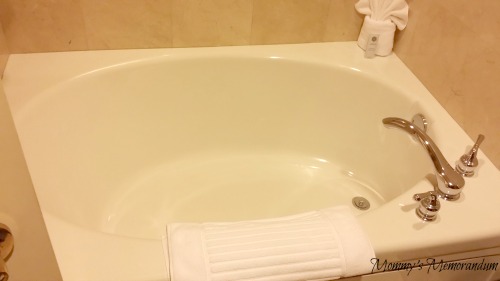 The bathroom off the bedroom features a seamless glass shower and a separate oval tub.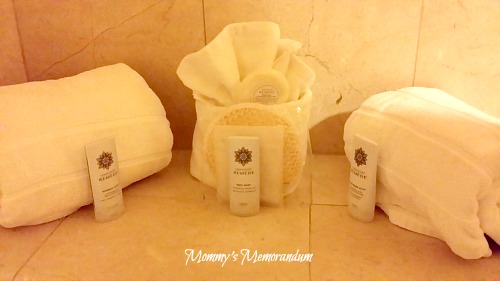 Luxurious cotton bath towels await with a loofah and Bath amenities by Remede and Gilchrist & Soames.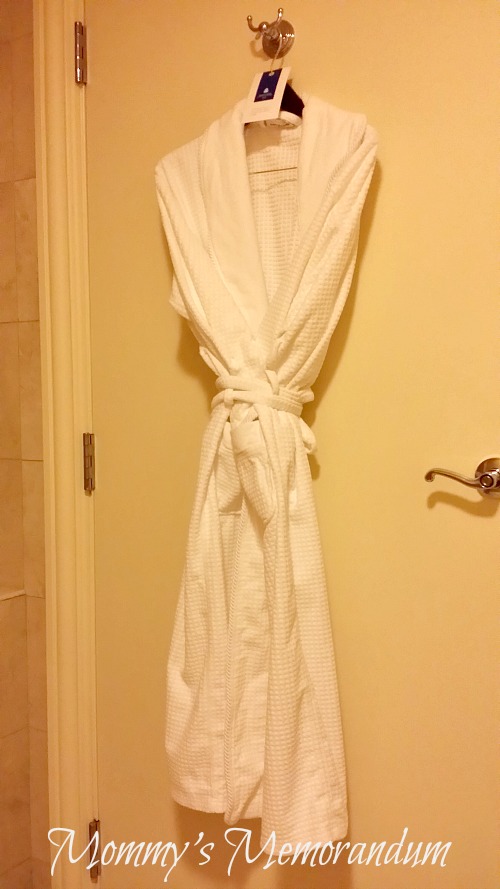 Robes and slippers hang on the back of each door.
They are luxurious robes, thick and weighted.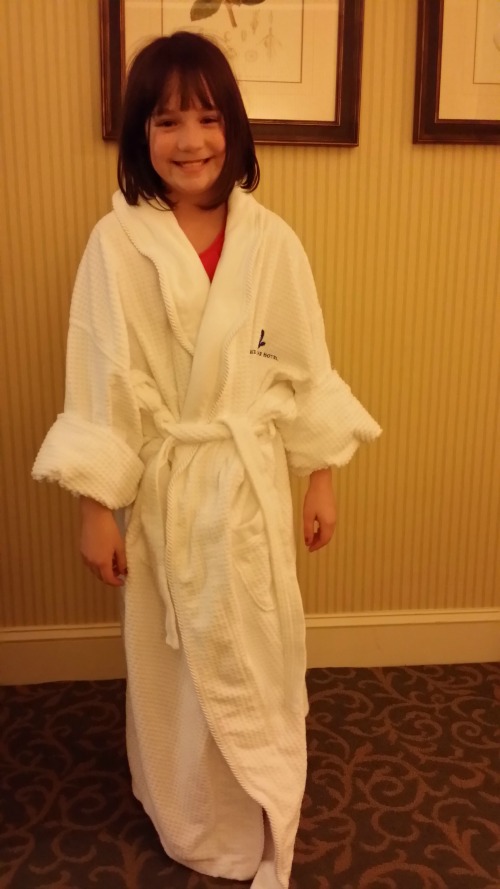 Miss M put one on and lounged for a bit.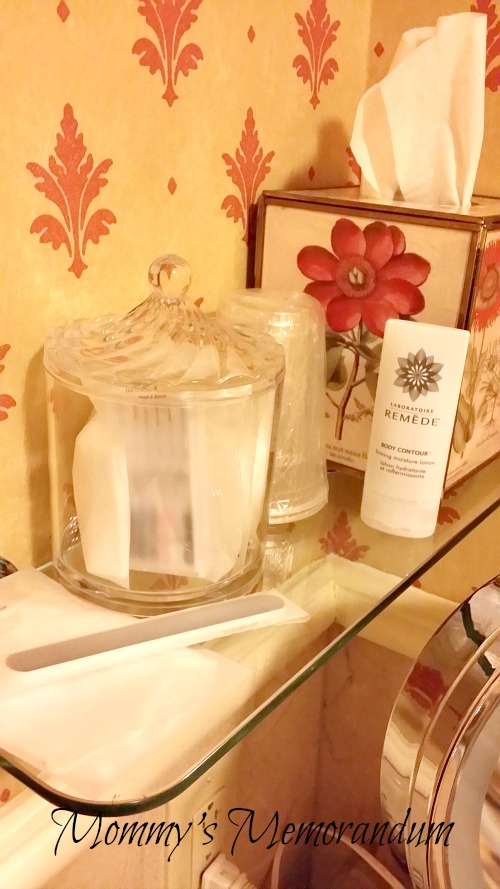 A shelf above each sink features an apothecary jar filled with everything perfect for a girl's night in–nail files, sewing kits, Q-Tips, facial puffs, shower cap, and more.
In the end, Miss M tried the Master Bathtub, made by Jacuzzi, out for size.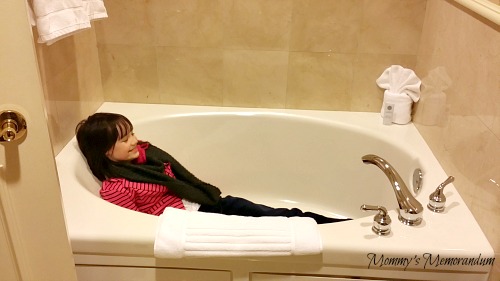 Eventually, we decided we'd venture into the rest of the hotel…though staying in our room would have been perfect too.
The Gingerbread Festival was waiting!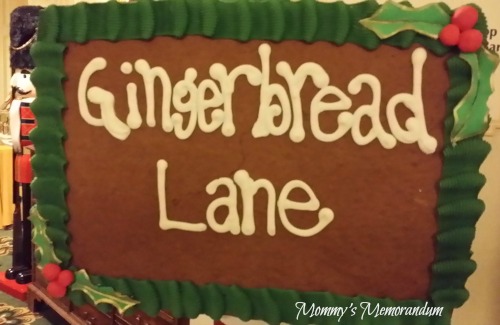 This charity event features the local talent of Gingerbread creations.
This year The Ballantyne Hotel raised more than $5,000 to benefit Levine Children's Hospital!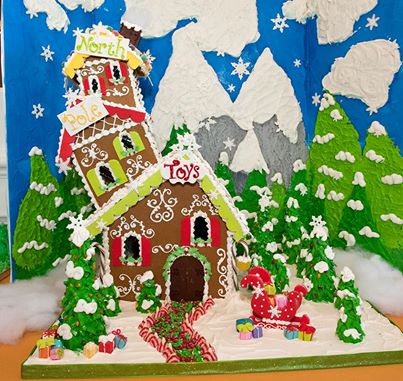 There was a People's Choice Award where guests could donate $1 to cast a vote for their favorite gingerbread creation.
This year Cake Expressions by Lisa won the People's Choice Award for her Santa's Workshop.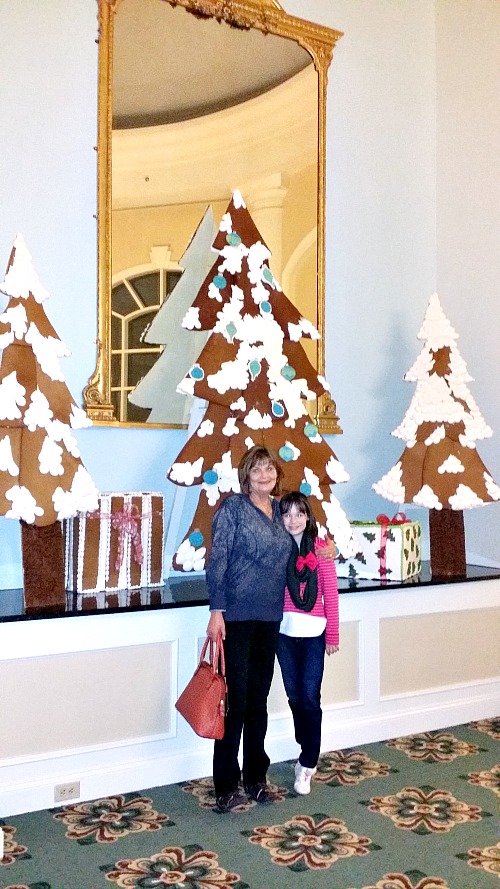 We walked through the long hallways and admired the artwork, decorations, and beauty.
I love this chandelier.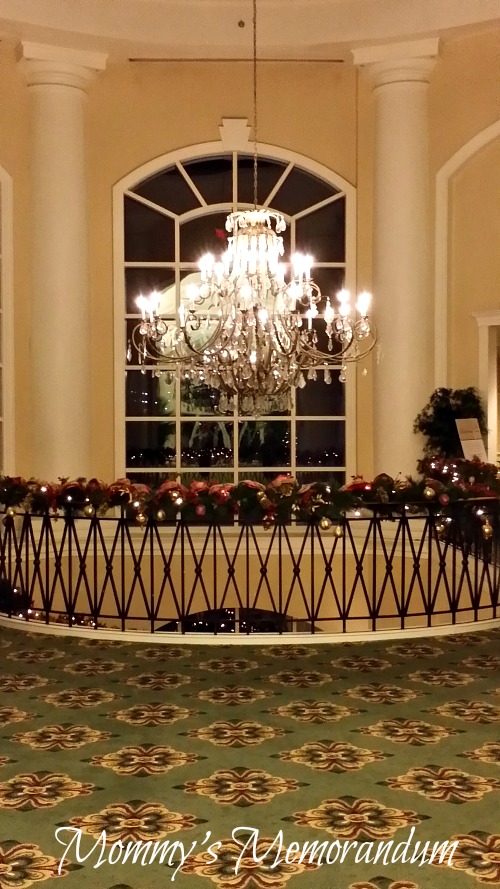 After admiring the hotel and Gingerbread Lane, Miss M realized there was one area we hadn't seen, and that was the pool.
Ballantyne Hotel Pool
Back to the room we went, where she changed into her swimming suit.
We headed downstairs, where she spent an hour mingling with the other hotel guests and swimming in the perfectly heated pool.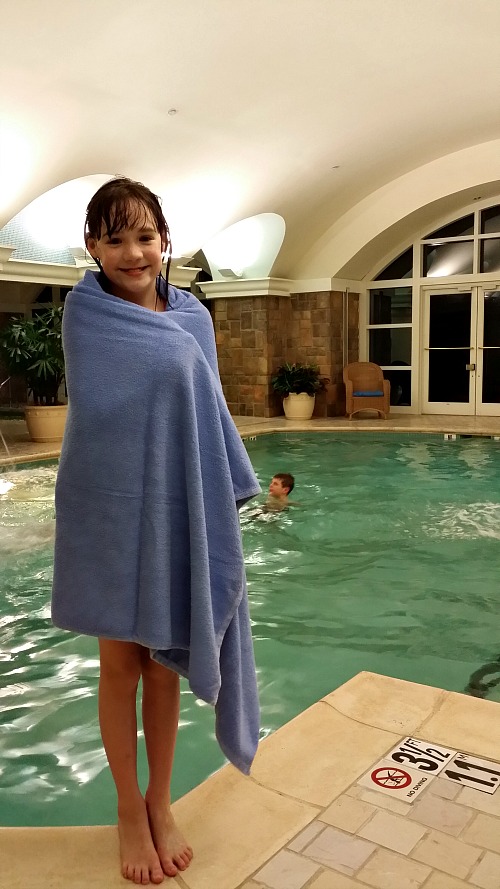 The giant gingerbread trees with gingerbread presents underneath were a sight!
Back in our room, Grandma had made a bath for Miss M, and we all settled in eating birthday cake and eating cheese and crackers. It was a perfect ending to such an incredible day.
Try The Gallery Restaurant on Your Stay at the Ballantyne Hotel:
We slept well in the beds…so comfortable, and when we woke up, we headed down to The Gallery Restaurant.
This four-star restaurant is part of the hotel and offers breakfast, brunch, lunch, and dinner.
I loved the atmosphere.
It was exquisite, and the various artwork hanging around the room made it an art gallery to enjoy.
One of the things I love about The Gallery is that Gallery Restaurant supports Charlotte and the Carolinas' local area farms.
It's fresh ingredients that are grown and raised locally.
The Gallery menu was simple yet delicious in flavors, making it difficult to decide what we should eat that morning.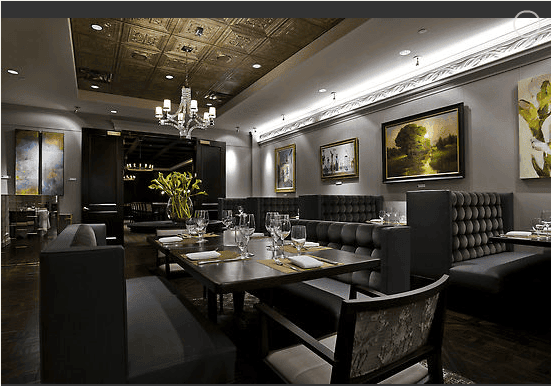 Miss M ordered the Waffles with Nutella.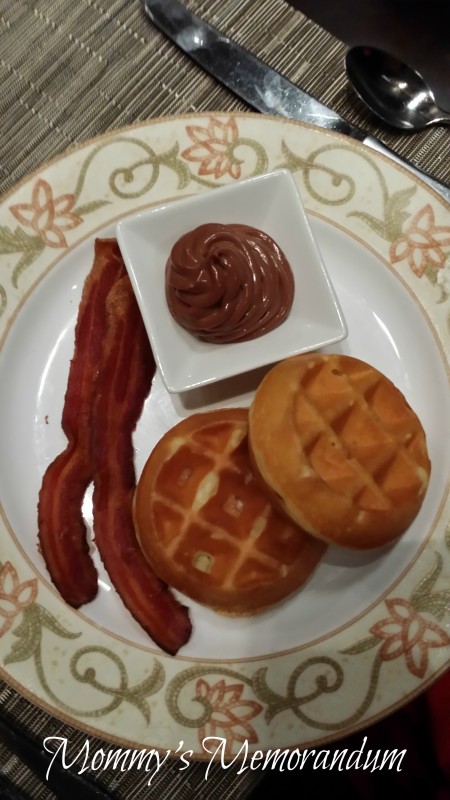 Grandma ordered The Ultimate Omelet.
It was a delicious combination of bacon, sausage, onion, mushroom, tomato, and white cheddar cheese.
Yum.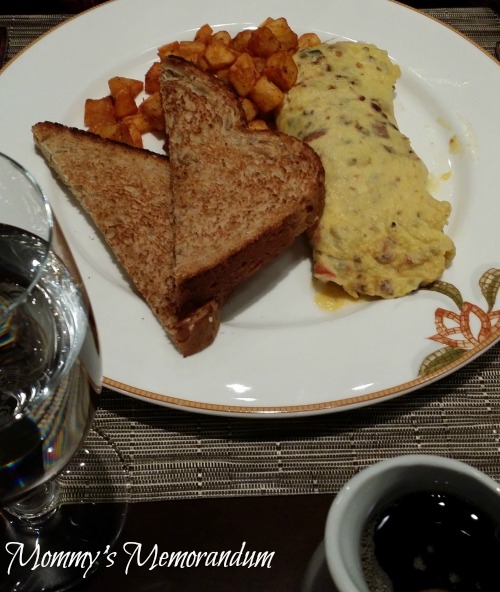 I ventured into the South and ordered Chicken and Waffles.
We're talking buttermilk fried chicken, drizzled with creamy gravy on top of house-made waffles, and then there was the siracha-maple syrup.
I wasn't so sure I'd like it.
Our waitress, in her Irish accent, said it was a "fad."
To be sure, I ordered maple syrup on the side.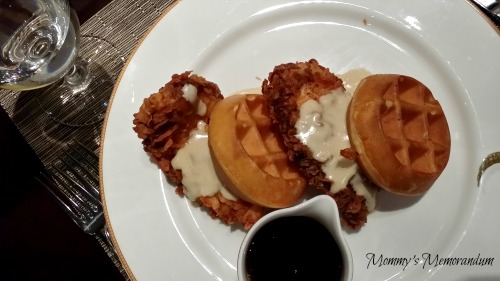 Oh, my! The food was incredible. Even the siracha-maple syrup was delicious…I almost forgot my manners and wanted to slurp it through a straw when the waffles and chicken were gone!
Our stay at The Ballantyne ended too soon.
We fell in love with the ornate décor and spacious rooms.
The food was sumptuous, but the true highlight was The Ballantyne's attention to detail and incredible customer service.
Sometimes you get great customer service, and sometimes…you experience The Ballantyne's service.
Stay at the Ballantyne Hotel and experience true Southern hospitality!
Whether you're celebrating a birthday, an anniversary, a special occasion, or simply passing through the city of Charlotte, North Carolina, The Ballantyne Hotel is truly an experience worthy of the Bucket List!
Final Thoughts:
Overall, The Ballantyne Hotel is a destination that exudes luxury, elegance, and impeccable hospitality. Whether you are seeking a tranquil retreat, a culinary adventure, a golfing getaway, or a venue for special occasions, The Ballantyne Hotel provides an unforgettable experience that exceeds expectations.