Introducing the Ultimate Summer Refreshment: Sparkling Orange Mango Granita!
Quench your thirst and indulge in a taste sensation like no other with our Sparkling Orange Mango Granita. It's the perfect frozen delight that will transport you to a tropical paradise with every refreshing spoonful.
Imagine the tangy sweetness of juicy mangoes perfectly blended with the effervescence of sparkling orange soda. This delightful fusion of flavors will tantalize your taste buds and leave you craving more. The combination of tropical mango and zesty orange creates a harmonious balance that is simply irresistible.
Our granita is meticulously crafted using only the finest ingredients. We use premium sparkling orange soda or orange juice, along with luscious mango puree made from ripe, sun-kissed mangoes. Each batch is carefully prepared to ensure a smooth and velvety texture that melts in your mouth, delivering an explosion of fruity goodness.
Whether you're lounging by the pool, hosting a backyard barbecue, or simply seeking a delightful treat on a hot summer day, our Sparkling Orange Mango Granita is the perfect companion. It's a refreshing oasis that will cool you down and uplift your spirits, leaving you refreshed and revitalized.
Indulge yourself and your loved ones in this heavenly delight. Share moments of pure joy as you savor the vibrant flavors and relish the icy granular texture. The Sparkling Orange Mango Granita is a crowd-pleaser that will leave everyone asking for seconds.
So, beat the heat and experience the ultimate summer pleasure. Treat yourself to the Sparkling Orange Mango Granita today and let your taste buds embark on a tropical journey that will leave you craving more.
Visit our store or order now to satisfy your cravings and bring the taste of paradise straight to your lips. Hurry, because this summer sensation won't last forever!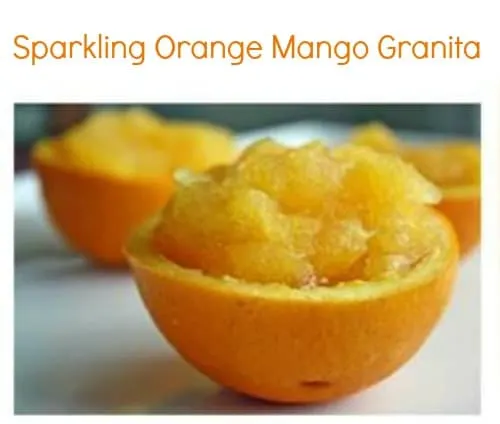 Low Calorie Option:
This delicious and easy Sparkling Orange Mango Granita recipe features Orange Mango Sparkling ICE; a zero calorie naturally flavored sparkling water with vitamins and healthy antioxidants.
If you aren't familiar with a granita, it's a semi-frozen dessert. It originated in Sicily and is similar to sorbet or Italian Ice. It is less compact than sorbet.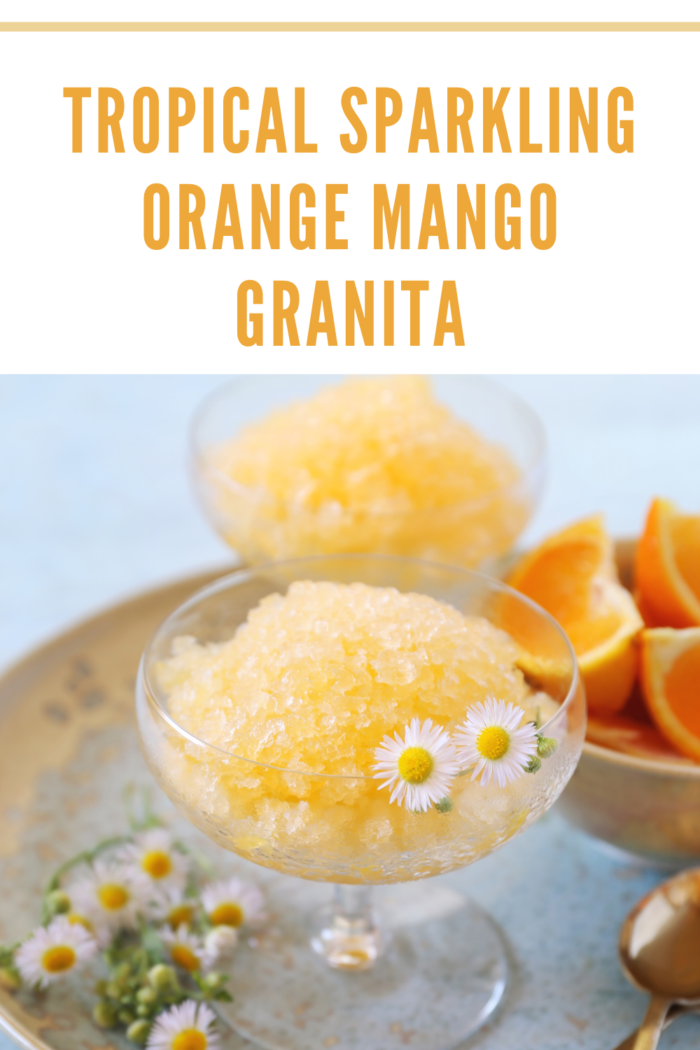 Sparkling Orange Mango Granita Recipe Ingredients
A Sparkling Orange Mango Granita is a refreshing frozen dessert or beverage made with a combination of sparkling orange soda or orange juice, mango puree, and other flavorings.
Here's a general recipe to give you an idea of how to make it:
6 oranges, emptied and shells frozen
1 mango, peeled and pitted
1 bottle of Orange Mango Sparkling ICE (or 2 cups sparkling orange soda or orange juice)
½ cup water
2 Tablespoons fresh lemon or lime juice
¼ cup sugar (adjust according to taste)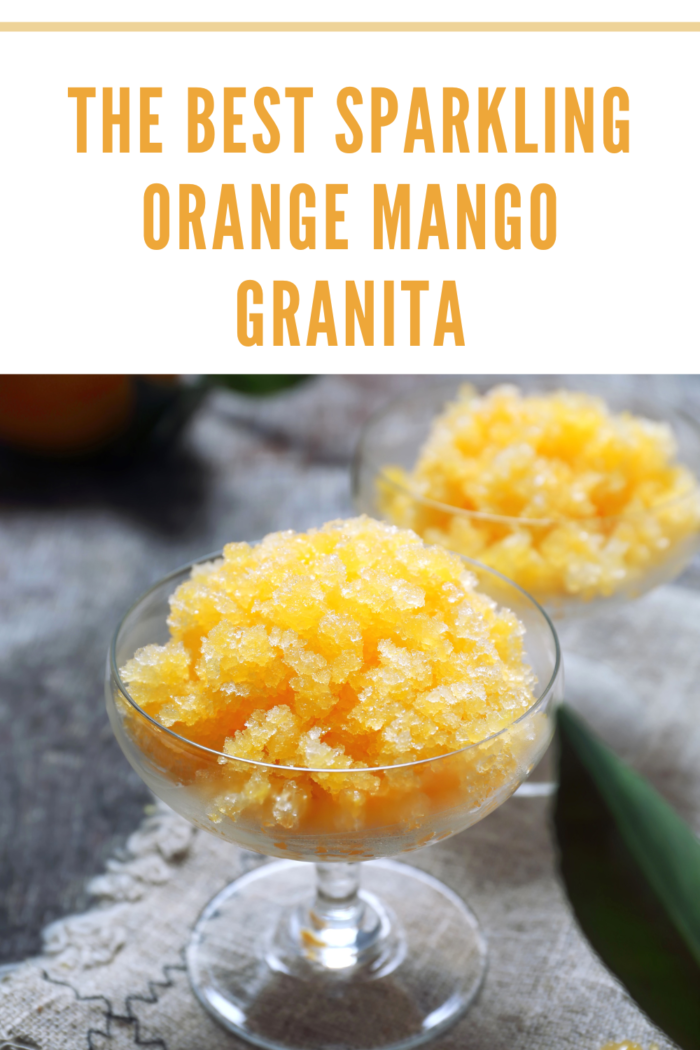 Sparkling Orange Mango Granita Recipe Preparation
Cut the oranges in half and scoop out the pulp for later use. A thin layer can be sliced off the bottom of the orange halves to create a flat surface and prevent them from rolling around when serving.
Freeze empty orange shells.
Note: For easier scooping, roll the oranges by hand before cutting in half, using a firm downward pressure to loosen the pulp.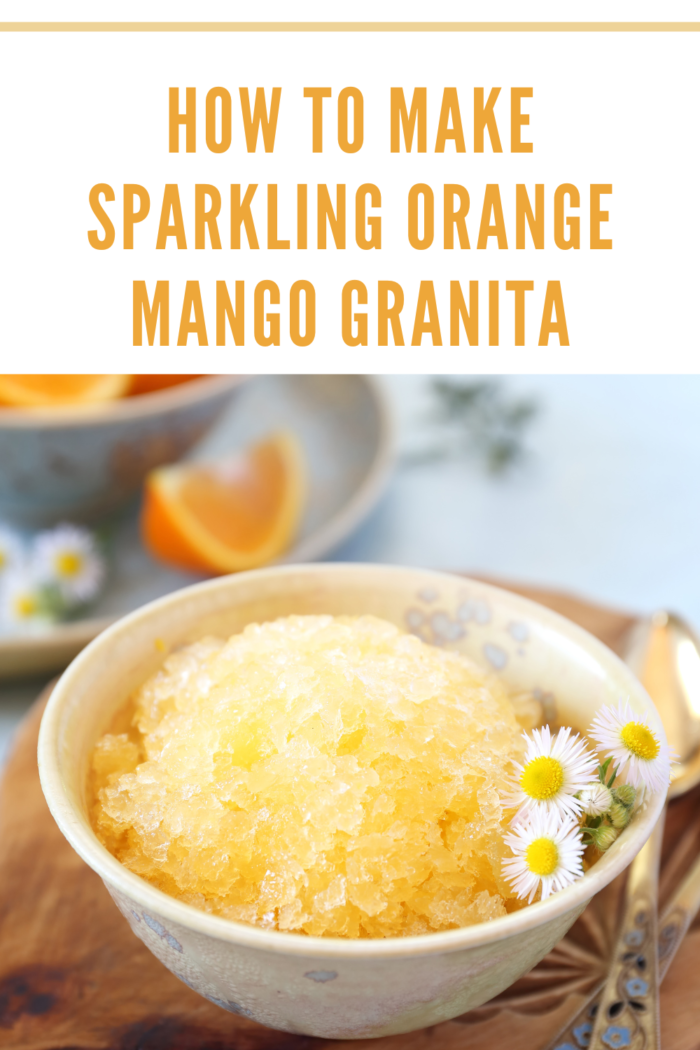 How to Make a Sparkling Orange Mango Granita
Place chopped mango in the bowl of a food processor and process until smooth.
Transfer to a medium bowl.
Add the water, Sparkling ICE and sugar, and stir to dissolve.
Pour the mixture into a shallow, freezer-safe container or baking dish.
Place the container in the freezer and let it freeze for about 1 hour.
After an hour, use a fork to scrape and stir the partially frozen mixture. This helps to break up any ice crystals that may be forming.
Repeat the scraping and stirring process every 30 minutes for the next 2 to 3 hours, or until the mixture has frozen into a granita consistency. The texture should be icy and granular.
Once the granita is fully frozen, it is ready to serve. Use a fork to scrape the granita into serving glasses or bowls.
Optionally, garnish with fresh mint leaves or sliced fruits for added freshness and visual appeal.
Serve immediately and enjoy the Sparkling Orange Mango Granita as a refreshing dessert or beverage.
You may also enjoy this orange mango mimosa recipe.