We're down to three days before Halloween. Are you still looking for the perfect Halloween costume? Why not learn how to dress like a 'Pan Am" Stewardess for Halloween!
Use the new ABC drama series, PAN AM, as your inspiration and embody the glamour of a Pan Am stewardess.
The iconic blue stewardess uniform and accessories — which radiate a sexy, professional yet fun vibe –have become instantly coveted by the public due to the show's success.
Want to know how to replicate the look? See below for some helpful tips and tools on how to download patterns and create it, which can also be found on PAN AM's page on the ABC website and the PAN AM Facebook page.
Once you've made your costume, submit photos of yourself as a PAN AM stewardess at @PanAmABC!
GHOSTS, GOBLINS AND…
STEWARDESSES!
'Pan Am' Stewardess UNIFORM:
Blue Suit with a Jacket and Skirt

–
The "Pan Am Blue" is close to a Royal Blue.
Suits can be found at your local thrift store.
If you're handy, you can tailor your jacket to make it fit your ladylike figure and shorten the sleeves.
Similarly, the skirt length is acceptable just to your knee.
White Collared Shirt

–
Spread the collar over the lapel of the suit jacket.
White Gloves

–
Gloves should reach the middle of your arm.
Opera length gloves are too long.
In a pinch, use shorter gloves, not longer ones.
Nylon Hosiery –
In the '60s, hosiery was not as sheer as today (Time).
Emphasize that you're wearing hosiery by wearing a less-sheer style.
Short-Heeled Black Pumps

–
The stewardesses of Pan Am were on their feet all day, so find a sensible, lower heel.
Pan Am Wings Lapel Pin

–
A pattern is available for you to download at the bottom of this article.
Simply print it out, cut it carefully, and attach it to a piece of heavy paper or thin cardboard (like that of a milk carton).
Then, affix a safety pin to this and wear your wing on the left side of your jacket (over your heart).
Pan Am Stewardess Cap

–
A pattern to create your own paper cap is available for download at the bottom of this article.
There's a pattern for the Pan Am cap pin provided as well.
Pan Am Flight Bag

–
If you haven't yet ordered your own bag, you can create your own by modifying a bowling bag or other similar large bag.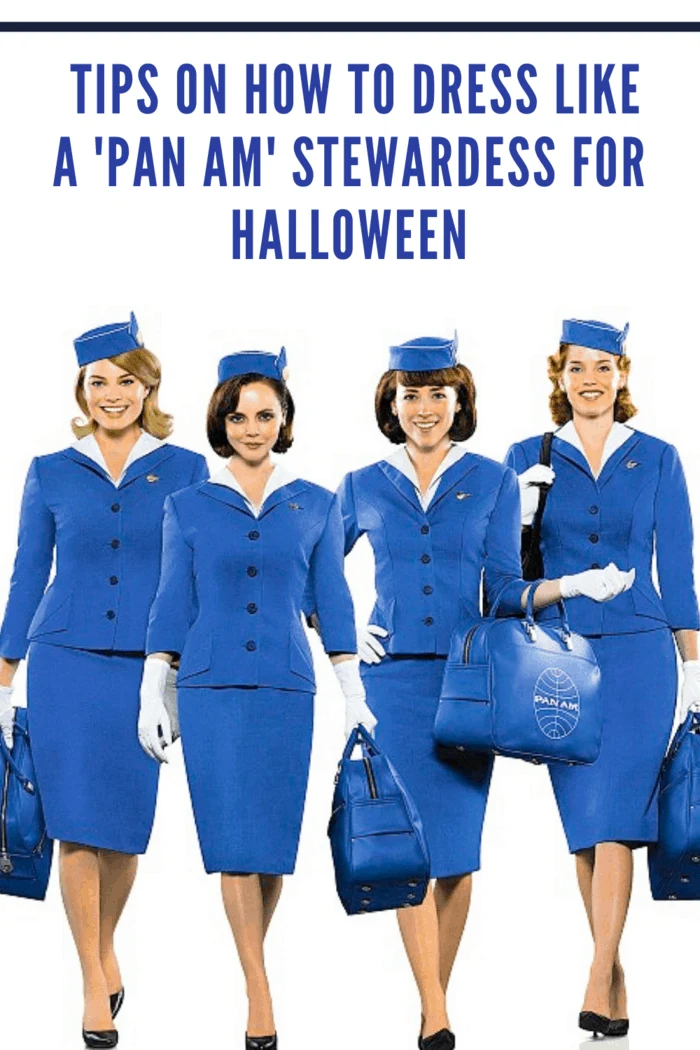 HAIR & MAKE-UP:
Hair is worn up in the style of the 1960s above the shoulders.
Make-up is light, "daytime" make-up.
Make it authentic by wearing the official shade, "Persian Melon" by Revlon (shade 585).
About Pan Am:
Pan American World Airways (Pan Am) was founded on October 27, 1927, as America's first international airline.
The small company began flying air mail between Key West, Florida, and Havana, Cuba.
Pan Am would grow to serve most major Latin American cities by the early 1930s.
By 1935 Pan Am began Trans-Pacific service to Manila in the Philippines via Hawaii, Midway Island, Wake Island, and Guam.
The Manila service would be extended onto Macau and then Hong Kong.
The Pacific service was inaugurated with the famous Martin 130 "China Clipper" flying boat. (source: AirAndSpace)
In January of 1980, the Pan Am – National merger was approved and over the next three years, Pan Am would merge National's fleet of DC-10s and Boeing 727s as well as National's operations and personnel into the Pan Am network.
Also in 1980, Pan Am received the first of 12 Lockheed L1011-500s
In 1980 that Pan Am sold the Pan Am building for $400 million.
With losses mounting in the fall of 1997 Pan Am & Carnival Air Lines decided to merge.
The Arison family, owners of Carnival, agreed to provide financing for the new company which would keep the Pan Am name.
Along with the financing the Arison's wanted new leadership at the merged company and Marty Shugrue was replaced by David Banmiller.
Sadly, the combined companies were not viable, and in February of 1998, Pan Am II ceased all operations and entered Chapter 11.
Initially, there were several expressions of interest in the company.
The bankruptcy judge was a great fan of the original airline and he wanted to see the Pan Am name flying proudly again.
Eventually, a deal was worked out and Guilford transportation acquired the Pan Am name & assets.
About PAN AM-The Series:
Passion, adventure, and espionage… They experience it all – and they experience it at 30,000 feet.
The style of the 1960s, the energy and excitement of the Jet Age, and a drama full of sexy entanglements deliciously mesh in a thrilling and highly original new series.
In addition to the U.S. launch, PAN AM has been finding success around the globe recently launching to strong ratings in Canada, Ireland, and Sweden (the highest rated foreign series premiere ever).
PAN AM stars Christina Ricci ("Penelope") as Maggie, Margot Robbie ("Neighbours") as Laura, Michael Mosley ("Justified") as Ted, Karine Vanasse ("Polytechnique") as Colette, Mike Vogel ("The Help," "Blue Valentine") as Dean and Kelli Garner ("Going the Distance") as Kate.
Series creator Jack Orman ("ER," "Men of a Certain Age"), Thomas Schlamme ("The West Wing," "Parenthood," "Mr. Sunshine"), Nancy Hult Ganis ("Akleeh and the Bee"), and Steven Madea ("Lie to Me," "Lost") are executive producers.
"Pan Am" is produced by Jack Orman Productions, Out of the Blue Entertainment, and Shoe Money Productions in association with Sony Pictures Television.
pan am halloween stewardess guide