Are you planning to visit Hong Kong soon and you're wondering what you can do in the city, then you will be delighted to know that it offers endless opportunities for fun and excitement. And if you don't have a plane ticket here, click here to check the Hong Kong flights.
Below are some of the things you can do in Hong Kong.
Visit the Big Buddha
Hong Kong has many Buddhist temples, shrines, and monasteries but the most notable is the Po Lin Monastery. It is at this monastery where you can find the Tian Tian Buddha or the Big Buddha. This is the largest outdoor seated Buddha in the world. But you must earn the right to get near it. The Buddha sits atop the monastery and to get to it you need to climb 268 steps.
You don't have to be Buddhist to visit the place. Anyone is welcome, regardless of religion. But since, it's considered a religious site, all visitors are expected to show respect and courtesy. Po Lin Monastery is located in Lantau Island and getting there is an adventure already. The best way to visit the island is via the Ngong Ping 360 Skyrail cable car. On your way, don't forget to look out the window of the cable car for a spectacular view of Hong Kong. If you have extra cash and if you're not afraid of heights, choose the crystal cabin that has a glass bottom so you can have an unobstructed view of the place.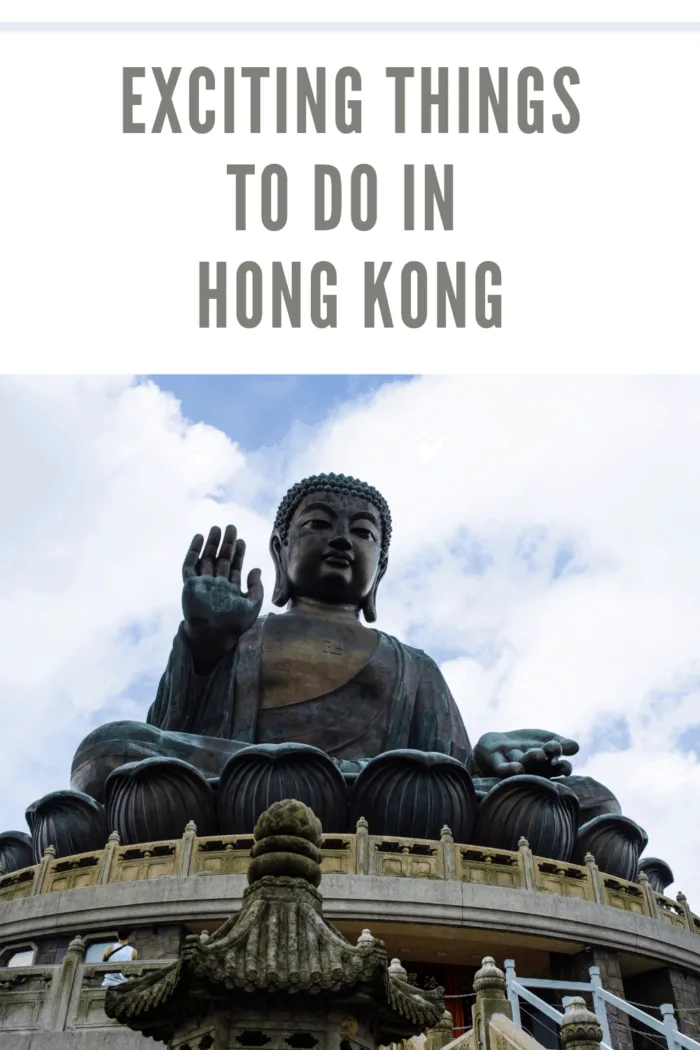 Shop at Temple Street Night Market
Hong Kong is a shoppers' paradise. But you already know that, right? What you probably don't know is that the best place to get bargains is not the malls but the outdoor markets. One of the best outdoor markets you go to in Hong Kong is located at Temple Street. Every night, hundreds of stalls pop up in this street. And you can find almost everything under the sun in these makeshift stalls. The nightly bazaar is the best place to buy knick-knacks and souvenirs to take home and give to your friends.
It's also a good place to buy cheap electronic items, household items, and even clothes. Most of the items being sold are cheap knockoffs so don't expect much in terms of quality. But if you're good at shopping, then it's possible for you to find some hidden treasures in one of the stalls. If you get tired of shopping, then you can have your fortune told by one of the fortune-tellers in the area. You need to take everything they say with a grain of salt, however, and make sure you agree with the price first before the fortune-telling sessions start.
Commune with Nature at Dragon's Back
When you hear the word Hong Kong, the first thing that comes to mind are images of high rise buildings and shopping malls. The place is rarely associated with nature. But there is a place in Hong Kong where you can take a hike and enjoy the great outdoors. So if you get tired from all the shopping, eating, and the huge crowds, you can always take a hike to Dragon's Back. You don't need to be an experienced mountaineer to take this hike but it's an easy one. But some effort is still required and you definitely need to exercise caution. You will be rewarded greatly as the hike offers breathtaking views of Shek O, Tai Tam, and Big Wave Bay.
And if you want a more death-defying adventure, you can go paragliding at Dragon Back. There are companies that hold paragliding lessons for beginners in the area. After your trek, you can treat yourself to a meal and maybe drinks to any of the eateries located at Bg Wave or Shek O beach. Don't be afraid to try eating from more than one stall. Those calories are well-deserved.
Party at Lai Kwan Fong
Apart from shopping and food, Hong Kong is also known for its nightlife. And the best place to party in Hong Kong is at Lai Kwan Fong. This is where both locals and foreigners go if they want to spend a night of debauchery and madness. If you want to see how people in Hong Kong party, then this is the place to be. Every single night, LKF as the locals like to call it gets packed with professionals who want to have a drink or two after work and general partygoers who want to have a good time.
But even if the palace gets crowded, you don't have to worry about running out of places to eat or have a drink. The place is home to over 90 bars and restaurants. And yes, bar-hopping (or crawling) is encouraged. Go there early to enjoy the different happy hour deals being offered by almost all establishments. The best time to go to Lai Kwan Fong is during Halloween and New Year's Eve. The place holds a big street party on these two occasions. These parties will surely give you a party experience that you won't soon forget.
Eat at a Michelin-Starred Restaurant
Hong Kong is famous for delicious food, No wonder it has a lot of Michelin-starred restaurants. And the best thing about them is that they offer affordable food. No matter where you are in Hong Kong, it seems like you're just a step away from a delicious meal. Of course, you really can't say that you've been to Hong Kong if you haven't tried their world-famous dim sum. And the best place to get some dim sum is in a little Michelin-starred restaurant at Sham Shui Po.
You may have to endure standing on line for several minutes because the place can get crowded, especially during lunchtime. But the wait and effort are definitely worth it. And since the food there is cheap, you can order a lot. Don't forget to order the char siu bao or the barbecue pork bun, their most famous dish. A word of warning though, it can be addictive. Go there with your friends so you can order more dishes and have a dim sum party.