It's National Chocolate Chip Day, and let's face it, I have a love affair with this li'l one. Today, I'm celebrating National Chocolate Chip Day.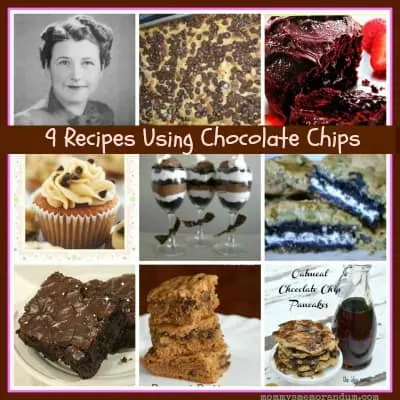 Did you know:
The teardrop shaped chips were invented in 1937 in Whitman, Massachusetts, when the owner of the Toll House Inn, Ruth Graves Wakefield, was making Butter Drop Do Cookies added cut-up chunks of a semi-sweet Nestle chocolate bar to a cookie recipe when she realized she had no Baker's chocolate.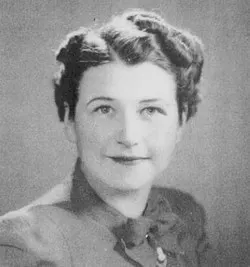 When a Boston newspaper printed her Original Toll House Cookie recipe, her local celebrity grew, which led to an agreement with Nestle in1939. She allowed Nestle to add her recipe to the chocolate bar's packaging in exchange for a lifetime supply of their chocolate.
Recipes that all use chocolate chips are gathered here.
Let's start with the 11th Century frugal dish that has evolved into a trendy dessert.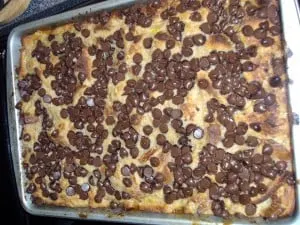 Chocolate Chip Bread Pudding from Powered by Mom!
Wash that goodness down with the delectably sweet…
Chocolate Chip Cupcakes
Wow Yourself with the gooey center and decadent chocolate in these…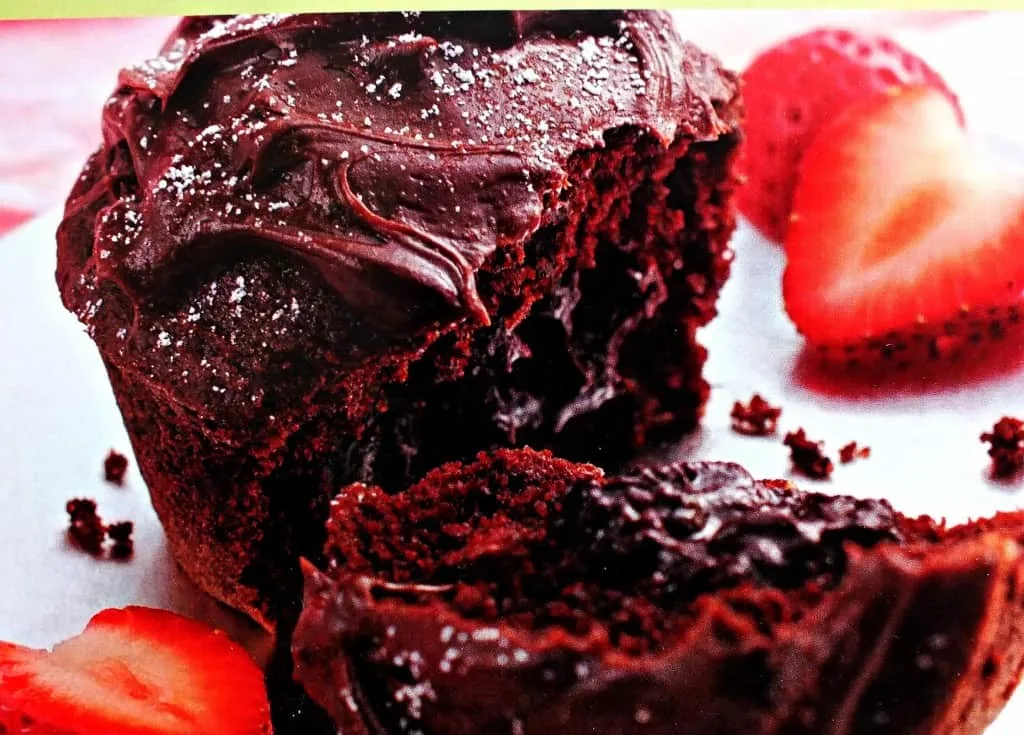 My kiddos love trying new things. Transform any cookie by stuffing it with more deliciousness. One of our favorites is this modification of Ruth Wakefield's recipe…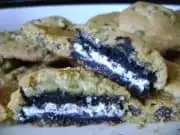 An elegant treat, whether layered in wine glasses or a clear serving dish, these showstoppers are sure to please…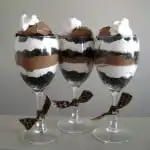 Be sure they get their "Just Desserts" with the most incredible brownie recipe on the planet. I kid you not. I once made these for a reunion with a friend and when we saw one another a few years later he wanted to know if I made brownies. I replied, "I decided I didn't like you that much…" ;)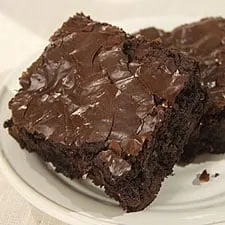 A twist on the chocolate try combining with a little peanut butter…
Peanut Butter Chocolate Chip Blondies
Because breakfast is good any time of day, treat yourself or someone special by putting these on the platter…
Oatmeal Chocolate Chip Pancakes-from The Idea Room
Even celebrities can't resist baking with chocolate chips! This recipe comes from one of the stars on TLC's Extreme Couponing, "The Cajun Couponer."
Swamp Cookies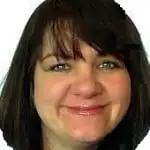 This post was written by:
.Julee Morrison is a quirky, dorky North Carolina Transplant with an appetite to taste the world, meet its desserts, and blog about them. When she's not behind the computer you can find her playing with her family, reading a good book, being a Bon Jovi fangirl, and celebrating the little things.