Be still my beating heart. There's a new cupcake in town!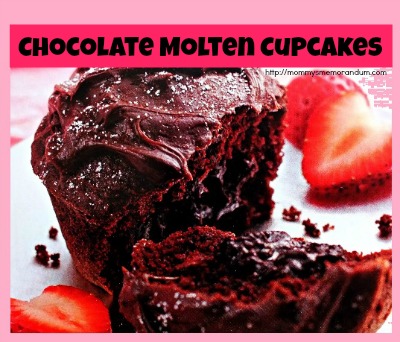 Ingredients:
3/4 cup whipping cream
1.5 cups semisweet chocolate chips
1 box Betty Crocker SuperMoist Devil's Food Cake Mix
1 box (4-serving size) chocolate fudge instant pudding and pie filling mix
1.25 cups water
1/3 cup vegetable oil
4 eggs
1 container Betty Crocker Rich & Creamy chocolate frosting
Powdered sugar
Sliced Strawberries
Directions:
In a 1-quart saucepan, heat whipping cream over medium-high heat until hot, but no boiling. Stir in chocolate chips until melted and the mixture is smooth. Refrigerate for about one-hour; stirring occasionally until thick.
Heat over to 350 degrees
Grease and flour 24 large muffin cups (or use cupcake papers)
In a large bowl, beat cake mix, pudding mix, water, oil, and eggs with an electric mixer on low-speed 30-seconds, then on medium speed 2 minutes; scraping bowl constantly.
Place 1/4 cup batter in each muffin cup.
Spoon 1 Tablespoon cold chocolate mixture on top of batter in the center of each cup.
Bake 20-23 minutes or until the top springs back when lightly touched. Cool 1 minute.
Carefully remove from pan; place on cooking parchment paper.
Cool 10-minutes.
Frost with chocolate frosting.
Just before serving, sprinkle with powdered sugar.
Garnish with strawberry slices.
Serve warm.
Store, loosely covered.